---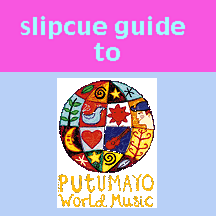 Founded in 1993, the Putumayo World Music label got tagged by purists as a brand-name, prefab yuppified outlet -- the WalMart of world music, if you will. True, a lot of the label's early releases were pretty syrupy; many even coasted along the edge of New Age terrain. But the last few years have shown a remarkable about-face for Putumayo, and anyone who's kept their blinders on and still refuses to check out the label's new releases may be missing out on some cool stuff. Yeah, sure, if you're a big-old snobby know-it-all who already owns a vast collection of whatever kind of music they're pitching this season, you could probably work yourself up into an indignant snit about how this or that artist wasn't included, etc. But for the average bear, many of these collections offer a nice window into new musical vistas. One really cool thing about the Putumayo compilations is that they've always included extensive liner notes, and they give information not only about the musicians, but the teensy, obscuro indie labels that they frequently work with... If you're into it, Putumayo really does go out of its way to help listeners track down the music they like.
---
Recommended Records
---
Chico Cesar "Chico Cesar" (Putumayo, 2000)

As one of the most important artists in a new generation of Brazilian rockers, Chico Cesar has incorporated a healthy dose of funk into the mix, though sometimes with iffy results. This collection concentrates on more recent recordings, from 1996-97, and largely omits his most challenging and vigorous material in favor of more accessible, soft-pop outings. He does have an impressive stylistic range, though, especially when incorporating more exotic Brazilian folk styles -- his flat-out pop rock orientation is also in some ways refreshing, though after a while guitars that initially seemed brazen begin to suggest Beverley Hills 90120 more than, say, Jimi Hendrix. This disc is a good introduction to his work; if you like what you hear, I recommend you also hunt up some of Cesar's old albums so you can get a fuller picture of his work.
Habib Koite and Bamada "Maya" (Putumayo, 2000)

One of Mali's most adventurous song stylists, Habib Koite weaves Western guitar work in with traditional acoustic griot elements, all wrapped inside of dreamy, layered soundscapes. This is a particularly lush album (his first on Putumayo, but several others came out before this...) Koite sounds increasingly confident in the studio, and this disc has some surprising moments, particularly the Japanese-flavored "Sarayama." A little goopy in parts, but mostly rather entrancing. Recommended.
Habib Koite "Baro" (Putumayo, 2001)

Another lovely, acoustic-based record from this innovative pop guitarist... This disc is less experimental than his previous album, but perhaps even more satisfying. Very pretty stuff -- great to have on as something you can space out to, but also very captivating and musically rich. Even includes some material sung in Spanish! Recommended.
Ricardo Lemvo "Sao Salvador" (Putumayo, 2000)

Congolese bandleader Ricardo Lemvo continues to dazzle his listeners from his home base in L.A. His third album, Sao Salvador, holds up to the high standards set by his earlier releases. Switching from salsa into African pop, and back again with astonishing ease, Lemvo has one of the tightest bands this side of King Sunny Ade. There are hints of scary things to come, for example the soul-funk riffs on "Nganga Kisi", but hey, everyone's gotta try something new some time or another. Everyhing else on the album is a delight, so don't count that as a knock against the album as a whole. I haven't had the pleasure of seeing these guys play live yet, but it's gotta be a mind-blower.
Dougie Maclean "The Dougie Maclean Collection" (Putumayo, 1995)

A stalwart of the early-'80s Scottish folk-trad scene, singer-songwriter Dougie Maclean remains popular today, although over the years he has become progressively more of a folk-pop crossover artist. This anthology has too much of his goopy pop material for my liking, but it does include his best song, the lovely classic, "Caledonia," which has a beautiful melody, and a hauntingly memorable refrain. The original Scottish album Craigie Dhu has more material like that song, but this collection is certainly a lot easier to find.
Oliver Mtukudzi "Vhunze Moto" (Putumayo, 2002)

Mellow guitar music from Zimbabwe -- more nuanced, relaxed and varied than their music tends to be. A pleasant surprise!
Rita Ribeiro "Perolas Aos Povos" (Putumayo/MZA, 2000)

Blessed with a warm, comforting voice reminiscent of the great Clara Nunes, Ribeiro is one of the new crop of so-called "neo-tropicalistas", blending bouncy pop-rock and reggae into an MPB style that is a bit milder (and less jittery) than the contemporary axe style from Bahia. When Ribeiro sticks to simpler arrangements (like on this album's opening track, "Banho Cheiroso", or the calypso-tinged "Mana Chica"), she excels, projecting a smiley, exuberant vocal vibe that recalls Nazarene Pereira's best work. However, leter this album strays into more belabored musical terrain -- for the most part it sounds just fine, but you feel such deliberate, cerebral, effort on the part of producer Mazzola that it's difficult to get as swept away by this album as you'd like. The underlying effect is more mechanical than rapturous... which is a pity, since Ribeiro really is a very appealling performer.
---
Compilations
---
Various Artists "PUTUMAYO PRESENTS: AFRO-LATINO" (Putumayo, 1998)

A strong, groove-centric collection exploring the interlinking traditions of African and Latin-American dance music. Plenty of well-known world music celebs on here: Sam Mangwana from the Congo, Papi Oviedo from Cuba, Putumayo's star peformer, Ricardo Lemvo, and others. This is one of the first of the "new" breed of Putumayo discs that made me sit up and pay attention to where the label was headed. Recommended.
Various Artists "PUTUMAYO PRESENTS: AFRICAN GROOVE" (Putumayo, 2003)

A slick set of world fusion crossover tunes, some of which sound far cooler than their 1980s and '90s equivalents, some of which are equally questionable and cringeworthy. But, as ever, for listeners looking for something exotic, this disc certainly has its gems.
Various Artists "PUTUMAYO PRESENTS: ASIAN GROOVE" (Putumayo, 2002)

Probably a fairly good representation of contemporary Asian dance-fusion music, with tracks by Bally Sagoo, Badar Ali Khan and others whose names are less familiar to me... Trouble is, this style just isn't really my bag, as far as this kind of music goes. Too much drum machine and not enough sitar and koto.
Various Artists "PUTUMAYO PRESENTS: BRASILEIRO" (Putumayo, 1999)

A very nice collection of Brazilian music, emphasizing sweeter, melodically-oriented tunes. Features a nice selection of tunes by big-name stars -- Jorge Ben, Clara Nunes, Joao Bosco, Beth Carvalho -- as well as several newer or lesser known artists such as Celso Machado and Nazare Pereira. In addition to sounding all-around nice, this collection has great liner notes... a welcome antidote to the normal dearth of information on Brazilian imports. One of several recent Putamayo releases pointing towards a new vigor in their song selection.
Various Artists "PUTUMAYO PRESENTS: CAPE VERDE" (Putumayo, 1999)

Putumayo scores a homer with this compact, compelling compilation. While not as elegant and ethereal as ther recent Cape Verde collections, this disc has more than its fair share of beauty. Plus, it includes several female morna singers not commonly heard elsewhere. The material is of fairly recent vintage (1996-1999), and represents some of the finest examples of the new musical renaissance on the islands. A good introduction to the style!
Various Artists "PUTUMAYO PRESENTS: COLUMBIA" (Putumayo, 2001)

A good, solid set of Columbian dance tunes, bridging the gap between straight-ahead salsa and the hyperactive homegrown styles like cumbia and vallenato... This collection features huge stars such as Joe Arroyo, alongside lesser-known luminaries like Toto La Momposina and Tulio Zuloaga... This disc stays on a fairly even keel -- not a lot of rhythmic variety, but it's all very nice stuff. Definitely worth checking out!
Various Artists "PUTUMAYO PRESENTS: DOMINICA REPUBLICA" (Putumayo, 2000)

Another solid collection, further signalling Putumayo's rise out of the "Wal-Mart of world music" pigeonhole that many have placed on the label. Although there are questionable chord changes here and there, for the most part this compilation focuses on straightforward Cuban-tinged dance music. Pleasantly melodic, these tracks veer sharply from the manic, hyper-charged merengues which typified Domincan pop in the 1980s. As far as I'm concerned, it's a welcome change of pace, and this collection was a real eye opener. It might be for you, too! Definitely worth checking out.
Various Artists "FESTA BRASIL" (Putumayo, 2000)

Sadly, this collection of contemporary Brazilian samba cancao reverts to Putumayo's older style of goofy, safely synth-poppy "world music" vibe... leaning towards overproduced feel-good material, of varying degrees of interest. Some of it's perfectly fine, some of it's pretty drekky -- Braz-pop purists may find it a bit bland, but it could still be a nice stocking stuffer for an uninitiated pal. And it collects tracks such as Gal Costa's version of the forro oldie, "Chiclete Com Banana", which is better heard here than on the original Costa album (which is pretty awful). Other artists include Zeca Pagodinho, Ivete Sangolo, Pepeu Gomes and Rita Ribeiro.
Various Artists "PUTUMAYO PRESENTS: FRENCH CARIBBEAN" (Putumayo, 2003)

A nice, smooth set of modern pop songs drawn from the French-speaking islands of Guadeloupe, Haiti and Martinique, lingering on the more tuneful and diverse end of the Caribbean musical spectrum. For someone like myself, who quickly tired of the landslide of manic, monotonous soca and zouk records of the 1980s, this disc came as a pleasant surprise. It's very listenable and engaging, a nice selection for someone looking for some accessible, poppish world music.
Various Artists "PUTUMAYO PRESENTS: GLOBAL SOUL" (Putumayo, 2003)

I'm not a fan of modern soul music, although I have to concede that this compilation has a pretty impressive world-wide breadth. Artists from Brazil, Asia, Africa, the UK and France crowd this collection, all with the same prefab beats and formulae. The most distinctive tracks on here are by Senegal's Sif Sap and Giant Leap, the high-concept semi-supergroup that Michael Stipe and others helped out with. From Brazil we get a track by Fernanda Abreu and newcomer Aricia Mess. Not my cup of tea, but probably a doozy of a find for the right listener.
Various Artists "PUTUMAYO PRESENTS: LATIN GROOVE" (Putumayo, 2002)

Critics of the "old" Putumayo may wish to steer clear of this disc, which mixes Latin American dance music with techno, soul and rock, to varying degrees of success. In one sense it's kind of interesting, but also kind of on the safe side, which in this case means a little iffy. There is edgier crossover material out there, although I suppose for anyone looking to sniff around the edges of this brand of world fusion, this would be a good place to start.
Various Artists "PUTUMAYO PRESENTS: MEXICO" (Putumayo, 2001)

I know, I know... people in the know consider it obligatory to look down on pretty much anything that the Putumayo label puts out... But for the last couple of years they've had a pretty good batting average. This disc is another surprisingly nice sampler, which runs a nice tightwire between the shrill tinniness many normally associate with Mexican music, and the saccharine folkie-fusion new age leanings of the older Putumayo discs. The material is tuneful and melodic, but not drippy or overblown, and overall this is quite pleasant. The recordings are all of recent vintage, mostly from the late 1990s, so if you want older stuff, you'll have to look elsewhere. But if you want a pleasant little surprise, then give this CD a try. It's nice.
Various Artists "PUTUMAYO PRESENTS: MISSISSIPPI BLUES" (Putumayo, 2002)

Dipping into both acoustic and electric traditions, this disc features an overview of fairly modern recordings, made from the early '60s up through the late '90s. Ranges from electric wailers like Luther Allison to modern day acoustic revivalists such as Chris Thomas King. There are better blues samplers out there to be had, but this one is also okay.
Various Artists "A PUTUMAYO BLEND: MUSIC OF THE COFFEE LANDS" (Putumayo, 1997)

Various Artists "PUTUMAYO PRESENTS: MUSIC OF THE COFFEE LANDS II" (Putumayo, 2001)

These discs have an interest conceit: rather than focus on a particular country or region, they gathers music from various coffee-producing areas, which means the selection ranges from Africa and Central America to Brazil and Hawaii... Sure, the concept may be a little goofy, but the results are great. This is a pretty enjoyable album... Possibly the first Putumayo collection that I decided to hang onto! Also it's a charitable effort -- part of the proceeds went to children living in coffee-bearing countries, which often tend to be economically impoverished and rather grim. Ironically, I think the label entered into a business partnership with Starbucks around the time the first disc came out. Go figure.
Various Artists "PUTUMAYO PRESENTS: MUSIC OF THE TEA LANDS" (Putumayo, 2000)

Another first-rate collection by Putumayo. Yeah, if you want to get all catty about it, you could say that this collection is generic and easy on the ears. But you could just as easily say, "gosh, I've never heard of any of these artists, and this sure is nice to listen to". This covers a wide swath of Asian traditional and pop styles, roaming from China and Indonesia to Turkey and Iran. Only a couple of tracks really hit me as being too syrupy; on the whole this is a gorgeous, meditative collection which could certainly send you off in the right direction if you wanted to find out more about these styles of music.
Various Artists "PUTUMAYO PRESENTS: RUMBA FLAMENCO" (Putumayo, 2002)

All these decades later, the Gipsy Kings still cast a long shadow on the world of popular flamenco, as evidenced by the forceful opening number on this fine collection, "Rankankin," by Maita Verde, which bears the stamp of the Kings' virile pop-crossover formula. There's a lot of variety, though, and other tracks on here are more subtle and lyrical, although many, inevitably, drift into easy listening-ish "world music" terrain. Almost all of the bands are Spanish or Catalonian, although it also includes entries by French groups such as the Gitano Family and Ricao, as wella s American-based acts such as Ziroq and De Madera. All in all, a sweeping and effective overview of modern flamenco, which ably explores the style's rich Arabic and cross-cultural influences. Recommended!
Various Artists "PUTUMAYO PRESENTS: SALSA AROUND THE WORLD" (Putumayo, 2003)

An excellent set of Cuban-style salsa music recorded by groups from lands as disparate as India, Italy, Finland and Morocco. With the decades-long cultural interchanges between Africa and the Carribean Basin, the bands from Senegal and Cameroon are no surprise, but entries by bands such as Apurimac (from Greece) and Salsa Celtica (a Scottish group that intertwines Gealic melodies with Latin rhythms) will give you pause to think. The performances are uniformly strong, though a few dip into slicker production styles. Holds up well to similar collections out earlier on the Tinder label... recommended!
Various Artists "SAMBA BOSSA NOVA" (Putumayo, 2002)

Putumayo scores another hit with this excellent collection of sleek modern balladeers and Brazilian pop innovators... Included are Da Lata, Rossa Passos, Jussara Silveira, Rita Ribero, and my personal hero, Moreno Veloso (the son of the great Caetano Veloso). There are also several less well known artists on here, but the level of quality is consistently very high. This is a really nice, really listenable album... Highly recommended for anyone who wants to check out some more recent Brazilian material.
---
Links
---
Putumayo has dozens of albums out that are not reviewed on this page, but you can get info on them off the label's own website. Admittedly, there are quite a few of their releases that don't really do the trick for me, but as introductory collections for various styles of music, many are still worth checking out.

---


World Music Index
African Music
Slipcue Main Page



---
Copyright 1998-2006 Slipcue.Com. All Rights Reserved.
Unauthorized use, reproduction or translation is prohibited.
---