---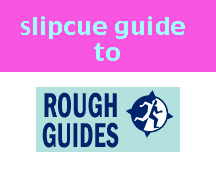 The Rough Guide record label is the musical wing of the outstanding series of Rough Guide travel book empire. Rough Guide offers dozens of top-notch overviews of various styles of music, including many such as Brazilian, Cuban, French and Hawaiian music that are of particular interest to us here at Slipcue. Here's a quick look at their catalog, including reviews of the albums I've heard so far...
By the way, in addition to their great, sometimes quirky music CDs and travel books, Rough Guide also has a great series of music books, which explore all types of world music, pop, reggae and other styles... Check 'em out in my book review section!







---
Artist Albums
---
Etoile De Dakar with Youssou N'Dour "Rough Guide To..." (Rough Guide, 2001)

A perfect overview of the band that brought Senegalese superstar Youssou N'Dour into the international spotlight. There's a wide variety of styles, ranging from more acoustic and traditional-sounding material, to expansive, hypnotic electric guitar tunes that are closer to the lushly produced, lavish pop that N'Dour makes nowadays. Anyone interested in African pop owes it to themselves to check this disc out; it may open up a whole new world of sound for you! [For other Youssou N'Dour reviews, check out my African Music section.]
---
Compilations
---
Various Artists "OXFAM ARABIA" (Rough Guide, 2003)

A good cross-section of contemporary Arabian music, drawn from several different countries. Some of these tracks have modernizations that may not appeal to traditionalists -- touches of electronica and the like -- but it's certainly a noteworthy sampler, with several artists on it who are a bit off the beaten track.
Various Artists "THE ROUGH GUIDE TO AMERICANA" (World Music Network, 2001)

This generously-programmed collection takes plenty of admirable chances in presenting the best of the independent hick music scene. Rough Guide steps out of the twangcore canon, picking less obvious, scragglier bands such as Hazeldine, The Handsome Family, Western Electric and The Arlenes... Maybe it's because these were the songs they could get the rights to, but it's also nice to hear some alt-ier alt.country, along with the Neko Case, Townes Van Zandt and Gourds tunes... Nice set, definitely worth checking out. [For more Americana reviews, check out my Alt.Country section.]
Various Artists "THE ROUGH GUIDE TO AMERICAN ROOTS" (World Music Network, 2003)

A wide ranging set of North American roots music, ranging from bluegrass, folk and gospel to cajun, Tex-Mex and Hawaiian. A well-selected set that includes big-name artists such as Ralph Stanley, Pete Seeger, Flaco Jimenez, Mahalia Jackson, David Grisman and others. Nice.
Various Artists "ROUGH GUIDE TO BRAZILIAN MUSIC" (Rough Guide, 1998)

An odd, interesting mix of mainly modern musicians and styles. Not quite the sweeping overview the title might imply, but still a very interesting set. There are a few familiar names, such as Ivan Lins and Dominguinhos, but for the most part this disc is packed with artists that I had not previously heard of (and I'm reviewing this disc in 2003, so these songs, culled from the Pau Brasil, Velas and Atracao labels, is definitely off the beaten track...) A good look at some of the newer, more obscure music from the 1990s, including axe, glossy-sounding MPB, a little artier material and some escola- style percussion thrown in for good measure.
Various Artists "ROUGH GUIDE TO CUBAN SON" (Rough Guide, 2003)

Pretty nice. One of the best samplers of Cuban dance music you're ever likely to find on the American market, packed with solid performances by classic artists such as Beny More, Orquesta Aragon, Ignacio Pineiro, Nico Saquito and others. Even if it isn't all "son" per se, and even if it includes a few tunes by slick modern groups such as Los Van Van, there's a perceptible tilt towards older, rootsier acoustic styles and artists that I find appealling. Sure, maybe all of the artists aren't brand-name, dyed-in-the-wool legends, but this is a very strong, no-nonsense sampler of some of the sweetest music Cuba has to offer, and one of my favorite RG discs to date. Definitely recommended.
Various Artists "ROUGH GUIDE TO HIGHLIFE" (Rough Guide, 2003)

A sweet, catchy set of West African dance music, packed with top bands such as E.T Mensah, Victor Uwaifo and Orlando Julius... This is a nice, sweeping set, which includes some more obscure modern bands, as well as older recordings from the 1950s and '60s that help set the style in its full historical context. Most importantly, the disc just sounds great. It's well-programmed, well selected, and flows easily from song to song. Recommended!
Various Artists "ROUGH GUIDE TO HUNGARIAN MUSIC" (Rough Guide, 2002)

A wide-ranging overview of Hungarian folk and popular music. Marta Sebestyen and Muzsikas, the country's most popular artists outside of Bela Bartok, lead off this album. Other similarly rich, melodic acoustic material follows, but there are plenty of odd and unexpected entries as well, such as several Greek-sounding Mediterranean tunes as well as modern techno and rock by bands like Kampec Dolores and Emil Bijarski... Anyone wishing to dig deeper than the surface will want to check this disc out...!
Various Artists "THE ROUGH GUIDE TO LATIN JAZZ" (World Music Network, 2003)

I'm not a huge fan of Latin Jazz as a genre (although I do love salsa and Cuban music...) So, maybe I'm not the right person to ask about this one. It seems like a pretty good set, for the terrain. Strong compositional choices, a variety of styles and eras. But god, the music is just so irritating and repetitive. Poncho Sanchez's "Joselito" was pretty swinging, but other than that, not much here for me...
Various Artists "ROUGH GUIDE TO PARIS CAFE MUSIC" (Rough Guide, 2002)

Kind of a weird set of tunes, leaning heavily on more challenging, modern artists, bands that have mutated the venerable French musette style into a jittery, gypsied-out circus music. Towards the end of the disc a few vintage voices come out of the woodwork -- accordionists Jo Privat and Gus Viseur, downcast torch singers Edith Piaf and Frehel -- but for the most part I would say this is a collection that's best suited to folks who are already fans of the style, and are looking to discover new bands that are keeping the style fresh. Listeners who want a more general introduction to older Parisian pop will find a little bit of the old stuff on here, but might want to try out French-produced collections on labels such as Fremeaux and EPM instead. But for the territory it's staked out, this is a pretty cool compilation.
Various Artists "THE ROUGH GUIDE TO RAI" (Rough Guide, 2002)

A top-notch sampler to one of the biggest styles of pop music from Algeria and Northern Africa, with superstars of the genre such as Cheb Khaled, Cheb Mami, Cheba Zahouania, and others. This disc avoids some of the raspier, Arabic-flavored rai out there, but the genre is pretty explicitly "pop," so this is pretty much in keeping with the style. A good introduction for anyone who wants to get their feet wet.
Various Artists "THE ROUGH GUIDE TO SALSA DE PUERTO RICO" (World Music Network, 2003)

Inevitably, there are omissions in this collection (can't please all of the people all of the time... but I sure give RG credit for trying...) Anyway, even if you're favorite PR or Nuyoriquan band isn't on here. plenty of others of equal calibre can easily take their place. Willie Colon, Hector LaVoe, Manny Oqueno, Tito Puente, Eddie Palmieri and others fill this hour-long set with plenty of heavy Latin American dance grooves... Mighty fine stuff!
Various Artists "ROUGH GUIDE TO SAMBA" (Rough Guides, 2001)

An excellent collection, beautifully sequenced, which covers a wide swath of modern samba artists, mainly folks such as Monarco, Cartola, Bezerra Da Silva, Nelson Sargento and Leci Brandao, who are connected either to the various samba schools or to the post-'60s acoustic samba revival. There are also a fair number of more obscure artists, which is quite welcome as far as I'm concerned. The album flows well; the only jarring moment comes with an intrusively loud, brash hip-hoppish track by Luciana Mello, which comes at the very end. Skip that one, and this disc is a gem.
Various Artists "ROUGH GUIDE TO SCOTTISH MUSIC (Second Edition)" (Rough Guide, 2003)

The third Scottish RG collection veers decisively into softer, mellower territory, although there are a few surprises, such as the steel pan drums on Robert Mathieson's "Calypso." Old standbys such as Capercaillie, Boys of the Lough, Christine Primrose and the Battlefield Band are present, as well as a few lesser-known folkies. This set's a bit too soft and modern for my tastes, but I'm sure many folk fans will find plenty to enjoy here. Worth checking out.
Various Artists "THE ROUGH GUIDE TO SKA" (World Music Network, 2003)

This is not actually a far-reaching, overall introduction to the ska style, as such, but rather a collection of old tunes taken from the archives of one particular label, Jamaican producer Vincent "Randy" Chin's work for the pioneering Federal label. Although these are vintage recordings, made between 1960-65 and feature many of the biggest names in Jamaican ska (the Skatalites, The Maytals, Don Drummond, etc.) these aren't necessarily the most classic, immortal songs of the genre. Still, collectors and newbies alike will find this a vigorous and rewarding collection, on a par with the Studio One reissues Rounder Records has been putting out over the years. Also features some related styles such as old group vocals and bluebeat from the same time period...
Various Artists "ROUGH GUIDE TO SOUTH AFRICAN GOSPEL" (Rough Guide, 2003)

I'm not, personally, a huge fan of the South African gospel/group vocal style... (Living in Berkeley in the 1980s, I kind of got overexposed to the secular version, exemplified by groups such as Ladysmith Black Mambazo, et al...) Still, I can recognize a class act when I see one, and this collection of harmonically rich, dense, soulful religious songs, sung primarily in Zulu and Sotho, is an excellent introduction to the genre. Drawing on the archives of several record labels, this concentrates mainly on recordings made in the 1980s and '90s, but also dips lightly into the '60s and '70s, when the music was going through a period of intense development and modernization. If you like the style, or you're just curious what it's all about, this is a fine disc to try out.
Various Artists "THE ROUGH GUIDE TO THE ASIAN UNDERGROUND" (Rough Guide, 2003)

Generally speaking, I'm not the world's biggest electronica-dance fan, but as the genre goes, I find myself frequently drawn to Asian-oriented releases, since they often seem to have more going on, rhythmically and melodically, than your typical club mix disc. I guess it's because they have to introduce some distinctively "Asian" element, such as a sitar or koto, or readily identifiable Chinese or Hindustani melody...something to set the music apart. Or, maybe, it's just that some of Asian mixmasters have better taste or a wider palatte than their Europhilic contemporaries. At any rate, this collection has plenty of nice, mellow, listenable tracks on it, and makes a worthy contribution to the growing catalogue of likeminded records that are available to inquisitive music fans. Worth checking out!
Various Artists "ROUGH GUIDE TO THE MUSIC OF CANADA" (Rough Guide, 2003)

Oh, Canaduh! What a land of plenty... Sure, maybe Neil Young and Joni Mitchell aren't on here, but the host of other artists more than make up for it. Pop-folkie Bruce Cockburn and fiddler Natalie McMaster are probably the biggest name artists on this set, but the real gems come from other, lesser well-known musicians, ranging from the late trad folk legend Stan Rogers to numerous Francophone folkies, kookie Inuit throat singers, Native American (aka "First Nation") songsmiths, and citified bluegrassers such as the Billy Hill Band. Canada's own status as a North American melting pot is confirmed in this far-reaching, eye-opening set. Plenty of surprises and delights. My personal favorite is Wendell Ferguson's acoustic rant, "Rocks And Trees," which demolishes the whole folkies-love-nature stereotype, in a good-natured, affectionate kinda way. Recommended!
Various Artists "ROUGH GUIDE TO THE MUSIC OF CHINA" (Rough Guide, 2003)

A great selection, covering a wide range of modern and folkloric Chinese music. The album starts out on a shaky note, with a long rock song by Cui Jian that sounds kinda like Sting and The Police -- not my cup of tea, but it certainly lets you know that this is a collection that's going to break up our stereotypes of what "Chinese music" sounds like... And indeed, this set runs a gamut of sound, from the traditional twangy lute music we know and love so well, to many other styles -- folk-rock, anthemic children's choruses reminiscent of the Maoist years, operatic pop, etc. It's an impressive collection representing some of the best music to come from this once-closed society. Informative and thought-provoking, as well as often simply beautiful... This disc is definitely recommended for anyone eager to learn more about the world around us.
Various Artists "ROUGH GUIDE TO THE MUSIC OF ETHIOPIA" (Rough Guide, 2004)

While this does have some cool stuff on it, mostly they play it pretty safe in the song selection, leaning heavily on smoother, more modern sounding material. If you'd hoped for a single disc selection that would double for a "best-of" of the ETHIOPIQUES series, this one ain't it.
Various Artists "ROUGH GUIDE TO THE MUSIC OF HAWAII" (Rough Guide, 2001)

An outstanding collection of vintage Hawaiiania, ranging from languid slack key and flashy steel guitar wizardry to stellar examples of the distinctive leo ki'eki'e falsetto vocals (particularly a remarkable live performance by Genoa Keawe, who hits the heights of the style). This set is thankfully slanted towards older material, and includes many giants of the island music scene: Gabby Pahinui, Ray Kane, Lena Machado, Sol Hoopii, Tau Moe and others. It's a great introduction to the music, and stacks up pretty well to other similar collections. Highly recommended! (For similar music, check out my Hawaiian music section.)
Various Artists "ROUGH GUIDE TO THE MUSIC OF MEXICO" (Rough Guide, 2002)

An outstanding compilation of a wide variety of popular and regional styles from across Mexico. This set examines both traditional and contemporary music, including a brilliant ska-banda mix by the popular rock en espanol band, Cafe Tacuba. Rancheras, corridos, boleros, indie rock and various stylistic fusions are represented, and even a few sones from Veracruz -- one of my favorite musical genres! If you are curious about the rich musical heritage of this large but often slighted nation, then check this collection out... It might open more than a few new musical doors!
Various Artists "ROUGH GUIDE TO THE MUSIC OF PAKISTAN" (Rough Guide, 2003)

To my ears, one of the best Rough Guide collections yet -- a mellow, beautiful, hypnotic set of Sufi qawwali religious vocals, secular-romantic ghazal songs, as well as some modern pop and tribal instrumental tunes. It all flows together quite well -- this disc is nicely programmed for continuous listening, and all the music on it is top-notch and captivating. Includes big-name artists such as singer Abida Parveen and the inevitable Nusrat Fateh Ali Khan entry, but also a slew of lesser-known, but no less talented others. Highly recommended!
Various Artists "ROUGH GUIDE TO THE MUSIC OF RUSSIA" (Rough Guide, 2002)

All this Eastern European stuff is a little out of my field of expertise, but this seems -- to my uninformed ear -- to be a pretty good collection of the myriad styles out there in Russia today. There's lots of folkie stuff, both traditional and singer-songwriter-y, more flowery world music crossover material, and a bit of pop kitsch and jazz. Lots of what I would characterize as cabaret singing, often with interesting stylistic twists (such as the country touch on the second track, by the group Nol') There is precious little rock or electronica on here, however, which is a little odd, since I've heard that both styles are really big in Russia... But since Russian techno probably isn't the best music in the world, perhaps we should be thankful... At any rate, this is a good sampler of what them Russkies have to offer music-wise, and it's pretty easy on the ears. Worth checking out, especially if Mother Russia beckons towards you...
Various Artists "ROUGH GUIDE TO THE MUSIC OF THE BALKANS" (Rough Guide, 2003)

As a rule, I'm not that into Balkan and Eastern European music, so it's to this collection's credit that I found it as interesting as I did. A large part of the attraction is the variety of styles on here, ranging from moderized cabaret crooning, pop songs and Arabic bellydancing tunes to the manic cymbalom instrumentals of Toni Iordache. Even if one style doesn't appeal to you, something else surely will -- to me, some of these songs are a bit tedious, and an equal number are almost irresistibly perky and fun. Overall, a pretty high-quality selection!
Various Artists "ROUGH GUIDE TO THE MUSIC OF THAILAND" (Rough Guide, 2003)

Thailand is, to my way of thinking, about as exotic as you can get, and this disc is packed with music that is quite pleasantly outside of my frame of reference. A wide variety of regional genres are included, from imaginative Western-influenced pop crossovers to more indigenous (though still quite modern sounding) styles. I've never heard of any of these artists before -- which is what makes this collection so interesting -- but the concise, earnest liner notes are helpful with bringing the music into focus. Anyone exploring modern Asian music should be quite happy checking this collection out!
Various Artists "ROUGH GUIDE TO THE MUSIC OF TURKEY" (Rough Guide, 2003)

Pretty straightforward Middle-Eastern pop music, similar overall to Egyptian bellydance pop recordings. Pleasant, though not as far-ranging a sampler of Turkish styles as I was hoping for.
Various Artists "ROUGH GUIDE TO WORLD MUSIC, v.1" (Rough Guide, 1999)

Various Artists "ROUGH GUIDE TO WORLD MUSIC, v.2" (Rough Guide, 2000)

Two wide-ranging collections that are intended to help folks get their feet wet when looking into the wide world around us. Africa, Europe and the Middle East are the focus (if that's the right word!) of the first volume, while Volume Two concentrates on Latin and North America, the Caribbean, Asia and the Pacific rim... Again, a pretty broad swath, but the song selections are good. You're probably better off buying more specific volumes of the Rough Guide series, but for a sweeping overview that might give you a sense of what kinds of music to try out, these are pretty good collections.
Various Artists "UNWIRED: EUROPE" (Rough Guide, 2003)

Throughout Russia, the Balkans, Iberia, Scandanavia, the Central Powers and the Celtic and English isles, innumerable artists are rediscovering or reinventing the acoustic music traditions of Europe. This collection is an acoustic folkie's wet dream, with kooky tunes galore, sung in all those funny languages they have over there. Features plenty of heavy hitters such as Christina Branco, one of the up-and-coming stars of Portuguese fado, Gabriel Yacoub of France, Celt/Brit stars Eliza Carthy and Altan, along with several bands affiliated with the innovative Northside label. A strong sampler that may send you off on many rewarding musical journeys!
---
Links
---
The Rough Guide website includes information about both their print and recorded media... You may find that the albums are the perfect compliment to the travel guides, as you contemplate taking a trip abroad... they'll certainly help you learn which records to shop for!

---


World Music Index




---
Copyright 1998-2006 Slipcue.Com. All Rights Reserved.
Unauthorized use, reproduction or translation is prohibited.
---