<! cd = 04/12/13 > <! MP3 04/12/13 - only a few items listed > <! pix 04/12/13 > <! icons 00/00/00 > <! UPDATES: 04/12/13 - posted >

---
Probably the greatest, most beloved -- and most tragic -- of the French popular singers, Edith Piaf (1915-1963) was celebrated for having come, indisputably, from "the people." She was born the child of a prostitute, and was abandoned by both her parents while still an infant. In 1935, at the age of 19, she was discovered by a nightclub owner who both built her popular image and got her a recording contract. Her popularity swelled during the War, and her song "La Vie En Rose" became a standard during the German occupation of France. After the war, Piaf's glamour was torn by ongoing personal hardships and substance abuse (which, in turn, enhanced the tragic elements of her legend...) This is just a quick look at her work...
---
Discography
---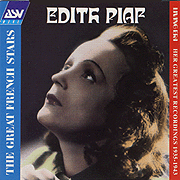 Edith Piaf "Her Greatest Recordings 1935-1943" (ASV Living Era, 1995)


Greta stuff! This CD sticks pretty strictly to her earliest recordings, from the '30s and '40s; it includes her first big hit, "Mon Legionnaire", but omits "La Vie En Rose" and "Non, Ne Je Regrette Rien", which are her two best-known works. The tinny, Jazz Era sound of these early songs may be less accessible to listeners who are more familiar with the emotionally torturous (and more warmly recorded) material made at the time of her postwar tours of America, many of which are highly prized by her fans.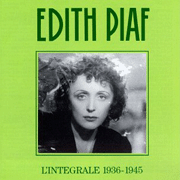 Edith Piaf "Integrale: 1936-1945" (Philips-France, 1990)



When I saw this in the store, used, I thought, Aw jeez... Another cool box set that I'll never really have the time to listen to... But then I realized I just couldn't pass it up... It was just too sweet. This 4-CD gathers the best of Piaf's early work, a full 79 somber classics from her first decade of recordings. Yeah, there's a gravity and a sorrowfulness to her work that most other artists seldom approach, and yeah, she can be kind of a downer, but Piaf really was an extraordinary vocalist. Now that I have this collection, I feel that most of my Piaf-related needs have been met... It's great, with great sound quality and immortal music. Recommended!
Edith Piaf "1935-1947" (Fremeaux, 2004)


This 2-CD set mirrors the four-disc retrospective above, with obviously less music, but the notable addition of some of Piaf's earliest recordings (from 1935) and a few from the late '40s that are not included in the Integrale collection. Another nice option!
---
Links
---
Wikipedia: Edith Piaf <! DEFUNCT - 04/13 - search of their site for "Piaf" gets no results The "Sound Print" radio documentary series did a story on Piaf called a href= "http://soundprint.org/documentaries/more_info/piaf_bio.phtml" "The Nights Of Edith Piaf", which is re-created online... it reads a bit thickly, but is still quite informative. >
---



French Music Index
French Rock Albums


---