<! MP3 09/25/08 > <! update 00/00/00 > <! pix > <! icons 02/17/11 >

---
Rock songwriter Alain Souchon got his start in the early 1970s, but it took several years before his career really took off... I've only started to explore his work (suggestions are welcome!) but look forward to finding more of his work soon...
---
Discography
---
Alain Souchon "J'ai Dix Ans" (RCA, 1974)


(Produced by Laurent Voulzy)
The debut album by this future French hitmaker. I have to confess, I was a little disappointed in this one, having worked my way back to it after hearing some of his catchy later stuff. This is a bit overblown and flowery, caught up in some of the puffy self-importance of the latter-day pop-chanson scene, with deep lyrics crooned over expansive, classical-and-folk influenced orchestrations. There's a touch of the Beatles/George Martin studio sound at play, but for the most part, this is too deliberate and self-conciously weighty -- it's pretty, in a way, but also a bit sluggish and top-heavy. Maybe it'll grow on me with repeated auditions.
Alain Souchon "Bidon" (RCA, 1976)





<! B0000085CJ = twofer? Look for another edition >

Alain Souchon "Jamais Content" (RCA, 1977)

Alain Souchon "Toto 30 Ans Rien Que Du Malheur" (RCA, 1978)

Alain Souchon "Rame" (RCA, 1980)

Alain Souchon "On Avance" (RCA, 1983)


The songs may be good -- it's hard to tell, since the production is so synthy and banal, mired in early '80s MTV-ish New Wave conventions. Interesting that Souchon would later use all these keyboards and such to more subtle effect -- here, though, the technology calls attention to itself and overshadows the music. Skippable.
Alain Souchon "Olympia '83" (RCA, 1984)


Live? In 1983? Oh, God, no.


<! live >
Alain Souchon "C'est Comme Vous Voulez" (Virgin, 1985)


What was a stylistic shortcoming with the On Avance album emerges as a full-scale disaster here -- the clompy, simplistic synth-pop production takes over, full force, mimicking the forceful dorkiness of bands such as Tears For Fears or Ah-Ha... Drum machines, vococorder-ish keyboards, the whole kit and kaboodle. The sound is dated, and it hasn't aged well. Not much to cheer about here, either, although it does make the stuff from '83 sounds subtle, by comparison.
Alain Souchon "Ultra Modern Solitude" (Virgin, 1988)


Mellower and more restrained, although still firmly immersed in the '80s production style, this is much more listenable than his last few records, although still a bit irritating. I'd be embarrassed if a friend caught me with this one on... just guilty, without the pleasure. And yet, it has its attractions -- I can force myself to delve into it for rewards, particularly on the slow songs. On faster numbers, like "J'atends Quelqu'un," the dreadful conventions of '80s pop come into full play, the tacky tempos, the tinny guitars. Later, the soprano sax (ugh) rears its head, and other touches are similarly distracting. "On Se Cache Des Choses" is nice, though, and I'm still trying to figure out who the female voice is on the duet, "Comedie" -- and actress, of course, but which one?
Alain Souchon "Nickel" (Virgin, 1990)





<! live >
Alain Souchon "C'est Deja Ca" (Virgin, 1993)

Alain Souchon "Defoule Sentimentale" (Virgin, 1995)





<! 2-CD live >

Alain Souchon/Various Artists "Sol En Si (Solidarite Enfants Sida) " (Virgin, 1997)





<! AIDS benefit album with other pop stars: Francis Cabrel, Michel Jonasz, Catherine Lara, Maxime le Forestier, Maurane, Zazie) >
Alain Souchon "Au Ras Des Paquerettes" (Virgin, 1999)


(Produced by Michel Coeuriot)
Pleasant, easily melodic, smoothly produced pop that nonetheless has a playful, human edge to it. The opening tracks have a slight country twang to them (which is fine by me!) while a mellow power-pop vibe predominates on the rest of the disc. There are a couple of tracks that slip into more dubious Euro-synthpop territory, but given the miserable track record of European pop in the '80s and '90s, having only two or three skippable songs on an entire album is a darn good ratio. I'm only starting to explore his work, but Souchon has a nice way with catchy melodies and seductive rhythms... This disc was a fine start -- I'm looking forward to more just like it!
Alain Souchon "J'veux Du Live" (Virgin, 2002)





<! live >

Alain Souchon "La Vie Theodore" (Virgin, 2005)

Alain Souchon "Ecoutez D'Ou Ma Peine Vient" (EMI, 2008)

---
Best-Ofs
---



Alain Souchon "L'Integral" (RCA, 1994)



<! 5-CD set >

Alain Souchon "20 Sur 20: 20 Chansons" (BMG, 1997)

Alain Souchon "Collection -- Le Best Of Alain Souchon: 1974-1984" (RCA-BMG, 2001)

Alain Souchon "Collection -- Le Best Of Alain Souchon: 1984-2001" (RCA-BMG, 2001)

Alain Souchon "Par Les Sentiments" (Virgin, 2002)





<! 2-CD >

Alain Souchon "Platinum Collection" (Virgin, 2004)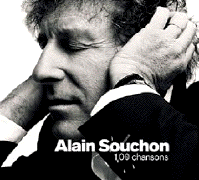 Alain Souchon "100 Chansons" (EMI, 2007)


This 5-CD set gives a good overview on Souchon's career... with a few deficiencies, however. The substitution of key early hits from the 1970s with later live renditions is problematic and unfortunate, particularly for the 1977 album, Jamais Content, which for some reason is almost entirely represented by clompy live versions, with clumsy concert arrangements. Oh, well. Then come the 1980s, and while this collection does provide a good representation of his work, the music is pretty awful. Thank god for the 'Nineties: Souchon gets back his mojo and makes some lovely, more measured, music; 1993's C'est Deja Ca and 1999's Au Ras Des Paquerettes are presented almost in their entirety, while in the new millennium Souchon pursues his muse with renewed vigor. Ultimately, I'll probably track down the albums I like and pass this collection along, but it is a good introduction to his work. Also, in terms of material culture, it's a pretty nice package: the slim-lined CD cases fit into a modest cardboard shell that takes up scarcely more shelf space than a regular double-disc set. Definitely worth checking out.
Alain Souchon "La P'tit Chanteur" (BMG, 2007)


3-CD set.
---
Links
---
Wikipedia has a nice entry on Souchon's work...
---



French Music Index
French Rock Albums



---


<! cd = 08/11/08>