! MP3 04/16/11 > <! update 00/00/00 > <! outside 00/00/00 > <! pix 00/00/00 > <! icons 04/16/11 >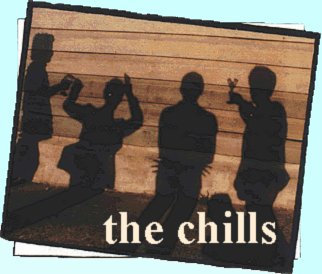 ---
The longtime standardbearer of New Zealand "kiwipop," songwriter Martin Phillipps has gone through more lineups of his band, The Chills than Art Blakey did with the Jazz Messengers. Founded in 1980, the Chills were one of the foremost NZ indie bands, and the only one which (briefly) looked like it had a shot at commercial success. A flirtation with fame while on the Slash label ended abruptly and with typical anticlimax, after which Phillipps regrouped and renewed himself. More records are sure to come; here are the many which still delight and inspire.
---
Discography
---

The Chills "Kaleidoscope World" (Flying Nun, 1986)



A brooding mini-masterpiece which features the classic, "Pink Frost." One of the few songs you can call "haunting" and not have it be a cliche, "Pink Frost" describes the horror Phillipps felt as a bandmate slowly died of leukemia, a spooky, gloomy message embedded in a memorable melody. Other album highlights include the bouncy, singalong "Rolling Moon," and others. Although a bit murky, this may be the most cohesive Chills album. Highly recommended.

The Chills "Brave Words" (Flying Nun, 1987)


Both the greatest, and the most uneven, of the Chills albums. High points include the irresistable "Rain," and the whirligig "Dan Destiny And The Silver Dawn," which bluntly explores the sadistic curiousity and emotional detachment that is sometimes involved when you dump someone. Songs which take a little more effort to get into include the all-too-short "Push," and the loner-ific title track, which still sounds timely in its scorn for materialistic obsession. Other songs are less memorable, but the album's high points by far overshadow its deficiencies.
The Chills "The Lost EP" (Flying Nun, 1988)
A hodgepodgey, sometimes alluring collection of early recordings. Nice, lighter material.

The Chills "Submarine Bells" (Slash, 1990)



The album that was supposed to have made the Chills famous. Most fans love this album, but I never have been able to get into it: there's a slickly produced, aggressive edge to it which I find flat and offputting. The driving, somewhat expansive sound is a bit monochromatic, and clearly placed commercial aspirations above Phillipps' unique pop sensibility. Still, so many other people love this album, that I am probably just wrong.

The Chills "Soft Bomb" (Slash, 1992)



Here's my other Chills apostasy -- many folks loathe this album, but I like it. I admit that its Beach Boys-ish summer-at-the-beach nostalgia and simplistic melodicism may sound a bit wimpy and thin, but I still like it. There's more of Phillipps' characteristic yearning here, as well as an emerging, naifish hopefulness which is somewhat touching. It's not great, but it's poppy, appealling and idiosyncratically Martin... and I like it. Quite a bit. The fact that he named his publishing company and website after this album should, I think, tell you how seriously Phillipps himself takes this record.

Martin Phillipps & The Chills "Sunburnt" (Flying Nun, 1996)


(Produced by Craig Leon)
Not without its moments of magic, but a little rough overall. Phillipps' bitterness over missing the brass ring finally comes to the surface, with songs such as the Icarus-inspired title track, which explores his feelings about the fame game. This sort of art-vs-commerce navel gazing doesn't always make for the most listenable pop songs, but it's still interesting for devoted fans to get a glimpse into Phillipps' side of the story.


<! It makes sense that the group once known simply as the Chills is now Martin Phillips & the Chills -- for the group has always been a template for Phillips' distinct pop vision. In fact, throughout nearly a dozen lineups he has been the only consistent member. The players employed this time around weren't even the present members of Phillips' group, as those three were turned back at Heathrow Airport, their work permits denied, and sent home to New Zealand. So "the Chills" brought in this time around are XTC's Dave Gregory and Fairport Convention drummer Dave Mattacks. On the title track, Phillips addresses his precarious group situation, specifically the 1992 implosion of the Chills, when seemingly at the peak of their career that version of group dissolved into legal battles and a creative standstill. >

Martin Phillipps & The Chills "Surrounded" (EP) (Flying Nun, 1996)


Martin Phillipps "Sketchbook: Volume One" (Flying Nun, 1999)


Demo tapes and home recordings from Martin's private stash, a "warts and all" collection, as he puts it... This probably isn't for everyone, but Chills true believers will not be disappointed. He's so earnest, searching and forlorn... how could we not love him? There seems to be some sort of tape drag on some tracks, which gives it an even more disturbing air... although I suppose it's possible that Martin's voice has changed as a result of his health problems (see the websites below for more info...) Anyway, this is full of Phillipps' trademark laconic romantic observations, along with new concerns such as environmentalism (he quizzically notes that the February weather is strange, later laments the impending extinction of the tigers: "who do I speak to?/who do I talk to?/oh what can I do?"). Some of the songs are indeed, just sketches, but most are pretty fully-formed, and in keeping with the whole Chills legacy... Worth checking out, though apparently this doesn't have any U.S. distribution.
Martin Phillipps & The Chills "Secret Box" (Flying Nun, 2001)
A 3-CD set of outakes, demos, concert recordings and the like... Sounds yummy.
---
Best-Ofs
---

The Chills "Heavenly Pop Hits" (Flying Nun, 1995)


A nice slice of classic Chills-ology which, of course, isn't perfect, but is still mighty fine. American listeners may also enjoy the sound quality, which is a vast improvement over the early, poorly-mastered American CD versions of Chills records which came out on Homestead in the late '80s.
---
Related Records
---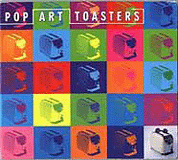 Pop Art Toasters "Pop Art Toasters" (EP) (Flying Nun, 1994)


Martin Phillipps and other kiwi popsters kick back a bit and cover several fairly obscure '60s pop-psychedelic tunes. A nice side-project which brought the sparkle back into Martin's eyes.
---
Links
---
Kiwi Rock is a music obsessive's dream site -- almost scarier than my site, even! This site includes biographical essays for dozens of bands, as well as old press clippings, etc, as well as discographies and links-a-plenty. It's mostly oriented towards bands on the Flying Nun label, and was last updated in 1996. Well worth checking out!
The Chills Home Page, with all the dirt about our favorite adorable auteur, Martin. This is certainly the best Chills page out there, and one of the best kiwipop resources currently online. Check it out!
Flying Nun's Chills page -- will pretty much tell you what you need to know about these lovely pop errants...
---



Kiwipop Index
Indiepop Indiedex
Slipcue Main Page



---