! MP3 04/16/11 > <! update 04/16/11 > <! outside 00/00/00 > <! pix 00/00/00 > <! icons 04/16/11 >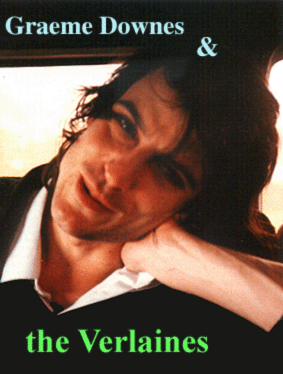 ---
Although many New Zealanders have a sombre, brooding edge about them, songwriter Graeme Downes of The Verlaines is one of the darkest artists in the kiwipop canon. This songs are tightly wound and densely crafted, packed with modern compositional theory that goes far past the conventional 4/4 rock thing. I have to confess, although his early albums rank among some of my favorite NZ pop, several albums in I found myself unable to keep track of his work. When I do listen to them, his later records are always highly rewarding, yet they require a fair amount of active listening. Y'all brainiacs out there, pay heed: this is a guy to keep on your indiepop radar.
---
Discography - Best-Ofs
---
The Verlaines "You're Just Too Obscure for Me" (Flying Nun, 2007)


---
Discography - Albums
---
The Verlaines "10 O'Clock In The Afternoon" (Flying Nun)
The makings of a legend, a five song EP that captures doleful, dejected, delerious angst, restlessness, ennui, and all them other whistful, trapped-indoors-on-a-rainy-day feelings. The title track crystallizes all of the above in one wonderfully mopey moment.
The Verlaines "Juvenilia" (Flying Nun, 1988)



Their classic album -- collects the tracks from the 10 O'Clock EP along with several other real winners. Everybody's favorite is, of course, "Death And The Maiden," with its irresistable singalong chorus, "Verlaine, Verlaine, Verlaine, Verlaine, Verlaine, Verlaine..." HIGHLY recommended.
The Verlaines "Hallelujah All The Way Home" (Homestead, 1985)


The Verlaines "Bird-Dog" (Homestead, 1987)


The Verlaines "Some Disenchanted Evening" (Homestead, 1990)


The Verlaines "Way Out Where" (Slash, 1993)


Graeme Downes "Hammers And Anvils" (Matador, 2001)



After an eight year hiatus, songsmith Downes shows that he is still in fine form, as dark-toned and intense as ever. He can still pull a jangle or two out of his pocket, but this is mostly very dense, rather pessimistic material, rough-hewn, highly individual and pleasantly grating rock balladry. Fans of Mark Eitzel, perhaps, might want to check this one out.
The Verlaines "Potboiler" (Flying Nun, 2007)


---
Links
---
Flying Nun's Verlaines Page has a spiffy little profile of the band and lists their FN releases. However, it's in their "archive" section, so the information may be a wee bit out of date.
---



Kiwipop Index
Indiepop Indiedex
Slipcue Main Page



---