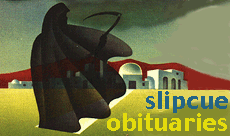 ---
ROCKIN' IN THE GRAVEYARD
Recent Obituaries of Interest
For your edification... some more obituaries...
---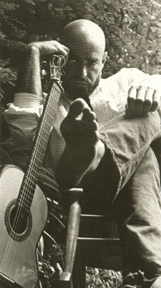 Shel Silverstein, 68, Enchanting Poet for Children, Dies
By William B. Honan, courtesy of The New York Times






Shel Silverstein, whose goofy, gross and macabre yet always enchanting poetry for children sold more than 14 million books, was found dead Monday morning at his home in Key West, Fla. He was 68.

Neither the time nor cause of death had been determined Monday afternoon, said Shel Vidibor, his friend and lawyer.

While Silverstein's talents led him into a diverse series of careers as a cartoonist, playwright, singer and song writer, it was his children's verses that are best known and often compared with masters of the form like Dr. Seuss and A.A. Milne.

His collections of children's poetry, "Where the Sidewalk Ends: The Poems and Drawings of Shel Silverstein" (Harper, 1974) and "A Light in the Attic" (Harper 1981), both enjoyed long runs on the best-seller lists. Silverstein was also the author of the children's classic "The Giving Tree" (Harper, 1964).

In addition to his writings for children, he contributed cartoons to Playboy magazine for many years and wrote nine plays for adults. In 1988, when several of those plays were packaged as "Wild Life" and were produced at the Vanguard Theater in Manhattan, Frank Rich, in his review in The New York Times, suggested that playwrighting "may eventually prove his most fruitful career to date."

Silverstein's career as a children's author began in 1963 with the publication of "Uncle Shelby's Story of Lafcadio, the Lion Who Shot Back" (Harper).

This yarn about a lion who acquired a hunter's gun and practiced until he became a good enough shot to join the circus, was only a moderate success. It was not until publication of "The Giving Tree," a story about a tree that surrenders its shade, fruit, branches and finally its trunk to a boy in order to make him happy, that Silverstein developed a mass following.

In 1974, when he published the collection of poems called "Where the Sidewalk Ends," his work was compared to that of Dr. Seuss and Edward Lear.

The combination of silliness and sophisticated word play in Silverstein's poetry is illustrated by the poem "Eggs Rated" in the collection "Falling Up" (HarperCollins, 1997). Here, the syllable "ex" is wittily replaced by "egg," as in "Eggstra fluffy,/Eggstremely tasty/Cooked eggsactly right . . ." But those eggs are "much more eggspensive than I eggspected."

Many of the poems reflect a ghoulish taste that children tolerate better than many adults. In the poem "Safe," also in the collection "Falling Up," a child preparing to cross a street carefully looks to one side and then the other before confidently proceeding oblivious to a steel safe hurtling down from the heavens.

Silverstein, who maintained residences on Matha's Vineyard, Mass.; Key West; Greenwich Village, and on a houseboat in Sausalito, California, refused the grant interviews in recent years.

Shelby Silverstein was born in Chicago in 1932, and backed his way into publishing. "When I was a kid -- 12 to 14, around there -- I would much rather have been a good baseball player or a hit with the girls," he once told a reporter for Publishers Weekly. "But I couldn't play ball. I couldn't dance. Luckily, the girls didn't want me. Not much I could do about that. So I started to draw and to write. By the time I got to where I was attracting girls, I was already into work, and it was more important to me."

In the 1950s Silverstein served with the United States armed forces in Japan and Korea and began drawing cartoons for Stars and Stripes, the American military publication.

When he returned to the United States, he began drawing cartoons for Playboy magazine.

Apart from his cartoons, Silverstein began writing songs in the country-western style. In 1969 one of these, "A Boy Named Sue," was made a hit for the singer Johnny Cash. In 1980 Silverstein recorded a country music album called "The Great Conch Train Robbery."

Silverstein is survived by his son, Matthew, and a sister, Peggy Myers of Chicago.

May 11, 1999
---

Brownie Mary, San Francisco Marijuana Activist
By Larry D. Hatfield, Courtesy of the San Francisco Examiner

Brownie Mary, the feisty septuagenarian whose marijuana-laced brownies eased the pain of a generation of her "kids" dying of AIDS in San Francisco, is dead at 77.
Brownie Mary, whose real name was Mary Rathbun, died at Laguna Honda Hospital Saturday night after a lengthy illness.
She had used a wheelchair since injuring her spine in a fall in August, according to Larry Bittner, a longtime friend and her executor.
"Brownie Mary was a hero for our time, in a world with few heroes," Bittner said Monday. "Like strong women from the past, for example Sojourner Truth, (she) was selfless, thinking always, even to the end, about others. Especially those like her 'kids,' she was drawn to the downtrodden."
Ms. Rathbun — one of the earliest and most constant leaders of the medical marijuana movement — gained notoriety in the 1980s for baking and delivering marijuana brownies to patients on Ward 86 — the AIDS ward at San Francisco General Hospital.
She was busted twice in San Francisco but eventually, as The City accepted the benefits of marijuana used as a palliative for AIDS, cancer and other diseases, San Francisco supervisors honored her with a "Brownie Mary Day" in 1992. That same day, she appeared in court in Sonoma County where she was under indictment for possession of marijuana, which she said she had grown to continue her deliveries to AIDS patients.
"If I have to be the cause célŹbre for medicinal marijuana, then that's good," she said. "I'm doing it for my kids. Kids with AIDS, undergoing chemotherapy and in a lot of pain. Marijuana helps them."
The charges subsequently were dropped.
"I think she made 134 dozen a month during the heyday, 1984 to 1994," said Dennis Peron, who founded the now-defunct San Francisco Cannabis Buyers Club with Ms. Rathbun. "And you could smell it all through her building. The old ladies there were all cool about it; hey, it's San Francisco."
Ms. Rathbun was born in Minnesota, named Mary Jane by her unwitting, conservative, Irish Catholic mother.
That coincidence vastly amused her, according to Bittner. "Given my background and reputation and my adopted name," Brownie Mary told Bittner recently, "my poor old mother is surely turning cartwheels in her grave. It serves her right."
Ms. Rathbun came to San Francisco after World War II and worked for many years as a waitress. While she baked brownies for AIDS patients, she was living on $650-a-month Social Security. It pained her, she said, that the lack of money limited the number of AIDS patients she could help. Her start in the the pot brownie business wasn't so altruistic.
When she was busted in 1981, she admitted she was in it for the profit. But when she as arrested a decade later in Sonoma, she said, "This time I wasn't in it for the bucks. This time I was doing it for my kids."
She used marijuana to ease the pain in her own arthritic knees, she said, but she also never forgot her kids. "I get a little marijuana every once in a while," she told The Examiner in 1991. ''I save it up until I've got enough to make 20 dozen brownies for my kids."
Ms. Rathbun became an activist in her teens when she traveled with a group in the Midwest supporting the union rights of miners.
She married after coming to San Francisco and she and her late husband had a daughter, who died in an automobile accident in the early 1970s.
She has no known surviving relatives.
---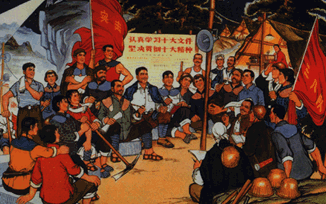 CAO HUOXING, 75; Wrote Patriotic Chinese Music
By Eric Pace, courtesy of the New York Times

Cao Huoxing, a Chinese farmer's son who wrote a Communist song that has become familiar to hundreds of millions of Chinese, died on April 16 in Tianjin, in northern China, the official New China News Agency reported.
He was 75 and had been chairman of the Tianjin Municipal Bureau of Culture.
Cao was born in Pingshan county in Hebei Province, in northern China. He was a composer from the age of 16 and reportedly wrote more than 1,500 songs.
In 1943 he wrote the song for which he is best known, "Without the Communist Party, There Would Be No New China." At that time, during World War II, China was divided into areas controlled by the Japanese invaders, the Nationalist Government and Communist forces. The Communists won a civil war with the Nationalists and took power in all of mainland China in 1949.
The words are somewhat less impassioned than the text of the song by Tien Han and Nie Erh that was approved as the Communist national anthem in 1949. The anthem, originally a call to arms against the Japanese, includes the lines, "For we throw ourselves with courage on the enemy/Forward, forward, forward!"
The words of the more solemn song that was adopted in 1929 as Nationalist China's national anthem, based on words spoken by Sun Yat-sen with music by Cheng Mao-yun, include, "Be earnest and brave, your country to save/One heart, one soul, one mind, one goal!"
In 1982 Cao set off with 25 artists of the China Tianjin Song and Dance Troupe to appear at music festivals in Britain and elsewhere outside his homeland. The troupe's repertory included the nonpolitical dance numbers "Flower Drum Dance" and "Merry Golden Fish."
---
And here's the next set of more groovy obits...
Kyriacos Demetriou, An Old-Fashioned Barber, Dies at 80

Helen A. Mayer - Dumbo's Creator, Dies at 91

Dr. Jule Eisenbud - parapsychologist

---
Links
---
There are several obit enthusiast sites out there, and each has its own unique take on obituary journalism. Here are some recommended sites you may enjoy as well.
---