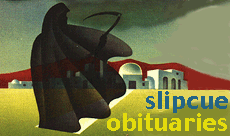 ---
ROCKIN' IN THE GRAVEYARD
Recent Obituaries of Interest
For your edification... some more obituaries...
---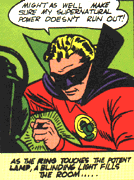 JOHN BROOME, Creator of the Green Lantern
Courtesy of The Associated Press

John Broome, a DC Comics writer whose 25-year career included work on the superheroes Green Lantern and Flash, died of a heart attack March 14 while traveling through Thailand. He was 85.
Broome, who wrote under his own name and the pseudonyms John Osgood and Edgar Ray Merritt, was responsible for the colorful writing in The Justice Society of America. The comic depicted the first team of superheroes.
His other works included Detective Chimp, about a chimp who worked with a sheriff in a small town to solve crime. It was written from the chimp's viewpoint. Broome also wrote the comic Atomic Knights.
Green Lantern, first created in the 1940s, was revised by Broome in the '50s and '60s. He also wrote most of the stories of Flash during the same period.
After retiring in 1970, Broome moved to Paris and later to Tokyo, where he taught English.
May 18, 1999
---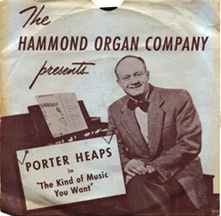 PORTER W. HEAPS, 92, Popularized the Hammond Organ
By Allan Kozinn, courtesy of the The New York Times

Porter Warrington Heaps, an organist and composer whose work on the popular Hammond organ transformed a crude-sounding electronic keyboard instrument into one that could approximate the sounds and colors of larger pipe organs, died on May 3 at his home in Palo Alto, Calif. He was 92.
Heaps was born in Cicero, Illinois, in 1906. He showed an early aptitude for the piano and organ, and was hired for his first job as a church organist when he was still in grammar school. In the 1920s he received bachelor's and master's degrees in music from Northwestern University. He also studied with the organist and composer Marcel Dupre in Paris during the summers.
During the 1930s, Heaps taught the organ at Northwestern University, where he was also the chapel organist, and at the Cosmopolitan School of Music and Dramatic Art, in Chicago. He also began a 40-year association with the Hammond organ company. By the mid-1930s he had found ways to make the instrument's registrations -- the timbres created when an organist uses different stops and combinations of stops -- sound richer and more realistic.
He demonstrated his achievement in a competition, held over the initial protests of the American Guild of Organists, in which his reconfigured Hammond organ performed side by side with a pipe organ at a large chapel. A panel of three judges was unable to agree on which instrument was the Hammond.
Thereafter, Heaps toured the country for Hammond, giving seminars and demonstration concerts. He was intent on popularizing the instrument and set up his own company, Keyboard Publications, which published his compositions, arrangements and teaching materials.
After his retirement from Hammond in 1970, Heaps moved to Palo Alto, where he continued to give recitals and demonstrations on both electronic and pipe organs, and annual performances at the Home Organ Festival in Asilomar, California. He was also the organist and music director of the Palo Alto Community Church.
Heaps is survived by two daughters, Barbara Van Slyke of Stanford, California, and Portia Leet of Palo Alto; five grandchildren, and six great-grandchildren.
May 19, 1999
---

BESSIE COHEN Survivor of 1911 Shirtwaist Fire, Dies
By Micheal T. Kaufman, courtesy of The New York Times

Bessie Cohen, who as a 19-year-old seamstress escaped the Triangle Shirtwaist fire in which 146 of her co-workers perished in 1911, died on Sunday in Los Angeles. She was 107 and one of the last two known survivors of the Manhattan fire, according to the Union of Needletrades, Industrial and Textile Employees.
Her son, Jack Kosslyn, an acting teacher and casting director, said she died at the Jewish Home for the Aging in Los Angeles, where she had lived for the last 14 years. Until six weeks ago, he said, she had retained much of her vitality and memory.
Over the years, she had graphically recalled for her family, as well as for historians and documentary filmmakers, what she experienced and witnessed on March 25, 1911, when the worst factory fire in New York history raged through the top three floors of the 10-story Asch Building on the northwest corner of Washington Place and Greene Streets.
Inside, about 500 women, mostly Jewish and Italian immigrants, worked behind locked doors making shirtwaists, blouses of lightweight fabric, depicted as the uniform of modern womanhood in the illustrations of Charles Dana Gibson.
It was a Saturday afternoon, and Mrs. Cohen, then Bessie Gabrilowich, was on the ninth floor. She had come alone from Russia to New York two years earlier and had worked in several shops as a stitcher, saving money to bring her sisters to America. The workers were near the end of their 6-day, 52-hour workweek, and since one of the women on the ninth floor had just become engaged, someone had brought a cake, and slices were being passed around.
For the rest of her life, Bessie Cohen would remember that earlier in the day, she had urged her friend, Dora Abramowitz, who was 15, to ask the foreman to give her a 50-cent raise to bring her salary up to the $3 a week that Bessie was earning. At the moment that someone screamed fire, Bessie was teaching a dance step to a fellow worker. The flames were coming up from the cutting room on the floor below.
Within the next 15 minutes, nearly 30 percent of all the Triangle Shirtwaist workers were killed. Mrs. Cohen would later tell her children that after the warning, she went to look for the cheap straw hat she had bought the day before, when she heard a foreman shout to her in Yiddish, "Bessie, save yourself." She looked across the room and could see her friend Dora, looking frightened. But when she looked again, Dora was gone. She was one of those who jumped from the windows and died.
The fire trucks' ladders could reach only to the seventh floor. Firefighters held nets below, but so many women were jumping at the same time that the nets tore and did not hold them. Some rushed to the elevator shaft, hoping to escape by sliding down the cables, only to lose their grip. Most of those who lost their lives had worked on the ninth floor.
Later inquiries found that doors leading from the shop areas had been locked, presumably to keep the women at their sewing machines. The owners, who were tried for manslaughter, were acquitted when the jury could not establish whether they had ordered the doors locked or had even known they were locked. But in 1914, civil suits brought by relatives of 23 victims ended with payments of $75 to each of the families.
On the day of the fire, Mrs. Cohen would recall, she somehow found her way to a staircase and covered her face with her purse as she ran to the street.
The next day, she returned to the street outside the building, where the bodies were arrayed so that friends and relatives might identify them. A newspaper photographer took a picture of her as she collapsed at the sight; Kosslyn said his mother kept that newspaper picture throughout her life.
She took other jobs, he said, and became active in the International Ladies Garment Workers Union, whose organizing efforts gained momentum after the fire. Two years before the blaze, a three-month strike of about 20,000 shirtwaist workers in New York City and Philadelphia had helped to entrench the union and had focused public attention on conditions in sweatshops. The needletrades union is a successor to the International Ladies Garment Workers.
At least one survivor of the fire is still living, according to The Associated Press. Rose Freedman, 105, of Beverly Hills, Calif., escaped by fleeing to the roof, her family said.
The Triangle Shirtwaist fire has become the most vivid symbol of the struggle for workplace safety. As outrage mounted after the fire, the union intensified its demands for safer working conditions. A huge crowd of sympathizers, Mrs. Cohen among them, paraded in mourning to the arch in Washington Square Park. Hearings were held, and by the end of 1911, the city of New York had established a Bureau of Fire Investigation, headed by the future senator, Robert F. Wagner, who was later the father of the Wagner Labor Act. The bureau had the power to impose and enforce safety regulations.
The Asch Building, its interior long since gutted and rebuilt, became a part of New York University and still stands.
Mrs. Cohen is survived by her son, Jack, of Los Angeles, and a daughter, Sylvia Scott of Calistoga, Calif. A grandson, Jan Tangen, died last year.
In 1915, Bessie married and moved with her husband, Lewis Cohen, to New London, Connecticutt, where her son and daughter were born. For many years after the fire, her son said, she would react fearfully to thunder and lightning, burying her head in her arms and sobbing.
The family moved to Passaic, N.J., and then to New York. In 1940, after her marriage ended, she moved to Los Angeles, where her son was living. Mrs. Cohen, an independent woman, lived on her own until she was 93 in the Boyle Heights neighborhood, staying on after most of the Jewish residents had left.
When she was 89, she was mugged and had her jaw fractured by two men who took her purse, which contained a bus pass and 60 cents.
After two weeks, she returned to her home and neighbors, sipping liquids through her wired jaw for months. When she finally did leave for the nursing home, about 200 of her neighbors, almost all of them Hispanic, saluted her with a festive street party.
Wednesday, February 24, 1999
---
And here's the next set of more groovy obits...
Saul Steinberg - highbrow cartoonist

Tibor Kalman - graphic design iconoclast

Jesse Stone - songwriter, producer, and pioneer of rock and R&B

---
Links
---
There are several obit enthusiast sites out there, and each has its own unique take on obituary journalism. Here are some recommended sites you may enjoy as well.
---