ROCKIN' IN THE GRAVEYARD
Recent Obituaries of Interest
For your edification... some more obituaries...
---

Jean Vander Pyl, 79, the Voice of Wilma on `The Flintstones'
Courtesy of Reuters News Service

Jean Vander Pyl, the voice of Wilma Flintstone, whose trademark yell, "Fre-e-e-ed," was heard in homes around the world as she shouted at her husband in the popular Hanna-Barbera television cartoon series, died on Saturday at her home here. She was 79.
The cause was lung cancer, said her son Michael O'Meara.
Ms. Vander Pyl, who played a host of characters in various radio shows and animated television series, was also the voice of Pebbles, the Flintstone's daughter, and did extra duty as Mrs. Slate, the wife of Fred Flintstone's boss.
After graduating from Beverly Hills High School, Ms. Vander Pyl got her start as a radio actress in the radio series "Calling All Cops," the precursor to television's "Dragnet," mostly playing damsels in distress. She went on to play the mother on radio's "Father Knows Best" and Andy's many girlfriends on "Amos 'n'Andy."
In addition to "The Flintstones" she was featured on that show's space-age counterpart, "The Jetsons," in which she performed the voices of seven characters, including George Jetson's mother-in-law, George's secretary, Rosie the robot maid and Mrs. Spacely, the boss's wife.
But she was known around the world as the voice of Wilma Flintstone. The show ran for six years, from 1960 to 1966, and was seen in more than 80 countries in syndication. Even today it is estimated that not a minute goes by in which "The Flintstones" is not being watched somewhere in the world.
But while people everywhere were listening to Ms. Vander Pyl's voice, she was not hearing the ring of the cash register. She told an interviewer in 1995 that she received $250 an episode for making the show and that when the series ended, she rushed to accept $15,000 in lieu of residual payments from syndication. At that time she lived in nearby San Clemente and ruefully observed: "If I got residuals I wouldn't live in San Clemente. I'd own San Clemente."
"She was an anonymous celebrity," O'Meara said. "You could go out with her and nobody would recognize her."
In addition to her son Michael, of Dana Point, she is survived by two other sons, Timothy O'Meara of Northridge, California, and Roger DeWitt of New York; two stepsons, Anthony DeWitt of New York and Peter DeWitt of June Lake, California, and three grandchildren.
---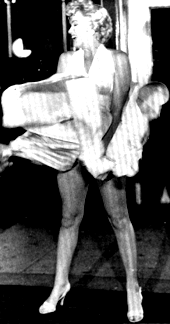 SAM SHAW - shot famous photograph of Marilyn Monroe


Sam Shaw, a film producer and photojournalist famous for his photographs of Marilyn Monroe standing over a subway grate with her skirt billowing, died on Monday at a hospital in Westwood, N.J. He was 87 and lived in Tappan, NY.
Born and reared on New York's Lower East Side, Shaw's artistic talents were evident even as a young boy when, without money to buy supplies, he would gather up tar from the streets and make sculptures of animals. By the time he finished high school, he had turned to painting and was offered either a scholarship to study at the Pratt Institute or a studio in which to work. He chose the latter, which he sometimes shared with the artist Romare Bearden.
After a brief stint as the art director for the Brooklyn Eagle, Shaw began his career as a photojournalist with Colliers magazine in the 1940's. Alongside the journalist Harry Henderson, he traveled through the United States to create memorable photographs of West Virginian miners, Southern sharecroppers and New Orleans jazz musicians at work in their environs. His name became synonomous with the covers of Life and Look in the 1950's and 60's.
Gradually, he moved into film. In 1951, he created the photograph of Marlon Brando in a ripped T-shirt that came to symbolize "A Streetcar Named Desire."
It was while shooting Brando on the set of "Viva Zapata!" in 1952 that he met Monroe. A struggling contract player, she had been assigned to drive Shaw to film locations, and their friendship quickly ignited.
Her star had risen by 1955, when Shaw was hired to shoot a poster for Billy Wilder's "Seven Year Itch." Before a crowd of thousands, Monroe re-enacted the scene from Wilder's script in which she left the Trans Lux theater on Lexington Avenue and crossed a subway grate, as a rush of air from an oncoming train caused the skirt of her white dress to fly up. "You've got to give Marilyn credit, too," Shaw said in an interview years later of that moment. "She was very inventive. She loved the camera."
In recent years, Shaw had filed a $100 million suit againist his son, Larry Shaw of Piermont, in which he claimed that his son, then acting as his agent, made deals to illegally reproduce images of Monroe and pocketed the proceeds. His son denied the accusations, saying he had permission.
In 1961 Shaw tried his hand at producing with "Paris Blues," starring Paul Newman, Joan Woodward, Sidney Poitier and Louis Armstrong. He went on to produce films for John Cassavetes, including "Husbands," "A Woman Under the Influence," "The Killing of a Chinese Bookie," "Opening Night," "Gloria" and "Love Streams."
His survivors include his daughters, Meta Shaw Stevens of Manhattan and Edith Shaw Marcus of Tappan, N.Y.; seven grandchildren, and a great-grandchild.
Friday, April 9, 1999
---

Arthur Schawlow, 77, Nobelist for Lasers, Dies
By Malcolm W. Browne - courtesy of The New York Times

Arthur L. Schawlow, co-winner of the 1981 Nobel Prize in Physics for his role in the development of lasers, died on Wednesday at a hospital in Palo Alto, California. He was 77 and lived in Palo Alto.
The cause was congestive heart failure resulting from leukemia, said a Stanford University spokesman.
Dr. Schawlow, an emeritus physics professor at Stanford, , gained fame in the 1950's when he collaborated with Dr. Charles H. Townes in designing features of a device that came to be known as a laser -- after Light Amplification by Stimulated Emission of Radiation.
Conflicting claims to the invention of lasers persisted for many years, but there is general agreement that the first working laser was built by Dr. Theodore H. Maiman at Hughes Research Laboratories in Malibu, Calif. The device was first operated on May 16, 1960.
Dr. Schawlow and Dr. Townes worked together at Columbia University to develop a device called a maser -- the microwave ancestor of the laser -- a device that Dr. Townes had invented. Their goal was to invent something that would amplify light in the same way that the maser amplified microwaves.
Dr. Schawlow conceived the idea of building a chamber, or "cavity," consisting of a synthetic ruby that would act as a kind of echo chamber for light. At one end of the ruby was a highly polished mirror and at the other end was a semi-transparent mirror that would allow light to pass through once it had been amplified to a certain threshold level.
The two scientists published their idea in 1957, prompting an international competition to build a working laser.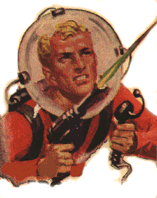 Early lasers consisted of ruby cavities surrounded by coiling flash lamps similar to strobe lights used by cameras. Energy from a flash lamp pumped atoms within the ruby cavity to higher energy levels. When these atoms fell back to a lower energy state, they emitted light. A cascade of synchronized emissions resulted, causing laser light.
Unlike ordinary light, laser light is coherent; that is, its waves march in step with one another. The special properties of lasers have found countless uses in modern life, including bar-code readers, compact disks and weapons.
Among the leading pioneers of laser science were Dr. Polykarp Kusch of Columbia University, who was awarded a Nobel Prize in Physics in 1955 for his discoveries about the properties of electrons, and his graduate student Gordon Gould, who coined the word "laser." But the most famous of the laser scientists were Dr. Townes and Dr. Schawlow.
In 1964, Dr. Townes shared a Nobel Prize with two Soviet physicists, Dr. Aleksandr M. Prochorov and Dr. Nikolai G. Basov, for their independent development of maser-laser devices.
Seventeen years later, Dr. Schawlow shared a Nobel with Dr. Nicolaas Bloembergen of Harvard University for their contributions to the development of laser spectroscopy.
Throughout the history of the laser, there were disagreements and lawsuits regarding its invention.
Dr. Schawlow and Dr. Townes were awarded the original patent for the laser, but in 1977 Dr. Gould, after a long legal battle, finally obtained a patent for optically pumped lasers. But he was not awarded a Nobel.
Arthur Schawlow was born on May 5, 1921, in Mount Vernon, N.Y. He was a brilliant student, and won a scholarship at the University of Toronto to study radio engineering. A spokesman for Stanford University said that in 1948 Dr. Schawlow was conducting an atomic beam experiment in the basement of a campus laboratory when he met Boris Stoicheff, who was to become a faculty member at the University of Toronto and a lifelong friend.
In an oral history of Dr. Schawlow, Dr. Stoicheff said that "it was a special pleasure to visit the basement lab, where often in the evenings Art would be serenading his atomic beam with the clarinet, which he played reasonably well." The favored music was Dixieland jazz.
After receiving a Ph.D. from Toronto, Dr. Schawlow was awarded a postdoctoral fellowship from Columbia University to work with Dr. Townes, who was doing research on microwave spectroscopy at the time.
Dr. Townes had hoped to keep Dr. Schawlow with him at Columbia, the Stanford spokesman said, but love intervened. Dr. Schawlow married Dr. Townes's youngest sister, Aurelia, in 1951, and because of the university's anti-nepotism regulation, Dr. Schawlow was obliged to leave.
He then joined Bell Laboratories in New Jersey, where he studied superconductivity, a phenomenon not directly related to lasers.
But the young physicist managed to spend weekends in New York at Dr. Townes's Columbia laboratory, and it was during that period that the two men hit upon the scheme for amplifying visible light.
In 1961 Dr. Schawlow left Bell Labs to join the faculty at Stanford, where he worked on laser and microwave spectroscopy and superconductivity.
Neither Dr. Schawlow nor Dr. Townes profited financially from their laser patent because it would have broken contractual obligations; Dr. Schawlow was working at Bell Labs when the patent was issued, and Dr. Townes was serving as a consultant to Bell Labs.
Dr. Schawlow and his wife championed causes supporting autistic children like their son, Artie, of Paradise, California. In 1991, while Mrs. Schlowlow was on her way to visit their son, she was killed in an automobile accident.
Besides his son, Dr. Schawlow is survived by two daughters, Helen Johnson of Stevens Point, Wisconsin, and Edie Dwan of Charlotte, NC, and five grandchildren.
April 30, 1999
---
And here's the next set of groovy obits...
Ray Forrest, 83 - America's first nationwide TV personality

Al Hirt - so, like, who knew he was cool, after all?

Morey Bernstein, infamous '50s hypnotist and author

---
Links
---
There are several obit enthusiast sites out there, and each has its own unique take on obituary journalism. Here are some recommended sites you may enjoy as well.
---