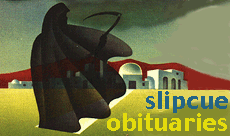 ---
ROCKIN' IN THE GRAVEYARD
Recent Obituaries of Interest
For your edification... some more obituaries...
---

LYNDON LYON Dies -- African Violet breeder
By William H. Honan courtesy of The New York Times

Lyndon Waldo Lyon, a horticulturist who was turned into an African violet fanatic by a single leaf and who played a major role in making the African violet one of the country's favorite houseplants, died last Wednesday at Little Falls Hospital in Little Falls, New York. He was 94.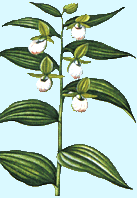 Lyon's passion for the exotic and hardy purple-flowering plant, which was introduced to the United States around the turn of the century, led him to develop about 800 varieties, including the spectacular double-pink and star flowers.

Professional botanists say his cross-breeding, or hybridization, established him as the world's most important breeder of African violets. He also built a thriving international mail-order business, and his greenhouses in Dolgeville, N.Y., 25 miles east of Utica, became a mecca for thousands of plant fanciers.

Robert Bartolomei, an official at the New York Botanical Garden in the Bronx, who knew Lyon in the late 1970's and early 1980's, said that most of the African violets seen today are varieties bred by Lyon.

"He created the ideal houseplant," Bartolomei said. "They will flower most of the year. They're small in size, only about 6 inches tall, so you can fit several on a windowsill. Unlike orchids, they don't require much humidity. And they can suffer abuse. If you forget to water them and they wilt, you can usually bring them back."

Lyon's devotion to the African violets, species of the genus Saintpaulia, began in 1949 with the gift of a single African violet leaf from his niece. An African violet leaf placed in water or damp soil soon sprouts roots and becomes a full-fledged plant.

Soon after, he set up an African violet nursery under artificial lights in his home; there he studied the plant and experimented with hybridization through cross-pollination. When the seeds of a plant that has received the pollen of another variety are grown, the offspring may share the characteristics of the parent plants.

By the mid-1950's, Lyon was operating a greenhouse with 5,000 plants, including the double-pink, a flower with multiple layers of petals, which created a sensation at the 1954 national convention of the African Violet Society of America in St. Louis.

Next, in 1956, came the star, an African violet with all five points about equal in size. Previously, African violets had three lower petals larger than the upper two. Two years later, Lyon developed stars in many colors, some of which were frilled. Later came miniatures. By 1982, Lyon was selling more 100,000 plants a year, both retail and wholesale. That same year he sold the business to his grandson Paul Sorano, who continues to operate the Lyndon Lyon Greenhouses in Dolgeville.

Lyon made an important breakthrough by breeding the single pure-red star-shaped African violet, Bartolomei said.

"It became a basic plant we use as a breeding stock," he said. "The red is recessive, so when we breed it with blue we get a very good, a very pure, blue."

When his family moved to Dolgeville in 1921, Lyon completed the 9th and 10th grades at the Dolgeville High School but then dropped out of school to work on the family farm. Later, he became a machinist and held a number of odd jobs, but soon began breeding African violets in his home.

In recognition of his ingenuity and constant search for new and different colors and forms, Lyon was showered with awards, trophies, ribbons and plaques. In 1984, he was awarded honorary life membership in the African Violet Society of America. Last month he was inducted into the society's hall of fame in Houston.

Lyon's wife of 70 years, the former Ruth Adelaide Pierce, died in 1995. Lyon is survived by a daughter, Betty Sorano of Dolgeville; a son, Robert of Arlington, Va.; two brothers, Murray of Dolgeville and Theodore of Cobleskill; a sister, Rosalyn Lein of Dolgeville; seven grandchildren; 12 great-grandchildren, and four great-great-grandchildren.

May 26, 1999
---

James Blades Is Dead at 97; a Percussionist for Victory
By Nick Ravo, courtesy of the New York Times

James Blades, a popular British percussionist whose most frequently heard work was the "V-for-victory" Morse code signal broadcast by the BBC during World War II, died on Wednesday at his home in Cheam, in Surrey, England. He was 97.
Blades also created the sound of the gong at the beginning of movies made by the J. Arthur Rank studios; his recording was mimed by a boxer, Bombardier Billy Wells.
The most notable sound he made, however, was the dot-dot-dot-dash ditty of Morse code that the BBC broadcast to encourage the Resistance in continental Europe during World War II.
The recording, transmitted 150 times a day, echoed the da-da-da-dum phrase that begins Beethoven's Fifth Symphony. To create the signal, he used a tympani mallet to strike an African membrane drum, essentially a tom-tom, with the sound damped with a handkerchief.
"That was the greatest noise I ever made," he said, according to an obituary published on Saturday in The Daily Telegraph of London.
Blades, who also played tympani, xylophone, marimbas and more, performed with circuses and symphonies and in the cinema. He was also a lecturer, mesmerizing audiences that ranged from teen-agers and the disabled to music teachers and professional musicians.
He was the author of an encyclopedic reference work, "Percussion Instruments and Their History" (Praeger, 1971), which detailed everything from the aburukuwa to the zuzu.
"If there is anything you want to know about percussion, old or new, consult Blades," wrote Harold C. Schonberg in The New York Times in a review of the book.
Blades was born in Peterborough, England, on Sept. 9, 1901. He fell in love with drumming while watching a member of the Salvation Army banging a bass drum. He received his first musical training from an uncle who was fond of beating his knife and fork on the dinner table. When he was 14 he joined a circus, in which he played the cymbals and a bass drum, providing the beat for a dancing elephant.
Later Blades began performing in local bands and dropped his apprenticeship in engineering. He spent most of the 1920s working at a movie theater, creating sound effects for silent movies -- gunshots, thunderstorms -- and playing in dance bands around Britain.
In 1932 he joined the London Film Society Orchestra; he also played the Rank gong beginning in 1935. Sought after by symphonies in the United States and Britain, Blades joined the London Symphony Orchestra in 1940 and moonlighted with other orchestras and ensembles.
After World War II, Blades was occupied mostly with operas, symphonies and chamber music. He was also invited to join the Coronation Orchestra in Westminster Abbey in 1953.
In 1954, he was appointed a professor of percussion at the Royal Academy of Music. He also lectured, often working with physically and mentally handicapped children. He put his engineering skills to use making the children instruments, like a glockenspiel for quadriplegics to play using their mouths. He retired from public performances in 1971, except for the premiere of Benjamin Britten's opera "Death in Venice" in 1973.
Besides "Percussion Instruments and Their History," Blades wrote "Orchestral Percussion Technique" (1961); "Drum Roll" (1977), an autobiography, and a second, shorter autobiography, "These I Have Met" (1991). He was made an officer of the Order of the British Empire in 1972.
His first wife, Olive Hewitt, died in 1945. He is survived by his second wife, Joan Goossens.
May 25, 1999
---

Waldo Semon, who patented bubble gum and vinyl
Courtesy of The Associated Press

Waldo Semon, who won a patent for bubble gum, developed vinyl and helped create synthetic rubber during World War II, died Wednesday. He was 100.

Semon worked for the Goodyear Tire & Rubber Co., where one of his first assignments was make a rubber adhesive from polyvinyl chloride. Instead, he found a way to make PVC into a flexible, elastic material that became widely used in the plastic industry.
Semon earned 116 U.S. patents by the time he retired in 1963, including one for bubble gum. In 1995, Semon was inducted into the National Inventors Hall of Fame in Akron.
Thursday May 27, 1999
---
And here's the next set of groovy obits...
---
Links
---
There are several obit enthusiast sites out there, and each has its own unique take on obituary journalism. Here are some recommended sites you may enjoy as well.
---