---
This is a guide to some great books about African popular and traditional music. Books about other styles of "world music" music are reviewed on separate pages.
---
---
Books On African Music & Reggae
---
"The Da Capo Guide To Contemporary African Music"
By Ronnie Graham
(Da Capo Press, 1988)
Glitzier world music guides have come out which include overviews of African music, but none are as complete as this. Graham profiles the music by country, style and artist, and offers detailed discographies of major artists as well as hundreds of folks you've never heard of. The presentation is a bit dry, and visually the book is a bit drab, but this is an invaluable resource, and cries out for an updated version. (Graham, by the way, contributed several articles to the Rough Guide book listed above, so he's not off the radar entirely...)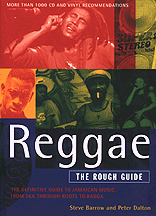 "Rough Guide To Reggae"
By Steve Barrow & Peter Dalton
(Rough Guides, 1997)

Without exception, this is the best reference work on reggae available. At first, the absence of a table of contents is a little disconcerting, but it forces you to enter into the internal logic of the book. Barrow and Dalton present the evolution of reggae chronologically, beginning with the pre-ska "mento" dance style, working their way into the Sixties with ska, rocksteady and finally early reggae. Dub and roots reggae take up the 1970s, and dancehall and ragga round out the '80s. Each style gets its own chapter, in which artists, albums, labels and dance trends are all given their due. The book is wonderfully laid out, readable either as a narrative or in the bite-sized chunks we love in these days of attention deficeit disorder. Above all, this book is well written and informative. The authors definitley know their material -- Barrow, for example, runs the outstanding Blood and Fire reissue label -- and they skillfully present it to their readers. Best of all, they recommend LOTS of albums,and have a very coherent system for letting you know which ones they think are most crucial. If they recommend it, it is good. Glossaries, profiles of label owners and producers, and resource lists round the package out -- if you love reggae, or are just curious, this book could greatly enrich your life.
---


Other Book Reviews
International Music
Slipcue Main Index




---
Copyright 1998-2006 Slipcue.Com. All Rights Reserved.
Unauthorized use, reproduction or translation is prohibited.
---