---
This is a guide to some great books about Latin American and Caribbean popular and traditional music. Books about other styles of "world music" music are reviewed on separate pages.
---
---
Books On Latin American Music
---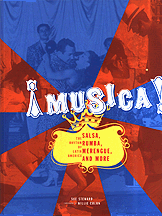 "Musica! Salsa, Rumba, Merengue and More!"
by Sue Steward
(Chronicle Books, 1999)

Wow. Weighing in at a mere 176 pages, this snappy little volume sure packs a wallop! This is the Cuban music equivalent of McGowan & Pessanha's Brazilian Sound, but with more dynamic layout, and exceptionally precise writing. Musica! features several geographically-centered chapters, which explore the salsa traditions in Cuba, Puerto Rico, Columbia and, of course, the explosion of modern salsa in New York and Miami. Brief overviews of salsa's spread into Europe and Africa, and a look at modern salsa-pop crossovers. Each chapter features a central narrative, along with numerous sidebars that at first might seem unwieldy and distracting, but are tremendously informative and fun. These include profiles of artists ranging from the superstars to the obscure and the forgotten -- Tito Puente, Ruben Blades and Celia Cruz share the dance floor along with The Mambo Aces, Jesus Colon, and Maria Teresa Vera. Steward's writing is remarkably compact and informative. She is especially effective at describing musical concepts and performance techniques, details that other writers often flounder over while trying to explain. The archival photographs, engravings and album reproductions are both illuminating and gorgeous-- laid out in crazy-quilt fashion, the colorful artwork alone makes this book a must for latin music fans. There are parts of this book which felt too short, but as an easily-assimilated guide to the music of four continents, this is pretty hard to beat. Several of the crankier Latin-American true believers on Amazon.Com slammed this book for inaccuracies, but I think their criticisms can be taken with a grain of salt as well... I'd still recommend this one!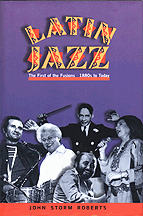 "Latin Jazz - The First of Fusions, 1880 to Today"
by John Storm Roberts
(Schirmer Books, 1999)

A masterful work by John Storm Roberts, whose early-'70s books on Latin American music were "world music" landmarks, and whose Original Music record label has reissued some of the most precious African and Latin American popular and traditional music one is ever likely to hear. The introductory chapters are a slow-going, as Roberts twists and gyrates to avoid anticipated critical jabs. His qualifications and defensiveness may make sense to enthnomusicological insiders, but to the average reader, they seem fairly unnecessary, or at least a bit hard to follow. After that, though, the book picks up steam and is quite captivating. The main point of contention is the fascinating (and convincing) idea that Latin American influences were every bit as present at the inception of American jazz music as were African ones. In Roberts' world, the term "latin jazz" isn't exactly redundant, but it is misleading: Latin Jazz didn't spring forth in the 'Forties and 'Fifties out of whole cloth. Rather, Latin American influences on North American musicians can be found as far back as the Antebellum period, and are present at all the major junctures of jazz history. In addition to combing through historical records (such as newspapers, journals, and the records sheet music publishers), Roberts offers a clear critical narrative of the cross-pollination of Latin American dance music and Afro-European jazz. He touches on the major trends and significant collaborations of the last 120 years: ragtime, the tango, the rumba, the thunderous New York "CuBop" scene of the 1940s, and of course the bossa nova craze of the 1960s, and the gradual formalization of "Latin Jazz" as a genre. Along the way he sheds some light on famous artists such as Machito, Dizzy Gillespie and Tito Puente, as well as dimly-remembered pioneers like Antonio Machin, Don Azpiazu and gives favorable nods towards big banders who "got" the drift of the oncoming tide of Latin American crossover. Along with Sue Steward's Musica!, this book can go a long way to fill in the gaps for folks who are new to the sound, as well as those who want to dig deep down. Recommended!!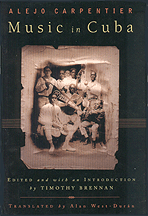 "Music In Cuba"
by Alejo Carpentier (trans. by Alan West-Duran)
(University of Minnesota Press, 2001)

A pivotal look at the development of Latin American popular music, novelist Alejo Carpentier's historical tract was originally published in 1946, and came out of raging, decades-long intellectual debates about the nature of Cuban and Latin American culture. This is the first English translation of this work and includes a lengthy introductory essay by the editor, explaining the author's role in the Cuban intelligensia... Music In Cuba was an early attempt to settle some of the controversies about the "legitimacy" of Cuban music, and to resolve the apparent differences between tony, Europhilic art music and the grittier rural style that came to dominate the island's popular imagination. It's an intellectual, somewhat egghead-y book, but rich in cultural depth... The new foreward is also very valuable, giving proper context to Carpentier and his work, and a sense of the academic and philosophical life of Cubans abroad and at home in the early 20th Century.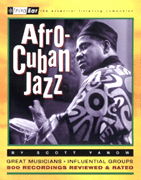 "Afro-Cuban Jazz"
by Scott Yanow
(Miller Freeman, 2000)

Scott Yanow, who I rate as the best of the popular jazz writers, weighs in on the history of Afro-Cuban jazz (also known as "Latin Jazz"). This volume is compact, but eminently useful, with two introductory essays that sketch out the history and significance of this dynamic art form. These are followed by dozens of biographical and discographical essays on all the major players in the field, including Tito Puente, Chico O'Farrell, Mongo Santamaria, Arturo Sandoval and others. The book also ranges back to the start of the 20th Century to include now-obscure figures such as Don Apiazu, and sideways to give propers to mainstream jazz musicians such as Duke Ellington and Stan Kenton, who helped the style develope and find a wider audience. Yanow's writing is, as always, clear and to the point: you know what he likes, and why. On the downside, this is much more sparing in the the number of records reviewed per artist (at least in comparison to Yanow's other opus, the All Music Guide To Jazz, but it's still a great introduction to a much-neglected field of musical study. For more info on this style, see the Slipcue.Com Cuban Music Guide.
"Caribbean Currents: Caribbean Music From Rumba to Reggae"
by Peter Manuel (Temple Press, 1995)

An excellent historical and stylistic overview of regional styles, including the music of Cuba, Puerto Rico, Jamaica, Trinidad, Haiti, the Dominican Republic, etc. Son, salsa, reggae and soca are all represented and analyzed. Manuel, a music professor at CUNY, is both chatty and academic -- and while his rhythmic and melodic analyses may go over the heads of readers who are non-musicians, they don't interfere with the book's narrative flow. Social and musical history are interwoven, and the major highlights of dozens of diverse styles are brought together in concise, lucid writing. Recommended.
---


Other Book Reviews
International Music
Slipcue Main Index




---
Copyright 1998-2006 Slipcue.Com. All Rights Reserved.
Unauthorized use, reproduction or translation is prohibited.
---