<! cd = 07/07/12 > <! MP3 00/00/00 > <! pix 00/00/00 > <! ALLBM 00/00/00 > <! icons 00/00/00 > <! UPDATES: 07/17/12 - posted >

---
An early champion of Brazilian soul music, Tony Bizarro recorded only a few albums, but he performed alongside soul artists such as Tim Maia, Lincoln Olivetti and Cassiano, and produced records by several pop-oriented 1970's MPB artists, such as Diana and Odair Jose. Here's a quick look at his work...
---
Discography
---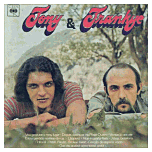 Tony & Frankye "Tony & Frankye" (CBS, 1971)
A pretty groovy soul-funk album, featuring the short-lived duo of Tony Bizarro and Fortunato Arduini, who lay down as solid a set of '70s soul as any Brazilian act of the era. The first track kicks off with a direct lift of Sly Stone's "Thank You" (and I mean that as a compliment!) while other songs harken back to '60s artists such as Arthur Conley or Sam & Dave. A dash of psychedelic rock guitar comes in, with a Guess Who-ish hard rock feel. Unfortunately, the second half of the album succumbs to the tortured warbling vocal style favored by "Black Rio" artists such as Tim Maia and Cassiano -- I dunno why Brazilian soul singers liked that style, but they did: it doesn't age well. Overall, though, this is pretty cool, especially by Brazilian standards. Definitely an album worth tracking down! (Note: Obviously Bizarro went on to record solo stuff after this, but I'm not sure what became of Arduini - anyone have any info on him?)


<! A dupla de cantores paulistas Luís Antonio Bizarro, o Tony e Fortunato Arduini, o Frankye, se esbarraram pelas andanćas na boate Cave, reduto dos músicos que tocavam soul music em Sčo Paulo e na formaćčo do conjunto Top Five, em 1968 radicaram-se no Rio e logo gravaram dois compactos que chamaram a atenćčo de Roberto Carlos e de gravadoras, um deles contém a primeira gravaćčo de "Adeus, Amigo Vagabundo" incluída no disco solo de Tony (Nosso Inverno / CBS, 1977) e a encantadora "Viu, Menina". Em seguida, partiram para o registro de seu único, precioso e disputado álbum intitulado singelamente de Tony & Frankye (CBS, 1971) em uma atrevida mescla de soul, funk, ritmos latinos e toques de psicodelia, sob a direćčo artística de Raul Seixas, com composićões próprias e de outros autores como Tim Maia, Raulzito, Luis Vagner, Robson Jorge, Carlos Lemos, Getulio Cortes, entre outros. A bolacha abre com a dinamite "Vou Procurar Meu Lugar" versčo do duo para "Thank You (Falettinme Be Mice Elf Again)" de Sly Stone, segue com o forró "Vamos Lá Prá Ver", que foi um dos seus maiores sucessos, passa pela latinidade de "Patati, Patatá" em homenagem ao guitarrista Carlos Santana, pelas lisérgicas "Trifocal", "Depois Da Chuva No Posto 4" e "O Uriapuru", nas letais que botam prá derreter "Broken Heart" e "Alma Brasileira" em versčo instrumental, sem contar as baladas poéticas de "Hoje É Quarta-Feira", "Estou Perdido No Meio da Rua", "Que Eu Acabei Com Nosso Amor" e "Canćčo de Esperar Vocź", que fecha o LP. Infelizmente a dupla se desfez prematuramente com a saída de Frankye um ano após o lanćamento do disco, que assumidamente alucinou ao tomar ácido e cair na estrada por uns quatro anos. Texto publicado originalmente no blog Samba e Soul > <! "American Woman"-style hard rock Luiz Antonio Bizarro >

Tony Bizarro "Nesse Inverno" (CBS) (LP)


Like Tim Maia, soul singer Tony Bizarro didn't really have a terribly strong (or disciplined) voice, but he's heartfelt and these songs are very well produced and fairly funky, a cut or two above other records from the same era. This isn't really my cup of tea, but anyone looking into the style should check this guy out. Previously impossible to track down, this 1970s disc was recently reissued on CD, and is worth looking for, if you're checking out the style.
Tony Bizarro "Alma Negra" (1988)

Tony Bizarro "Uma Vez E Outra Vez" (ZImbabwe, 1991)

Tony Bizarro "Estou Livre" (2008)

---
Links
---
---



---