<! creation date: 12/15/03> <! MP3 09/12/08 > <! pix 11/15/09, 05/29/12 > <! icons 02/01/11 > <! UPDATES: 09/12/08 05/29/12 - 2 new reviews, new pix >

---
Guitarist Luiz Bonfa (1922-2001) gained international fame in 1959 as his acoustic samba instrumental, "Manha De Carnaval," echoed worldwide through the minds of moviegoers who had seen the French film, Black Orpheus. Although he was linked to the birth of bossa nova through this famous film, Bonfa had worked on the earlier stageplay version, and helped compose and record the earlier version of the soundtrack, and, starting in the 1940s, had a long career as a radio performer in the decade before. Riding the bossa wave of fame, Bonfa left Brazil for the United States and shifted towards a more overtly jazz and pop direction. Many of his records released in the US and Europe have not been issued in Brazil itself; likewise, many of his older Brazilian albums remain out of print as well. Here's a quick look at his recorded legacy...
---
Discography
---
Luiz Bonfa "Luiz Bonfa" (Continental, 1955)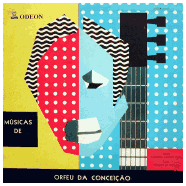 Vinicius De Moraes "Orfeu De Conceicao" (Odeon, 1956)
A brief EP that documents the historic stage show of the fabled Orfeu play... it's a pretty rough mix of stagey orchestral themes, De Moraes intoning sections of the libretto, and a somewhat shrill chorus singing a few songs... Some of the melodies will be familiar to fans of the Black Orpheus soundtrack (listed below), but these early versions are rather crude in comparison to the later studio recordings. It's also a very brief disc -- less than twenty minutes long. An important relic of the growth of bossa nova, but not a very satisfying or compelling record. Apparently Bonfa plays on this album -- and added material as a composer -- although his performances are obscured in the murky sound mix.




Luiz Bonfa & Jorge Enrique "De Cigarro Em Cigarro" (Continental, 1956)





Luiz Bonfa & Ed Lincoln "Noite E Dia" (Continental, 1956)





Luiz Bonfa "Orfeu Da Conceicao" (Odeon, 1956)





Luiz Bonfa "Alta Versatilidade" (Odeon, 1957)



<! 01 - Mamboleiro (Luiz Bonf‡) 02 - Cajita de mśsica (Isaias S‡vio 03 - Over the rainbow (E.G.Harburg - H.Arlen) 04 - Garoto (Luiz Bonf‡) 05 - CanŤ‹o do outono (Luiz Bonf‡) 06 - Calles de Espa–a (Luiz Bonf‡) 07 - Batutacada (Luiz Bonf‡) 08 - Sambolero (Luiz Bonf‡) 09 - Monique (Luiz Bonf‡) 10 - Tenderly (J.Lawrence - W.Gross) 11 - Serenata (Ant™nio Rebello) 12 - Xang™ (Luiz Bonf‡) Arranged by Leo Peracchi >

Luiz Bonfa "Violao Boemio" (Odeon, 1957)



<! 01 - Bom que doi (Luiz Bonf‡) 02 - Boulevard (Luiz Bonf‡) 03 - Abismo de rosas (AmŽrico Jacomino "Canhoto") 04 - ęndia (JosŽ Asunci—n Flores) 05 - Paramaribo (Luiz Bonf‡) 06 - Tingu‡ (Luiz Bonf‡) 07 - Dobradinho (Luiz Bonf‡) 08 - Eur'dice (Tom Jobim-Vinicius de Moraes) 09 - Da cor do pecado (Boror—) 10. -Walqu'ria (JosuŽ de Barros) 11 - Dona Carol (Luiz Bonf‡) 12 - FeitiŤo da Vila (Noel Rosa-Vadico) >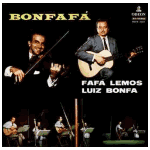 Luiz Bonfa & Fafa Lemos "Bonfafa" (Odeon, 1958)
A super-sweet collaboration with violinist Fafa Lemos, of the fabled Trio Surdina... Fans of acoustic swingsters such as Stephane Grappelli and David Grisman will find a lot to applaud here -- Bonfa and Lemos get into a really swinging mood, particularly on the album's opener, "O Apito No Samba," and on other songs as well. There are some schmaltzy songs as well, but schmaltzy in a good way -- very soulful and sweet. A surprisingly modern-sounding album, very listenable and fun. Lemos takes the spotlight, but Bonfa's intricate accompaniment is rewarding for attentive listeners; there's also some subtle, bouncy support by bassist Ed Lincoln.


<! 01 - O apito no samba (Luiz Bandeira) 02 - April in Paris (Vernon Duke - E.Y.Harbur) 03 - Na Pavuna (Candoca da AnunciaŤ‹o - Almirante) 04 - Seak low (Ogden Nash - Kurt Weill) 05 - Favela (Roberto Martins - Waldemar Silva) 06 - Pastorinhas (Noel Rosa - Jo‹o de Barro) 07 - Carinhoso (Pixinguinha - Jo‹o de Barro) 08 - A voz do morro (ZŽ keti) 09 - Stella by starlight (Ned Washington - Victor Young) 10 - Tanto amor (Luiz Bonf‡ - Reynaldo Dias Leme) 11 - These foolish things (H. Link - J. Stachey - H. Marvell) 12 - Uma prece (Luiz Bonf‡) Faf‡ Lemos - violin Luiz Bonf‡ - acoustic guitar Hugo - drums Eduardo Lincoln - bass >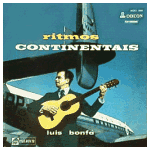 Luiz Bonfa "Ritmos Continentais" (Odeon, 1958)
A nice set, although the 20-minute long medley that eats up Side One goes on a little too long and feels more like a parlour trick than a real jam session. I'm sure it went over big at his live shows, though, with bits and pieces of pop hits and standards such as "Cheek To Cheek," "Sandman," "Quizas Quizas," etc. I prefer the shorter pieces, although they also have a slightly static feel to them. Not bad, just not his best. Apparently this was Bonfa's bid at recording a "para dancar" pop album.


<! liner notes by Fernando Lobo > <! no producer credit >

Luiz Bonfa "Meu Querido Violao" (Odeon, 1958)



<! Luiz Bonfa "Melodia Das Americas" (Imperial, 1958) Side 1 01 - You were meant for me (Nacio Herb Brown - Arthur Freed) 02 - Mister sandman (Pat Ballard) 03 - Whispering (J. Schonberger - R. Caburn - V. Rose) 04 - My melancholy baby (Norton - Burnett) 05 - Cheek to cheek (Irving Berlin) 06 - Sweet Sue, just you (V.Young - Will Harris) 07 - Frenesi (Alberto Dominguez) 08 - Quiereme mucho (Gonzalo Rolg) 09 - Quizas quizas (Oswaldo FerrŽs) 10 - Speak low (Ogden Nash - Kurt Well) Side 2 11 - Cai,cai (Roberto Martins) 12 - N‹o tenho l‡grimas (milton de Oliveira - Max Bulh›es) 13 - Melodiando (Luiz Bonf‡) 14 - Eclipse (Margarita Lecuona) 15 - Na baixa do sapateiro (Ary Barroso) 16 - Swinging in Madrid (Luiz Bonf‡) >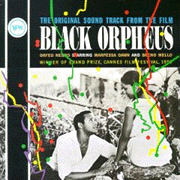 Luiz Bonfa/Various Artists "BLACK ORPHEUS" (Soundtrack) (Fontana, 1959)



The first major incursion of bossa nova into the minds and hearts of North America and Europe. Actually the album is largely made up of samba de enredo percussive tracks, although Jobim's non-Joao Gilberto bossa and Luiz Bonfa's acoustic guitar work made quite a splash. Internationally, Bonfa's "Manha de Carnaval" was an big hit, and although the bossa nova sound is still a little unformed here, it makes for lovely listening. Vinicius' "Felicidade," a collaboration with Antonio Carlos Jobim, is included, albiet in a disjointed version, where the mellow melody is juxtoposed with the sounds of children at play and ambient sounds of Rio.

Luiz Bonfa "Amor! The Fabulous Guitar Of Luiz Bonfa" (Atlantic, 1959)



I think this may be the first album made by Bonfa following the international success of "Manha De Carnaval," the theme from Black Orpheus. It's a fairly sparse instrumental album, filled mainly with solo pieces, as well as several tunes where Bonfa is delicately backed up by George Shearing and his band, along with Don Elliott. There is some flashy guitar work, although this album feels pretty lightweight and isn't immediately arresting. It will grow on you with repeated listens, though. Silly cover art.


<! 110 x 108 >

Luiz Bonfa "O Violao De Luiz Bonfa" (Cook, 1959)
Luiz Bonfa "Sambolero" (Blue Moon, 1996)


A lovely set of informal solo guitar pieces recorded with label head Emory Cook. Bonfa glides through the breadth of his work to date, adding a couple of well-chosen cover tunes -- Cole Porter's "Night And Day" and Ary Barroso's famed "Bahia." There's a simplicity and endearing roughness to these performances that stands in contrast to many of Bonfa's sleeker studio albums, and the imperfections are instructive and revealing. Recommended! (Note: although the European release, Sambolero contains the same material, they mistakenly list the songs as having been recorded in '57. That reissue may have been superseded by the new Solo In Rio: 1959 disc (reviewed below), which has fifteen additional tracks that were previously unreleased...But then again, if you want to hear something closer to the original album, the shorter Blue Moon set may be of interest, although it does slightly alter the song order...)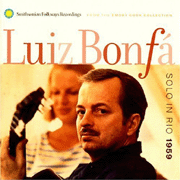 Luiz Bonfa "Solo In Rio: 1959" (Smithsonian-Folkways, 2005)



The complete sessions with Emory Cook. The first half of the disc reflects the original 1959 album, O Violao De Luiz Bonfa, in almost entirely the original order, followed by fifteen additional tracks that were left unreleased until this reissue. These recordings -- the original record as well as the outtakes -- are a treasure trove for Bonfa fans, revealing him at his simplest and most direct. Although he experiments somewhat with the changes of intonation and dynamics, most of these songs are in the same basic dynamic range, in a sense it's kind of an "unplugged" album that sheds light on Bonfa's creative process. Nice stuff -- definitely recommended!
Luiz Bonfa & Norma Suely "O Voz E O Violao" (Odeon, 1960)

Pery Ribeiro "...E Seu Mundo De Cancoes Romanticas" (Odeon, 1961)
Bonfa is credited on the front cover for his supporting work...

Luiz Bonfa "O Violao E O Samba" (Odeon, 1962)


Wonderful! Another pleasant, light-toned album, with several songs that echo "Manha De Carnaval," and brisk accompaniment by Edson Machado on drums, Tiao Neto on bass, and Luiz Carlos Vinhas and Chico Feitosa helping fill out the sound. On first blush, this may seem like a fairly lightweight album, but with repeated listens, Bonfa's melodic brilliance and technical mastery will simply overwhelm you. Each song is a bright, perky, poppy gem, and the range of dynamics and guitar techniques he employs from song to song is truly dazzling. Any aspiring guitar whiz has to check this album out... Any fan of old-school bossa nova will love it as well; underneath the bouncy rhythms are many understated, sublime passages. (On a personal note, I've found this to be a superior baby-rocking album, packed with numerous rhythms at various tempos that you can zero in on... A few bouncy sambas and lyrical soft spots, and the kid was out like a light...) Highly recommended.
Luiz Bonfa "Brazil's King Of The Bossa Nova And Guitar" (Philips, 1962)


Luiz Bonfa "Le Roi Du Bossa Nova/The King Of Bossa Nova" (Fontana, 1962)



One of the first albums cut by Bonfa following his move to the United States after achieving global stardom for his contributions to the Black Orpheus soundtrack. The opening songs display the same mix of authoritativeness and subtlety as some of his earlier albums, although the rest of the record steadily devolves towards a more standard-issue light-jazz style, with Bonfa backed by enthusiastic North Americans. It's okay, but not as magical as some of his other work. Acoustic guitar aficianados will want to check this out, though: in technical terms, Bonfa really was a stunning performer.

Luiz Bonfa "Plays And Sings Bossa Nova" (Verve, 1963)



An outstanding early record which almost (but not quite) makes up for all the crap he recorded later. Seriously, though, this record has some of the most solid and emotionally resonant bossa nova playing Bonfa ever laid down on wax. The original LP was divided in two parts -- Side One was basically Bonfa playing a stripped down, richly melodic acoustic set; Side Two featured larger orchestral arrangements, but even these are pretty nice. Credit goes, in no small part, to Verve producer Creed Taylor, who oversaw many of the best early jazz-bossa crossover albums.
Luiz Bonfa & Caterina Valente "Luiz Bonfa And Caterina Valente" (Odeon, 1963)


Luiz Bonfa & Stan Getz "Jazz Samba Encore" (Verve, 1963)



Jazz guitarist Charlie Byrd was one of the first American artists in the early 'Sixties to get the bossa nova bug... He turned saxophonist Stan Gets onto the style and after they collaborated on and album of jazz-bossa crossovers, Getz shamelessly stole Byrd's concept, substituting Byrd with real live Brazilian, Luiz Bonfa, as guitarist. This is very much on the softer, lighter side, mostly featuring compositions by Bonfa. Antonio Carlos Jobim chips in on piano for one track ("Insensatiz") and plays guitar on several others; singer Maria Toledo scats a little... but Getz is still looking for the right combination... and would eventually strike gold with the Getz-Gilberto album that really brought Brazil to the jazz world. Still, this disc is worth checking out -- Bonfa doesn't click with Getz as well as Joao Gilberto did, but it's nice music nonetheless.
Luiz Bonfa "Recado Novo De Luiz Bonfa" (Odeon, 1963)

Luiz Bonfa "Violao Boemio, v.2" (Odeon, 1963)


Luiz Bonfa & Maria Toledo "Braziliana" (Philips, 1965)



(Produced by Bobby Scott)
This collaboration with his wife features instrumental tracks alternating with vocal tunes... It's familiar territory; while appropriately sultry and whispery, Maria Toledo lacks the presence of Astrud Gilberto (the obvious target here..) but she still sounds okay... This is a nice record, not a great one, and it's certainly easy on the ears, the same as other vintage bossa/easy listening albums. All the songs are Bonfa originals, including many that are credited as being co-written by Ms. Toledo, as well as a re-recording of "Samba De Orfeu."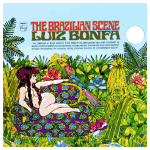 Luiz Bonfa "The Brazilian Scene" (Philips, 1966)



(Produced by Hal Mooney)
Man, talk about throwing it all away! Riding high on the popularity of the Black Orpheus soundtrack, Bonfa cashed in and settled deeper and deeper into the North American pop scene -- back when "pop" meant Tony Bennett and Hugo Winterhalter... This all-instrumental album starts with an easy listening swipe from the Mexicali Brass, and just gets softer and slushier from there. Yes, his guitar playing is good, but it's framed so absurdly that it hardly matters. The material is a mix of Bonfa originals and pop standards, such as "That Old Black Magic" and "I Can't Give You Anything But Love, Baby"... you fill in the blanks.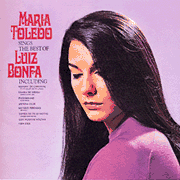 Luiz Bonfa & Maria Toledo "Maria Toledo Sings The Best Of Luiz Bonfa" (United Artists, 1967)





<! 05/12: need to fix GIF - looks grainy >

Luiz Bonfa "Luiz Bonfa" (Dot, 1967)





Luiz Bonfa/Steve Lawrence/Eydie Gorme "Steve & Edie, Bonfa & Brazil" (Columbia, 1967)





Luiz Bonfa "Luiz Bonfa Plays Great Songs" (Dot, 1967)





Luiz Bonfa "Black Orpheus Impressions" (Dot, 1968)





Luiz Bonfa "Bonfa" (Dot, 1968)





Luiz Bonfa "The New Face Of Luiz Bonfa" (RCA, 1970)

Luiz Bonfa "Sanctuary" (RCA, 1971)


Luiz Bonfa "Introspection" (RCA, 1972)


As the title implies, this is an exploratory, internal album, with Bonfa taking long, slow dips into more meditative terrain. Also of interest is his atypical use of hi-tech studio effects to process his guitar work on several tracks... Fans of instrumental music may want to check this disc out.
Luiz Bonfa "Jacaranda" (Som Livre, 1973)


Luiz Bonfa "Manhattan Strut" (Paddle Wheel, 1974)


Luiz Bonfa & Don Burrows "Bonfa Burrows Brazil" (1978)



An underwhelming, though technically proficient collaboration with Australian jazz legend, clarinetist-multi-instrumentalist Don Burrows. The album is a bit over-orchestrated for my tastes -- Bonfa revisits several older tunes, and at times the light, poppy arrangements seem at odds with the brisk simplicity of the original versions, but there are also several tracks that are essentially Bonfa solos which have his old sparkle... It's not a bad album, but it's sort of overly innocuous and soft... Worth checking out, though there's definitely better Bonfa to be had.
Luiz Bonfa & Gene Bertoncini "Nonstop To Brazil" (Chesky, 1989)

Luiz Bonfa "The Bonfa Magic" (Caju, 1991)


Luiz Bonfa & Ithamara Koorax "Almost In Love" (Imagem, 1996)

---
Related Records
---
Luiz Bonfa/Joao Gilberto/Carlos Lyra "BOSSA NOVA AT CARNEGIE HALL" (Audio Fidelity, 1962)


Paul Winter "Rio" (Columbia, 1965)


Here, West Coast jazz bandleader Paul Winter's explorations into Brazilian bossa nova continue. Winter had previously recorded the alluring The Sound Of Ipanema album with Carlos Lyra, but even with the contributions of Luiz Eca, Roberto Menescal and Luis Bonfa, this album is merely soporific, having settled into soft jazz formulae. It lacks the spark and sparkle of his earlier album, but it's still worth checking out.
Luiz Bonfa & Eumir Deodato "The Gentle Rain" (Soundtrack) (Mercury, 1965)

---
Links
---
All Brazilian Music has a very good, detailed biography and complete discography. (In English and Portuguese.)
---



---

<! creation date: 12/15/03>