<! cd = 05/29/12 > <! MP3 05/29/12 - some FBNs I didn't list > <! pix 05/29/12 > <! ALLBM 05/29/12 -WP > <! icons 05/29/12 > <! UPDATES: 05/30/12 - posted, some dates, etc unknown - also some albums mentioned, but not posted here. hard to find complete data >

---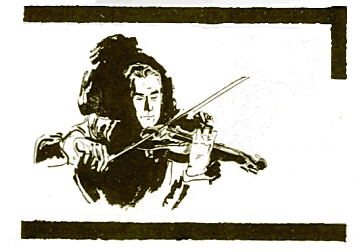 Rafael Lemos Junior, aka Fafa Lemos (1921-2004) was one of the great Brazilian instrumentalists of the pre-bossa nova era, a sublime violinist who backed stars such as Carmen Miranda and co-founded the Trio Surdina in the early 1950s, before embarking on a career as a solo bandleader. While touring with Carmen Miranda, Lemos emigrated to the United States, returning to Brazil decades later, in the 1980s. Following his departure (and the death of guitarist Garoto) the Trio Surdina was reformed by their record label, and went through a number of personnel changes. Here's a quick look at Lemos' career...


<! Solista da Rádio Nacional em 1950, gravou seu primeiro disco em 1951. No final de 1952, a partir do programa "Música em Surdina", da Rádio Nacional, o diretor musical Paulo Tapajós formou com Fafá, Garoto e Chiquinho do Acordeom o Trio Surdina.[1] Apresentou-se por diversas vezes ao lado de Carmem Miranda nos Estados Unidos, até o falecimento da cantora. Mudou-se para Los Angeles em 1961, só retornando ao Brasil em 1985. >

---
Discography
---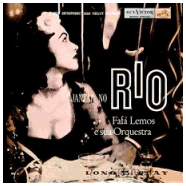 Fafa Lemos "Jantar No Rio" (RCA Victor, 1954)


Super-corny, but sweet nonetheless. Lemos glissandos through sleek versions of samba-cancao classics such as "Copacabana," "Aquarela Do Brasil," "Paraiba," and the like, with elegant violin passages and the occasional whistle or trill to keep things lively. This isn't as gooey as some of his later records, but it's still a bit twee -- you might be a little embarrassed to be caught listening to this one, but it's got its charms. Anyone know who the backing musicians were?


<! recorded in Hollywood >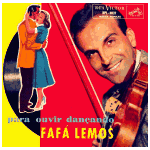 Fafa Lemos "Para Ouvir Dancando" (RCA Victor, 1957) <! '56?? >
I do enjoy it when Fafa sings, as his does on this album's opening track, "Meu Guarda Chuva," and a few others as well. He has this jaunty tone, and gets a little bounce -- not just in his voice, but in his solos as well. Indeed, even on the instrumentals, this is a pretty perky record, one of his more accessible and enjoyable albums, with a bit more of a Stephane Grappelli-ish, swingband feel to it. Also some novelty material, such as the birdsong imitations on "Canario Feliz..." But overall, this is a good one. Recommended!


<! BPL 3037 01 - Meu guarda chuva 02 - Granfino 03 - Meu panamá 04 - Rosita 05 - Canarinho feliz 06 - Jočozinho boa pinta 07 - Cigano no baičo 08 - Se alguém disse >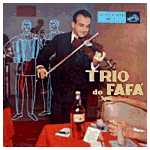 Fafa Lemos "Trio Do Fafa" (RCA Victor, 1958)



<! same as "E Seu Trio" [RCA VICTOR 2013] ? >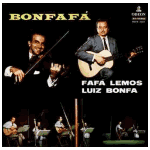 Fafa Lemos & Luiz Bonfa "Bonfafa" (Odeon, 1958)
A super-sweet collaboration with guitarist Luiz Bonfa... Fans of acoustic swingsters such as Stephane Grappelli and David Grisman will find a lot to applaud here -- Bonfa and Lemos get into a really swinging mood, particularly on the album's opener, "O Apito No Samba," and on other songs as well. There are some schmaltzy songs as well, but schmaltzy in a good way -- very soulful and sweet. A surprisingly modern-sounding album, very listenable and fun. Lemos takes the spotlight, but Bonfa's intricate accompaniment is rewarding for attentive listeners; there's also some subtle, bouncy support by bassist Ed Lincoln.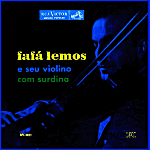 Fafa Lemos "Seu Violino E Seu Ritmo" (RCA Victor, 1959) <! BPL 3023 >
The addition of a vibrophone is fun, though the repertoire is kind of goofy... "Jalousie," "A Certain Smile," etc. But you know what? It may be cheesy, but it's mighty tasty cheese! By the time "Noche De Ronda" rolled around, with its lush-toned solos and roller-rink organ work, I was helpless: he won me over. Also a few vocal numbers, and these are always my faves. Corny, but worth a spin.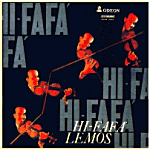 Fafa Lemos "Hi-Fafa" (Odeon) <! MOFB 3045 >
Sweet violin passages, but some of the surrounding arrangements are a bit much: the flat, roller-rink organ and the glockenspiel(?) are mostly just distracting, and pull you out of the moment. But there are some tracks (about half the album) including, as always, the ones where Lemos sings. The jaunty "Mulheres Cheguei" is particularly fun. A mixed bag, but definitely worth checking out -- and if you're an "easy listening" fan, it's a goldmine. (BTW: the liner note list a "Gaya" as the organist: I'm assuming that's the famed Maestro Gaya, who became one of the Odeon label's music directors in the 1960s...)


<! Gaya - ůrg"o Borba - celeste Geraldo Miranda - guitar Marinho - bass Hugo - drums MŠrio - Pandeiro >
Fafa Lemos "Violino Travesso" (Odeon, 1959)
A nice mellow album. Some of these tracks are negligible, but most are pretty sweet and lightly swinging, bringing Svend Assmussen to mind. There are also several vocal numbers which are kitschy but cute. Not sure who the clarinetist is, but his accompaniment -- along with that of the rest of the small ensemble -- is understated and economical. More quaint, nostalgic material from this light-hearted virtuoso.


<! MOFF 3070 > <! Músicas Carne de Gato Tudo isto é Fado Jamais Mo n Coeur Est Un Violon Melodie D'amour Over The Rainbow Ora Vejam Só All The Way Juracy Auf Wiedersehn, My Dear Samba Pizzicato Darli ng, Je Vous Aime Beaucoup. >
Fafa Lemos "Uma Noite Da Boite Na Fafa" (RCA Victor)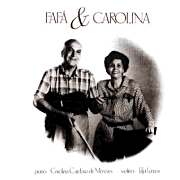 Fafa Lemos & Carolina Cardoso de Menezes "Fafa & Carolina" (Eldorado, 1989) (LP)


(Produced by Zuza Homem de Mello) <! (Artistic Director: Antonio Duncan) >
A sweet set of stately duets, with Lemos on violin, and his contemporary, choro pianist Carolina Cardoso de Menezes, working through a repertoire of standards, mostly from the samba-cancao and pre-bossa radio years. Nice instrumental versions of classics by Ary Barroso, Joao de Barro, Noel Rosa, Lupicinio Rodrigues and others, including a nod towards his old partner, Garoto, at the end, with a delicate version of "Duas Contas." They also dip into American standards (a medley of "Three Little Words" and "My Blue Heaven," as well as a couple of French chanson tunes by Charles Trenet and Johnny Hess. It's a very mellow album, a little plummy, but ideal for those who enjoy Stephane Grappelli's later albums...


<! 01 No rancho fundo (Ary Barroso - Lamartine Babo) 02 Se acaso vocź chegasse (Felisberto Martins - Lupicínio Rodrigues) 03 Na madrugada (Nilo Sérgio) 04 Bem-te-vi atrevido (Lina Pesce) 05 A saudade mata a gente (Antônio Almeida - Jočo de Barro) 06 Conversa de botequim (Vadico - Noel Rosa) 07 Tudo cabe num beijo (Oswaldo Santiago - Carolina Cardoso de Menezes) 08 Three little words (Bert Kalmar - Harry Ruby) • My blue heaven (Walter Donaldson-George Whiting) 09 Ninguém me ama (Fernando Lobo - Antônio Maria) 10 Douce France (Charles Trenet) • Vous qui passez sans me voir (J. Hess-P. Misraki) 11 Curió dengoso (Carolina Cardoso de Menezes) 12 Pedacinhos do céu (Waldir Azevedo) 13 Duas contas (Garoto) arranged by - Carolina Cardoso de Menezes Sabá - bass (tracks 2,3,4,6,7,8,10,12) Lilian Carmona - drums (tracks 2,4,6,7,8,9,10) > <! Fafa Lemos "Cena En Rio/Dinner In Rio" (????, ????) B006CWJT4I B004PV5KOG Fafa Lemos "Oh! Gran Fafa" (RCA Victor, ???) (LP) B0051D9PAW [RCA VICTOR 2122] >

---
Links
---
---



---