<! cd = 01/30/10 > <! MP3 01/30/10, 03/09/12 > <! pix 00/00/00 > <! ALLBM 00/00/00 > <! icons 02/01/11 > <! UPDATES: 01/10/13 - added LP ASINs, '68 comp review >

---
Leci Brandao is one of the torchbearers of the modern samba revival, a traditionalist whose roots hearken back to the pagode scene of the 1970s. Brandao followed in the footsteps of samba-raiz (roots samba) diva Clara Nunes, but her style was crisper and less flowery, with a youthful sound and more directly populist appeal. Here's a quick look at her work...
---
Discography
---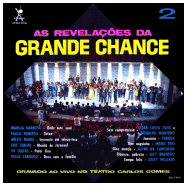 Various Artists "AS REVELACOES DA GRANDE CHANCE, v.2" (Codil Ritmos, 1968) (LP)


Super-rarity time! This album commemorates the second "Grande Chance" competition hosted by TV Tupi, a talent show modeled after the popular "song contests" of the time, but concentrating solely on unknown artists. In this case, most of the artists were (and deservedly remain) really obscure, awkwardly performing romantic ballads and covers of current bossa hits and, in one case, a rock cover of the Peter Gunn TV theme. However, the contestant who won became a genuine star and a champion of the roots-samba scene of the 1970s and '80s: singer Leci Brandao (credited as "Lecy" on the track listings) who belts out an uptempo urban samba called "Riqueza, Pobreza," kind of in the same style as Leny Andrade or Elza Soares. It's not a great record, but it's an interesting snapshot of the time, and hearing the youthful Brandao in '68 is cool.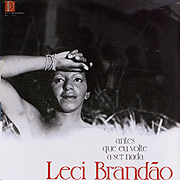 Leci Brandao "Antes Que Eu Volte As Ser Nada" (Copacabana/Marcus Pereira, 1975)


A fine debut by this from this younger member of the Mangueira samba school... Although the arrangements are a little lackluster, her vocals are quite rich and expressive. The album is also more stylistically varied than some of her later work, which tended to hew more closely to the upbeat pagode acoustic samba sound... Here she sinks her teeth into emotional ballads and even a bit of jazz scatting, and even a bit of a Carmen Miranda-like lightness and lilt. Over half of the songs are her original compositions, while others are from lesser-known composers such as Dede, Toco and Sueli Costa. It's all quite nice. If you want to check out Brandao's work, this is a fine starting place... and may wind up being your favorite of her records! Recommended.


<! B00018QC1C ASIN is for twofer CD - OOP >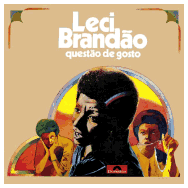 Leci Brandao "Questao De Gosto" (Polydor, 1976) (LP)


Classic mid-'70s samba-raiz, mixing rootsy, uptempo material with more stately MPB crossovers... Brandao's voice is possibly at its loveliest here, and the arrangements are simply gorgeous, built on classic cuica-cavaquinho-percussion formulas, and varying degrees of orchestration or acoustic accompaniment. One great song after another, with just a couple of tracks that were too poppy for me. This stands with the best pagode samba of the era: if you like Alcione, Clara Nunes or Roberto Ribeiro, you'll want to track this disc down as well.


<! DL >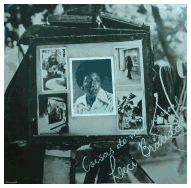 Leci Brandao "Coisas Do Meu Pessoal" (Polydor, 1977) (LP)


Straight-ahead acoustic-based samba, with a driving, relentlessly upbeat feel. As a singer, Brandao has a fair resemblance to Alcione: strong, confident, clear, vibrant vocals. She's also a great songwriter: most of her material on this and other albums is stuff she herself has written. Recommended!
Leci Brandao "Metades" (Polydor, 1978) (LP)

Leci Brandao "Essa Tal Criatura" (Polydor, 1980) (LP)


Leci Brandao "Leci Brandao" (Copacabana, 1985)


This disc starts off on a solid acoustic footing, with some dazzling (but, sadly, uncredited) cavaquinho work on the opening tracks. The arrangements get progressively slicker, but at heart this disc retains an honest old-school pagode feel; Brandao is very much walking in the foosteps of the late Clara Nunes, with a strong vocal and stylistic similarity on many tracks. About half the songs on here are Brandao originals; other tunes include Martinho Da Vila's "Ta Quase Odara" and a Brazilianized version of Violetta Parra's "Gracias A La Vida," also courtesy of Da Vila. Nice record -- definitely worth tracking down.


<! B000WMFP60 ? >

Leci Brandao "Dignidade" (Copacabana, 1987) (LP)


Still solidly in the samba school sound, though there are some dips into more soul-tinged MPB territory. On the whole, quite solid.
Leci Brandao "Um Beijo No Seu Coracao" (Copacabana, 1988) (LP)

Leci Brandao "As Coisas Que Mamae Me Ensinou" (Copacabana, 1989) (LP)

Leci Brandao "Cidada Brasileira" (Copacabana, 1990) (LP)

Leci Brandao "Comprometida" (Copacabana, 1992) (LP)

Leci Brandao "Atitudes" (RGE, 1993)

Leci Brandao "Anjos Da Guarda" (RGE, 1995)


Leci Brandao "Somos Da Mesma Tribo" (Movieplay, 1996)



One of her finest records, and one that is most true to the acoustic samba style she excels at. In addition to many brisk, alluring, upbeat numbers, there are several grandly sweeping songs towards the album's end that sound, for all the world, like classic tracks from Clara Nunes. A fine release -- highly recommended!
Leci Brandao "Auto Estima" (Trama, 1999)



Leci Brandao "Eu Sou Assim" (Trama, 2000)


A live album which finds Brandao still in fine voice (with the same being true of her fans, who happily sing along on most of these songs...) Occasionally the performances are too brisk or abrupt, or drift into overly poppy terrain, but for the most part this is another fine modern samba album, with Brandao's trademark air of authority and strength. Definitely worth checking out.

Leci Brandao "...E Convidados" (Trama, 2001)


Another live album, this time with a slew of guest performers, ranging from old timers like the Demonios Da Garoa, Almir Guineto and Jair Rodrigues to numerous lesser-known performers. Some songs are a little on the poppy side, but overall this is another fine, unpretentious release by this modern samba star.
Leci Brandao "A Filha Da Dona Leci" (Universal, 2001)

Leci Brandao "Cancoes Afirmativas -- Ao Vivo" (2006)


Leci Brandao "A Cara De Povo" (EMI, 2007)


(Produced by Evaldo Santos)
Exactly the kind of lovely, lively, rootsy samba we've come to expect from Ms. Brandao... A very solid set, with one dreamy song after another, and plenty of swaying, cavaquinho-filled rhythms framing soulful vocals from a confident, unhurried old pro with a great set of pipes. Highly recommended. Better, in fact, than some of her other recent records.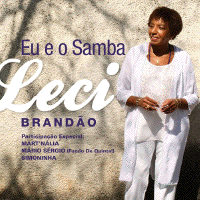 Leci Brandao "Eu E O Samba" (Som Livre, 2008)


With special participation of two younger samba artists, Mart'nalia (the daughter of samba legend Martinho Da Vila) and Simoninha (Wilson Simonal's son).
---
Best-Ofs
---
Leci Brandao "Sucessos" (Copacabana)
A nice overview of her work on the Copacabana label, with a few tracks that are aesthetically a bit iffy, though plenty of others sound just great. A wide stylistic range, but always presented with the sense that there's a real, normal person behind it all. Recommended!
Leci Brandao "20 Preferidas" (1997)

Leci Brandao "Serie Raizes Do Samba" (EMI, 1999)

Leci Brandao "Serie Millennium" (Universal, 2003)

Leci Brandao "O Canto Livre De Leci Brandao: As Primeiras Gravacoes" (2007)





<! Her Polygram years, from 1976-81: Tracks: (Disc 1) 1 - Questao de gosto ; 2 - Deixa pra la ; 3 - Ombro amigo ; 4 - Chantagem ; 5 - Deixa deixa ; 6 - Assumido ; 7 - Marias ; 8 - Ensopandinho ; 9 - Nao cala o cantor ; 10 - Vamos ao teatro ; 11 - Sem vinganca ; 12 - Essa tal criatura ; 13 - Danca doce ; 14 - Troca ; 15 - Dobrando as cobertas ; 16 - Ferro frio ; 17 - Vinte e duas horas ; 18 - Ze do caroco ; >

---
Links
---
---



---