<! cd= 11/01/03> <! MP3 9/12/08, 01/01/10 > <! pix 11/01/09 > <! icons 01/22/11 > <! UPDATES: 9/12/08, 01/01/10 >

---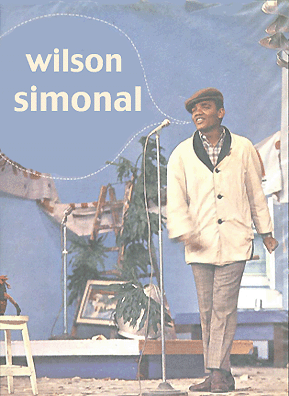 Star of nightclubs and TV, '60s singer and Rio native Wilson Simonal (1939-2000) updated the pre-bossa samba sound with a swinging, soul-inflected style known as pilantragem, fusing Brazilian pop and hip North American R&B. He was a key player in Brazil's "Black Rio" soul scene, with many musicians passing through his band and onto careers of their own. Simonal's star fell precipitously in 1972, when a court case revelation led to the accusation that he had acted as a police informer during the height of the Brazilian military dictatorship. With many in the entertainment industry turning their backs on him, Simonal's career faltered, his longtime label dropped him, and his name plunged off the cultural radar. Still, despite this, many of his old songs are worth looking back on... Here is a quick look at some of his recorded work, much of which has recently resurfaced on CD...
<! OLD COPY: Although Simonal's mix of soft pop and soul may seem pretty tame by today's standards, we was actually a pivotal figure in the growth of the Black Rio funk scene. Many of Brazil's top soul musicians apprenticed in Simonal's band; be himself mined fairly deep into the soul sound, although later on he fell into the disco trap. >

---
Discography
---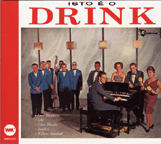 Celso Murilo "Isto E O Drink" (Remon, 1962)



Simonal sings on two tunes, alongside jazz organist Celso Murilo and his group, the rather zippy, upbeat house band from an old Rio nightclub known as Drink... He's one of several singers with the band, and he's definitely the best. Singing and swinging, Simonal is on top of the beat in a way that the others are not -- he's hep and full of charisma. The other singers have their charms as well, though: there are Luiz Bandeira and samba-cancao songbirds Lila and the ill-fated Sandra, who died in a car crash about the time this disc came out. Overall, it's quite a lively, enjoyable album, mixing a hefty dose of authentic samba with cheerful nightclub swing. Simonal, already under contract to Odeon, was clearly the star attraction, and devoted fans will definitely want to track this one down.

Wilson Simonal "Tem Algo Mais" (Odeon, 1963)
Simonal's full-length debut was a smooth, confident set, rooted more in swinging Rat Pack-style pop than in homegrown samba... No matter, though: it's fine stuff regardless. Cheesy, but appealing in an odd way. Just don't go into this one expecting some sort of wild, groovy funk-fest, and you'll find it is a nice slice of old-school Brazilian vocals. You can see why this guy got the attention he did -- he's very smooth and self-assured, and he definitely carries these songs.

Wilson Simonal "A Novo Dimensao Do Samba" (Odeon, 1964)


Wilson Simonal "Wilson Simonal" (Odeon, 1965)
A fairly staid set of schmaltzy, nightclubby pop... Simonal edges towards the jazzy samba sound of Jorge Ben's early albums, but stays rooted in the "radio singer" pop approach... Songs include contemporary material by Ze Keti, Ronaldo Boscoli and Jobim, but also some older samba-cancao by Ary Barroso and the like. This isn't his most interesting album, but it sounds okay, and is certainly representative of a certain style of mainstream Brazilian pop.

Wilson Simonal "S'Imbora" (Odeon, 1965)
Here's where Simonal's more experimental side begings to assert itself, and the arrangements seem to stand out a bit more. Although the second half of the album gets more conservative, the opening tracks include adventurous versions of newer material by Carlos Lyra, Geraldo Nunes, and up-and-coming songwriters such as Geraldo Vandre and Chico Buarque. There's a different feel to the uptempo numbers; it's not just the same clattersome, trotting sound that the bossa-jazz trios of the time specialized in, and even when he coasts into the slower romantic material, suddenly there's this sleek underlay of cool, tonal horn arrangements, exploring the modal approaches introduced into jazz music by Miles Davis and Gil Evans. It's cool stuff, particularly considering that the genre-busting experimentation of the tropicalia scene was still just a faint glimmer on the horizon. Worth checking out!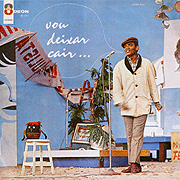 Wilson Simonal "Vou Deixar Cair..." (Odeon, 1966)
Another funky, frivolous outing, intertwining deep, funky grooves with a goofy, giddy playfulness. It doesn't totally hold together -- Simonal never grinds down into the funk as deep as you'd wish he would, but considering that there was practically no American-style soul music in Brazil at the time, his sound is pretty amazing. Indeed, if you compare it to a lot of the mainstream soul that was coming out in the States at the time -- Arthur Conley, Smokey Robinson, et. al., -- these Rio dudes hold up pretty well. The slower romantic tunes can be a bit schmaltzy, but that goes with the territory.

Wilson Simonal "Alegria, Alegria" (Odeon, 1967)


Coolsville. This is probably Simonal's best album, full of clever nods towards contemporary North American R&B, with one awe-inspiring, incredible track, "Nem Vem Que Nao Tem" which has a funky Young-Holt Trio-style groove to it that really rocks. Simonal, along with arranger Cesar Milton, came up with a swinging new style that really was unique for Brazil at the time, not merely a tame recreation of American soul, but a genuine contribution to the style. This also features a Caetano Veloso composition ("Remelexo") which must be one of the earlier Veloso cover versions recorded in the pre-tropicalia era. Mainly, it's Simonal's command of American soul music which is most impressive: he's got a groove and he knows how to use it. Recommended!

Wilson Simonal "Show Em Simonal" (Odeon, 1967)
A live, double-length concert set, recorded at the Teatro Record, with Simonal fully in his element, backed by pianist Cesar Camargo Mariano's versatile Som Tres trio. There is a lot of clowning around and comedic patter, clattering and shuffling from theme to theme, and while this may not be the most interesting album to listen to from a musical standpoint, it certainly captures the feel of his live shows. I couldn't honestly say I'd recommend this album to anyone, but students of Brazilian pop culture may get a kick out of it.

Wilson Simonal "Alegria, Alegria 2" (Odeon, 1968)


Continuing along the path set by the first album, this is more soul-tinged pop, although this time with more mixed results. When the string arrangements and bright vocal charts kick in, you can see the writing on the wall. Clearly, the record label wanted to capitalize on Simonal's growing success by moulding him into a more conventional pop singer, and tempered his more swinging tendencies. This disc is still pretty enjoyable, but not nearly as intriguing as his first. Still, it has some notable features, such as a song each by Jorge Ben and forro founder, Luiz Gonzaga. Black Rio soul singer Nonato Buzar also shares songwriting credit with Simonal on one tune (perhaps he was in his band at the time?) This album's worth checking out, but in retrospect, it was the beginning of the end for Simonal's hip, groovy sound.

Wilson Simonal "Alegria, Alegria 3" (Odeon, 1969)


Man, how quickly the worm turns. This album kicks off with a Jorge Ben song, "Silva Lenheira," that gallops along with a surprisingly disco-y sound (impressive, as it was a few years ahead of its time, but also a bad omen of things to come...) But then, the pop sound settles in. A cover of Marcos Valle's "Mustang Cor De Sangue" is interesting, and another Nonato Buzar tune is also worth noting. By the time the album ends, though, you'll find Simonal almost entirely transformed into a more or less standard-issue Brazilian pop vocalist, even covering samba-cancao oldies by the likes of Atualfo Alves and Herivelto Martins. There is a disco-y undertone that reflects a glimmer of the Black Rio scene bubbling underneath, but at this transitional phase, the true soul torch was being passed to funksters such as Tim Maia and his pals. Simonal remained one of the key bandleaders of the scene, giving work and show biz experience to many younger artists, but the funk fire was missing on this album, at least.

Wilson Simonal "Alegria, Alegria 4" (Odeon, 1969)


Wilson Simonal "Simona" (Odeon, 1970)


Yeesh. despite the psychedelic cover art, this album is dominated by, slow, ultra-cheesoid romantic vocals... Indeed, the opening songs have a distinctly non-Brazilian, bolero-tinged, corniness to them. On Side Two, things pick up with an improbably funkified version of Ary Barroso's "Na Baixa Do Sapateiro," crossing samba cancao with a James Brown beat. A spaced-out sunshine pop pervades after this, but it's fairly incoherent and sluggish. There is a vaguely fascinating druggy quality to this disc that may hold a kitschy appeal, but it's certainly not Simonal's best album, nor some sort of hidden, fantastic gem of the topicalia/Black Bahia era.

Wilson Simonal "Joia, Joia" (Odeon, 1971)

Wilson Simonal "Se Dependesse De Mim" (Phonogram, 1972)

Wilson Simonal "Olhai, Balandro... E Bufu No Birrolho Grinza!" (Phillips, 1973)


Wilson Simonal "Ninguem Proibe O Amor" (RCA-Victor, 1975)


Wilson Simonal "A Vida E So Pra Cantar" (RCA-Victor, 1977)


Lumping these two albums together on a single CD was a pretty good idea, since it gives you a good sense of how far Simonal fell creatively speaking, and how it was almost within his grasp to pull himself back. Ninguem Proibe O Amor is a hopelessly wimpy soft-pop album; by contrast, A Vida makes you almost grateful that disco was invented... at least it breathed a little life back into the guy! The 1977 album is, I suppose, an okay record... but I can't honestly say that I would really recommend either of these releases... they're just not that interesting, and feel awfully by-the-numbers.


<! old cd= B00005J8HW >

Wilson Simonal "Se Tudo Mundo Cantasse Seria Bem Mais Facil Viver" (RCA-Victor, 1979)

Wilson Simonal "Wilson Simonal" (1981)

Wilson Simonal "Simonal" (Fermata, 1983)

Wilson Simonal "Alegria Tropical" (Copacabana, 1985)






<! B000QR3CIY MP3 ?? >

Wilson Simonal "Os Sambas Da Minha Terra" (1991)





Wilson Simonal "Brasil" (Movieplay, 1995)

Wilson Simonal "Bem Brasil - Estilo Simonal" (Happy Sound, 1998)

Wilson Simonal "Brasil" (Movieplay, 1995)

---
Best-Ofs
---
Wilson Simonal "Na Odeon: 1961-1971" (EMI-Brasil, 2004)


An outstanding 8-CD box set which gathers Simonal's work from 1961-71, including all the albums above as well as several pre-LP singles and EPs, rarities and the like. Includes two full discs of non-album material, along with a hefty, beautifully illustrated booklet and reproductions of all the original album art. One of Simonal's sons, modern soul-electronica experimentalist Max De Castro, helped curate this collection, and it really does right by its subject. Taken in its totality, Simonal's music may be a bit much for the average listener to sit through, but you can't deny his charm and the overall innovative character of his work, and this is probably the best collection of his pivotal work that the world will ever see. If you're intrigued by Simonal's career, this is a must-have collection. (All albums reviewed above.)


<! also: B0002XNKIY >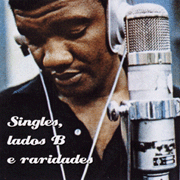 Wilson Simonal "Singles, Lados B, E Raridades" (Odeon, 2004)
Although it's really part of the Na Odeon box set listed above, I thought I'd give special mention to this 2-CD set of rarities and B-sides... There's some interesting stuff here, including a lot of material that's quite different than the standard fare heard on his various albums. The first disc is the most atypical, starting off with some Cuban-style salsa (!) then moving into a bunch of upbeat, jovem guarda teenybopper pop-rock... There are also plenty of Simonal's style of samba/R&B, and the second disc is more familiar. Indeed, there's much of it that's fairly painful to listen to, along with lots of "groovers" that would doubtless get the European club kids all hot and bothered... If you're a Simonal fan, this is a must-have item!
Wilson Simonal "O Bossa E O Balanco" (Warner Music, 1994)

Wilson Simonal "Meus Momentos" (EMI, 1999)


An excellent 2-CD best of which captures most of his best stuff, as well as some of his shortcomings. Inventive, exhuberant pop music which occasionally hits great heights -- mysteriously, though, this collection omits his most awesome track, "Nem Vem Que Nao Tem", off the first Alegria album. Oh, well -- guess that's what they make obsessive record collectors for... to track down the stuff that matters.

Wilson Simonal "Colecao Brazil - De A a Z" (EMI, 2002)


The first three Alegria albums, bricked together as part of a boxed set, of sorts. Simonal was the "W" in this odd, "alphabetical" reissue series. All three albums are reviewed above.
Wilson Simonal "Retratos" (EMI, 2004)


Wilson Simonal "Rewind" (EMI, 2004)


I haven't heard this, but I've been told it's a remix album, produced by Simonal's sons, Simoninha and Max De Castro.
Wilson Simonal "A Arte De Wilson Simonal" (Universal, 2005)

Wilson Simonal "Eu Sou O Samba" (EMI, 2005)

Wilson Simonal "30 Exitos" (2008)

---
Links
---
Brazzil Magazine ran a nice, informative obituary when Simonal died a few years ago...
All Brazilian Music, as usual, has a good biographical sketch and discography... (In English and Portuguese. )
---



---