<! cd: 02/04/07> <! MP3 09/12/08, 11/16/09 > <! pix 11/16/09, 04/07/13 > <! outside info below > <! icons 01/29/11 > <! UPDATES: 09/12/08 04/07/13 - '81 review, new pix >

---
Pianist-composer Cesar Camargo Mariano was one of Brazil's most notable jazz players of the bossa and post-bossa nova eras... Hailing from Sao Paulo, his style was markedly cooler and harmonically richer than many of the more clattersome jazz trios that cluttered the Brazilian nightlife during the height of the bossa craze... Mariano moved from club gigs to studio work, arranging music for many of the biggest and most artistically significant stars of the era, including Maria Bethania, Chico Buarque and, most notably, jazz chantuese, Elis Regina, who he worked with for several years... Here's a quick look at his work.
---
Recommended Records
---
Quarteto Saba "Quarteto Saba " (RGE, 1964)


Sambalanco Trio "Sambalanco Trio" (Audio Fidelity, 1964)
Pianist Cesar Camargo Mariano and percussionist Airto Moreira led this jazzy early-'60s trio; along with bassist Humberto Clayber they glided through more of that trademark breezy jazz sound that was the complimentary backdrop to the bossa nova boom. This is the first of the group's three albums, packed with many bossa standards and several of Camargo's originals, as well as "Homangem A Clifford Brown," a tribute to a North American smooth jazz player whose "Blues Walk" was a popular standard in the Braz-jazz scene. As with many of these groups, Sambalanco wasn't really on a par with most U.S. jazz bands, but they have a kitschy appeal, and have a more distinctively Brazilian flair than most. The piano work in particular deftly hints at a greater harmonic depth than actually comes through on the album. Worth checking out, particularly if you are a loungecore fan, or are interested in finding out about Airto's early roots.
Sambalanco Trio "Reencontro Com Sambalanco Trio" (Som Maior, 1965)


Sambalanco Trio & Lennie Dale "Lennie Dale E Sambalanco Trio" (Elenco, 1965)
Here the trio backs American expatriate Lennie Dale, a cabaret crooner who was certainly in the right place at the right time, recording several albums with some of the top talent in the bossa-era nightclub scene. Dale sang in a Mel Torme style, mixing newly-minted bossa hits with a variety of American pop-jazz vocal tunes. It's a very vigorous production, but his vocals are a little too over-the-top for me -- too emotive and robust, and a bit too kitschy. But it's real-deal nightclub bossa, a good portrait of the era, though I don't think I honestly could have sat through one of his shows... He's just too irritating. (But then again, I don't care much for '50s-era crooners like Sinatra, Torme or Tony Bennett, either, and I think that's what Dale was shooting for... So take what I say with a grain of salt.)
Sambalanco Trio "Sambalanco Trio" (Som Maior, 1965)


Also known as Nana, after the title of the first song on the album...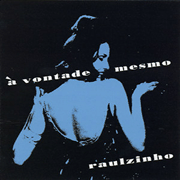 Raul De Souza (Raulzinho) "A Vontade Mesmo" (RCA, 1965)


The Sambalanco Trio form the backbone of this band, laying down jazz riffs for trombonist Raul De Souza to glide on... This was De Souza's debut as a bandleader; he later emigrated to the US and became a leading session player. I'm sure the role of the trombone as a lead instrument has been a constant source of contention among jazz fans, but I have to say that it doesn't do much for me here. I'm no jazz critic, but this album mostly strikes me as a bit unsubtle and overly energetic. Anyway, it's a mostly homegrown set, including one of his own early compositions alongside material by the likes of Tom Jobim, Carlos Lyra and (for exotic effect) Duke Jordan. One of the most notable contributions is from Airto, who kicks in with some nice Cuban-flavored percussion.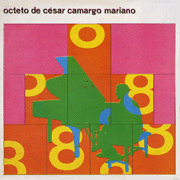 Cesar Camargo Mariano "Octeto De Cesar Camargo Mariano" (RGE, 1966)


Straightforward hard-bop jazz, with some Brazilian asides... Most of the tunes are original compositions, with additional songs from the likes of Luiz Bonfa, Antonio Carlos Jobim and Marcos Valle, along with an oldie by Ary Barroso and a kitschy Henry Mancini tune, "Champagne And Quail." The octet -- which included pianist Cesar Camargo Mariano, along with drummer Airto Moreira and bassist Humberto Clayber (of the Sambalanco Trio) -- plays with the most force and conviction on Camargo Mariano's original songs; the other performances sound like a rehash of cabaret shows. However, it should be said that these recordings are miles beyond many of the contemporary Brazilian jazz recordings, in terms of the music's texture and coloration... Breaking away from the standard trio size that defined the bossa-jazz scene, Camargo Mariano prized out much more harmonic depth and subtlety. Worth checking out, if you're delving into the Brazilian jazz scene.

Wilson Simonal "Show Em Simonal" (Odeon, 1967)
A live, double-length concert set, recorded at the Teatro Record, with lounge singer Wilson Simonal fully in his element, backed by pianist Cesar Camargo Mariano's versatile Som Tres trio. There is a lot of clowning around and comedic patter, clattering and shuffling from theme to theme, and while this may not be the most interesting album to listen to from a musical standpoint, it certainly captures the feel of his live shows. I couldn't honestly say I'd recommend this album to anyone, but students of Brazilian pop culture may get a kick out of it.


<! ASIN ? >

Som Tres "Som 3" (EMI-Odeon, 1969)

Som Tres "Som Tres Show" (EMI-Odeon, 1968)





<! 1. Leonardo 2. Falsa Baiana 3.Keep Talking etc. >

Som Tres "Som Tres" (EMI-Odeon, 1970)





Som Tres "Toboga" (EMI-Odeon, 1970)

Cesar Camargo Mariano "Janelas" (Odeon, 1976)


Cesar Camargo Mariano & CIA "Sao Paulo, Brasil" (RCA, 1978)



First-rate jazz-fusion, with a few homegrown Brazilian touches... Keyboardist Cesar Camargo Mariano led this feisty, funky quintet through a remarkably assured set, evoking the best work of Northern Hemipshere heavyweights such as Chick Corea and Herbie Hancock... Indeed, the album's opener, "Metropole," is an instrumental with as tight and funky a groove as anything the North American fusion scene had come up with... Other tracks are much mellower, even at times a bit soporific, but if you like that style of jazz, this is an album worth tracking down. Doesn't quite float my boat, but it's pretty well-produced and good for the genre. Apparently it made quite an impression at the time.
Cesar Camargo Mariano "Cesar Camargo Mariano & CIA" (Odeon, 1980)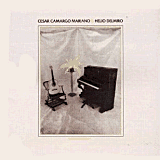 Cesar Camargo Mariano & Helio Delmiro "Samambaia" (EMI-Odeon, 1981)


(Produced by Renato Correa)
A nice, lively acoustic album by pianist Cesar Camargo Mariano and guitarist Helio Delmiro, who worked together on a variety of projects over the years, and have a strong intuitive connection. This zippy set mixes the verve and wit of choro music with a more modern soft/fusion jazz feel. Some solos get a little flowery, but overall this is a classy set, pleasantly restrained by the standards of contemporary early '80s MPB. Definitely worth checking out, if you're a smooth jazz fan, or into modernized choro.


<! 11/09: B001B8HLB6 expensive OOP import >

Cesar Camargo Mariano "A Todas As Amizades" (Opus Columbia, 1983) (LP)


Cesar Camargo Mariano & Wagner Tiso "Todas As Teclas" (Philips, 1983)


Two renowned Brazilian pianists team up for a mega-tacky electric keyboard cheesefest... Admittedly, there is some technically impressive playing going on here, but it's still pretty damn tacky and proggy. Not my cup of tea.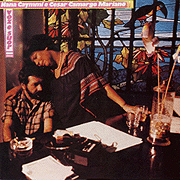 Cesar Camargo Mariano & Nana Caymmi "Voz E Suor" (EMI/Odeon, 1983)


A fascinating collaboration between vocalist Nana Caymmi and pianist/arranger Cesar Camargo Mariano. It's just the two of them, performing as a piano-vocal duet, each improvising and sliding around the melodies. The most striking thing about this record is the degree to which the usual rhythmic drive of Brazilan music is almost entirely set aside; it may seem a little noodly, and it won't knock your socks off the way many MPB albums do, but it's certainly some of the richest work of either artist's career. An interesting change of pace, and a very dense, rewarding record. Recommended.
Cesar Camargo Mariano & Nelson Ayres "Prisma" (Pointer, 1985) (LP)

Cesar Camargo Mariano & Grupo Prisma "Ponte De Estrelas" (CBS, 1986)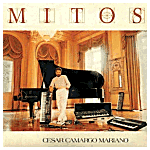 Cesar Camargo Mariano "Mitos" (Columbia, 1988)



Ye gods. The cover art shows the Great Man posed in a large, airy living room, in front of a grand piano and a wide sward of synthesizer keyboards. The music inside is every bit as pretentious and awful as the photo and album title imply... A mix of Milton Nascimento-ish swirliness, Kenny G faux-jazz treacle, and the sort of hyper synth-pop that Steve Winwood made around the same time. It's just awful.
Cesar Camargo Mariano "Cesar Camargo Mariano" (Som Livre, 1990)

Cesar Camargo Mariano "Natural" (Polygram, 1993)

Cesar Camargo Mariano & Leny Andrade "Nos" (Velas, 1994)


A collaboration with jazz vocalist Leny Andrade...
Cesar Camargo Mariano "Solo Brasileiro" (Polygram, 1994)

Cesar Camargo Mariano "Piano, Voz E Sentimento" (Polygram, 1997)

Cesar Camargo Mariano & Pedro Mariano "Piano E Voz" (Trama, 2003)


Cesar Camargo Mariano & Romero Lubambo "Duo" (Sunnyside, 2003)


Cesar Camargo Mariano "Nova Saudade" (Discos Rob, 2003)

Cesar Camargo Mariano & Leny Andrade "Ao Vivo" (Albatroz, 2007)


---
Links
---
All Brazilian Music/Clique Musique has a nice entry on Mariano and his work, including information on many of his side-projects and jazz bands. (In Portuguese and English.)
---



---

<! Filho de um professor de música, comeća a tocar piano por conta própria, e aos 14 anos passa a ser apresentado como "menino prodígio" em shows em que acompanha bandas de jazz. Em seguida fez amizade com Johnny Alf, que o incentivou a estudar harmonia, arranjo e composićčo. Logo comeća a atuar como profissional na Orquestra de William Furneaux, e em 1962 forma o grupo Trźs Américas, que toca em festas e bailes. No ano seguinte vai para Sčo Paulo e integra o Quarteto Sabá, com quem grava o primeiro LP. Em seguida vem o Sambalanćo Trio, ao lado de Airto Moreira e Humberto Claiber, que grava um disco com Lennie Dale e ganha prźmios. No final da década é contratado pela TV Record de Sčo Paulo, onde trabalha como instrumentista e arranjador, e grava discos com seu novo grupo, Som Trźs. Participou como jurado de festivais de música da Record. Nos anos 70 tem início uma bem-sucedida parceria com Elis Regina. César atua como diretor musical, produtor e arranjador da cantora, excursionando pelo Brasil e por vários países. Também participa de trabalhos com Chico Buarque, Maria BethČnia, Jorge Ben e outros. Na mesma época, entra no mercado de jingles e músicas para cinema e propaganda. Na década de 80 César gravou dois discos considerados históricos: "Samambaia", com o guitarrista Hélio Delmiro, e "Voz e Suor", com a cantora Nana Caymmi. Continua atuando como arranjador, produtor, compositor e pianista no Brasil até 1994, quando se muda para os Estados Unidos, onde comeća a trabalhar com o compositor Sadao Watanabe, que o leva a turnźs no Japčo. Mesmo nos EUA, continua em contato permanente com os maiores nomes da MPB, dirigindo e produzindo discos e espetáculos.> <! One of Brazil's top arrangers, producers, and pianists, César Camargo Mariano has had extensive work in the most important arenas of the world. He has had musicians like Abe Laboriel, Alex AcuĖa, Mitch Holder, Paulinho da Costa, Jerry Hey, Bill Rickenbach, Ernie Watts, Hélio Delmiro, Wagner Tiso, Nelson Ayres, Crispin DelCistia, Azael Rodrigues, Jočo Parahyba, among many others, participating on his solo albums. Mariano also co-produced, arranged, played the piano, and/or did the artistic direction for several shows and albums of Brazil's most important contemporary artists like Elis Regina, Nana Caymmi, Gal Costa, Maria BetČnia, Simone, Rita Lee, Elba Ramalho, Ney Matogrosso, Jočo Bosco, Leny Andrade, Leila Pinheiro, Beth Carvalho, Emilio Santiago, Ivan Lins, Ivete Sangalo, and others. Among his many awards are the eight Clio's and several Sčo Paulo's Association of Art Critics (APCA) awards as musician, composer, arranger, and producer of records and shows. Over the past two decades, Mariano has produced, directed, and headed various TV programs. Mariano also wrote soundtracks for films, plays, and prime time nationwide soap operas (like Mandala). Mariano started playing the piano by ear at 13, never having studied music before. Nine months later he played with Melba Liston (June 1957) in her concert in Rio. In the '60s, Mariano was hired by the William Furneaux Orchestra, playing dances. He also formed a quartet at that time with Theo de Barros (bass), Flavio Abattipietro (trumpet), and José Luis Schiavo (drums). Invited by Simonetti, Mariano put together a larger group, Trźs Américas, to cover some of Simonetti's gigs. In the A Baiúca nightclub (Sčo Paulo) in 1962, Mariano participated in the Sabá Quartet with Sabá Oliveira (bass), Hamilton Pitorre (drums), and Theo de Barros (guitar). In the same year, Mariano produced and arranged Claudete Soares' Claudete é Dona da Bossa. In 1963 Mariano recorded his first album, Quarteto Sabá. Together with Airto Moreira and Humberto Clayber, Mariano formed the Sambalanćo Trio (1964). With the American choreographer, dancer, and singer Lennie Dale, Mariano staged a bossa nova show that was a success, yielding the album Lennie Dale & Sambalanćo Trio No Zum-Zum, which received two prizes from the newspaper Jornal do Brasil. From 1965 to 1971, Mariano led the Som Trźs trio. In 1967, Mariano wrote 12 arrangements for singer Marisa Gata Mansa. In 1968, Mariano became Wilson Simonal's producer, arranger, and musical director. In 1969, Mariano participated in the Festival of Black Arts in Senegal, Africa, with the singer Elizeth Cardoso and the Som Trźs trio. In 1971, Mariano was invited by Elis Regina to direct, produce, and arrange her new show at the Teatro da Praia in Rio and her new album for PolyGram, Elis. He put together a new quartet with Luisčo Maia (bass), Helio Delmiro (guitar), and Paulinho Braga (drums). This would be the first of a series of 13 albums with Elis Regina. Mariano's first instrumental solo work was the show Sčo Paulo Brasil (1978). In 1980, Mariano wrote and recorded the soundtrack for Arnaldo Jabor's Eu Te Amo. Two years later he wrote the soundtrack for Bruno Barreto's Além da Paixčo. In 1988, Mariano performed another instrumental music show with Dino Vicente (keyboards), Luisčo Maia, and Pedro Ivo (bass), Azael Rodrigues and Jočo Parahyba (percussion), Ulisses Rocha (guitar), and Pique Riverte (saxes and flute). The show, called Ponte das Estrelas, was recorded live and toured all over Brazil and Latin America. In 1989, at the Montreaux Jazz Festival, Mariano performed as a duet with Jočo Bosco. Putting together an acoustic trio with Hélio Delmiro on guitar and Paulo Moura on clarinet, they traveled to Spain for a ten-concert tour. In 1990 Mariano composed the soundtrack for another film, Paixčo Cigana (Flávia Moraes), and the score for the play Luar em Preto e Branco. In 1994, Mariano moved to the United States. In that year he met Sadao Watanabe, who invited him to produce and arrange Watanabe's album In Tempo. Sadao Watanabe would bring Mariano again to produce and arrange his album Viajando. In that first period, Mariano played a piano concert at the Blue Note club in New York and traveled to Japan for various appearances with Watanabe and his group. In Chile, Mariano performed a four-handed piano concert with Michel Petrucciani. He also participated in Armando Manzanero's album El Piano -- Manzanero y Sus Amigos. In New York in 1996, Mariano gave a solo concert at the Ballroom, along with John Patittucci's group. With Romero Lubambo (guitar), Leo Traversa (bass), and Mark Walker (drums), Mariano performed a tribute to Elis Regina at the Montreaux Jazz Festival with special guest Milton Nascimento. At the end of the year, Mariano directed a Brazilian music show at the Lincoln Center. In 1997, along with his quartet, he performed with Michael Brecker and Dianne Reeves at the Heineken Festival in Sčo Paulo and Porto Alegre, Brazil. In Mexico, Mariano produced an album for PolyGram Latino with 12 Latin American singers (Tania Libertad, Vikky Car, Emmanuel, Maria Conchita Alonso, among others) backed only by piano and keyboards, Piano, Voz y Sentimento. In October, maestro and producer Ettore Stratta invited Mariano to join him in putting on the All Jobim concert at Carnegie Hall in New York. Acting as musical director and arranger for the concert, Mariano also performed alongside Ivan Lins, Leila Pinheiro, Dori Caymmi, Joe Lovano, Sharon Isbin, Eugene Maslov, and Al Jarreau. In April, invited by Ivan Lins, Mariano put together a duet program with Romero Lubambo on guitar for a series of concerts in the Brasil Musical (Musical Brasil) project in Rio de Janeiro. Followed another tour to Japan for various concerts alongside Sadao Watanabe, joined by Paulo Braga (drums), Marcelo Mariano (bass), Romero Lubambo (guitar), and Café (percussion). With guitar player Romero Lubambo, Mariano performed at Birdland in New York and at the Jazz Showcase in Chicago. In May 1999, invited by maestro Gil Jardim, Mariano participated in the Café Com Leite, a spectacle with the Brazilian Philharmonic Orchestra, followed by a a solo tour through Brazil. In September, Mariano was again invited by maestro Ettore Stratta to direct the All Jobim show at Carnegie Hall in New York. This time participants included Jočo Bosco, James Ingram, Simone, Michael Brecker, the New York Voices, Paula Robinson, and the duo formed by Mariano and Romero Lubambo. In October and November, Mariano wrote the string arrangements for Blossom Dearie's album Blossom's Planet (Daffodil Records) and the arrangements for Romero Lubambo's album Love Dance (Aosis/JVC Japan). >