<! cd = 12/22/12 > <! MP3 12/22/12 > <! pix 12/22/12 > <! SOURCES 12/22/12 - WP, ABM > <! icons 12/22/12 > <! UPDATES: 12/22/12 - posted w/ review in World blog >

---
Ceumar (Ceumar Coelho) is a Brazilian singer from the Minas Gerais area who became part of the Sao Paulo music scene. Championed by rock-MPB star Zeca Baleiro, Ceumar has recorded several independent albums... Here's a quick look at her work...
---
Discography - Best-Ofs
---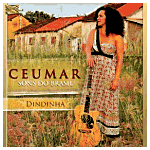 Ceumar "Sons Do Brasil: Dindinha" (ARC Music, 2012)



(Produced by Zeca Baleiro)
A nice sampling of the work of Brazilian singer Ceumar Coelho, a gal from Minas Gerais with a beautiful voice and a wide stylistic range. She was "discovered" by MPB-rock star Zeca Baleiro, who produced this album and wrote several of the songs, and performs on several tracks, along with other musicians such as Dante Ozzetti, Swami Jr., and a slew of folks who aren't on my radar. This is very pretty-sounding material, touching on folk-pop, bossa, forro and soft samba, all very mellow and lulling, and mostly acoustic-based... This gathers album tracks and some live stuff as well... Fans of Marisa Monte, Nazare Perreira or Bebel Gilberto might enjoy this as well. Definitely worth a spin!


<! Ceumar Coelho w/ Zeca Baleiro, Swami, Jr., others >

---
Discography - Albums
---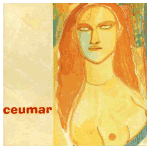 Ceumar "Dindinha" (Atracao, 1999)



(Produced by Zeca Baleiro)

Ceumar "Sempre Viva" (Elo Music, 2003)


Ceumar & Dante Ozzetti "Achou!" (MCD, 2006)


Ceumar "Meu Nome" (Circus Producoes, 2009)



Live in Sao Paulo...
Ceumar "Live In Amsterdam" (2010)






<! Solo - gravado no Tropentheater >

---
Links
---
---



---