<! cd = 06/06/12 > <! MP3 00/00/00 > <! pix 00/00/00 > <! ALLBM 00/00/00 > <! icons 00/00/00 > <! UPDATES: 06/06/12 - posted >

---
Brazilian pianist Fats Elpidio was a prolific performer and session musician in the 1950s, often working with samba/gafieria bandleader Zaccarias, in a variety of lineups. I like Elpidio's style - it's often a little offbeat, adding subtle improvisations and fillips into his support work, and adding quirky, microscopic twists to his solos. Below are reviews of some of his records -- I'm pretty sure this is just the tip of the iceberg, though, and look forward to discovering more of his work.


<! Tinha apenas quatro anos de idade quando ouvi a música que marcou definitivamente a minha infČncia: "Os pobres de Paris" executada pelo clarinetista Zaccarias e pelo pianista "Fats" Elpídio num velho 78rpm do meu pai. Que me lembre, nenhuma música anteriormente tinha me causado tanto efeito quanto aquela. O "Fats" sugere uma semelhanća física com o pianista e organista americano "Fats" Waller, mas é bom deixar claro que, em termos de dimensčo, seja ela física ou artística, nada ficou devendo ao seu xará. Foi, literalmente, um imenso pianista o Elpídio Pessoa, pernambucano de Pau DęAlho, mais um nordestino que contribuiu de forma efetiva para evolućčo de nossa música brasileira "moderna", juntamente com seu irmčo, o trompetista Ayres Pessoa, conhecido como "Pernambuco". Na minha opiničo, "Fats" Elpídio e Centopéia foram os melhores pianistas que já ouvi. De Centopéia pouco poderemos falar porque praticamente nčo existe nenhum registro gravado, o que tenho conhecimento foi escutado mediante velhas fitas de gravadores de rôlo, mas o apelido, os comentários que oućo, confirmam que se tratava de um gźnio. O crítico musical Jose Domigos Raffaelli me falou, há alguns anos, que possuia fitas gravadas com o Centopéia, estavam se esfarelando de tčo velhas e bem guardadas, espero que o Rafa tenha conseguido transformar em música audível. Por estas razões, vamos ficar com "Fats", o melhor pianista e jazzista brasileiro dos anos 50/60 já que Chaim Lewak, imbatível, também na minha opiničo, nasceu em Israel, e aí nčo vale. >

---
Discography
---



Fats Elpidio "O Pianista Da Boite Vogue Do Rio" (Radio, 1955)



<! Este é o seu primeiro registro solo em LP, selo Radio 0031-V, de 1955. De cara ele detona um tema que o projetaria muitos anos ą frente de sua época: "Salve Ogum" do seu irmčo Pernambuco e Mario Rossi. Uma música bem ao estilo de Ary Barroso ou Denis Brean, se transforma, nas mčos de Elpídio, numa grande peća afro-jazzistica, se bem me fiz entender, é sensacional! As demais músicas: Torna Sorriento (Curtis); Chega Mais (Pernambuco e Marino Pinto); Curare (Bororó) em outra incrível versčo; La Vie en Rose (Louiguy e Edith Piaf); Porque cantam os passarinhos (Peterpan e Ary Monteiro); Manhoso (Zaccarias) e Guacyra (Hekel Tavares). Achou? Compre! >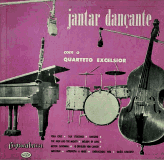 Quarteto Excelsior "Jantar Dancante" (RCA, 1955) <! date? >
A mellow set from a tight quartet featuring bandleader Zaccarias, pianist Fats Elpidio, and a compact bass-drums rhythm duo. This album isn't as sneaky or as inventive as some of their later stuff, but the samba songs that comprise Side One are nice... Side Two has three long medleys of North American standards ("Embraceable You," etc.) Overall, pleasant to hear, but not an earthshaking album. The highest nostalgia quotient comes with the Brazilian material, and those few songs are pretty sweet.




Fats Elpidio & Zaccarias "Vamos Dancar" (RCA Victor, 1956)



<! 10" album >

Fats Elpidio "Recordando Nono" (RCA Victor, 1956)





Quarteto Excelsior "Coquetel Dancante, v.1" (RCA, 1957) <! date? >
An enchanting nostalgic oldie, featuring bandleader Zaccarias, best known for his work with a large gafieira orchestra, here performs in a small group setting, playing clarinet himself, with nimble backing by pianist Fats Elpidio. Fats comes up with some wildly inventive riffs, details that might not be apparent at first, but that become more impressive with repeat auditions. The sparse, halting arrangements and reserved vocal style give this a sort of a '50s glee-club sound, but a deep reservoir of jazzy savvy runs underneath it all, giving these stripped-down samba-cancao tunes a surprising little zing. This record is a lot of fun, once you give it a chance.


<! 01 - Baičo do Lavrador (Valdrido Silva / Zaccarias) 02 - Abre a Janela (Roberto Roberti / Arlindo Marques Júnior) 03 - Lá no Norte (Gilvan Chaves) 04 - Tiradentes (Estanislau Silva / Penteado / Décio Carlos) 05 - Pau-de-arara (Luis Gonzaga / Guio de Morais) 06 - Batuque no Morro (Russo do Pandeiro / Sá Róris) 07 - The Very Thought Of You (R. Noble) Love Me Tender (Elvis Presley / V. Matsen) Anastasia (Paul Francis Webster / A. Newman) 08 - Petticoats Of Portugal (Durso / Mitabel) Angustia (Orlando de Brito) Esperame En El Cielo (Francisco Lopez Vidal "Paquito") Que Murmuren (R. Fuentes / R. Cardenas) 09 - You're Sensational (Cole Porter) I Love You Samantha (Cole Porter) True Love (Cole Porter) >
Fats Elpidio "Musica E Penumbra" (1957)
Basically solo piano, with very light accompaniment -- a little brushed drum, some modest electric guitar. I like Elpidio's style, but I have to admit this album was underwhelming. It's not as swinging as his other work, and more dinner lounge-ish than the dance stuff. Worth checking out, but too reserved for me. The only track I really enjoyed was "Fita Amarela," which has some nice interplay with the guitarist. Otherwise, I'll pass on this one.
Fats Elpidio "Musica E Penumbra, v.2" (RCA Victor, 1958)



<! ALSO ON: Paulo Moura "Sweet Sax" (RCA Victor, 1958) Booker Pittman "Booker Plays Again" (RCA Victor, 1959) Aurino "Seu Sax E Conjunto: Saturday Night" (RCA Victor, 1960) Louis Cole "Uma Noite No Vogue" (Radio, 1955) Cole was a North American singer working in Brazil in the early '50s -- this album as made when he was holding down a gig at the Vogue nightclub with a band that included Fats Elpidio on piano and Moacyr Silva on tenor saxophone >
Fats Elpidio "Hi-FAts Elpidio Toca Para Voce Dancar" (RCA Victor, 1959)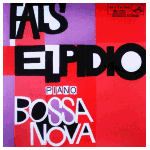 Fats Elpidio "Piano Bossa Nova" (RCA Victor, 1960)
Punctuating a decades-long career, this bossa-themed LP has veteran samba-cancao/gafieira pianist Fats Elpidio in a mellow mood, covering newly-minted classics by Tom Jobim ("Meditacao," "Samba De Uma Nota So") and Oscar Castro-Neves, alongside material by Elpidio's longtime cohort, Zaccarias, and an eclectic mix of composers. The arrangements are mostly pretty pedestrian, standard-issue light-orchestral dance fare; Elpidio's piano plunking is elegant, but not as inspired as some of his earlier work... It's all very comfortable and conservative. Worth checking out if you're in an EZ frame of mind, but not really all that essential.


<! Fats Elpidio is a Brazilian pianist and composer, also known as Pernambuco, started his career in 1930 at Orquestra de Jonas Silva and among many contributions for Brazilian music he is also credited to be the first to perform a Jazz concert in Rio de Janeiro at Fluminense Football Club. I admit that I never heard a Fats Elpidio LP in my life and I can say that any serious Brazilian music collector should open a slot to Fats Elpidio. Fats discography is huge. He recorded some LPs in the late 50's as Fats Elpidio e Seu Conjunto that should be amazing picks. Piano Bossa Nova has arrangements by Carioca and Nelsinho leading top-notch musicians: Fats Elpídio (piano), Del Loro (guitarra), Ari (trompa), Maurílio (piston), Ari Ferreira (flute), Luis Marinho (bass), Plinio (drums), Aurino (sax tenor) and Barčo & Gilberto (percussion). Tracks include: 01 - Meditaćčo (Tom Jobim / Newton Mendonća) 02 - Samba de Uma Nota Só (Tom Jobim / Newton Mendonća) 03 - Bossa Novíssima (Tutuca / Ivan Paulo da Silva "Carioca") 04 - Pior Pra Vocź (Evaldo Gouveia / Almeida Rego) 05 - Chora Tua Tristeza (Oscar Castro Neves / Luvercy Fiorini) 06 - Presidente Bossa Nova (Juca Chaves) 07 - Menina Feia (Oscar Castro Neves / Luvercy Fiorini) 08 - Carinho e Amor (Tito Madi) 09 - Teleco-teco Nľ 2 (Nelsinho / Oldemar Magalhčes) 10 - Trźs Amores (Zaccarias) 11 - Era Bom (Hianto de Almeida / Macedo Neto) 12 - Menina Moća (Luis Antônio) >
Fats Elpidio "Musica E Penumbra, v.3" (RCA Victor, 1960)


Fats Elpidio "Samba Da Madrugada" (Masterplay, 1962)
There's both piano plunking and some slinky organ riffs -- not sure if Elpidio is playing both, or if the organist is someone else. But it's cool! Way more swinging and loose than Walter Wanderley, for example... Worth a spin!


<! Let's check this repost of one of the albums that I like most at Loronix, featuring Fats Elpidio, a renowned Brazilian pianist that makes some different of what we are used to hear, he plays organ on this release. Everything is improved with this repost, from cover artworks to the music, including the FLAC alternative. Fats Elpidio performs a repertoire of Sambas and the arrangements are in charge of the great Maestro Nelsinho. I will keep part of my original text bellow. This is Fats Elpidio e Seu Conjunto - Samba da Madrugada (1962), for Masterplay, featuring Fats Elpidio at the piano and a combo, with non-credited musicians. This Fats Elpidio work is pretty different from the last one, much more swinging and dedicated to Samba rhythms with organ playing. >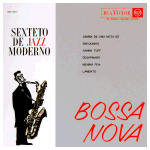 Sexteto De Jazz Moderno "Bossa Nova" (RCA Victor, 1963) (LP)


An unusually sharp jazz set from Brazil -- half-cool, half bebop -- featuring excellent saxophone work by alto Jorginho and tenor Aurino, guitar by fabled session player Jose ("Ze") Menezes and piano from good ol' Fats Elpidio. The songs are mostly standards such as "One Note Samba," given room to breathe in longer jam sessions (with actual improv) and are a pleasant break from the fast, aggressive style of the bossa trios of the time. Definitely worth checking out.


<! Sexteto de Jazz Moderno - Bossa Nova (1963), for RCA Victor. There is an interest story written at this album liner notes saying that the first US artists to get along with Bossa Nova was Ella Fitzgerald when touring in Brazil, 1960 with Roy Eldridge and Paul Smith Quartet. When they return to US, Roy Eldridge recorded immediately an album called Bossa Nova that called the attention of others musicians, such as Charlie Byrd, Zoot Sims and others. According with Bossa Nova liner notes, this was how everything started in the US. Sexteto de Jazz Moderno features the sax of Jorgino and Aurino, the piano of Fats Elpidio, the guitar of Jose Meneses, among others. Jorginho (sax alto) Aurino (sax tenor) Fats Elpidio (piano) Jose Meneses (guitar) Plinio (drums, percussion) Paulo (bass) 01 - Samba de Uma Nota Só (Tom Jobim / Newton Mendonća) 02 - Barquinho (Ronaldo Bôscoli / Roberto Menescal) 03 - Samba Toff (Orlandivo / Roberto Jorge) 04 - Desafinado (Tom Jobim / Newton Mendonća) 05 - Menina Feia (Oscar Castro Neves / Luvercy Fiorini) 06 - Lamento (Djalma Ferreira / Luiz Antonio) >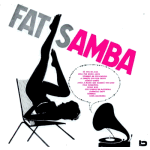 Fats Elpidio "Fats Samba" (Copacabana, 1964)
(Produced by Moacyr Silva)
Another swinging set from pianist Elpidio... Not sure who the backing musicians were, but it's a pretty tight band, apparently led by Moacyr Silva. There's an overly-frantic tone to a lot of these arrangements, but it's still fun stuff, and Elpidio's plunky performance style is fun. He's better on the slower numbers, but this record as a whole is pretty perky and uptempo, so it may get on your nerves after a while. Some songs I like better than others... Includes a lot of samba and bossa standards, done in a fierce big band style.


<! This is probably the last solo album by Fats Elpidio. I made a short research and now I known that Fats Elpidio, is probably alive and after this supposed last release he joined the legendary Orquestra Tabajara, made several records as a side man and was also member of Elza Soares and Eliana Pittman support group as a sideman. It is unbelievable that he did not make more albums as main performer. This is Fats Elpidio - Fats Samba (1964), for Copacabana. The cover you see and the music you hear is from a later issue by Beverly. Fats Samba is the kind of album that can make dance and kick around the house even the most timid friend in the world. Personnel lists top-notch musicians, delivering the best they could make under musical direction of the great Moacyr Silva. >

---
Digital-Only
---
Quarteto Excelsior "Coquetel Dancante, v.1" (Black Round Record, 2009)


Apparently this is a digital-only reissue of the two Quarteto Excelsior albums listed above...
---
Links
---
---



---