<! cd = 04/15/12 > <! MP3 04/15/12 > <! pix 04/15/12 > <! ALLBM 04/15/12 > <! icons 00/00/00 > <! UPDATES: 04/15/12 >

---
Aristides Zaccarias was one of the great Brazilian bandleaders of the 1940s and '50s, a big band powerhouse who pioneered the jazzy gafieira style and recorded some of the most toe-tapping, swinging sides of the postwar era. He worked in a number of orchestras in the '30s, before finally starting his own band in 1943, playing in nightclubs and recording prolifically, often with pianist Fats Elpidio. Mestre Zaccarias recorded only a few albums (most of his career predated LPs) but he left behind a wealth of great, groovy records. Here's a quick look at his career...
---
Discography - LPs
---

Zaccarias E Sua Orchestra "Sambas Em Desfile" (RCA Victor, 1955)
A lively set of orchestral samba music, uptempo and definitely made for dancing. The bandleader known as Zaccarias released a bunch of albums in the 1950s, and was what I guess could be considered the "world music" scene of the era -- those odd albums that appealed to Americans (and others) in search of a kooky new dance craze, or who needed a souvenir album of their travels abroad. I've found several of his records floating around, and while they can seem a little square, in general they are more rockin' than many "exotic" dance albums of the time. This disc in particular highlights his link to the big band/samba/jazz style known as gafieira: it's a pretty punchy, straightforward samba set. Awesome album art, too!


<! One of the legendary Big Band leaders to come out of Sao Paulo, Aristides Zaccarias is one of those rags-to-riches stories you often head about great musicians coming out of the most humble beginnings. He began his professional career at 18, playing Clarinet in a small dance band around the Sao Paulo area. His fortunes began to pick up when he returned to Sao Paulo after a period of time playing the Cruise ship circuit with various small groups. He relocated to Rio de Janiero in the mid-1930's and eventually wound up playing at the Brazil Pavillion at the New York World's Fair in 1939. In the early 1940's he formed his own orchestra and caught the eye of the RCA Victor office in Rio de Janiero where he landed his first contract and series of sessions in 1943. From that point on, Zaccarias became a household name in Brazil and was well on his way to establishing an international reputation once the War was over. Zaccarias has enjoyed great success from the early 1940's until his retirement in the early 1970's. He left behind an impressive catalog of albums and singles, most of which are not available, or if they are, only in Brazil. >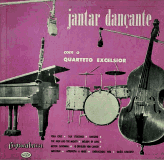 Quarteto Excelsior "Jantar Dancante" (RCA, 1955) <! date? >
A mellow set from a tight quartet featuring bandleader Zaccarias, pianist Fats Elpidio, and a compact bass-drums rhythm duo. This album isn't as sneaky or as inventive as some of their later stuff, but the samba songs that comprise Side One are nice... Side Two has three long medleys of North American standards ("Embraceable You," etc.) Overall, pleasant to hear, but not an earthshaking album. The highest nostalgia quotient comes with the Brazilian material, and those few songs are pretty sweet.
Zaccarias E Sua Orchestra "Frevos" (RCA Victor, 1955)


Quarteto Excelsior "Coquetel Dancante, v.1" (RCA, 1957) <! date? >
An enchanting nostalgic oldie, featuring bandleader Zaccarias, best known for his work with a large gafieira orchestra, here performs in a small group setting, playing clarinet himself, with nimble backing by pianist Fats Elpidio. Fats comes up with some wildly inventive riffs, details that might not be apparent at first, but that become more impressive with repeat auditions. The sparse, halting arrangements and reserved vocal style give this a sort of a '50s glee-club sound, but a deep reservoir of jazzy savvy runs underneath it all, giving these stripped-down samba-cancao tunes a surprising little zing. This record is a lot of fun, once you give it a chance.


<! 01 - Baičo do Lavrador (Valdrido Silva / Zaccarias) 02 - Abre a Janela (Roberto Roberti / Arlindo Marques Júnior) 03 - Lá no Norte (Gilvan Chaves) 04 - Tiradentes (Estanislau Silva / Penteado / Décio Carlos) 05 - Pau-de-arara (Luis Gonzaga / Guio de Morais) 06 - Batuque no Morro (Russo do Pandeiro / Sá Róris) 07 - The Very Thought Of You (R. Noble) Love Me Tender (Elvis Presley / V. Matsen) Anastasia (Paul Francis Webster / A. Newman) 08 - Petticoats Of Portugal (Durso / Mitabel) Angustia (Orlando de Brito) Esperame En El Cielo (Francisco Lopez Vidal "Paquito") Que Murmuren (R. Fuentes / R. Cardenas) 09 - You're Sensational (Cole Porter) I Love You Samantha (Cole Porter) True Love (Cole Porter) >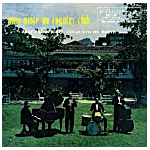 Zaccarias E Seu Conjunto Boite "Uma Noite No Country Club" (RCA Victor, 1958)
A swinging album showcasing what's basically an expanded edition of the Quarteto Excelsior, with added percussion and a trumpet. Great trumpet, too: the interplay of the horns and Fats Elpidio's wicked piano is amazing, while Zaccarias and Romeu handle the vocals. Side One of the album is labeled as "sambas'; Side Two has a bunch of "fox trot" tunes, an anachronistic way of referring to big band-ish, North American-style dance standards. Normally I tune out when Brazilians go too far into straight American-style music, without the requisite dose of Brazilian-ness, but this disc hit me differently, mainly because of the skill and intelligence used by this compact combo. This was a nightclub band that was clearly a cut above: they must have been a gas to see live. Also, on a "foxtrot" like "Lullaby Of Birdland," the material introduces a bluesiness that is uncommon on a lot of Brazilian jazz... And Elpidio really digs into it, with authority and gusto, and a sharp, snappy sense of humor. This is whatchamacallit, "easy listening," I suppose... but it sure sounds nice!


<! Precisely, 100 years ago, a newspaper based in Recife state, Brazil, published a note with the repertoire of the rehearsals from main Carnaval clubs of the city. Among several ones, a give tune had a special name, "O Frevo", the first time in history that the name "Frevo" appeared written and this event celebrates the creation of this Carnaval genre that has the same name after 100 years, Frevo. This is a small Loronix celebration for Frevo 100 year's anniversary. The word Frevo has its origins from the word Ferver - free translated as boil, in English. If you never had the chance to see a Frevo performance, take a look at YouTube, there are several ones. A Frevo performance is very difficult and seems to me that you need to be an athlete to make such complex movements. Frevo is still very popular in Brazilian Northeast region, if you are planning to spend your Carnaval there, you should probably see several performances. This is Zacarrias e Sua Orquestra - Frevo 40 Graus (1961), for RCA Victor. Maestro Zaccarias seems to be the master of mixing Brazilian rhythms with orchestra arrangements. He makes with Frevo this time on this nice set with single tracks on each side; Zaccarias connects all the tunes, ideal if you are planning to play Frevo on your Carnaval Party. Tracks include: 01 - Deixa de Xodó (David Vasconcelos) 02 - Homenagem ą Folia (Edgard Morais) 03 - Lágrimas de Clarinete (Lourival Oliveira) 04 - Sempre Atrapalhado (Jorge Gomes) 05 - Sai Dessa (José Gonćalves "Zumba") 06 - O Adeus de Lia (José Felipe / Jočo Santiago) 07 - Recordaćčo de Merabeau (José Ferreira) 08 - Pra Vocź (Fernando Borges) 09 - Bueno no Frevo (Levino Ferreira) 10 - Segura Esse Bode (Irmčos Valenća) 11 - Adeus dos Foliões (Francisquinho) 12 - Recordando a Mocidade (Edgard Morais) >
Zaccarias E Sua Orchestra "Frevos" (RCA Victor, 1958)

Zaccarias E Sua Orchestra "Sambas Em Black Tie" (RCA Victor)

Zaccarias E Sua Orchestra "Musica, Maestro!" (RCA Victor, 1959)

Quarteto Excelsior "Coquetel Dancante, v.2" (RCA, 1959) <! date? >



<! BBL 1019 >
Quarteto Excelsior "Coquetel Dancante, v.3" (RCA, 1960) <! date? >

Zaccarias E Sua Orchestra "Festa Em Casa" (RCA Victor, 1962)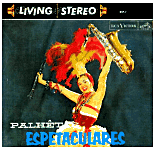 Zaccarias E Sua Secao De Palhetas "Palhetas Espetaculares" (RCA Victor, 1962)
A sleek, glitzy big-band set, with modest samba percussion and bossa-nova influenced guitar -- by Baden Powell(!) who is prominently mixed into the foreground, and holds his own against a large, tight horn section. These horns include several heavy-hitters in the world of Brazilian jazz, notably Paulo Moura on clarinet. Pianist Fats Elpidio is on here, too, but he largely seems lost in the mix, his often-inventive improvising sidelined in favor of tight, decisive horn arrangements. This makes sense, since the focus of the album is on the "palhetas," or certain orchestral sections, in this case saxophones and clarinets, and how instruments in the same range interact with each other. It's a little too square for me, but folks who appreciate tight orchestrations and fancy charts will probably dig this... Plus, it's got a beat you can definitely dance to!


<! This record makes a nice explanation of the classification of musical instruments at back cover linear notes as families of musical instruments as they are organized in an orchestra. I will try to summarize to our friends. Musical instruments are grouped into families based on how they make sounds. In an orchestra, musicians sit together in these family groupings. But this is not that simple, some instruments seem to be of a family and by the way sound is produced, they are categorized in another. For instance, I heard somewhere that sax and clarinets are from the same group of the acoustic guitar, since the concept is a wood that vibrates on both cases. In Brazil, this family is known as Familia das Palhetas... Anyway, this record is all about the Palhetas with sax and clarinets. This is Zaccarias e Sua Secao de Palhetas - Palhetas Espetaculares (1962), for RCA Victor, wonderful orchestra album, all about the Palhetas family. Zaccarias - by the way, a new Brazilian Maestro at Loronix - organizes his Secao de Palhetas as 5 saxophones and 4 clarinets, backed up by a rhythmic section as of bass, piano, drums, guitar and percussion. Paulo Moura, Jose Sergio, Josino, Botelho (clarinet) Jaime Araujo, Jorge Ferreira, Sandoval, Aurino, Joaquim Goncalves (sax) Plinio Araujo (drums) Fats Elpidio (piano) Baden Powell (guitar) Luiz Marinho (bass) Gilberto, Pedro and Barao (percussion) >
Zaccarias And His Orchestra "Dance The Bossa Nova" (RCA Camden, 1962) (LP)

---
Discography - Digital Only
---
---
Links
---
---



---