<! cd = 12/20/05> <! MP3 09/12/08, 01/26/11 > <! update 09/12/08 > <! pix 11/18/09 > <! icons 01/26/11 >

---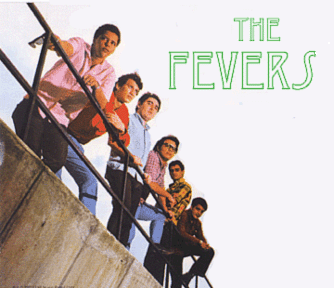 The Fevers were one of the longest-lived of the 1960s Jovem Guarda teen-oriented Brazilian rock bands... The band formed in the mid-'60s and has held together in one form or another over the next four decades. While there are plenty of fun guilty pleasures to be had in the group's repertoire, much of what they recorded is pretty drekky. Like many jovem guarda acts, The Fevers covered numerous American and European rock and pop hits, including styles that spanned the teen pop of the early 'Sixties, psychedelic rock, early 'Seventies "sunshine" pop, AOR and disco... They aped the styles well and also recycled popular melodies into "original" songs of their own... The band also recorded under the pseudonym "The Supersonics," and recorded prolifically as the backup band for a number of jovem guarda and tropicalia stars... Some of it's fun, but you may have to dig pretty deep to get to the good stuff...
---
Discography
---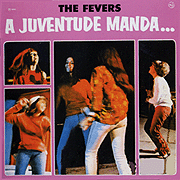 The Fevers "A Juventude Manda" (EMI-Odeon, 1966)


(Produced by Milton Miranda)
The song selection is interesting, but the performances are tepid... When the bossa nova crowd were hopping up and down and getting red in the face about the corrupting influence of "foreign" rock music on the national culture, I suppose they might have had bands like the Fevers in mind. Here on their debut, things are pretty tame, with frat-rockish covers of tunes such as "Hang On Sloopy," Neal Hefti's "Batman" theme, "The Lonely Bull," Lennon/McCartney's "Girl," etc. There are saxophone leads that echo the commercialized rock'n'roll of the 1950s, and plenty of electric organ work, with keyboardist Cleudir Borges proving to be perhaps the most talented member of the band. Still, there's not much here to distinguish these guys from a zillion similar anonymous studio bands in the States and elsewhere that made safe, generic, pop-instrumental cover versions of rock hits... Not much here that seems terribly interesting or original. If you like easy listening and lounge music, then, sure, check it out... But rock fans can steer clear of this one and not feel like they're missing much.

The Fevers "A Juventude Manda, v.2" (EMI-Odeon, 1967)
(Produced by Milton Miranda)
Pretty much more of the same... Some of the more interesting repertoire choices include the Beatles' "She's A Woman," "There's A Kind Of Hush" and a cover of the Five Americans' "Western Union." But these are only mildly amusing novelties -- the musical end lacks urgency or fire. Again, you can skip this album and still sleep soundly at night.

The Fevers "Volume 3" (EMI-Odeon, 1968)


(Produced by Milton Miranda)
Another weird, mostly-instrumental set with some kooky, fuzzed-out guitar riffs, but mainly built around the lively (yet campy) organ work of Cleudir Borges. The musicianship is technically quite good, but the aesthetic is that of a wedding band or high school dance band... Which is exactly the vibe they're trying to project, with fake-live ambiance and a gosh-heck enthusiasm. Ultimately, though, these performances are too tame and too controlled, those of a capable band going through the motions and playing it safe, while trying to project the image of hipness and youth culture. If you're into easy listening kitsch and the like, this album may be a real hoot -- it definitely holds up well next to similar rock co-optations from other countries -- but if you're looking for hidden garage-rock gems, this set ain't quite what you'd hope for.

The Fevers "O Maximo Em Festa" (EMI-Odeon, 1969)
(Produced by Milton Miranda)
This disc is pretty much of a piece with the three albums reviewed above... Same formula, although here an overly persistent fake crowd chatter and sing-along "live" audience has been included on every tune, and many tracks are medlies, apparently an attempt to build up the illusion of a live rock show. Again, these guys were musically capable, and their song selection was up to date... But this is a fairly cheesy and ultimately monotonous set. Maybe good in small doses, but with few tracks that I, personally, would have to go back to and, without discernable Portuguese lyrics, little to place it as a specifically "Brazilian" effort.
The Fevers "Os Reis Do Baile" (EMI-Odeon, 1969)


(Produced by Milton Miranda)

The Fevers "The Fevers (1970)" (EMI-Odeon, 1970)
(Produced by Milton Miranda)


The Fevers "The Fevers (1971)" (EMI-Odeon, 1971)
(Produced by Milton Miranda)
Relatively speaking, this was prime material for these guys, showing them mining some fine sunshine pop from up North, and writing a lot of imitative material that was almost equally enjoyable. Highlights include the funky upbeat soul of "O Amor E O Rasao"and a nice cover version of Joe South's "Rose Garden," with the original hit arrangement applied to Rossini Pinto's Portuguese-lyric translation, and an okay cover of Creedence's "Have You Ever Seen The Rain." Lots of fuzzed-out, funky electric guitars and not-totally jittery melodic pop-rock riffs. This album's one of their best.

The Fevers "A Explosao Musical Dos Fevers" (EMI-Odeon, 1971)
(Produced by Milton Miranda)
But, hey, what happened here? Their previous album was pretty fun, this one's really drippy, workmanlike and unenthralling... A couple of songs are almost fun, like "Voce Nao Viu," or Hyldon Souza's "Ninguem Vive Sem Amor," but for the most part this is an overly-safe, blandly perky early '70s pop set. Yes, there was plenty of bubblegum being produced in the US and the UK that was equally uninspired, but that doesn't make discs like this one any more noteworthy.

The Fevers "The Fevers (1972)" (EMI-Odeon, 1972)
(Produced by Milton Miranda & Lindolfo Gaya)
They really kind of hit their stride, or at least found their niche, as a soft-rock band... Which isn't to say there's much on here that I care for, although I will confess it's kind of cute hearing a Portuguese-language version of Bread's "Everything I Own," and a couple of other tunes come close to actually being musically of emotionally engaging. Close, but not quite: the Fevers sound like a '70s Italian pop band, which is not a compliment. Still, they were clearly in touch with global pop trends of the time -- they just chose the wrong kind of pop to excel in.

The Fevers "The Fevers (1973)" (EMI-Odeon, 1973)
(Produced by Milton Miranda & Lindolfo Gaya)
This album has a slightly more aggressive, uptempo feel -- still largely irritating and wimpy, but they do get funky on a tune or two, notably on "Superman" and.. well, that's about it. Includes a couple of songs by the then-up-and-coming Sa, Roderix & Guarabyra and an increasing amout of original material by various Fevers bandmembers... But again, nothing much to get worked up about. Slim pickings.
The Fevers "E O Sol Nasce Para Todos" (EMI-Odeon, 1974)

The Fevers "The Fevers (1975)" (EMI-Odeon, 1975)
(Produced by Miguel Plopschi)


The Fevers "The Fevers (1976)" (EMI-Odeon, 1976)


(Produced by Milton Miranda & Miguel Plopschi)
I think it's safe to say that whatever rocker cred The Fevers may have had during the 'Sixties was pretty well shot by the time they made this despirited soft-rock/pop vocals set in the disco era. Covers of Eric Carmen's "All By Myself," The Carpenters' "There's A Kind Of Hush," and Neil Sedaka's "Love Will Keep Us Together" speak volumes... They are also the musical highlights (!) of this fairly strained, scary set. Still, they were as "of their time" as they were back in the '60s, it's just that in the '70s, pop-rock was much worse than during the previous decade. (The 2003 CD reissue includes nine bonus tracks, mainly English, Spanish- and French-language alternate versions of songs they'd previously recorded in Portuguese.)
The Fevers "The Fevers (1977)" (EMI-Odeon, 1977)

The Fevers "The Fevers (1978)" (EMI-Odeon, 1978)

The Fevers "The Fevers (1981)" (EMI-Odeon, 1981)

The Fevers "The Fevers (1983)" (EMI-Odeon, 1983)

---
Best-Ofs
---
The Fevers "Meus Momentos, v.1" (EMI, 1999)



The Fevers "Serie Bis" (EMI, 2000)


A 2-CD best-of...
The Fevers "Identidade" (EMI, 2002)


A disappointing collection drawn from the 1968-78 recordings of one of the most influential jovem guarda teen-pop bands. Although I haven't heard many other Fevers records, I suspect the trouble here is with the song selection, which tilts towards wimpy pop ballads, and doesn't offer much in the way of real rock material. After all, a group that backed Gilberto Gil and other '60s tropicalistas on their earliest psychedelic albums had to have made better, punchier material than what's on this disc. Anyway, I didn't hear much on this album that wowed me; it might be more rewarding, though, for anyone who grew up listening to them in the '60s.
The Fevers "O Talento De..." (EMI, 2004)


The Fevers "Retratos" (EMI, 2004)



The Supersonics "Serie Bis" (EMI, 1999)


A fun, dumb 2-CD set devoted to The Supersonics, a jovem guarda instrumental/covers band, which apparently was really the Fevers playing incognito... Plenty of standards, both from the American/British rock scene, and the Brazilian ie ie ie canon... They sing sometimes, too, and theat's where some of the biggest missed moments come -- for example, a cover of "Dizzy" sung in English (and not in Portuguese! d'oh!) Still, if you've been bitten by the JG bug, you'll want to check this out.


<! Although they start out with great promise - energetically covering Beatles tunes galore, along with "Wooly Bully" and the inevitable JG version of "Road Hog", the Supersonics overstayed their welcome in the late '60s, with endless elevator music instrumentals. The second CD in this double disc set is just plain muzak, and pretty forgettable. >

---
Links
---
---



---