<! MP3 12/14/09 > <! update 00/00/00 > <! pix 12/14/09 >

---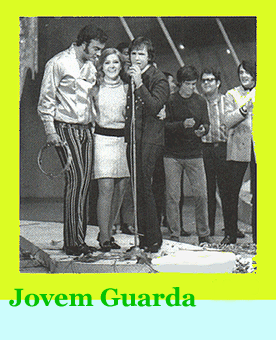 Brazilian rock'n'roll first hit in the late '50s, at roughly the same time as the beginning of the bossa nova boom... For the most part, the early roqueiros were looked down on, and rock was seen as an inferior North American import that only "kids" could like. Naturally, the music persisted, and found a home in the long-lived television show, Jovem Guarda, which was hosted by the charismatic vocalist, Roberto Carlos. Numerous bands flocked under its banner, and thousands of viewers tuned into the show with the same intense loyalty as shows such as American Bandstand and Ready, Steady Go enjoyed in the USA and England.
Jovem Guarda pop (also known as ie-ie-ie, once the Beatles hit...) was justifiably seen as a cutesy, prefab creation of the international record industry, which was eager to capitalize on the potentially lucrative South American youth culture, as it had in the U.S. and Western Europe. Most of the bands weren't that good, and their best material came from cover versions of foreign pop songs. Still, it was out of this early, commercialized teen scene that the hippie-ish tropicalia movement arose, blending psychedelic rock with the previously-separate bossa nova and samba traditions, along with a subversive new brand of often-surrealistic cultural politics. Despite the greater celebrity (and cultural relevance) of the tropicalia innovators, many of the ie-ie-ie groups persisted well into the 1970s, although most gradually devolved into soft pop outfits, rather than take up the more radical rock stylings of the early-70s counterculture. Here's a quick look at some of the high points (and low) of the Jovem Guarda scene...
---
Jovem Guarda: A-C | D-J | K-S | T-Z | Compilations | Tropicalia | BRock, Indie & Punk
---

Jerry Adriani "As Melhores" (Columbia, 2002)

Vintage soft-pop/rock from one of the original artists in the 1960s jovem guarda teenpop scene. The liner notes don't mention specific dates, but I'd guess, from the sound of things, that these recordings date from roughly 1967-76, with some light go-go-ish rock, a few later tunes that have heavy, fuzzed-out electric guitars, and tons of sappy love ballads in between. Adriani's voice is fairly blunt and declarative, and doesn't do much to lift these songs above their kitschy trappings. The music's mostly pretty florid, and seldom as lively or interesting as contemporaries such as Roberto Carlos or Wanderlea. But as samplers of his work go, this Adriani collection seems pretty representative.
Jerry Adriani "20 Super Sucessos, v.1" (Polydisc, 1997)
Jerry Adriani "20 Super Sucessos, v.2" (Polydisc, 1997)

Likewise, this best-of set seems to mainly contain songs of later vintage, and has little in it that's particularly exciting or fresh. Adriani was far too technically "clean" and professional-sounding a singer to bring much life to the rock music he recorded, and the slower ballads are just horrible. I dunno; it sounds too corny for me.
Jerry Adriani "20 Super Sucessos, v.3" (Polydisc, 1997)
Angels "Serie Bis: Jovem Guarda" (EMI, 2000)

Eduardo Araujo "O Bom" (Odeon, 1967)

Although his later work (as described below) places Araujo among some of the most creative Brazilian pop experimentalists of the late 1960s, this rock'n'roll debut did little to lift him above the hordes of mid-'60s jovem guarda teenybop-rockers. Produced by JG veteran Tony Campello (sort of the Frankie Avalon of jovem guarda...) this disc has an energetic edge, but it doesn't quite quite have the perky, dorky charm of the genre's best recordings -- it's almost a punky, hard-edged rock record, but falls just short of being garage-y or cool... Worth checking out, but I was disappointed, coming to this album after being wowed by A Onda E Boogaloo, a chunky, powerful funk-fest that came out a couple of years later.


<! 1 Vem quente que eu estou fervendo (Carlos Imperial - Eduardo Araœjo) * 2 O mundo a teus pŽs (Carlos Imperial - Eduardo Araœjo) * 3 Faz s— um ms (Carlos Imperial - Eduardo Araœjo) 4 O bom (Carlos Imperial) * 5 Primeiro lugar (Carlos Imperial - Eduardo Araœjo) 6 Viva o div—rcio (Carlos Imperial - Eduardo Araœjo) * 7 Golpe do baœ (Carlos Imperial - Eduardo Araœjo) * 8 Meu lim‹o, meu limoeiro (JosŽ Carlos Burle) * 9 Cabea inchada (HervŽ Cordovil) 10 Peguei um "Ita" no Norte (Dorival Caymmi) 11 ƒ s— pra homem (Folclore) 12 Dez Anast‡cias (Carlos Imperial) 13 Mil can›es (Carlos Imperial - Eduardo Araœjo) 14 Cantor do i-i-i (Carlos Imperial - Eduardo Araœjo) * 15 Goiab‹o (Carlos Imperial - Eduardo Araœjo) * (8) >

Eduardo Araujo "O Bom, v.2" (Odeon, 1967)



<! 1 Alta tens‹o (Chil Deberto - Eduardo Araœjo) 2 Me d um beijo meu bem (Chil Deberto) 3 Com caipira n‹o se brinca (Chil Deberto - Eduardo Araœjo) 4 Combust‹o lenta (Chil Deberto - Eduardo Araœjo) 5 O marionete (Chil Deberto - Eduardo Araœjo) 6 A velhinha transviada (Eduardo Araœjo) 7 Quem Ž que passa (Carlos Cruz - Fernando CŽsar) 8 Teimosa (Chil Deberto - Eduardo Araœjo) * 9 Vem comigo (Miranda Mayo) 10 Seu olhar (Chil Deberto) 11 A minha vez de negar (A whiter shade of pale) (Reld - Brooker) 12 Se eu gosto de voc, e voc gosta de mim (Chil Deberto) * (2) >

Eduardo Araujo "A Onda E Boogaloo" (Odeon, 1969)

Wow... this is pretty cool. Singer Eduardo Araujo strikes me as an artist who was kind of constantly in search of a "new sound" to latch onto. He was one of the early jovem guarda '60s teenie-bopper rockers, and got a little wiggier in the '70s... This 1969 pop-soul album is a transitional work, but one that shows he could have done quite well pursuing a career in Brazilian soul music... He had a much stronger sense of American-style phrasing and a stronger band than many of the self-styled "Black Rio" artists such as Cassiano and Hylton who took up the mantle in the 1970s. His secret weapon was Brazilian funk pioneer Tim Maia, who was about to bust out on his own as a solo artist on the Philips label. Maia wrote punchy new arrangements for the numerous cover tunes on here, which range from Smokey Robinson's "Same Old Song" to Arthur Conley's "Funky Street," and for whatever reason this album avoids most of the clumsiness or self-consciousness that many similar imitations of American pop frequently suffer from. Together, Araujo and Maia really "got" the magical mix of rock and soul sensibility that late '60s soul singers such as Sam & Dave or Wilson Pickett created up North. This is an unusually strong album for the style... definitely recommended!


<! 1 Longe de voc (The same old song) (Robinson - Vrs. Tim Maia) 2 Tenho que ter todo seu amor (Got to have a hundred) (Wilson Pickett - Vrs. Tim Maia) 3 Boogaloo na Broadway (Boogaloo down Broadway) (J.James - Vrs. Tim Maia) 4 Rua maluca (Funky street) (Simms - A.Conley - Vrs. Tim Maia) * 5 Pressentimento (Chil Deberto - Eduardo Araœjo) 6 Danando boogaloo (Gotta a thing going) (W.King - Vrs. Tim Maia) 7 Voc (Tim Maia) * 8 Baby, baby sim baby (Since you've beon gone) (Sweet sweet baby) (Franklin - White - Vrs. Tim Maia) 9 Embrulhe esta marmita (Chil Deberto - Eduardo Araœjo) 10 Vamos recomear (Come back baby) (Ray Charles - Vrs. Tim Maia) 11 Melhor que se dane (Chil Deberto - Eduardo Araœjo) 12 A mulher (Cold sweet) (J. Brown - Ellis - Vrs. Tim Maia) (2) >

Eduardo Araujo "Eduardo Araujo" (Odeon, 1971)



<! 1 No rancho fundo (Ary Barroso - Lamartine Babo) * 2 Salve, salve brasileiro (Marcos Dur‹es - Eduardo Araœjo) * 3 Ave Maria do Morro (Herivelto Martins) * 4 Preciso chegar (Carvalho - Eduardo Araœjo) 5 A can‹o do povo de Deus (Geraldo Nunes) 6 Carinhoso (Pixinguinha - Jo‹o de Barro) 7 Explos‹o norte, sul (Zapatta) 8 A ilha (Taiguara) 9 Porque que a gente morre (Carvalho - Zapatta - Eduardo Araœjo) 10 Meu pai n‹o me avisou (Carvalho - Eduardo Araœjo) 11 Asa branca (Luiz Gonzaga - Humberto Teixeira) (3) >

Eduardo Araujo "Eduardo Araujo" (RCA, 1972)





Eduardo Araujo "Eduardo Araujo" (RCA, 1973)





Eduardo Araujo "Pelos Caminhos Do Rock" (RCA-Brasil, 1975)

An odd, offkilter mix of soul music, Santana-esque salsa-tinged hard rock and jittery stadium rock ala Rita Lee. It's easy to piece out the influence of Brazilian soulsters such as Tim Maia... Araujo even gets all worked up and shouts his way through several songs. Not the most blistering stuff ever, but interesting in the context of Brazilian rock and soul at the time... (A recent CD reissue, perversely, couples this with an incredibly wimpy pop album by Os Incriveis... I scanned the credits and couldn't see any connection, so go figure.)
Eduardo Araujo "Sou Filho Desde Chao" (Beverly, 1976)


Eduardo Araujo "Serie Bis: Jovem Guarda" (EMI, 2000)

A 2-CD retrospective covering Araujo's early JG work...


<! 1. Vem Quente Que Eu Estou Fervendo 2. Goiabao 3. Deixa De Banca (Les Cornichons) 4. Rua Maluca (Funky Street) 5. O Mundo A Teus Pes 6. Voce E De Morte 7. Coisa Linda 8. Com Muito Amor E Carinho 9. Voce 10. Ave Maria No Morro 11. Meu Limao, Meu Limoeiro/ Cabeca Inchada Peguei Um 'Ita' No N 12. Voce Vai Entrar Numa Fria 13. Baratinado 14. Teimosa 15. O Bom 16. Golpe Do Bau 17. Cantor De Le-Le-Le 18. Viva O Divorcio 19. De Papo P'ro Ar / Chua, Chua/ Maringa 20. O Sorriso Do Dudu 21. Amor, Amor, Amor (Loves Loves To Love, Love) 22. Eu Amo Voce 23. Nao Posso Dizer Adeus 24. Dudu Da Nenem, Nenem Do Dudu 25. Longe De Voce (The Same Old Song) 26. Se Eu Gosto De Voce, E Voce Gosta De Mim 27. No Rancho Fundo 28. Salve, Salve Brasileiro >

Betinho "Serie Bis: Jovem Guarda" (EMI, 2000)

Although he was one of the earliest Brazilian rockers (with one song, "Enrolando O Rock," apparently dating back to 1954), Betinho was hardly one of the most vigorous artists working in the style... His approach was pretty strictly novelty-oriented, with songs filled with sound effects like roosters crowing, etc., and it didn't take long for Betinho to abandon backbeats altogether... Most of the material in this too-generous 2-CD set is actually soft pop vocals or novelty/lounge instrumentals... A few moments of fun, but overall pretty marginal.
Os Brasas "Os Brasas" (Warner, 1968)




<! 01.a dist‰ncia(oriental sadness) 02.beija-me agora 03.um dia falaremos de amor 04.quando o amor bater na porta(when love vomes knocking at your door) 05.meu eterno amor que te faz sonhar,linda garota(what makes you dream,pretty girl) 07.pancho lopez(ballad of davy crocket) 08.ao partir encontrei meu amor 09.benzinho n‹o aperte 10.temas sem nome(theme without name) 11.n‹o v‡ me deixar 12.sou triste por te amar >


Celly Campello - see artist discography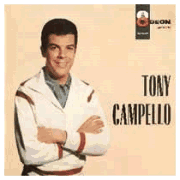 Tony Campello "Tony Campello" (Odeon, 1959)

Singer Tony Campello, the older brother of teen idol Celly Campello, started his career singing rock and pop on a radio show with his sister. He later retired from performing to take up a career as a record producer, working with several of Odeon's more promising jovem guarda artists (such as Desi & Dino, Os Incriveis and Sergio Reis). This was his first LP, made after he'd been playing professionally for several years.


<! 1 Pobre de mim (Poor little fool) (S.Sheeley) 2 My special angel (J.Duncan) 3 Louco amor (Crazy love) (Paul Anka) 4 Forgive me (Celeste Novaes - M‡rio Gennari Filho) 5 Como antes (Come prima) (Taccani - Panzeri - Di Paola) 6 Oh! baby (Ed Rossi - M‡rio Gennari Filho) 7 Goodbye (Ed Rossi - M‡rio Gennari Filho) 8 O di‡rio (The diary) (Greenfield - Sedaka) 9 Tenha pena (Pity pity) (J.Ergus - S.Lawrence) 10 As time goes bye (H.Hupfeld) 11 Baby rock (R.C.Nisa) 12 My trudy (D.Day) >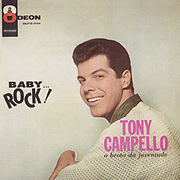 Tony Campello "Baby Rock" (Odeon, 1960)

Easygoing teenybopper rock -- early Brazilian ie-ie-ie jovem guarda pop -- with a few mildly vigorous tunes and several slower songs that seem closer in spirit to mainstream pop vocals. I guess you could characterize Campello as a Brazilian Pat Boone, though given the dearth of South American rock stars at the time, he's a little higher up the rock'n'roll foodchain than Boone was, back in the United States. This won't blow your mind, but it's better than a lot of the soft-pop JG stuff that would come later... Worth checking out.




Tony Campello "Tony Campello" (Odeon, 1961)



<! 1 Baby face (Davis - Akst) 2 Blue moon (R.Rodgers) 3 Enxutinha (Pretty baby) (E.V.Alstyne - T.Jackson) 4 My melancholy baby (Burnett - Norton) 5 Margie (Robinson - D.Conrad) 6 Yes sir, that's my baby (Kahn - Donaldson) 7 ChŽrie (Lowe - Appell - Mann) 8 Querida Susie (Susie darlin') (R.Luke Jr.) 9 Dreamin' (T.Ellis - B.Vorzon) 10 Escola de rock (Swingin' school) (Lowe - Appell - Mann) 11 Wild one (Lowe - Appell - Mann) 12 Broto sem igual (Good time baby) (Lowe - Appell - Mann) >

Tony Campello "Nao Te Esquecas De Mim" (Odeon, 1963)





Tony Campello "Tony Italiano" (Odeon, 1964)




Tony Campello "Serie Bis" (EMI, 2000)

A 2-CD collection.
Os Carbonos "Serie Bis - Jovem Guarda" (EMI/Copacabana, 2000)

Mainly sluggish, mid-tempo teeniebopper ballads, recorded between 1969-81, well after the real Jovem Guarda boom. Although there are plenty of potentially interesting cover tunes ("Bus Stop," "Mellow Yellow," Arthur Adams' "Anna"...) none of the performances are very exciting... this is basically the Brazilian equivalent of the kind of oldies band you'd hear at a country fair up here in the States... Of note, though, is their version of "Never Never," by Uruguay's Los Shakers, which is still pretty rinky-dink, but noteworthy because of the pan-Latin American link.
Os Carbonos "Selecao De Ouro" (2007)

Wanderley Cardoso "O Jovem Romantico" (Copacabana, 1964)

The first album by teen balladeer Wanderley Cardoso... It's simply awful...! Sure, I guess technically he could be lumped in with the whole jovem guarda teenpop scene, but really he's just singing overripe romantic vocals material, with lots of gooey, string-y arrangements and a big nod towards the lethargic boleros of a generation earlier. There's really very little here that places him within the "youth culture," other than his thin, tremulous voice. This is pretty torturous to listen to... Love htat narcissistic image of him gazing adoringly into the mirror, though!
Wanderley Cardoso "Perdidamente Apaixonado" (Copacabana, 1965)
Wanderley Cardoso "So O Amor Constroi" (Continental, 1971)
Don't let the love beads fool you: once again, he's about as vigorous or rebellious a performer as Bobby Sherman. Sort of a morph between Roberto Carlos and David Cassidy, although he does hit a few funky notes on songs such as "Eu Nao Nasci Pra Ser Feliz," Cardoso apparently never met a backbeat he wanted to bring home for dinner. If he'd been recording up in the States, I'm sure he could have landed a spot or two on The Tonight Show... Monterey Pop or Woodstock, however, would not have been his scene.
Wanderley Cardoso "Renascer" (Continental/UA, 1971)
Trying to crack into the Spanish-language pop market, Cardoso is even tamer and more cheesy than with his Portuguese-speaking audiences. Not a lot here to hold my interest.
Wanderley Cardoso "2-Em-1" (EMI, 2003)

A twofer reissue that combines two full albums, Wanderley Cardoso and Soccoro Nosso Amor Morrendo, both from 1968.
Wanderley Cardoso "Selecao Do Ouro: 20 Sucessos" (EMI, 2002)
Wanderley Cardoso "40 Anos Do Bom Rapaz" (EMI, 2006)
Wanderley Cardoso "Serie Bis: Jovem Guarda" (EMI, 2000)
Jean Carlo "Serie Bis: Jovem Guarda" (EMI, 2000)
Erasmo Carlos - see artist discography
Roberto Carlos - see artist discography
Ronnie Cord "Serie Bis: Jovem Guarda" (EMI, 2000)
---
More Jovem Guarda >>
Page Two
---



Other Brazilian Styles
Main Brazil Index




---

<! ie-ie-ie!!>