<! MP3 12/15/09 > <! update 00/00/00 > <! pix 12/15/09 >

---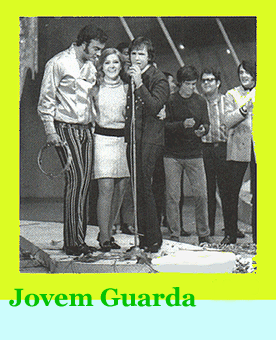 Brazilian rock'n'roll first hit in the late '50s, at roughly the same time as the beginning of the bossa nova boom... For the most part, the early roqueiros were looked down on, and rock was seen as an inferior North American import that only "kids" could like. Naturally, the music persisted, and found a home in the long-lived television show, Jovem Guarda, which was hosted by the charismatic vocalist, Roberto Carlos. Numerous bands flocked under its banner, and thousands of viewers tuned into the show with the same intense loyalty as shows such as American Bandstand and Ready, Steady Go enjoyed in the USA and England.
Jovem Guarda pop (also known as ie-ie-ie, once the Beatles hit...) was justifiably seen as a cutesy, prefab creation of the international record industry, which was eager to capitalize on the potentially lucrative South American youth culture, as it had in the U.S. and Western Europe. Most of the bands weren't that good, and their best material came from cover versions of foreign pop songs. Still, it was out of this early, commercialized teen scene that the hippie-ish tropicalia movement arose, blending psychedelic rock with the previously-separate bossa nova and samba traditions, along with a subversive new brand of often-surrealistic cultural politics. Despite the greater celebrity (and cultural relevance) of the tropicalia innovators, many of the ie-ie-ie groups persisted well into the 1970s, although most gradually devolved into soft pop outfits, rather than take up the more radical rock stylings of the early-70s counterculture. Here's a quick look at some of the high points (and low) of the Jovem Guarda scene...
---
Jovem Guarda: A-C | D-J | K-S | T-Z | Compilations | Tropicalia | BRock, Indie & Punk
---

Taiguara "Taiguara!" (Philips, 1965)

The premiere album of this soft-edged MPB singer opens with a bang: "Samba De Copa Na Mao," written by Taiguara (along with about half the other songs), has an explosive, energetic quality, reminiscent of contemporaries such as Edu Lobo and Marcos Valle. His vocals are youthful, expansive and jubilant, the rhythms are playful and dynamic. Things settle down pretty quickly, though, as slower pop ballads start to predominate, prefiguring the more placid style that become his hallmark. As far as Taiguara's more vital, vibrant side goes, this early album, with arrangements by Luis Chaves, is one of your best bets. Worth checking out!

Taiguara "Hoje" (Odeon, 1969)

Fans of soft, romantic pop vocals and even Latin American boleros may find this an appealing album... Those of us looking for something with a little more bite may find it rather slow going. Taiguara gets a little wiggy and softcore psychedelic on a couple of tracks, but mostly this is pretty conservative and syrupy. Not my cup of tea.

Taiguara "Viagem" (Odeon, 1970)

I've been mystified by some of Taiguara's EMI best-ofs -- mostly because they are so appallingly insipid. This early album goes a little way towards explaining the credibility he retained later... There are some creative pop arrangements, admittedly derivative of North American/European soft-pop AM radio fodder (Timmy Thomas and the like)... But still, this had decidedly more vigor than, say, Wanderley Cardoso's vocals albums. There's a strong goofiness factor here which may make it appealling to fans of French pop and soundtrack kitsch. A couple of tracks feature backup by the mildly proggish band Som Imaginario (which spawned the career of keyboard wizard Wagner Tiso).
Taiguara "Meus Momentos" (EMI, 1994)

This best-of had very little on it to hold my attention... Mainly florid, but bland folk-pop, like a watered-down version of Bread, or something. I assume this has also been expanded into a 2-CD set, along with the other Meus Momentos collections, but I haven't felt impelled to track that version down.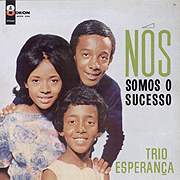 Trio Esperanca "Nos Somos O Sucesso" (EMI-Odeon, 1963/2005)

Great teenybopper pop from Brazil in 1963, recreating the ebullient charm of Annette Funicello and Brenda Lee for folks in the land of the samba. This was the premiere album by the trio of Regina, Mario and Evinha Correia Jose Maria, a family group from Rio that had been singing together for several years before they started making records. When this album came out, their ages ranged from ten to fifteen years of age; ten-year old Evinha is a classic cute-as-a-button child performer, but the Trio easily transcended the confines of novelty status -- they were actually quite good. Both their tricky vocal arrangements and the playful, inventive musical backing make this album a real gas. The song selection is fun, as well, with Portuguese-language covers of contemporary pop tunes such as "West Of The Wall," "Sad Movies," Henry Mancini's "Baby Elephant Walk," and even a meta-ironical cover of "Blame It On The Bossa Nova. There are also a few nice, notable Brazilian originals, including one by the teen-oriented Orlandivo. I'd heard a couple of Trio Esperanca best-of collections before this reissue came out, and thought, oh, they're not bad... But hearing a whole album's worth of how they sounded at the start of their decades-long career really bumped them up a couple of notches in my esteem. It's totally worth it to track this disc down... it's a gem. (By the way, this is one of about twenty jovem guarda teen-pop reissues that came out on EMI in 2005... It's one of the best, but the others are worth checking out as well; many are reviewed in my Brazilian section...)

Trio Esperanca "Tres Vezes Sucesso" (EMI-Odeon, 1963/2005)

They're still good here, but a more conservative, less exuberant feel has already started to settle in... It feels like they succumbed to pressure from the Odeon label to pursue (what was seen as) a more commercial path, shedding much of their rock'n'pop inclinations for a more old-fashioned "radio singer" approach. It's still pretty good -- I love their harmonies -- but not as groovy as their earlier work.

Trio Esperanca "Serie Bis - Jovem Guarda" (EMI/Copacabana, 2000)

One of more compelling recent JG related collections I've heard. These gals held their own in the adorable pop department, following in the footsteps of Little Eva, Connie Francis and Annette Funicello. The choice of tunes has a fairly predictable path -- "My Boy Lollypop", "Downtown", "Georgy Girl", as well as bossa-themed pop hits such as "Blame It On The Bossa Nova". The thing is, Trio Esperanca sounded genuinely naive and cute in the way that they best early girl groups were, and their lightweight harmonies carry the day, as they purr away over tame pop arrangements that sound exactly like the imitation rock that Brits made in the days just before Beatlemania. These recordings -- mostly from 1960-65 --might not floor everyone, but I liked 'em. Certainly a notch above many of their contemporaries.
Trio Melodia "Jovem Guarda 35 Anos" (Sony, 2000)

Trio Ternura "Trio Ternura" (CBS) (1971?)
(Produced by Raul Seixas)
A cool psychedelic soul-pop album, produced under the auspices of crazed, ne'er-do-well avant-rocker, Raul Seixas, who was just about ready to get kicked off the CBS label himself for greenlighting his own solo album without the label head's approval. Enough about him, though... This album has some great '60s pop twists, LA-style orchestral stuff, cannily blended with driving funk, similar to early Sly & The Family Stone. They later released an album under the name of Quinteto Ternura. Retro fans pay heed: this is an album worth tracking down!



<! Vanusa 1973 album Surgida em 1967, em plena era da Jovem Guarda, Vanusa se lanou ao sucesso cantando roquinhos e baladas bem ao sabor daquela Žpoca. Em plena fase da libera‹o comportamental e sexual, se juntou com o cantor Antonio Marcos, sem passar pela porta da igreja, e, de quebra, a seu lado, participou de uma montagem nacional do musical Hair. J‡ estava consagrada quando, em 73, trocou a RCA pela Continental, ainda munida de um repert—rio mais para o pop que para a MPB tradicional. Sempre muito audaciosa, lutou contra o machismo vigente na produ‹o e conseguiu que aceitassem no disco uma de suas mais bonitas letras (com mœsica de M‡rio Campanha) Manh‹s de setembro, que para a surpresa de todos, mas n‹o dela, foi seu maior sucesso vida afora. Esta mœsica j‡ ensaiava uma virada de mesa feminista que ficaria mais pungente em seus sucessos futuros. Pois a garra, a fora e a afina‹o de Vanusa nesta e nas outras faixas se juntaram aos arranjos de Portinho, Elcio Alvarez, Chiquinho de Moraes e dos novatos ZŽ Rodrix e Lincoln Olivetti, produzindo um Lp marcante em sua carreira que os f‹s jamais se esqueceram. RODRIGO Faour>

Os Vips "Os Vips" (Continental, 1965)
Os Vips "Os Vips" (Continental, 1966)




<! 01.a volta 02.longe t‰o perto 03.Aline 04.para quem sabe amar(land of 1.000 dances) 05.estranhas express‹o nos teus olhos 06.obrigado garota(thank you girl) 07. prova de amor 08.tiro e queda 09.Michelle 10.o p‹o duro 11.beijos para amar 12.i‡ i‡ ™ >

Os Vips "Os Vips" (Continental, 1967)




<! 01.niguŽm amou como eu lhe amei 02.a despedida 03.faa alguma coisa pelo nosso amor 04.no dia em que voc voltar(hard year) 05.volte benzinho 06.voc eo rio(you and the river) 07.encontrei um novo amor(run and hide) 08.eu vou tentar fugir 09.eu,vou ele e a gatinha(too old to cut the mustard) 10.procurando(keep searchin«(we«ll follow the sun)) 11.sonhando 12.assim s— vai chorar(I«m crying) >

Ronnie Von "Ronnie Von" (Polydor, 1966)




<! more than half the songs are Beatles covers; there's also one Stones tune -- "As Tears Go By" >

Ronnie Von "Ronnie Von" (Polydor, 1967)



<! more original material including some stuff by Carlos Imperial. Also some wimpy choices for cover tunes -- "Winchester Cathedral," "If I Were A Carpenter" "Walk Away Renee" >

Ronnie Von "Ronnie Von, No. 3" (Polydor, 1967)



<! includes a hint of tropicalia -- a song by Caetano Veloso, one by Victor Martins >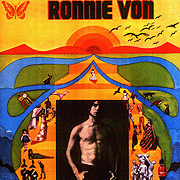 Ronnie Von "Ronnie Von" (Polydor/Discos Mariposas, 1969/2006)
A goofy set of jovem guarda rock, gone sorta-psychedelic... There are those who will try and convince you that this is a lost acid-rock gem, really it's more like Herman's Hermits or Sonny Bono trying to keep up with the Beatles. Von worked with powerhouse backing bands, including Os Mutantes, folks who could play really wild electric freakout riffs, and this disc is peppered with psychedelic motifs, ranging from fuzzy guitars, spoken word interludes and plucked piano strings run through an echo chamber... But it's all completely derivative and without any internal, inherent creative spark, just a different kind of teensploitation album from his earlier albums. Indeed, the most fun stuff on the 2006 CD reissue is the handful of a half-dozen bonus tracks from '67, where he's still doing Portuguese-language covers of pop songs such as "Winchester Cathedral" and "If I Were A Carpenter..." The contrast with the would-be freakbeat stuff is interesting, and the songs are actually kinda fun. This is worth checking out, but only as a historical curio, not as a tropicalia Holy Grail.


<! B000WMGCWG ? >

Ronnie Von "A Misteriosa Luta Do Reino De Parassempre Contra O Imperio De Nuncamais" (Polydor, 1969)





Ronnie Von "Minha Maquina Voadora" (Polydor, 1970)

Ronnie Von "Grandes Sucessos" (BMG, 2000)

Yeesh. Rocker and TV personality Ronnie Von cut a moderate swath into the "jovem guarda" teenie-bopper pop scene of the 1960s, but this disc is a tepid set of his florid soft-pop recordings from 1977-78, full of overripe string arrangements, muskrat-loveish keyboards and ill-advised saxophone fills... Oh, and of course, some declarative, romantic, cheesoid vocals, too. It's pretty torturous and yucky. You can skip this and not miss much.
Wanderlea - see artist discography
Ed Wilson "Verdadeiro Amor -- Jovem Guarda" (Sony, 2002)
Ed Wilson "Minha Estrada" (2005)
Youngsters "Twist Only Twist/Os Fabulosos" (Sony, 2000)

A CD reissue of two albums, 1965's Twist Only Twist and Os Fabulosos, from 1965...


<! was Leno in this band? >

Zege & The Silver Jets "Zege & The Silver Jets" (Rozenblit, 1972)
An early album by Ze Geraldo... It's fairly clumsy jovem guarda-meets-psych/pop material, in the Roberto Carlos style, but not as well produced or performed. It's okay, though, mostly a curio. There are only a few tracks on here are ones I'd want to come back to and listen to just for fun, including a couple with a Ray Charles beat to 'em... A lot of sluggish, organ-heavy ballads, though, and those are less fun.
---
More Jovem Guarda >>
Links & Resources
---



Other Brazilian Styles
Main Brazil Index




---

<! ie-ie-ie!!>