<! cd = 11/11/12 > <! MP3 11/11/12 > <! pix 00/00/00 > <! SOURCES 11/11/12 = WP, ABM > <! icons 11/11/12 > <! UPDATES: 00/00/00 >

---
Guitarist Frederyko (nee Frederico Mendonca de Oliveira) is probably best know as a driving force in the early 1970s prog-psychedelic band, Som Imaginario, and before that as a key member of Milton Nascimento's free-floating "Clube da Esquina" ensemble. He was a prolific composer and sideman, playing with many of the best known stars of the '70s MPB scene; in the '80s he shifted his focus to visual arts and writing. Here's a quick look at his work...
---
Discography
---

<! Em 1968 e 1969, integrou, juntamente com Nonato Buzar, os músicos Edinho Trindade, Camarčo, José Roberto Bertrami, Alex Malheiros, Victor Manga, Marcio Montarroyos, Ion Muniz, Raul de Souza e Chacal, e as cantoras Regininha, Dorinha Tapajós e Málu Ballona, o conjunto A Turma da Pilantragem, com o qual lanćou dois LPs homônimos, um 1968 e outros em 1969, e álbum "A Turma da Pilantragem Internacional" em 1969. >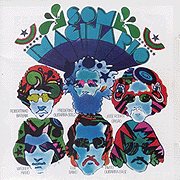 Som Imaginario "Som Imaginario" (Odeon, 1970)


A wildly diverse and expansive prog-psychedelic rock record which set the bar for Brazilian prog records in the decade to come. Ze Rodrix was in the initial lineup of the band (only for this first album) joining keyboardist Wagner Tiso and guitarist Frederyko, who had worked together as part of Milton Nascimento's "Clube Do Esquina" entourage. This was a real landmark for Brazilian rock...


<! B000E1NV92 - Cherry Red reissue > <! 1 Morse (Wagner Tiso, Tavito, Zé Rodrix) 2 Super god (Zé Rodrix) 3 Tema dos deuses (Milton Nascimento) 4 Make believe waltz (Mike Renzi, Zé Rodrix) 5 Pantera (Frederyko, Fernando Brant) 6 Sábado (Frederiko) 7 Nepal (Frederiko) 8 Feira moderna (Beto Guedes, Fernando Brant) 9 Hey man (Tavito, Zé Rodrix) 10 Poison (Marco Antônio, Zé Rodrix) >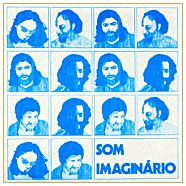 Som Imaginario "Som Imaginario" (Nova Estrela) (Odeon, 1971)
An impressive set of remarkably forward-thinking psychedelic hard-rock and jam-band prog, with heavy, grungy guitars and spacy, Pink Floyd-ian astral flights, and only a few dips into the absurdist carnival burlesques of the Os Mutantes crowd. Mostly, this is a solid rock record, one that stands up toe to toe with anything coming out of the US or the UK at the time. Often Brazilians, like other "foreign" rockers, were a little bit behind the Anglo pioneers, but in this case, they were right up there at the head of the pack. Ze Rodrix had left the band, but Frederyko's guitars, soaring into cosmic territory, more than make up for it. Some stuff is "a bit much," but mostly this is a very strong album: you can see why this band had such a big influence on Brazilian rock... Definitely worth checking out!


<! 1 Cenouras (Frederyko) 2 Vocź tem que saber (Chico Lessa, Márcio Borges) 3 Gogó (O alívio rococó) (Frederyko, Wagner Tiso) 4 Ascenso (Frederyko, Fernando Brant) 5 Salvaćčo pela macrobiótica (Frederyko) 6 Uź (Chico Lessa, Márcio Borges) 7 Xmas blues (Frederyko) 8 A nova estrela (Frederyko, Wagner Tiso) >
Som Imaginario "Matanca Do Porco" (Odeon, 1973)



Tiso takes over as the primary songwriter on almost all these songs, delving deep into fusion-y, spacy, indulgent jams with his keyboards front and center... Here, the band is scaled back to a four-piece combo, with Tavito on guitar, Alves on bass and Robertinho holding down the drums, with guest performers such as Milton Nascimento and Danilo Caymmi in the mix, and ex-integrante Frederyko chiming in on a few tracks... Overall this is just a little too groovy and gooey for me, a clear portent of where Tiso's solo work would take him later in the decade. Listeners drawn to the hard rock/prog of earlier Som Imaginario may be less thrilled by this album, though fans of fusion bands such as Azymuth or Return To Forever, etc., may really get into it. This compact lineup would follow Tiso for a while longer, backing Nascimento on the Milagre Dos Peixes album, below. After that Tiso went "solo," and they all continued to work prolifically as MPB session pros.


<! 1 Armina Ouvir (Wagner Tiso) 2 A3 Ouvir (Wagner Tiso) 3 Armina (Vinheta 1) Ouvir (Wagner Tiso) 4 A nľ 2 Ouvir (Wagner Tiso) 5 A matanća do porco Ouvir (Wagner Tiso) 6 Armina (Vinheta 2) Ouvir (Wagner Tiso) 7 Bolero Ouvir (Mil, Luiz Alves, Wagner Tiso, Robertinho Silva, Tavito) 8 Mar azul Ouvir (Luiz Alves, Wagner Tiso) 9 Arminha (Vinheta 3) Ouvir (Wagner Tiso) > <! Créditos: Wagner Tiso: Teclados Tavito: Guitarra Luiz Alves: Baixo Robertinho Silva: Bateria. >
Frederyko "Aurora Vermelha" (Som Da Gente, 1981)
As far as I know, this is Frederyko's only solo album... Anyone out there know of more stuff by him?
---
Links
---
---



---