<! MP3 09/12/08, 01/25/11 > <! update 09/12/08 > <! pix 11/18/09 > <! icons 01/25/11 >

---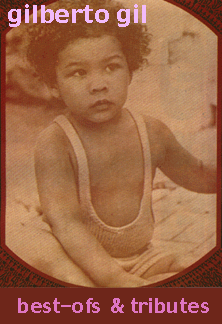 This page is part of a larger annotated discography of the work of Gilberto Gil, one of Brazil's greatest modern pop stars. This page includes reviews of Gil's many "best-of" collections, as well as tribute albums and links to other sites that celebrate Gil's music. For reviews of Gil's original albums, check out the other Slipcue pages linked to below.
---
Discography: 1960s-'70s | 1980s-Present
| Collections, Links & Other Resources
---
Gilberto Gil "A Arte De Gilberto Gil" (PolyGram, 1975)


An outstanding, classic, collection -- one of the best in this series. Its original 2-LP Fontana issue is well worth searching for. Of course the CD version isn't too shabby either, although it has about a fourth fewer songs. Features a hefty dose of material from his second album, where Mutantes back him up, as well as from the well-known Expresso 2222, made after his return from political exile.

Gilberto Gil "Mestres Da MPB v.1" (Warner-Brasil, 1992)


Gilberto Gil "Mestres Da MPB v.2" (Warner-Brasil, 1997)


I think Gil himself put it well, in a 1984 interview: "In the last few years I've made absolutely disposable records, from which the next twenty years of history will be able to live with four or five songs. One from each record, two from each record. The musical trash, the creative trash that we have today, the literary trash is really big; it piles up..." However, this Mestres CD, like the others in this highly anomalous series, has the distinction of bringing out some of Gil's more engaging material from this period. A few of the live performances, such as his reworkings of "Procissao" and "No Woman No Cry" are passable, though mostly it's not material I would get too excited about. Also included is the translucent, shimmery "Andar Com Fe," from 1983, which is certainly one of his best songs from the decade. Like the other Mestres albums, however, this has no liner notes to speak of, and it's difficult to place tracks that sound unfamiliar. This disc does do a good job weaving through Gil's disasterous albums of the '80s, with all their Lionel Ritchie-isms and aesthetic belly-flops. It's mostly not great music, but if you want to get a good sense of what Gil was up to in his lost years, and not waste the time and money required to explore the original albums, this is a good way to go. (Thanks to Kirk from Austin for the quote from Charles Perrone's book on MPB. Obrigado!)

Gilberto Gil "Minha Historia" (Philips, 1993)


HIGHLY recommended. This disc concentrates on his early career, from 1967-1974. While there is considerable overlap with the "A Arte De" collection, this CD also includes a few funkier, fusion-tinged tracks, as well as sweet treats such as an alternate, acoustic, version of his mad rock classic, "Procissao." The music on here here so sweet and strong, that it again begs the question of where Gil went astray. Also, since it was marketed in the United States by Polygram Latino, it is comparatively easy to find. Perhaps the most satisfying sampler of Gil's best work.
Gilberto Gil "Enciclopedia Musical Brasileira" (WEA, 2000)

Gilberto Gil "Millennium Collection" (Universal, 2000)


Gilberto Gil "e-Collection: Sucessos + Raridades" (WEA, 2000)


This 2-CD collection picks up what little slack is left over from the Philips box set listed below, and is probably the best summary of Gil's work on Warner that one could hope for. It spans from the late '70s to the early '90s, and does a pretty good job weeding out the worst of his pop efforts. The first disc, of "hits", is mostly drawn from various albums and is full of songs that almost work, but don't, really. The second CD, of rarities, is the real draw here, since it collects a lot songs that are pretty impossible to find otherwise. It draws on various tribute albums (to Luiz Gonzaga and Dorival Caymmi), B-sides, and soundtracks that Gil contibuted to over the years, as well as a full half dozen tracks from a 1978 album called Antologia Do Samba-Choro, which features bouncily glitzy pop versions of older, pre-bossa nova material. You might have to struggle a bit with the questionable pop aesthetic, but if you want to check out what Gil was doing during his "missing years", this is the record to try.

Gilberto Gil "Sem Limite" (Universal, 2001)


Recommended! An oustanding, budget-priced 2-CD collection highlighting Gil at his most lyrical and expressive. Sure, this glides past his best rock'n'roll material, in favor of softer, ballad-oriented work... But it's all very lovely, and mainly concentrates on the good old days in the late '60s and early '70s. There are a few rarieties on here that actually don't appear on any of the Ensaio Geral discs (see below), or on the Warner best-ofs, so for a completist, this is worth tracking down. It's well programmed, too, if you ever want a fix of Gil's mellower moments, then this is a nice set to have around. Certainly cheaper than the Ensaio Geral option, though a bit less satisfying.
---
Gilberto Gil "Ensaio Geral" (Mercury/Polygram, 1998) (10 CDs and book)
Zowie! Once this was an unattainable Holy Grail -- a 10-CD box set of rarities with a pretty hefty price tag. In their immense wisdom, though, Philips has recently released a bunch of these discs in single and two-CD sets, which I've reviewed below. First, though, I'll just go ahead and pass along the description from the Dusty Groove retail site, which is where I saw the full box set listed:
"Amazing! Gilberto Gil's best work has always been ignored by reissue programs over the past 10 years -- but now, this amazing 10 CD box set brings back all of his best recordings from the years 1967 to 1977, including a huge amount of stuff that's never been on CD before! The set's made up of 10 CDs, loosely based around specific Gil albums, and they've all got additional bonus cuts (and one CD is even a double set -- and there's another bonus CD single!) There's 6 past albums by Gil -- plus 4 more full albums that were never released -- and a lot of other material recorded during the same time. Unlike other sets of this type, each CD is jam-packed with great stuff -- including long-out of print albums, and rare B-sides and demo versions! The music is amazing, and the box must be seen to be believed -- as it also comes with a totally cool hardcover book that's filled with great photos. We know it's quite expensive, but if you've ever liked Gilberto Gil's work, this set is a must. And if you don't know his stuff -- you can't get anything better than this! A treasure!"
Gilberto Gil "Louvacao: 1967" (Mercury-Polygram, 1998)
The original album is reviewed above... This disc adds a couple of outtakes, though, including a song written by Tom Ze that never made it onto the album. Tasty.




Gilberto Gil "Gilberto Gil: 1968" (Mercury-Polygram, 1998)
See review above. This also features several bonus cuts.




Gilberto Gil "Gilberto Gil: 1969" (Mercury-Polygram, 1998)
See review above. Gil's heaviest psychedelic album... and now with a bunch of extra tracks! What more could you want??




Gilberto Gil "Copacabana Mon Amour: 1970" (Mercury-Polygram, 1998)
This soundtrack album, made during Gil's exile in London, is the one real dud in this collection. It's rambling and formless -- a self-indulgent, noodly batch of six-minute songs without centers. Of course, if you're one of those folks who liked his similarly spacy 1975 collaboration with Jorge Ben, this album might also be of interest. Didn't do much for me.




Gilberto Gil "Gilberto Gil: 1971" (Mercury-Polygram, 1998)
See review above. Made during his political exile, this English language album is pretty goofy, but sparsely recorded and fairly interesting. Plus, up until this re-release, it's been almost impossible to find. (Anyone want a beat up vinyl copy?) Bonus tracks include a goofy Beatles cover that has shown up here and there...




Gilberto Gil "O Viramundo: 1972/1976" (Mercury-Polygram, 1998)
Two discs worth of live performances from various venues. It's mostly solo acoustic, and that's totally alright by me. A lot of these tracks are kind of raggedy, but its still prime material from his artistic peak.




Gilberto Gil "Ao Vivo: 1974" (Mercury-Polygram, 1998)
See my review of the original album. I've always said the only problem with this record was that it's just too damn short. Well, now on this special edition with all the added bonus tracks, it's just right... A beautiful pop-fusion concert album, now with a more natural flow to it. This is the version to get!




Gilberto Gil "Cidade Do Salvador: 1974" (Mercury-Polygram, 1998)
WOW. An incredible 2-CD set of studio outtakes from 1973-1974, when Gil was at his creative peak. The 1973 sessions come from the making of his Expresso 2222 album, and the later stuff reflects his growing attraction to contemporary jazz fusion. The first disc is a delight: primarily acoustic, these show Gil in his most unadorned state, and really show how fluid and lyrical a performer he could be. The second disc highlights his band more, and has some fairly unformed moments, but is still a great glimpse at the way he worked. This collection is also notable for the inclusion of about a half-dozen Gil compositions that have been recorded by other Brazilian artists, but never made it onto any of his own albums. Among other artists on here is the great forro accordionist, Dominguinhos, whose "Eu So Quero um Xodo" was one of the featured Gil tracks on the first BRAZIL CLASSICS CD. If only PolyGram would open up the Philips vaults a bit more, and share more of this astounding archival material! If you can find it, this is a must-have album for Gilberto Gil fans.




Gilberto Gil "Satisfacao: 1975/1977" (Mercury-Polygram, 1998)
A pretty cool odds-and-ends collection, though decidedly on the lighter, bouncier, more fanciful side. You can see why a lot of this never made it onto any of his old albums -- a lot of these tracks are kind of fluffy and lightweight. Fun, though. In hindsight, you can view a lot of these tracks as precursors to his much less enjoyable "world beat" drek from the '80s. Includes some cuts made with the band that backed him up on a trip to Lagos, Nigeria in '77, as well as track off of the Doces Barbaros concert album, and a nice duet with Nara Leao. It seems like this would have been the right place to plug in something off his duet album with Rita Lee, too, but I guess they couldn't get the rights from EMI. Regardless, this is definitely worth checking out.



Gilberto Gil "Aquele Abraco" (Iris Music, 2001)


Gilberto Gil "Palco" (Warner, 2002)


Holy crapazola! A 30-CD... yes, that's right... 30-CD box set of pretty much everything Gil ever did for the Warner label... Which is way more material than I ever imagined he had recorded for them! This includes all his albums from the late '70s through the 1980s, as well as tons of bonus studio and live material. I haven't heard it (can't afford to!) but if anyone wants to buy me a copy for Christmas, I'll be sure to give everyone a full report.
Gilberto Gil "The Definitive Gilberto Gil: Bossa, Samba & Pop" (Warner, 2002)


For a quicker reading of his Warner years, here's a single disc set that culls 18 tracks from his 1977-2000 catalog.
Gilberto Gil "To Be Alive Is Good... (Anos 80)" (Warner-Rhino, 2003)


Gilberto Gil "It's Good To Be Alive... (Anos 90)" (Warner-Rhino, 2003)


Gilberto Gil "The Early Years" (Wrasse, 2004)

Gilberto Gil "Revisitado: De Louvoucao 1967 A Refestanca 1977" (Dubas, 2004)

Gilberto Gil "Novo Millennium" (Universal, 2005)

Gilberto Gil "Perfil" (Som Livre, 2005)

Gilberto Gil/Various Artists "Duetos" (Warner Music, 2008)


---
Tributes
---
Various Artists "GILBERTO GIL SONGBOOK v.1" (Lumiar, 1993)
Includes Tim Maia, Gal Costa, Leny Andrade, Fafa De Belem, Chico Buarque, and Ney Matogrosso.
Various Artists "GILBERTO GIL SONGBOOK v.2" (Lumiar, 1993)
Includes Barao Vermelho, Jorge Benjor, Gal Costa, Rita Lee, Sandra De Sa, Leila Pinheiro, Paralamos Do Succeso and Erasmo Carlos.
Various Artists "GILBERTO GIL SONGBOOK v.3" (Lumiar, 1993)
Includes Nana Caymmi, Joao Bosco, Caetano Veloso, Paulinho Da Viola, Hermeto Pascoal & Margareth Menezes, Djavan, and Leila Pinheiro.
Various Artists "Grandes Compositores: Gilberto Gil" (RGE, 1990)
An interesting, though ultimately underwhelming tribute album. Gilberto Gil's songs covered by a variety of MPB artists, from biggies such as Maria Bethania and Elis Regina to lesser lights such as Claudia, Sandra Sa and Trio Maraya. A good chance to hear slightly different takes on very familiar material.
---
Other Resources
---
"Gilberto Gil - Tempo Rei" (VHS, 1996)
A documentary film directed by Andrucha Waddington and Lula Buarque de Hollanda, which covers the length of Gil's career and includes clips from many of his shows over the years. Includes guest appearances by Carlinhos Brown, Stevie Wonder and (of course!) Caetano Veloso.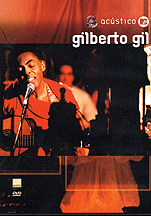 Gilberto Gil "MTV Acustico" (WEA/MTV Brasil, 2001)
The video version of his career-reviving 1994 Acustico live album. Gil seems a bit reserved and overly professional, the music a bit sugary and stylistically static, but it's a really nice chance to hear (and see!) him performing live, in a stripped down setting. It's funny to say this, but I think I actually prefer listening to the audio CD than watching the video, but both are a real treat for fans.
Gilberto Gil "Kaya N'Gan Daya" (WEA/MTV Brasil, 2001)


The concert video version of Gil's 2002 reggae album/Bob Marley tribute.
Gilberto Gil "Eletracustico" (WEA Latina, 2005)

Gilberto Gil/Caetano Veloso/Maria Bethania/Gal Costa "Doces Barbaros" (Biscoito Fino, 2005)

---
Links
---
Gilberto Gil's home page was once a real design nightmare. Now it's really cool graphically, but kind of weird thematically, and cryptically laid out. If you want a unique glimpse into the way this guy thinks, here's your chance... Includes the normal tour info, bio, and discographical information, as well as Gil's thoughts on various subjects, and his reviews of other, younger Brazilian musicians. In Portuguese, Spanish, and English, with nutty navigational foibles.
Clique Music/All Brazilian Music is the most complete of Brazilian music websites, and natually has a nice page for Gilberto Gil, with an extensive discography and biographical section. (Wish they'd been around when I started compiling information for my website...!)
Page One of my Gilberto Gil discography features a run-down of his regular albums, from the dawn of time to the present day.
---



---