<! MP3 09/12/08, 01/25/11 > <! update 09/12/08, 01/25/11 > <! pix 11/18/09, 01/25/11 > <! icons 01/25/11 >

---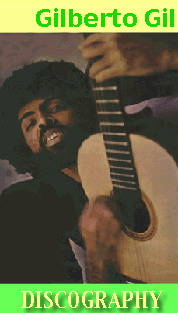 This is the second page of an annotated discography of Gilberto Gil, one of Brazil's greatest pop artists. This page includes reviews of Gilberto Gil's albums recorded between 1980 and the present day; earlier albums and best-of collections are reviewed on a separate pages (linked to below).
Fans of Brazilian music -- and of Gil's music in particular -- should note that many of these reviews are often quite critical, and are advised not to take great offense at my opinions. I, too, believe that Gilberto Gil is a brilliant, gifted genius, although the fact remains that many of his albums, especially those recorded between the late '70s and early '90s, were not as good as they could have (or should have) been. This website was created in part, to help folks sort through these various releases and avoid buying records they find disappointing, in favor of those they might actually enjoy. For a better explanation of my feelings about Gil's career, check out the first page of this discography...
---
Discography: 1960s-'70s | 1980s-Present | Collections & Links
---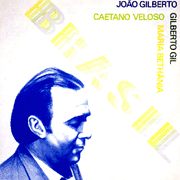 Joao Gilberto/Caetano Veloso/Gilberto Gil/Maria Bethania "Brasil" (Philips, 1981)


A beautiful album, which unites two generations of great Brazilian artists. Caetano Veloso pitches in on this rapturously understated Joao Gilberto bossa nova album, which also features Gilberto Gil and Maria Bethania. Very listenable and highly recommended. (Reissued on CD along with Joao Gilberto's Amoroso.)

Gilberto Gil "Luar" (WEA Latina, 1981)



Yeesh. I mean, look... I know we love him and all, but these disco-ed out pop albums are pretty embarrassing... The scat-singing vocal ululations of his early 'Seventies recordings doesn't translate well into the glossier, prefab pop sound. What used to project enthusiasm and joyfulness sounds more like indifference and coasting as the bland, Earth, Wind & Fire-style disco-soul beats whiz by. On the album's end, after a punishing barrage of generic dance tracks, Gil slows down and sings a few impassioned, emotive slow songs, accompanied mainly by light keyboards... Which is nice until the "quiet storm" saxophones creep into the mix. Sorry, but having grown up in the 1970s and having listened to a lot of pop radio, I simply loathe this style of music. Also, it realy doesn't sound to me like Gil was trying all that hard here. Can't say as I would recommend this disc to anyone.

Gilberto Gil "Um Banda Um" (WEA Latina, 1982)



(Produced by Liminha)
This is bright, bubbly post-disco pop album is about on the same level as 1979's Realce, though maybe a bit more subtle. Gil lays claim to new trends ("Afoxe E"), and sneaks a little reggae in ("Esoterico"), but despite his obvious enthusiasm, this album doesn't work for me. Mostly its pretty cheesy, although Side Two has some lovely, mellow moments. David Byrne culled out one of these songs ("Andar Com Fe") for his first BRAZIL CLASSICS compilation -- that track is by far the most engaging on this album, a fine example of Gil's power with delicate, magical melodies... So why couldn't the rest of the record have been as nice?

Gilberto Gil "Extra" (Warner, 1983)



You really have to be kind of determined to give Gil the benefit of the doubt on this one. The songs themselves are okay, but it's pretty hard to tell since the music is so collosally bad. It's weird that, even this late in the game, Gil didn't realize that disco was nowheresville, and that such a potent musician could allow himself to become mired in such trite, ephemeral production. Admittedly, this is one of the better produced, more evenly paced, of the many pop albums Liminha produced with Gil in the 1980s. It's still drek, though; the one mitigating factor is the title track, a reggae tune that kicks the album off... After that, your jaw will simply drop in disbelief as you ask: is this really a Gilberto Gil album??.

Gilberto Gil "Quilombo" (Soundtrack) (WEA France 1984)



Soundtrack to an early Carlos Diegues film; also features contributions by soul musician Toni Tornado and acoustic sambista Joao Nogueira.

Gilberto Gil "Raca Humana" (WEA Latina, 1984)



(Produced by Liminha)
Another Liminha production. This is a very contemporary-sounding post-New Wave pop album. Think: the Police ... Ah-Ha! ... maybe a little bit of Bob Marley-by-way-of-Eddie Grant. This comes close to guilty pleasure territory, or maybe even marginally listenable, until you stop to think about it. Then you'd be embarassed to be caught with it on the stereo. Several reggae flavored tracks, but even those suck.
Gilberto Gil "Dia Dorim Noite Neon" (WEA Latina, 1985)



Utterly appalling, full of the worst of early-'80s mainstream pop production. If somebody was kidding and told me that this was in fact a collaboration between Gil and Men At Work, I would completely fall for it. The inclusion of a couple of okay ballads and one mediocre reggae tune do little to mitigate the grotesque production values of this album. Pass!

Gilberto Gil "Re Sol Vida" (Warner, 1985)



<! LP - B00414T282 >

Gilberto Gil "Soy Loco Por Ti, America" (Braziloid, 1988)



A super-terrible, almost clownishly bad, rock-pop album with unfortunate remakes of "Aquele Abraco" and "Soy Loco Por Ti, America." There's one halfway OK song on here, "Mar De Copacabana," but on the whole this record is eminently avoidable.

Gilberto Gil "Ao Vivo Em Toquio (Live In Tokyo)" (Braziloid, 1988)



Gilberto takes up the banner of "world beat" with a rock-reggae sound. Old tropicalia standards such as "Aquele Abraco" suffer mightily in the hands of this jittery, hyperactive band, fronted by an overly-punchy horn section. Lots of pep, but little grace.

Gilberto Gil "A Gente Precisa Ver O Luar" (WEA, 1989)



A mellow, quiet storm-y album. Includes a cover version of Bob Marley's "No Woman, No Cry," which sports an interesting arrangement. Overall, though, this is a pretty wimpy, super-synthy album.

Gilberto Gil "O Eterno Deus Mu Danca" (WEA, 1989)



Another terrible mainstream pop album, though with a dash of samba on a few tracks. His voice is nice, the saccharine synthesizer riffs, fake strings and synthetic saxophones are not. If toned down a few notches of the Cheese Scale, this would be okay.
Gilberto Gil "Gilberto Em Concerto" (West Wind Latina, 1991)



Gilberto Gil & Ernie Watts "Afoxe" (CTI, 1991)


A glossy collaboration between Gil and North American jazz saxophonist Watts. Although on the whole this album is pretty overproduced and commercial, Gil's contributions actually include some of his better material for this time period. On the other hand, there's the overwrought soul vocals of Sharon Bryant, which fill about an equal amount of disc space. Iffy, but has its moments. (This is really an Ernie Watts album, at least that's what you'll find it filed under in the stores...)

Gilberto Gil "Parabolicamara" (WEA Latina, 1991)



Further scary production, though relatively understated in comparision to many albums from the '80s. Yuppified and cheesy, but not something that forces you to dash towards the stereo set with a sledgehammer in hand. It's more like a slow trudge back to the used record store to return the disc. Gil incorporates Caribbean soca and (sigh...) a bit of hip-hop, as well as a hefty dose of Michael Bolton-y pop ballads.

Gilberto Gil & Caetano Veloso "Caetano E Gil: Tropicalia 2" (Polygram, 1993)



Wow. These two really bring out the best in each other! A very solid, almost stately album, but also very sensual and rhythmic. Only a couple of misfires here, and mostly rather minor. This is a real treat for fans who long for the glory days, though hardly a nostalgic step backwards. Plus, the English translations by Arto Lindsay are nice for a glimpse into Veloso and Gil's highly political, poetic, and rather surrealistic lyrics. After over a decade tossing off iffy pop albums, Gil hits the mark with an unexpected moment of grace and power. This is the album that turned Gilberto Gil's career around... Three cheers for Caetano for helping rouse him out of his stupor! Excellent record.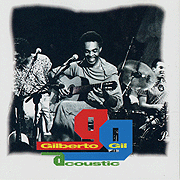 Gilberto Gil "Acoustic" (Atlantic Jazz, 1994)


Many consider this to be Gil's "comeback album." An excellent live acoustic set, recordeded on the heels of Tropicalia 2, this has some almost-cloying touches, but basically finds Gil in very fine form. Certainly his vocal warmth and tenderness come through loud and clear. Simple, sweet and straightforward. Recommended.
Gilberto Gil "Esoterico: Live In The USA 1994" (Westwind, 1995)


Gilberto Gil "Quanta" (Warner/Mesa, 1998)



(Produced by Liminha)
Another slick production job by Liminha, full of cheesy synths and dubious technical flourishes. Yet Gil himself is in fine vocal form, and several songs are not overly icky -- only about a third of the tracks are complete stinkers. This album might be a good bridge into Brazilian pop for someone with tastes which ran more towards "adult alternative" pop, or Kenny G-ish lite jazz. I wish Gil would stick to more straightforward material, but if anyone from the "world music" scene deserves to crack the American lite pop market, I guess it's him.

Gilberto Gil "Quanta Live" (Atlantic/Mesa, 1998)



The concert disc of the "Quanta" show. Live, many tracks tend to lose their footing in the aesthetic balancing act. Some sound more bombastic than on the studio album, while others sound a bit more direct. Gil also reprises some old faves, such as "Refavela" as well as covering a couple of Bob Marley tunes.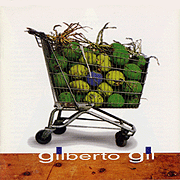 Gilberto Gil "Sol De Oslo" (Blue Jackel, 1998)



A very pleasant surprise. This ranks up there as one of Gil's best records, and is very much in a mellow tone. The drifting, melodic dreamscape is largely defined by the ever-present, ever-subtle accordion of Toninho Ferragutti, who weaves throughout the record, playing half-forro, half-Piazolla. Guest vocals by Marlui Miranda are also a treat: on her own records she has chosen a stark, dark style, and hearing her sweetened harmonies on this disc is a revelation. Gilberto is in peak form, continuing to build on the focussed, less jittery, style of the last five years or so. A highly recommended album, and hopefully an indicator of more great things to come.

Gilberto Gil "Eu, Tu, Eles (Me, You, Them)" (Soundtrack) (Warner/Atlantic, 2000)



Gorgeous album which is drenched in Northeastern forro and includes a half dozen fluid, modern interpretations of old Luiz Gonzaga tunes, and several tracks featuring master accordionist Dominguinhos. For the life of me, I couldn't tell when all of these songs were really recorded -- I know some of the Dominguinhos tracks are from Gil's mid-70s Refazenda era, but I suspect this is a mix of new and old material. At any rate, this is one of the most pleasant Gilberto Gil albums you're likely to hear, and a fascinating example of how Gil's acoustic musings can mix beautifully with the occasionally nerve-jangling forro style. Highly recommended!!

Gilberto Gil & Milton Nascimento "Gil & Milton" (Warner, 2000)



During the dark years of Gilberto Gil's artistic nadir, he frequently got a creative jolt by working with other artists -- his live album with Caetano Veloso is a great example. Now that he's back on a roll, it seems Gilberto is returning the favor with this understated MPB-superstar collaboration. It's not nearly as groovy as Gil's latest albums, but it's much better and more listenable than the bulk of Nascimento's work. Fairly straightforward and cohesive pop, with ballads and bossas galore... it would appear that Gil has helped anchor Nascimento, much in the way his pals did for him back in the '80s. The album includes a surprisingly nice reggae cover of George Harrison's "Something", and an unfortunate butchering of Jorge Ben's funk classic, "Xica Da Silva"... but on the whole, this is a pretty solid album. Towards the end, Gilberto's renewed interest in forro comes to the fore, and these are some of the album's best tunes. Not stellar, but worth checking out.

Gilberto Gil "Sao Joao Vivo" (Warner, 2001)



An excellent live album which highlights Gilberto's enduring passion for Northeastern forro music... This concert luxuriates in Gil's classic mid-'70s material from the Refazenda album, which was some of the best work he ever did.. and still sounds great today. The band is really sharp -- faithful to the original arrangements, but still fresh and exciting, as if their hearts were really in it. Gil sounds like he's having fun, too, and the feeling is contagious. A realy nice record... highly recommended!

Gilberto Gil "Kaya N'gan Daya" (Warner, 2002)


A bunch of roots reggae tunes, recorded at Tuff Gong studios in Jamaica, with the help of Rita Marley, the I-Tals, and Sly & Robbie. Although some of these tracks are better-sounding rehashes of his Portuguese-language versions of various Bob Marley oldies (a habit that dates back to the '80s), many are simply English-language remakes of old Bob Marley hits, in which Gil sounds way too much like Marley, and not enough like himself. This disc has its moments, but mostly I just don't really see the point. In some ways, it's actually kind of depressing to see how perfectly the Tuff Gong crew can recreate the old sound, and also how they can do it on demand for any old foreigner who wants to cut a tribute album. It's kind of a weird Third World cultural intra-colonialism... I mean, who am I -- Mr. Dumb Gringo -- to naysay a Brazilian superstar slumming in Jamaica? It's still kinda weird, though. Anyway, this is a decent roots album, but I wish he'd gotten a little weirder and more Brazilian with it... the slight forro accordion fills are tantalizing, but unchallenging.

Gilberto Gil/Various Artists "Z: 300 Anos De Zumbi" (Pau Brasil/Blue Jackel, 2002)



(Produced by Rodolfo Stroeter)
A relaxed, somewhat frivolous set of incidental music taken from the stage production of a musical ballet honoring the legendary Brazilian slave rebel leader, Zumbi. Gilberto Gil, Carlinhos Brown, Marlui Miranda and producer Rodolfo Stroeter collaborate on this light melange of Afro-Brazilian, African and world-pop styles. Typically, this sort of production has at least one "real" pop song in it somewhere, but not so on this album. Didn't do much for me, but folks looking for something nonlinear and soundtrack-y might enjoy this.
Gilberto Gil "Eletracustico" (Warner, 2004)


Gilberto Gil "Luminoso: Voz E Violao" (Warner, 2006)


Gilberto Gil "Banda Larga Cordel" (Warner, 2008)


Gilberto Gil "BandaDois" (Warner, 2010)


Gilberto Gil "Fe Na Festa" (Universal, 2010)

---
His Early Stuff | Best-Ofs, Tributes and Links!
---



---