<! MP3 09/12/08, 12/06/09 > <! pix 12/06/09 > <! icons 01/22/11 > <! UPDATES: 09/12/08 09/24/13 - new page for 2000s >

---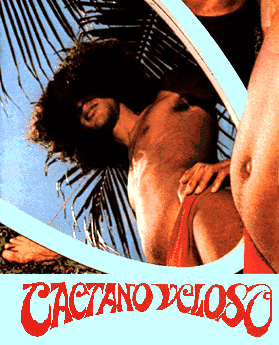 CAETANO VELOSO is one of Brazil's greatest contemporary songwriters, and perhaps the most stylistically consistent artist to come out of the late '60s "tropicalia" movement, which blended rock and roll, pop kitsch and North American youth culture into the already potent musical stew of Brazilian pop.
From the start, Veloso's work has radiated confidence and originality. A native of the state of Bahia, in the mid-1960s Veloso moved to Rio de Janiero with his sister, vocalist Maria Bethania. Both artists quickly became stars. Caetano's first national success came in a series of songwriting competitions and television appearances. In 1967, his growing notoriety led to a recording contract with the Philips label, a PolyGram subsidiary which more or less cornered the market on the new musical style.
In addition to his fame as a performer and songwriter, Veloso became a Brazilian political and cultural icon. Tropicalia, a musical and socio-artistic movement which he had helped found, was a thorn in the side of the military junta which had taken over the country in 1964. Although it was explicitly not a part of the traditional Brazilian Left, tropicalia challenged the dictatorship either directly (by its flamboyant, carefree stylishness) or indirectly, in elliptical poetic imagery which held unmistakeably subversive meaning for its popular audience. Few writers were more skillful or as popular as Caetano Veloso, and in 1968, both he and his friend Gilberto Gil were briefly imprisoned by the military dictatorship.
Following their release from prison, Veloso and Gil went into exile for several years, and Veloso settled mostly in London. During their exile, both artists continued to release albums in Brazil and provided new material for other MPB stars (especially Maria Bethania, Elis Regina, and Gal Costa) to record. When they returned to Brazil in 1972, they were even bigger celebrities than when they had left.
Caetano Veloso's artistic brilliance partly lays in his ability to appropriate popular sounds, such as mainstream rock and jazz fusion instrumentation, without letting contemporary technique overwhelm his own personal style. His albums embrace successive waves of pop music, from bossa nova to blues, acid rock and folk balladry, to blatant AOR. Veloso skillfully uses each style to frame his calm, conversational vocals (which in turn owe a huge debt to the cool, suave delivery of bossa nova legend, Joao Gilberto.) Finally, his lyrics are complex and allusive -- along with Ary Barroso and Chico Buarque, Caetano Veloso is considered one of the great songwriter-poets of the Portuguese language. His records are almost always very listenable, very classy and very innovative.
---
Discography: 1960s & '70s | 1980s | 1990's | 2000 - Present | Best-Ofs, Tributes & Other Media
---

Various Artists "EU VIM DE BAHIA" (RCA/BMG, 2002)


Each of the artists in the "group from Bahia" that Caetano Veloso and Gilberto Gil formed made their first recordings for the Brazilian wing of RCA (and each subsequently moved on to record for Philips). This CD collection, long overdue, gathers many of the early singles by Veloso, Gil, Gal Costa (then called Maria Gracia), Tom Ze and Veloso's sister, Maria Bethania. Of the group, Bethania and Gil were clearly the most confident -- he had several years of performing experience under his belt by the time of his 1965 recordings of "Roda" and "Procissao," and she was a rising star in the Brazilian theatre. Even so, Bethania's husky vocals, though powerful and distinctive, were slightly overwhelmed by the clattersome arrangements, particularly on her hit, "Cacara," and most of these tracks -- Gil's being the exception -- suffer from relatively poor engineering and musical accompaniment that was a hangover from the early '60s bossa-jazz scene. This 12-song collection is lamentably short, only covering their recordings from 1965, but it's an invaluable (and quite charming) glimpse at the earliest work from one of Brazil's most influential groups of musicians. If you see it anywhere, snap it up.

Caetano Veloso & Gal Costa "Domingo" (Polygram, 1967)


His first album, and Gal Costa's. Beautiful bossa nova balladry, clearly under the spell of Joao Gilberto. The arrangements, with gentle percussion and lush strings and breezy flutes are standard late-model Philips-label bossa, produced under the guidance of the young Dori Caymmi. It's an interesting if inconclusive album. Considering her later, more brazen style, Costa's somewhat tame, blase Astrud Gilberto-ish vocals stand out as an anomaly, though they are completely enjoyable. For his part, Veloso sounds tentative and unsure, not yet possessed of the cool confidence which pervades his later work. His poetic lyrics are as enigmatic and beguiling as ever, though. A lovely glimpse at their early personas, and a very sweet record.

Caetano Veloso "Caetano Veloso" (Philips, 1968)


(Produced by Manoel Barenboim)
Caetano's first big, breakaway tropicalia album, recorded in the wake of several notorious concert appearances which put the new sound on the map. The psychedelic cover art features Veloso's portrait inside an egg-shaped photo, held between a cartoon nymph and a cartoon dragon. Great songs, including the often-covered and often-anthologized "Superbacana" and the ridiculously poppy spanish-language roller-rink lovefest, "Soy Loco Por Ti, America". Backed up by the crazed rock band, Os Mutantes, as well as by the teenybopper rock'n'roll of Roberto Carlos' RC-7, Veloso sends off a powerful opening salvo for the tropicalia movement, and a magnificent solo debut. Recommended.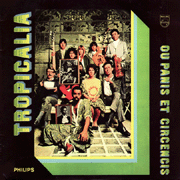 Various Artists: "TROPICALIA: OU PANIS ET CIRCENSIS" (Polygram, 1968)


(Produced by Rogerio Duprat)
A collaborative statement of purpose for the hippie-ish tropicalia movement, with contributions from Gilberto Gil, Os Mutantes, Nara Leao, Gal Costa and Caetano Veloso. Caetano is kind of in the background during a lot of this record -- although he authored roughly half the songs (often in collaboration with Gilberto Gil) and sings on several tracks as well. Overall, this disc radiates youthfulness and a playful, experimental artistic zeal. Recommended!

Caetano Veloso "Caetano Veloso" (Philips, 1969)


(Produced by Manoel Barenboim)
A masterpiece. His "white album" -- a simple, blank cover, with only his signature on the front. Beautiful, fluid arrangements on many tunes, including the exquisite flute-strings-guitar interplay on the lead track, "Irene," and the Portuguese fado stylings of "Os Argonautas." This is the high point of Veloso's most incandescent early years -- the sheer beauty of "Irene" marks Veloso's master status as a revolutionizer of Brazilian acoustic music, while the whispering-then-howling electric guitar on "Empty Boats" places him in the top ranks of '60s space rock. An essential album.

Caetano Veloso "Caetano Veloso" (Philips, 1971)


(Produced by Lou Reizner & Ralph Mace)
An interesting, if underwhelming, album -- some consider this a classic, others may find it slow going. On this brooding English-languge travelogue of his European exile, Caetano wallows in it a bit, though a few tunes, particularly "London, London" and "Maria Bethania," are memorable. Veloso is working under several liabilities -- for starters, he's rather depressed, and his ability to express himself is limited by his unfamiliarlity with English. Also, he is far, far away from his usual musical collaborators, and has to make due with well-intentioned British folkies, who don't *quite* get where he's going (or where he's been!) Still, this holds up reasonably well when compared to other space-folkies of the time, such as Tom Rush, Nick Drake or Tim Hardin. At the album's end, Caetano throws in a slow, doleful, Portuguese-language cover version of Luiz Gonzaga's classic, "Asa Branca," the album's main nod to both historical and cultural roots. One highlight is the English translation of "Marinheiro So" ("If You Hold A Stone") which he had recorded in Portuguese on his white album -- a lovely tune in either language.

Caetano Veloso "Transa" (Philips, 1972)


Made at the tail end of his European exile, this is another of Caetano's best records. Here he experiments with repetitive, extended, chanting choruses -- a bit thicker and less accessible than the earlier albums, but still quite nice. This highlights sweet, languid balladry, with several hazy, lazy, loveably goofy songs sung in English, such as "Nine Out Of Ten" and "You Don't Know Me." Decades later, Arto Lindsay would pick up where this album left off. A few songs drift into tedium, but on the whole, this is well worth tracking down.
Caetano Veloso "Araca Azul" (Philips, 1972)


Brazilian difficult listening. A frivolous, meandering psychedelic/found noise album with disjointed versions of tropicalia songs interspersed with African drums, acid rock guitars and blaring James Bondian themes. Intriguingly nutty, though not melodically satisfying, and apparently one of the worst selling Brazilian pop albums of all time. However, this album shows Veloso's breadth as an experimental pop artist. For starters, check out the difference between his radically deconstructed version of "De Conversa" and Milton Nascimento's super-melodic original... woah! That kinda wacked-out avant-pop don't come easy. Recommended for the artsy crowd, though not for the casual listener.

Caetano Veloso "Barra 69: Caetano E Gil Ao Vivo Na Bahia" (Philips, 1972)



In 1968, the Brazilian dictatorship briefly imprisoned Gilberto Gil and Caetano Veloso, in an effort to curb the popular influence of the tropicalistas. Once the singers got their warning and were released, they promptly went off and staged several concerts, partly as an act of political defiance, and partly to raise funds to pay for their eminent and inevitable European exile. This CD is a document of two shows in July, 1969 -- spirited and adventurous pop-psychedelic rock, but with truly terrible sound quality. The guitars come in okay, though a bit muffled, but the powerful vocal performances are completely overmodulated: not that you can really hear him, but the lead guitar is a teenaged Pepeu Gomes, later a founding member of Novos Baianos. A tantalizing glimpse at Brazilian pop-psych in glorious full swing, and an important historical document, but ultimately a real drag to listen to.

Caetano Veloso & Chico Buarque "Caetano E Chico Juntos E Ao Vivo" (Philips, 1972)



A strong concert album, though most of the praise goes to Caetano... Buarque seems a little too declarative and stiff, while Caetano's soulful acoustic salvos on Side One, and his rendition of "Os Argonautas" at album's end, are quite delectable. Their duets seem a bit rough at first, but may grow on you. Buarque and Veloso had been drinking buddies in the mid-sixties, although when Veloso and the tropicalistas came to prominence in the late '60s there was a great deal of tension between them and the neo-bossa nova MPB crowd that Buarque led. Nice that they managed to patch things up, though: they meshed quite well together as performers. Later, Chico and Caetano went on to co-host a popular TV variety show, which is sketchily documented in an album that came out in the 1980s...

Caetano Veloso/Gal Costa/Gilberto Gil "Temporada De Verao Ao Vivo Na Bahia" (Philips, 1974)


A servicable but mildly irksome concert album which gives a good glimpse of these tropicalia stars as they hit the mid-decade. Each plays with their own band, but only a few tunes from each set make it onto the disc, making it difficult to get a feel for the live experience. Of the three, Gil puts the most into his performance, playfully scatting and improvising vocals on four peppy tunes, and generally trying to work up a lather. On the flip side, Caetano seems too cool and detached to be much fun, and Costa's two lounge lizard-y tracks didn't do much for me. Not a bad album, but at times not very engaging.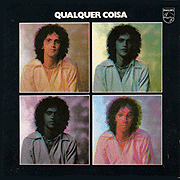 Caetano Veloso "Qualquer Coisa" (Philips, 1975)



(Produced by Perinho Albuquerque & Caetano Veloso)
One of Caetano's best. A spare, acoustic guitar-based album, with some slight, unintrusive additional instrumentation, including piano by Joao Donato on a couple of tracks, and Quarteto Em Cy vocals on another. Several gorgeous, reflective tracks. For the most part, this record compares favorably to Joao Gilberto's early acoustic style, although Caetano throws in a few unique rhythmic quirks. The only bad moments -- and they are terrible -- come when he covers three Beatles songs in a row, all of them in mis-emphasized English, and all of them Paul McCartney numbers. Skip those, though, and this is yet another nice Veloso album. Beautiful, in fact.

Caetano Veloso "Joia" (Philips, 1975)


Continues long in the same mellow, semi-acoustic vein as Qualquer Coisa, though perhaps a bit moodier and more atmospheric. Some very pretty songs, particularly the finger piano-based "Gua," which sounds a bit like Francis Bebey. Fewer tracks stand out sharply than on previous albums, but it's still quite a lovely record. He does another disasterous English-language Beatles cover, although this time it's slightly better because it's a John song ("Help"). One song, "Canto Do Povo De Um Lugar," apparently includes backing by the hippie-folk-prog band Bendego, who also worked with Gilberto Gil and other tropicalistas...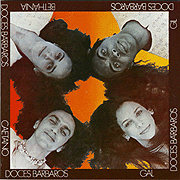 Maria Bethania/Gal Costa/Gilberto Gil/Caetano Veloso "Os Doces Barbaros (The Sweet Barbarians)" (Philips, 1976)



A live reunion of "the group from Bahia"... the leading lights of the tropicalia movement. This is an upbeat, though manic, performance, deeply influenced by contemporary jazz-funk fusion, but with a distinctive Brazilian flavor.. The vocals are charged with enthusiasm and joyfulness, but are still raggedy and at times a bit grating, particularly Costa and Bethania. Not surprisingly, the calmest, most compelling moments are Veloso and Gil's -- but everyone's so edgy you can't help but wonder if all four were on something that night. (Anything's possible, I suppose...) Underneath it, though, is a powerful musical vigor -- the band is tight, the funky arrangements are sharp and inventive, and in many ways this can be seen as the last blast from the peak years of Tropicalia's immense impact on Brazilian culture. Definitely worth checking out, though a little hard to listen to recreationally.
Caetano Veloso "Muitos Carnavais" (Philips, 1977)


A collection of manic, doubletime songs, written over the years as themes for the annual Carnaval celebrations. To this yanqui's ears, the frenetic marching beats detract from Veloso's otherwise compelling songs. He relents briefly with three lovely ballads (which originally capped off the album sides) but mostly this album is monotonous in its pacing. For true believers only.
Caetano Veloso "Bicho" (Philips, 1977)


On paper, this sounds great: Caetano Veloso and Gilberto Gil attend an African music and culture festival in Lagos, come back home all jazzed up and each puts out an album expressing their renewed Afrophilia... Trouble is, both albums (this one and Gil's "Refavela") are a bit on the glossy side... "Bicho" is certainly a livelier record; Caetano seems to "get" the West African polyrhythms more than Gil did, or at least he's more willing to try to recreate them. But it's also one of the most dated-sounding of his '70s records, that is, the most disco and fusion-y. Also, the sound mix is too thin and muted... it seems like there was a much richer musical texture than what made it onto the record. Interesting, off-kilter, a little challenging, but also kinda goopy.

Caetano Veloso "Muito" (Philips, 1978)


Soft balladry built on acoustic guitars and '70s fusion instrumentation (popping electric bass, sugary keyboards, Metheney-ish electric guitars...) Remarkable for the restraint Veloso displays towards potentially trite studio techniques; the album sounds gentle and pleasant, instead of overbearing and dated. A couple of tracks you can skip, but most will hold your attention. Includes the original version of "Terra," one of Veloso's most beautiful ballads.

Caetano Veloso & Maria Bethania "Ao Vivo" (Philips, 1978)



From the cover art -- brother and sister dressed in all-white Saturday Night Fever suits, showily throwing their heads back while busting a rhyme into the mic -- you might guess this record to be a lot cheesier than it actually is. Sure, it has its iffy moments, but in general it's a pretty strong concert album. The performances are particularly redemptive for Bethania, whose later studio albums lean heavily towards icky soft-soul-jazz arrangements. Working together, these siblings seems to egg each other into a sweet musical simplicity; the only real complaint is that some of the tracks are a bit too brief -- it would have been great to hear them stretch out a bit and luxuriate more in the material.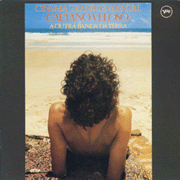 Caetano Veloso "Cinema Transcendental" (Polygram, 1979)


While his contemporaries were making lavish pop and disco albums, Caetano was fiddling around with gentle, drifting ballad-y albums like this one. An excellent soundtrack for a mellow day at the beach, with only mild leftover traces from the jazz-fusion days. Features "Aracaju," an early song by Vinicius Cantuaria, who was at that time the drummer in Veloso's A Outra Banda da Terra.
---
Discography: 1960s & '70s | 1980s | 1990's | 2000 - Present | Best-Ofs, Tributes & Other Media
---
---



---