<! MP3 09/12/08 > <! pix 12/06/09 > <! icons 01/22/11 > <! UPDATES: 09/12/08 09/24/13 - new page for 2000s >

---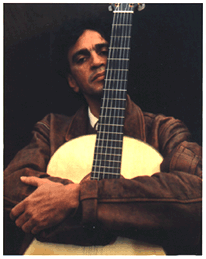 This is the second page in a semi-comprehensive discography Caetano Veloso, one of Brazil's greatest songwriters and performers. This page highlights Veloso's records released from 1980-89. Other releases, as well as books and other media resources are listed on separate pages.
---
Discography: 1960s & '70s | 1980s | 1990's | 2000 - Present | Best-Ofs, Tributes & Other Media
---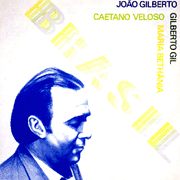 Caetano Veloso/Joao Gilberto/Gilberto Gil/Maria Bethania "Brasil" (Philips, 1981)


A beautiful album, which unites two generations of great Brazilian artists. Caetano Veloso pitches in on this rapturously understated Joao Gilberto bossa nova album, which also features Gilberto Gil and Maria Bethania. Very listenable and highly recommended. (Reissued on CD along with Joao Gilberto's Amoroso.)
Caetano Veloso "Outras Palavras" (Polygram, 1981)



Solid arrangements, typically beautiful vocals. However, if you're like me, the occasionally treacly jazz-fusion production touches can be a bit off-putting -- this album is less successful at walking the tightwire than earlier efforts in the late '70s. The musicians are all Brazilian, but it sounds like a collaboration with the likes of Pat Metheny and his ilk. Still, Veloso stands above the fray: even when he chooses icky-sounding instruments, he usually makes pretty good records. This disc also features the recording debut of singer Jussara Silveira, who started out here, singing in the chorus on several songs.
Caetano Veloso "Cores, Nomes" (Polygram, 1982)


Even less successful at walking the pop-schlock tightwire, though it has some beautiful songs. About half of the tracks may make your hair stand on end, and on balance this is probably a record you can skip. Less fusion-sounding than simply mired down by AOR arrangements, ala Lionel Richie. The guest appearance by up-and-coming cheezoid pop vocalist, Djavan, is a good warning sign. (Veloso, and many others, consider Djavan to be a great musical genius... I am still a bit on the skeptical side...)

Caetano Veloso "Uns" (Polygram, 1983)


(Produced by Caetano Veloso)
Very sweet. Sure, it has the trappings of New Wave-y lite pop, but this record is so playful and affectionately performed, it hardly matters. Some mildly embarrassing moments, but overall one of his better albums. Nice version of Carlos Lyra's "Coisa Mais Linda," and a zippy little samba number at the end, with sister Maria Bethania chipping in on vocals. Recommended.

Caetano Veloso/Various Artists "Brazil Night Montreux '83" (1983)


Actually, a live compilation on which Caetano sings several songs. The other artists include Ney Matogrosso, Joao Bosco. Arnaldo Batista of Os Mutantes backs Caetano up on his tracks; Caetano sings a duet with Matogrosso which rounds the album off.

Caetano Veloso "Velo" (Philips, 1984)


A lite synthpop outing, with backup by Caetano's "rock" group, Banda Nova. Tame, negligible, dorky early-'80s fare, in the vincinity of fake "new wave" acts like A-Ha, etc. -- one of Caetano's only real stinkers. Includes a rather unnecessary remake of the reggae-pop tune, "Nine Out Of Ten," from Caetano's 1972 Transa album. This disc is under-the-top enough that it's not entirely disgraceful, but it's also too tepid to get excited about.
Caetano Veloso "Caetanear" (Philips, 1985)

Caetano Veloso & Maria Bethania "Bethania, Mano Caetano & Amigos" (Philips, 1985)
An oddly concieved kinda double best-of, although with strong song selection. Mainly featuring duets with other MPB superstars-- Gal Costa, Alcione, Chico Buarque, etc.-- though only two tracks where brother and sister actually sing together.

Caetano Veloso "Caetano Veloso" (Nonesuch, 1986)


(Produced by Robert Hurwitz)
The cover shows a photograph of Veloso -- looking older and a bit weatherbeaten -- hugging an acoustic guitar, and looking vexed. This is a sweet record, mainly all acoustic, with some slight percussion and an additional guitar on some tracks. He continues on in his tradition of goofy English-language cover tunes with a medley of Michael Jackson's "Billie Jean" and Paul McCartney's "Eleanor Rigby" which nails the melodic similarity, but is still, well... goofy. Also includes a Cole Porter tune and a beautiful remake of Caetano's early hit, "Coracao Vagabundo." On the whole, quite lovely.
Caetano Veloso "Totalmente Demais" (Polygram, 1986)


A beautifully stripped-down, wonderfully direct, live acoustic album -- just Caetano, his guitar and a ton-and-a-half of pure charisma. The crowd loves him, and their enthusiasm is quite infectious. Reminds me quite a bit of the best work by Cuban troubadour Silvio Rodriguez.

Caetano Veloso/Chico Buarque/Various Artists: "Melhores Momentos De Chico E Caetano" (Sigla, 1986)


Various live performances taken from the popular TV show co-hosted by Buarque and Veloso. Althoughthey are on most of the tracks, there are also a bunch of guest performances, such Beth Carvalho, Argentina's tango master Astor Piazzola, the world beat funk of Jorge Ben, Rita Lee, and Tom Jobim. The most disappointing track is a bland techno-pop tune by the once-fab Elza Soares -- meanwhile, Caetano scores points for an affectionate version of "London, London", and a cutesy run-through of his "Billie Jean" cover. It's a nice snapshot of what Brazilian pop had to offer mid-decade... a bit stadium rock-y, but nothing too terrible.
Caetano Veloso "Caetano" (Polygram, 1987)



Another stab at incorporating rock-fusion instrumentation. This is certainly a more vigorous album than, say, Velo. Mostly a spare, ballad-based album, though clearly a stepping stone towards more complex rock outings such as 1989's Estrangiero. Many production touches seem simply tacked on -- drifting Jaco Pastorious-y bass licks, crunchy synth/horn blares, etc. -- and are a bit distracting. A creditable effort, although freqently irritating.

Caetano Veloso "Estrangeiro" (Elektra, 1989)



(Produced by Arto Lindsay)
Recommended. Sure, I admit, at first I had to struggle to love this album. Initially, I thought it sounded cluttered and mechanical, full of glossy, manic, artificial arrangements which seemed jittery and off-putting, along with bouncy, glitzy studio techniques that got in the way of Veloso's natural melodicism. Produced by Bahian biculturalist/New York scenester Arto Lindsay, this was a big critical fave in late-'80s New York, but didn't seem to measure up that well against similarly lavish '80s art-pop records such as Laurie Anderson's "Mr. Heartbreak," or various later Talking Heads albums. Nonetheless, Estrangiero may grow on you with repeated listenings -- it did for me. After a brief wrestle in the sand, now I think it's one of Caetano's best records. An admirable job by an artist who's been around for a long, long time and who didn't let himself stand still or go stale.
---
Discography: 1960s & '70s | 1980s | 1990's | 2000 - Present | Best-Ofs, Tributes & Other Media
---
---



---