<! MP3 09/12/08, 09/24/13 > <! pix 12/06/09, 09/24/13 - added & enlarged several to 180s > <! icons 01/22/11 > <! UPDATES: 09/12/08 09/24/13 - new page for 2000s >

---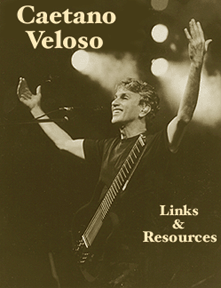 This page is part of a discography Caetano Veloso, one of Brazil's greatest songwriters and performers. It highlights Veloso's "best-of" records, as well as books and other media, tribute albums, and links to related websites. If you can't track down his individual albums (all of which I recommend), then there are gazillions of Caetano best-ofs out there, and any of the ones which feature his earlier work should be just fine. Here are a few recommendations from among the many domestic and import collections available.
---
Discography: 1960s & '70s | 1980s | 1990's | 2000 - Present | Best-Ofs, Tributes & Other Media
---

Caetano Veloso "A Arte De Caetano Veloso" (Philips, 1975)


Hard to go wrong here. His best stuff from his best years. The CD edition has fewer tracks than the original double-LP set, but don't let that dissuade you. This used to be the standard-issue best-of collection, and it's still one of the best-selected overviews of his early work you can find. Highly recommended!
Caetano Veloso "O Avarandado Do Amanhecer" (1981) (4-LP box set)

Caetano Veloso "Personalidade" (Polygram, 1985)


Caetano Veloso "Sem Lenco Sem Documento -- The Best Of Caetano Veloso" (Polygram, 1990)


Caetano Veloso "Minha Historia" (Philips, 1993)


This does an excellent job picking its way through Veloso's later career, sticking mainly to the pleasantly melodic, relaxed, yet slightly off-kilter pop ballads and avoiding his few truly terrible rock experiments of the early-80s. Leans heavily on concert material -- about a third of the tracks are live. Not his peak years, but still rather nice.
Caetano Veloso "Serie Grandes Nomes" (Philips, 1996)


Issued both as a four-CD box set and two double CD sets. The first 2-CD volume is an excellent overview of his career from 1967-1978.
Caetano Veloso "Caetanissimo!" (Philips-Japan, 1997)
Completists may find themselves drawn to this odds-and-ends Japanese import, which was curated by Arto Lindsay. This disc concentrates on Caetano's more high-tech recordings, although with a sofer, ballad-based approach which fits in nicely with the handful of acoustic numbers included from the mid-'70s. If you already have a bunch of Caetano's stuff, you might not need to run to the ends of the earth to find this collection, but it does have a certain consistency of mood which makes it appealing and a fine album in its own right.

Caetano Veloso "Singles" (Philips-Japan, 1999)


A SWEET collection of singles and non-album tracks from 1967 through the late '70s... Of course not everything on here is golden, but as a whole the disc is quite lovely and a must for the diehard Caetano fan. Some lovely, ornate pop ballads (from the same era as Qualquer Coisa and Bicho) are the highlights; disappointments include a tepid, demo-y version of "E Prohibido Prohibir," made in 1967 with Os Mutantes, although the accompanying track of concert ambience from the same era -- where they are being booed offstage by an irritated bossa-loving crowd -- is pretty fascinating as MPB history. He really was the "Dylan of Brazil," wasn't he?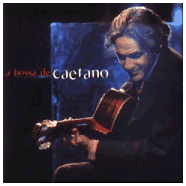 Caetano Veloso "O Bossa Da Caetano" (Philips, 2000)


A nice collection of Caetano's softer acoustic performances throughout the years. I'm sure a few of these tunes may be rarities, but I'm not sure there's a compelling case to be made to get this single disc (pleasant as it is...) as opposed to indulging yourself by exploring as many of his great records as is humanly possible. This set is sweet, but somehow not completely compelling.


<! 09/2013: MP3 link dead >

Caetano Veloso "Canta 3" (Universal, 2000)


Live performances drawn from a variety of sources...

Caetano Veloso "Cinema Caetano" (Philips-Japan, 2000)


One would assume, with the title, that this super-expensive import disc includes a bunch of his for-film-only soundtrack music, although a glance at the song titles indicates that there is also a lot of stuff from his regular albums, dating back to the early '70s. But at with a 30 dollar price tag, it will probably be a lo-o-o-o-ong time before I actually hear this album...


<! 144 x 144 >

Caetano Veloso "Homen Comun" (Universal, 2002)
A 4-CD box set... Looks pretty sexy, though I'm not sure how much of the material is unique to this edition, though apparently it is divided by theme: one disc of "biographical songs," another of songs about Brazil, a set of political tunes and a fourth disc covering many of Caetano's favorite composers. If you're looking for a super-duper into to his career, this is probably a pretty good bet. (although I still say you should check out his individual albums instead...)




Caetano Veloso "The Definitive Caetano Veloso" (Wrasse, 2003)


An outstanding selection of work drawn from the breadth of his career. With so much great music to choose from, this British label does an admirable job narrowing it all down. Recommended!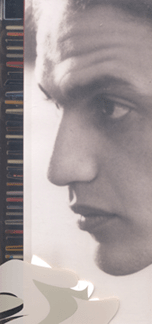 Caetano Veloso "Todo Caetano" (Box Set) (Universal, 2003)


Yes, I'm a geek. I finally broke down and bought this, the semi-ultimate Caetano fetish item, a 40-disc box set featuring slipcased, CD-size reproductions of the original LPs (with gatefolds when appropriate) of Caetano's complete Phillips/Polygram/Universal catalog, as well as some sexy bonus material. The albums include: Domingo (1967), Caetano Veloso (1968), TROPICALIA (1968), Caetano Veloso (1969), Caetano Veloso (1971), Transa (1972), Araca Azul (1972), Barra 69 (1972), Caetano E Chico Juntos E Ao Vivo (1972), Temporada De Verao (1974), Qualquer Coisa (1975), Joia (1975), Os Doces Barbaros (1976), Muitos Carnavais (1977), Bicho (1978), Muito (1978), Caetano Veloso e Maria Bethania Ao Vivo (1978), Cinema Transcendental (1979), Outras Palavras (1981), Cores, Nomes (1982), Uns (1983), Velo (1984), Caetanear (1985), Caetano Veloso (1986), Totalmente Demais (1986), Caetano (1987), Estrangeiro (1989), Circulado (1990), Circulado - Ao Vivo (1991), Tropicalia 2 (1992), Fina Estampa (1994) Fina Estampa - En Vivo (1995) Livro (1998), Prenda Minha (1998), Omaggio A Federico E Guilietta (1998), Noites Do Noite (2000) Noites Do Noite - Ao Vivo (2001), Eu Nao Peco Desculpa (2002) (all reviewed above) and a few extra discs: the Japanese Singles collection, a previously unreleased concert album from the 1978 show for the Bicho album, and a DVD called Muito Mais, which features lyrics and translations of twenty Caetano songs chosen from across his career. Sadly not included are the 1981 Brasil album, made with Joao Gilberto, the or any of the dozens of one-off and rarities that could have been fit into a rarities disc or two: Veloso's earliest singles on RCA; live tracks from his '80s TV show and numerous guest appearances on other people's albums all come to mind. Also included is a cool, unusually shaped, hardbound booklet, which has commentary on the various albums and a slew of great pictures from throughout Caetano's career. The packaging itself is a little disappointing (particularly considering how expensive the set is) -- the discs are held in a fairly rickety housing, which in turn is bracketed by two hard aluminum bookends, then encased with an ungainly vinyl sheath. Be that as it may, as a musical testament to a great world musician, this collection is pretty darn impressive, and the sound quality on these many of newly remastered discs is often superior to earlier CD reissues. It's not a perfect fetish item, but it's still pretty cool.
---
Tribute Albums
---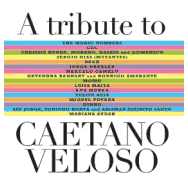 Various Artists "A TRIBUTE TO CAETANO VELOSO" (Universal, 2012)



A nice, rock-oriented homage to Caetano Veloso, featuring Brazilians and hipsters from far afield, including Devendra Banhardt, Beck, CeU, Sergio Dias, Sergio Dias, Jorge Drexler, Chrissie Hynde and the +2 crew. Definitely worth a spin!
---
Related Records
---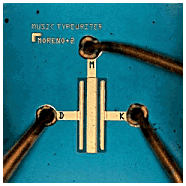 Moreno Veloso +2 "Music Typewriter" (Natasha/Hannibal, 2001)


First things first: Moreno Veloso does bear a striking -- even eerie -- vocal and stylistic likeness to his father, the patron saint of tropicalia. Playing ping-pong balls and toy pianos on some tracks, Moreno shows a playful, adventurous streak that is also very similar, although the younger Veloso brings a subtle modernism to bear on these recordings, using electronica production with perhaps greater panache than his well-known dad. In this regard he's closer in creative temprament to art-rocker Arto Lindsay than to Caetano, who in the past has let the glitziness of new technology get the better of him. Accompanied on a few tracks by bossa progeny Daniel Jobim, and on others by his pals Kassin and Domenico ("+2"), Moreno casts his net softly, recalling his father's calmest albums from the mid-1970s. With production assist by Chico Neves, one of the most prominent alternative rockers in Brazil, Veloso creates the kind of "world music" that isn't meant to be pumped out of the speakers at the local Starbuck's -- instead, it should be savored slowly at home.
Moreno Veloso +2 "Maquina De Escrever Musica Remix" (Crown-Japan, 2002)
(This disc and other "+2" albums are reviewed on a separate page...)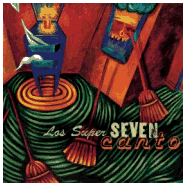 Los Super Seven "Canto" (Sony Legacy, 2001)



Caetano is invited to sing a couple of songs with this Los Lobos-related Latin American supergroup... and of course he does it with his usual calm panache. The rest of the album is pretty nice, too, kicking off with a super-schmaltzy rendition of the classic bolero, "Siboney", and gliding right along into a series of gorgeously produced (but still rather understated) updates of tunes associated with the likes of Beny More and Nico Saquito... The group captures the rhythmic intensity of latin dance, while skillfully adding a nice modern gloss; the richness and sonic depth of the production liberates the material from the shrillness and relatively flat sound engineering of many of the old classics. Other than Peruvian diva Susana Baca's track (which I found predictably sugary), this is a pretty fab album. Check it out!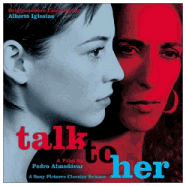 Various Artists "TALK TO HER" (Soundtrack) (Milan-BMG, 2002)


Hey, I was as surprised as anyone else to see Caetano pop out of nowhere in this creepy-but-classy Pedro Almodovar film... and his version of "Cucurrucucu Paloma" is as charming and transcendent a performance as you could ever ask for. Okay, so now a bunch of people are asking which Caetano albums to buy that sound similar in tone to that song. Of the top of my head, I'd recommend acoustically-oriented records such as 1975's Qualquer Coisa and Joia, and particularly the more recent European concert album, Omaggio A Federico E Guilietta, which features Caetano playing with pretty much the same ensemble as seen in the film, and has the same subtle cultural spendor. It also features avant-pop cellist Jacques Morelenbaum, who has been Caetano's bandleader for the last decade or so. They're certainly all favorites of mine. Also check out the video for his 1996 show, Un Caballero De Un Fina Estampa, which also includes a performance of "Cucurrucucu Paloma." (Reviewed below.)
---
Caetano In Print
---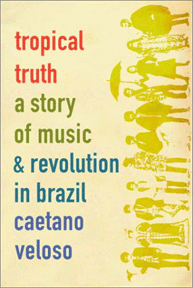 "Tropical Truth: A Story of Music and Revolution in Brazil"
by Caetano Veloso (Knopf Books, 2002)

Caetano's autobiography, originally released in Brazil in 1997, has recently been translated into English, and is an invaluable resource for anyone trying to learn about Brazilian music, and particularly about the tropicalia movement. This book is densely written, super-intellectual, and even a bit arid, but also a charming and down-to-earth account of the "heroic years" of the tropicalia movement. Veloso gives an intimate, immensely informative account of Brazilian music, from the pre-bossa "radio singers" he grew up with to the intense ideological rivalries between the hippie-ish tropicalia artists and the left-wing party-liners of the bossa nova crowd. The book is also a memoir of life under the Brazilian military dictatorship which took power in 1964, eventually sending Veloso and Gil (and countless other artists) into political exile, while attempting to censor their work and silence their voices. The role of the artist in all aspects of life -- social, spiritual and aesthetic -- resonates throughout this book, as Caetano gives an invaluable insider's view of an artistic movement that changed the course of Brazilian culture. This book basically ends in the early 1970s... it would be great if he could follow up with a second volume exploring the growth (although some might call it decline) of Brazilian music in the decades that followed. (PS - this is the perfect companion to Ruy Guerra's similarly wonderful book, Bossa Nova, The Sound That Seduced The World, which provides the historical background which will help make sense of Caetano's reflections on pre-bossa popular culture.) (PPSS - don;t rush out to buy the 1997 Brazilian edition of the book, unless you want to admire Caetano's original Portuguese prose. Unlike the American edition, it actually has no photographs (!) and though it has a longer page count, isn't that much different.)
---
Caetano On Film
---
Caetano Veloso "Circulado (Ao Vivo)" [DVD] (Universal, 1992)
Live performances from the Circulado show.
Caetano Veloso "Un Caballero De Fina Estampa (Ao Vivo)" [DVD] (Universal, 1996)


A gorgeous live video of Caeano performing various Latin-American standards (both from Brazil and elsewhere), from the album by the same name. This is an extraordinarily rich, beautiful performance, filmed in Rio de Janeiro's Metropolitan Theatre in September 1995, with an ensemble headed by cellist Jaques Morelenbaum. This is romantic musicmaking at its finest; absolutely staggering in its sheer classiness and artistic density. [Note to filmgoers: this disc features pretty much the same lineup as was featured in Pedro Almodovar's 2002 drama, Talk To Her, and indeed also includes the song "Cucurrucucu Paloma," which drove everybody bonkers when they saw it performed in the film.] (Subtitled in English.)
Caetano Veloso "Prenda Minha (Ao Vivo)" [DVD] (Universal, 1999)


Another gorgeous performance featuring Caetano and Morelenbaum, this time along with a sharp Afro-Brazilian percussion ensemble, and a phalanx of cool jazz musicians. I love this video. It shows Veloso at his most suave and mesmerizing, a serene and commanding presence... and sexier than any 55-year old has a right to be! Some musical moments that don't work well on the audio CD version are better illuminated when seen onscreen, and Caetano's adventurous creative spirit is clearly felt in some of the interesting visual and directorial choices. Highlights include "Terra," his rapturous ode to samba starlet Carmen Miranda, and several solo acoustic numbers in which Veloso holds our hearts in his hand. This film does an excellent job conveying his immense charisma and warmth, and the close-ups of his elfin, impish smiles are worth the price of admission alone. Highly recommended! (Subtitled in English, French and Spanish.)
Caetano Veloso "Noites Do Norte (Ao Vivo)" [DVD] (Universal, 2001)


I know I probably should get this video as well, but since the rock-flavored production literally gave me a migrane when I saw the concert in San Francisco, I'm afraid I have bad associations with the show. Don't let that dissuade you, though!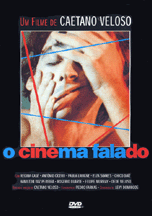 Caetano Veloso "O Cinema Falado" (UNS, 1986/2003)


The artsiest and fartsiest of Caetano's visual work. The title film is a seemingly interminable (110 minute long) art film which moves episodically from scenario to scenario, packing dozens of Caetano's friends and acquaintances -- including Gilberto Gil, Dorival Caymmi, Elza Soares, Caetano's son, Moreno and numerous members of the Veloso family -- into a stilted, but potentially enchanting framework. It's a torturously pretentious work, though the longer you watch it, the more interesting it may become. Some of the technique is appallingly obvious -- modern classical music churns underneath as a young, lightskinned Brazilian man standing on the beach speaks in German, delivering a monologue regarding the nature of homosexuality: is it a betrayal of the biological imperative, or a celebration of life? And as he speaks to our responsibility to future generations, the camera cuts to a wave gently lapping at the coastline, retreating again, its foamy edge lost and sinking into the sand. Atonal meanderings accompany a woman in a forest (who I think may be Caetano's former wife, Dede....) practicing what looks like a mix of capoeria and modern dance, actors stand static and impassioned, mouthing long monologues, or enacting dialogues in chic, modern apartments... It's all terribly arch, cerebral, philosophic, pretentious as hell, and in some regards, flatly embarassing, in a super-filmschool-y kinda way. Still, one has to admire Veloso's willingness to wear his artsiness on his sleeve -- it's one of those works in which the artist's sheer audacity at assuming an audience will watch the unwatchable is part of the presentation. It's a shame this DVD version doesn't include subtitles (although scenes in which people speak in German, French or English are subtitled in Portuguese, which is helpful...), but you still get the idea. The DVD also includes quartet of Caetano music videos: "O Estrangeiro," "Terra," a version of Dylan's "Don't Think Twice," and Noel Rosa's "Nao Tem Traducao," which are all appropriately charming, but also serve to remind us that the world is without doubt immeasurably richer as a result of the young Caetano Veloso shifting his ambitions to music from avant-garde film...
Cesaria Evora "Live In Paris" (DVD) (Lusafrica/BMG-Bluebird, 2003)


Among the special features on this concert video of Cape Verdean diva Cesaria Evora, are clips of her travelling to Cuba, France and Brazil, a highlight of which is a recording session with Caetano, for a track on her album Sao Vincente. Caetano seems a bit grumpy, but the songs is a gem, and it's kind of fascinating to see him inside a recording studio. (This video and other releases by Evora are reviewed in full in my Cape Verde section.)
Caetano Veloso & Roberto Carlos "...E A Musica De Tom Jobim" (Sony-Brazil, 2008) (DVD)

---
Links
---
---
Discography: 1960s & '70s | 1980s | 1990's | 2000 - Present | Best-Ofs, Tributes & Other Media
---
---



---