<! cd=09/28/08 > <! MP3 09/28/08 > <! update 09/28/08 > <! pix 09/28/08, 12/04/09 > <! ALLBM 00/00/00 > <! icons 01/23/11 >

---
The loose-knit musical collective known as "the +2" -- Alexandre Kassin, Domenico Lancellotti and Moreno Veloso -- represent a new generation of Brazilian pop experimentalists. In the case of Moreno Veloso, this is literally true: he is the son of MPB superstar Caetano Veloso, and it was by hanging their hat on Moreno's family name that the trio originally made their mark, with the inventive, playful 2001 album, Music Typewriter. With the initial album came the promise that each of the other bandmembers would get their own "+2" album, which was fulfilled first with a "solo" album by Domenico, and then one for Kassin. Along the way, they have built up a clique of likeminded artists, who interchangeably collaborate with one another on a variety of albums, often pushing the envelope as far as the normal boundaries for Brazilian pop. Here are some of their most notable efforts... (and if you know of others, please feel free to write me and make a recommendation!)
---
The "+ 2" Discography
---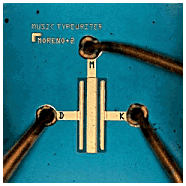 Moreno Veloso +2 "Maquina De Escever/Music Typewriter" (Natasha/Hannibal, 2001)


(Produced by Kassin, Moreno Veloso & Andres Levin)
First things first: Moreno Veloso does bear a striking vocal and stylistic likeness to his father, the patron saint of tropicalia. Playing ping-pong balls and toy pianos on some tracks, Moreno shows a playful, adventurous streak that is also very similar, although the younger Veloso brings a subtle modernism to bear on these recordings, using electronica production with perhaps greater panache than his well-known dad. In this regard he's closer in creative temprament to art-rocker Arto Lindsay than to Caetano, who in the past has let the glitziness of new technology get the better of him. Accompanied on a few tracks by bossa progeny Daniel Jobim, and on others by his pals Kassin and Domenico ("+2"), Moreno casts his net softly, recalling his father's calmest albums from the mid-1970s. With production assist by Chico Neves, one of the most prominent alternative rockers in Brazil, Veloso creates the kind of "world music" that isn't meant to be pumped out of the speakers at the local Starbuck's -- instead, it should be savored slowly at home.

Moreno Veloso +2/Various Artists "Maquina De Escever: Musica Remix" (Natasha, 2001)


The original Typewriter album was so perfectly sculpted and richly rewarding, and already incorporated so many of the tonal concepts of modern electronica that a remix album seems on the face of it to be a rather superfluous and dubious venture. Then again, you never know. Well, the first couple of tracks are clearly disappointing -- simplistic, note-by-note, stuttering chop-ups of "Enquanto Isso" and "Sertao," tracks that seems like mere masturbatory technical exercises (at least to my untrained ears...) Yeah, sure, you can do that in a studio, but what's the point? Sometimes song deconstructions can take on a life of their own and offer radical, eye-opening reinterpretations of the original music; I really don't think this was one of those great events. However, on the second half of the disc some subtlety slips in, several later tracks have a honied, sensual appeal to them, and a couple even sound completely unlike the source material. No one needs to frantically rush out and track down this album -- I think the +2ers really said all that needed to be said on the original record, and they said it quite well -- but there are some nice moments and a few pleasant surprises, and those of an ambient-electronic inclination will probably enjoy this disc just fine.
Domenico +2 "Sincerely Hot" (Pingpong, 2003)



An atypical band, seeking an atypical audience, this trio was known a year earlier as Moreno Veloso +2, gaining widespread praise in Brazil and abroad for an alluring mix of indie rock, electronica and modernized MPB. Part of their acclaim came from the presence of Moreno himself, son of the mega-superstar Caetano Veloso, who showed much of his father's adventurous musical spirit and relaxed performance style. But, having established itself as a "world music" band to content with, the Plus Twos went ahead and followed the ultrademocratic game plan they'd set out with at the start, to have each of the band members record a disc under their name... This time around, it's drummer Domenico's turn, and the shift in musical direction is quite remarkable... This album boasts a pronouncedly modern, American-style tilt towards brash, bright electronic pop and indierock motifs worthy of any critic's darling out of Seattle, Portland or Chicago. The band dips into some softer, textured melodies that borrow from the bossa nova stylebook, but for the most part the point seems to be to make sure that we can see that the kids in Brazil are keeping up with hipsters in the rest of the world. This disc may not have the same mellow, mystic allure as their debut, but it's still pretty darn good, and consistently engaging. Worth checking out!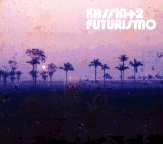 Kassin +2 "Futurismo" (Luaka Bop, 2008)



(Produced by Alexandre Kassin... +2)
This is the third (and possibly best) album by a trio of Brazil's most playful and innovative avant-popsters, the "+2" crew. Now it's Kassin's to headline, and it's a fun, far-flung album. Each of the +2-ers has made a mark working with various artists in the contemporary Brazilian pop scene, but Kassin may be cutting the largest swath, producing records for a wide variety of younger artists, including work with Bebel Gilberto, Thalma de Freitas and the Orquestra Imperial (which is more or less an expanded version of the +2 band...) and playing backup for Caetano Veloso and others. Here on his own "solo" album, Kassin fully explores the smooth, swank, easygoing Latin-pop-lounge vibe he's worked on elsewhere, and the results are simply yummy. Soft-salsa, samba, funk, dub, surf, rock and electronica all merge together with the delicious, all-encompassing ease that typifies the best of Brazilian pop. There's are wide variety of textures and tones, and all of it sounds alluring and fresh. One of the most subtle and subtly challenging Brazilian pop albums of recent vintage, the sound of a younger generation branching out and finding a global audience. Well worth checking out! The extended version features three bonus tracks co-produced with Sean O'Hagan (of The High Llamas) and John McEntire (of Tortoise). This trio of hipster lovefests are quite satisfying; they are also sung in English, giving them a distinctly separate, but not distracting feel from the rest of the album. )
Kassin +2 "Futurismo (Expanded Version)" (Luaka Bop, 2007)



With three extra tracks...!
+2 Moreno/Domenico/Kassin "Ima" (Corpo, 2009)

Kassin "Sonhando Devagar" (Coqueiro Verde, 2011)

Domenico Lancellotti "Cine Prive" (Malintenti Dischi, 2011)


Same album as below...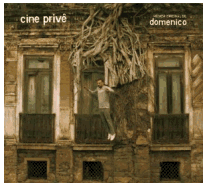 Domenico "Cine Prive" (Plug Research, 2012)



(Produced by Domenico & Mario Caldato, Jr.)
A playful, ecstatic album with a giddiness and goofiness that's often irresistible, particularly on the opening tracks, which mix electronica, dub and rock in an easygoing, just-for-fun style. As on other +2 projects, there are a slew of familiar guest musicians -- Moreno, Kassin, guitarist Pedro Sa, Adriana Calcanhotto, as well as like-minded North American artists including Darin Gray and Glenn Kotche (cohorts of guitarist Jim O'Rourke) and keyboardist Money Mark (of the Beastie Boys orbit), as well as Mario Caldato, who mixed the album. On some tracks they get a bit indulgent, though fans of Lucas Santtana and other Brazilian electro-indie modernists will definitely want to check this out.
---
Related Records
---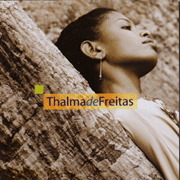 Thalma De Freitas "Thalma De Freitas" (EP) (EMI/Cardume, 2004)



Very nice! The daughter of '70s MPB/jazz fusion keyboardist Laercio De Freitas, Ms. De Freitas has a gorgeous voice, with crystal-clear tone and very precise diction; she glides atop these light, funky tunes, an easygoing, jazzy mix crafted by her father (who plays throughout) and modern indie-popster Kassin (perhaps best known for his work with Moreno Veloso). Kassin contributes the centerpiece of this 6-song EP, a light, bouncy, irresistible rumba-flavored tune called "Tranquilo." Her father's touch is heavy on the rest of the record, which is as much a showcase for his keyboards as it is for her voice, and drifts into some jazzy flights that recall Gal Costa's funkier albums of the mid-1970s. Veteran bassist Bebeto and drummer Wilson Das Neves round out this compact ensemble -- this disc is short, but it's sweet -- one of the best new Brazilian records I've come across in quite some time!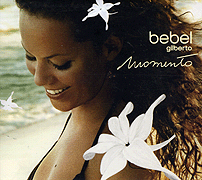 Bebel Gilberto "Momento" (Six Degrees, 2007)



Along with a tilt towards Clara Nunes-y, 1970s-style pagode-samba ("Os Novos Yorkinos") bossatronica diva Bebel Gilberto cruises through a playful salsa-samba fantasia ("Tranquilo") that shows Bebel not simply stretching out into new styles, but also into a new textures, placing organic, analog elements such as batucada drums and acoustic guitars in a more prominent position than in earlier work. On "Tranquilo," she also works with new musicians, the far-flung Orquestra Imperial, which includes Moreno Veloso and his musical cohorts, Domenico Lancellotti and Kassin (three friends known collectively as "+2"), as well as vocalist Thalma De Freitas. I prefer the De Freitas version (see above), but Bebel's always fun as well.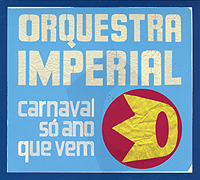 Orquestra Imperial "Carnaval So Ano Que Vem" (Som Livre, 2007)


(Produced by Berna Ceppas, Kassin & Mario Caldato, Jr.)
A far-flung cast of generation-next Brazilian upstarts propel this giddy, willfully cheesy mix of Brazilian pop and old-school Latin-dance schmaltz. It's unusual to hear Brazilians plying themselves so directly to Cuban-style salsa and son, but Orquestra Imperial seem to make it their mission, adapting it with Portuguese lyrics and numerous original compositions. The bandmembers include singer Thalma De Freitas, old-timer Wilson Das Neves, and all three of the guys from the "+2" project -- Domenico, Kassin, and Moreno Veloso -- along with their pal, guitarist Pedro Sa, who recently made his mark fronting an electric rock band backing Brazilian pop legend Caetano Veloso on his album Ce. I have to confess, although I was prepared to really enjoy this album, I wound up finding it hard to get into. The production is slick and fairly cheesy, and although that slickness is (partially) being used in an ironic way, the joke doesn't really carry. Some of the grooves are cool, but everything feels mediated and remote -- they're so busy being clever, cool and self-congratulatory, they never really seem to let their hair down and just enjoy the music, or to let the music take over, rather that the recording of the music. It seems heavy on concept and coyness, and light on either the genuine joyfulness or the cool reserve that has made many of the earlier albums (under their individual names) that have made these young artists so noteworthy. I bet these guys would be a blast to see live, though!

Os Ritmistas "Os Ritmistas" (Dubas, 2007)



(Produced by Dany Roland)
In this permutation of the +2 crew, drummer Domenico Lancellotti teams up with electronicists Dany Roland and Stephane San Juan (along with other usual suspect pals, such as vocalist Thalma De Freitas, bassist Kassin and guitarist Pedro Sa) This is one of the odder, darker outings in the +2 ouvre: it starts out sweetly enough, with some understated updates of the classic Brazilian bossa nova sound and a few hints of the salsa-lounge leanings of Orquestra Imperial. But midway through the tone becomes more sombre, the arrangements harden and the songs begin to get weirder and deliberately more challenging, entering into the "difficult listening" territory that is an offshoot of the ambient music scene. Which is not to say this isn't a rewarding album, in its own way, but it might not be quite what you expect if you've been tuned into the carefree retro-Latin poptronics of the previous +2-related albums. It's an unusual album, and not just for Brazil. Worth checking out!
---
Links
---
---



---