<! MP3 09/12/08, 09/24/13 > <! pix 12/02/09 > <! icons 01/22/11 > <! UPDATES: 09/12/08 09/24/13 - new page for 2000s >

---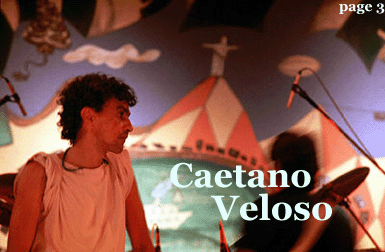 This is the fourth page in a discography of Caetano Veloso, one of Brazil's greatest songwriters and performers. This page highlights Veloso's records released from the year 2000 to the present. Other releases, as well as books and other media resources are listed on separate pages.
---
Discography: 1960s & '70s | 1980s | 1990's | 2000 - Present | Best-Ofs, Tributes & Other Media
---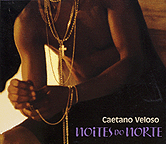 Caetano Veloso "Noites Do Norte" (Universal-Globo, 2000)



A languid album, which may be difficult for some fans to get into. Caetano's still working with Jaques Morelenbaum, but the mood is darker and subtly more impenetrable this time around. A few tracks play around with near-minimalist repetition, such as the unusual cover version of Jorge Ben's "Zumbi", which plays at a crawl and builds up strength as it goes along. An underlying theme is the music or mood of the Brazilian northlands, as well as Brazil's cultural legacy as a nation founded on a slave-based economy... One track that explores the Northeastern angle is "Rock and Raul", a tribute to '70s rocker-metaphysician Raul Seixas... Unfortunately, this song also is one of the few overtly awful songs that Veloso has ever recorded, with a wailing but ill-formed electric guitar lead... Still, this is an intriguing album, challenging for its disjointed meter and somewhat laggardly timing. Gentle, but odd, and certainly worth checking out. (Caetano discusses the album at length on the Universal-Globo website...)

Caetano Veloso "Noites Do Norte Ao Vivo" (Universal, 2001)


Caetano Veloso "Live In Bahia" (Nonesuch, 2002)



A 2-CD live show that features material from the Noites album, as well as some of Caetano's older, more difficult music (from 1972's Araca Azul) and some songs by other Brazilian artists. I've had a few Slipcue readers write me to complain about this disc, although I do have to say that it is an accurate reflection of the tour that it documents. Although I'm also not that wild about the more bluntly rock-flavored material, this does show the range of Caetano's passions and interests, and the quieter acoustic moments are quite lovely. The American version includes a lavish booklet, backed with song translations and footnotes that seem to have been adapted from Veloso's excellent autobiography, "Tropical Truth."

Caetano Veloso & Jorge Mautner "Eu Nao Peco Desculpa" (Universal, 2002)


(Produced by Caetano Veloso & Kassin)
A delightful, deliciously humorous collaboration between Caetano and one of his favorite tropicalia-era pals. Songwriter/violinist Jorge Mautner is not a particularly prolific recording artist, but his work is marked by a certain playful inventiveness, and he and Caetano are clearly both on the same wavelength when they get together, as evidenced on this warm, richly textured and stylistically varied album. Quiet acoustic numbers nestle alongside rollicking Afro-Brazilian samba tunes, jittery rock and mystical ballads. It's all quite good, although some songs worth noting include an interesting remake of Mautner's best-known song, "Maracatu Atomico" (previously heard on Gilberto Gil's 1975 Refrazenda album), a nerve-jangling rock tune ("Tarado") that sounds for all the world like a Portuguese-language Doors song, and the album's opener, "Todo Errado," in which Caetano crafts a flawless American-style country tune (with a few hints of Mexican bandera thrown in for good measure). Another brilliantly creative Caetano album... Recommended! [PS - yes, I know the album art is sideways... so does Caetano.]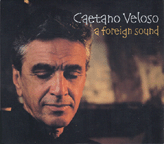 Caetano Veloso "A Foreign Sound" (Nonesuch, 2004)



This set of English-language standards and whimsically chosen cover tunes may be a bit too restrained and evenly modulated, with Caetano mixing high culture and high camp, but tilting towards the highbrow end of the spectrum -- so much so that it's actually a bit stuffy and twee. The material is timeless -- pop standards from the likes of Cole Porter, et. al. alongside more modern classics from Bob Dylan, Stevie Wonder, Elvis Presley and Kurt Cobain, as well as kitchier bits such as "Feelings," a Spanish-language song Morris Alpert covered en ingles, and made into one of the enduring lounge music classics. Likewise, the album's opener, "The Carioca," was chosen explicitly for its camp value, particularly in light of the album's ironic theme, the notion of "foreign" culture, as seen through the eyes of an "exotic" tropical celebrity from Latin America. The intellectual end of Veloso's enterprise is readily apparent, as is his affection for the songs and the various layers of popular culture they represent, and the level of intimacy he can impart to every line and lyric. What's missing, however, is the transcendant lightness he brings to, say, a live acoustic version of an old Hoagy Carmichael tune, amid the clamor of his thunderous Afro-Brazilian pop shows. The large, lofty arrangements are elegant to a fault, and are largely unvaried in tempo or tone... After a while, it all starts to sound the same -- the same sweet croon, the same charming sparkle, the same knowing smirk, as the same airy string sections underscore the same rarified jokes. Which isn't to say this album doesn't have a richness and warmth deserving of the songs, but it's a bit stilted and the arrangements a bit too lush and overripe... Ultimately, it just feel like that much fun; rather, it felt like he was trying too hard to make a point, and worse still, was travelling on ground he'd already covered before, with a much lighter, more delicate step. It's okay, but I'd hoped it would be much, much better.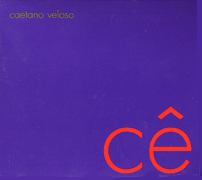 Caetano Veloso "Ce" (Nonesuch, 2007)



Brazilian master songsmith Caetano Veloso has a long history promoting up-and-coming rock artists... He was one himself, long ago, jamming with Os Mutantes back in the heady hippie days of the late 1960s; not long after that he tapped teenaged guitarist Pepeu Gomes to back him and Gilberto Gil in their fabled "Barra 69" concert, before going into European exile for a couple of years. In the late '70s Caetano's band included Vinicius Cantuaria, formerly of the prog band O Terco, and in the early '80s he dipped into the shallow wellsprings of "new wave" pop, with mixed results. Now, hitting his mid-sixties, Veloso returns to rock music's explosive, joyous release, using it as the backdrop for a remarkably bitter album, Ce, much of which is inspired by a recent rancorous divorce. His son, Moreno Veloso, co-produced the album, along with Caetano's new protege, Pedro Sa, whose guitar work defines most of this record's sonic palatte. Sa and his youthful cohorts provide a forceful if somewhat brittle backing for Caetano's giddy yowlps... I wouldn't say they are the strongest, subtlest or most innovative rock stylists, but they hold their own with their various electrified contemporaries abroad. There are echos of Wire, Gang Of Four, Talking Heads, and in a modern sphere, Tortoise, Giant Sand and the newer "math rock" crowd... all good reference points to hit upon. Mostly, even though he's clearly sharing the spotlight with the young'uns, this record is really about Caetano... He may be expressing some pretty raw emotions, but more importantly he sounds like he's having fun, dipping into the greasy kid's stuff again, tapping into the live-wire dynamics of old-fashioned rock and giving a shout into the night. Definitely worth checking out.
Caetano Veloso "Ce -- Multishow Ao Vivo" (Emarcy, 2008)


Caetano Veloso & Roberto Carlos "...E A Musica De Tom Jobim" (Sony-Brazil, 2008)


Looking on the surface, the pairing of Caetano Veloso and Roberto Carlos, who are respectively Brazil's unofficial poet laureate/oddball rockstar and that nation's equivalent of Julio Iglesias, would seem to be a bit odd. But, although it might not seem like it, the two were kindred spirits during the cultural upheavals of the 1960s -- although unapologetically commercial, Roberto Carlos used his position as the host of the "Jovem Guarda" TV show to open the floodgates of rock'n'roll, introducing Brazilian viewers to dozens of energetic, youthful rockers, and among them was a young Caetano Veloso. As Veloso noted in his autobiography, it was Carlos who gave him a national forum to perform in when the nation's highly-politicized intelligensia -- who despised the vapid, teen-oriented jovem guarda scene -- had closed ranks against him. Following his teen idol days, Roberto Carlos transformed into a louche pop crooner, while Veloso and his friends created some of the most adventurous, expansive music the world had ever heard. But Veloso also embraced his role as a crooner, although admittedly with a much different perspective than Carlos, and decades later the two find common ground in the work of bossa nova legend Antonio Carlos Jobim. This duets album comes on the fiftieth anniversary of Jobim's breakthrough triumphs of the late 1950s, the dawn of the bossa nova era, and it is a fine songbook concert, with Carlos and Veloso trading solos and harmonizing beautifully. It's a muted effort, stately and safe, but it's also classy and elegant, just as bossa nova was when it first conquered the world. Although this set may be a bit sedate, it's certainly worth checking out -- it might even become a cherished favorite, given time.
Caetano Veloso & Roberto Carlos "...E A Musica De Tom Jobim" (Sony-Brazil, 2008) (DVD)


The video version of the album reviewed above... Two grand old men of Brazilian popular music, enjoying the music as well as each other's creative energies. For Carlos, this is one of his most vital works in decades.
Caetano Veloso "Zii & Zie" (Sony, 2009)



(Produced by Moreno Veloso & Pedro Sa)
Caetano's hangin' out with the young'uns, particularly with guitarist Pedro Sa, who injects some new energy into the Veloso sound. Still, this measured, math-rocky album might test the patience of some fans. I had to give it a few tries, and I admit it grew on me, but only slightly. It's a little too precisely constructed, and even mildly irritating at times, particularly on topical songs such as "Base De Guantanamo": I admire the sentiment, but the song kind of drags on and on. When he slips into the older-style bossa of "Ingenuidade," my ears finally perked up... Mostly, though, it's not my cup of tea this time around.


<! DID I MISS ANYTHING?????????? >

Caetano Veloso & David Byrne "Live At Carnegie Hall" (Universal, 2012)


Caetano Veloso "Abracaco" (Universal, 2013)

---
Discography: 1960s & '70s | 1980s | 1990's | 2000 - Present | Best-Ofs, Tributes & Other Media
---
---



---

Top photo by Maria Sampaiao, courtesy of Caetano Veloso.