<! MP3 09/12/08, 09/24/13 > <! pix 12/02/09 > <! icons 01/22/11 > <! UPDATES: 09/12/08 09/24/13 - new page for 2000s >

---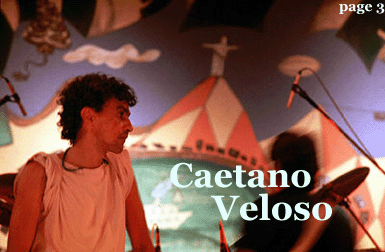 This is the third page in a discography of Caetano Veloso, one of Brazil's greatest songwriters and performers. This page highlights Veloso's records released from 1990-1999. Other releases, as well as books and other media resources are listed on separate pages.
---
Discography: 1960s & '70s | 1980s | 1990's | 2000 - Present | Best-Ofs, Tributes & Other Media
---

Caetano Veloso "Circulado" (Polygram, 1991)



(Produced by Arto Lindsay)
A good example of Veloso ability to part in contemporary musical trends, yet transcend their limitations. Overall, I find this to be one of Caetano's stiffer and more cerebral efforts, but even during the moments of bombast, Veloso remains restrained and tastefully in control. I'm not a fan of this style (or level) of production -- there are touches of mainstream we've-got-this-big-budget-so-let's-make-the-most-of-it studio production -- but for the most part this is a really nice record. More knob twisting and lyric translations by Arto Lindsay. Tentatively recommended.
Caetano Veloso "Circulado - Ao Vivo (Single CD)" (Polygram, 1991)


Caetano Veloso "Circulado - Ao Vivo (Double CD)" (Polygram, 1991)


The live versions of the studio album.

Caetano Veloso & Gilberto Gil "Caetano E Gil - Tropicalia 2" (Polygram, 1993)



(Produced by Liminha, Gilberto Gil & Caetano Veloso)
Wow. These two really bring out the best in each other! A very solid, almost stately album, but also very sensual and rhythmic. Only a couple of misfires here, and really rather minor ones -- a real treat for fans who long for the glory days, yet certainly not a nostalgic step backwards. Plus, the English translations by Arto Lindsay are nice for a glimpse into Veloso and Gilberto Gil's highly political and rather surrealistic lyrics. Excellent.
Caetano Veloso "Fina Estampa" (Polygram Latino, 1994)



A Spanish-language songbook in which Veloso pays homage to many great Latin American songwriters such as Cuba's Armando Orifiche and Ernesto Lecuona, Mexico's Agustin Lara, Rafael Hernandez of Puerto Rico, Astor Piazzola, and so on. Slushy and romantic (as might be expected) and not entirely my cup of tea. Mostly it's the mildly synth-poppy arrangements, sculpted in part by cellist Jacques Morelenbaum, which I find off-putting. One of Caetano's biggest commercial successes in the 1990s, but still kinda blechhy.
Caetano Veloso "Fina Estampa - En Vivo" (Polygram Latino, 1995)


The live version of the studio album.

Caetano Veloso & Gal Costa "Tieta Do Agreste" (Soundtrack) (Blue Jackel, 1996)


Smooth MPB ballads and incidental music from a film by director Carlos Diegues. Both Costa and Veloso are in fine form, although overall this album may be too mellow for some. Cellist Jacques Morelenbaum's delicate arrangements have an Italian feel to them, like something from Fellini's Amarcord. But there's nothing overtly drekky here, just a few old pros knocking out another solid album.
Caetano Veloso "O Quatrilho" (Soundtrack) (Blue Jackel, 1997)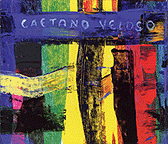 Caetano Veloso "Livro" (Philips, 1998)



Awesome. One of his best albums -- similar in style and production to 1989's technopop extravaganza, Estrangiero, though much smoother and with a stronger connection to older Brazilian styles. This album's samba flavor is particularly noticable, and is a nice change of pace for Veloso, who tends to favor bossa and acoustic balladry. Rock and pop motifs are skillfully woven throughout, making for one of the most skillful syntheses of Caetano's career. Some folks find this album too cluttered, but I think it's very listenable and highly recommended. You have to stick with it, and then its secrets will unfold.

Caetano Veloso "Prenda Minha" (Mercury-Brasil, 1999)



A lovely live record, which blends Afro-Brasilian percussion, bossa, and Gil Evans-y jazz... much like Livro, which it heavily draws from... This is a calm, beautiful album which only briefly dips into questionable territory. The tropicalia oldies are set aside in favor of more reflective material, such as a long, languid version of his 1978 song. "Terra," and other songs in a similar acoustic-based vein. Downturns include a jarring rock version of "Eclipse Oculto" which harkens back to his mid-'80s new wave phase, and a brace of double-time marchas which close out the performance. For the most part, though, this is beautiful, and well worth checking out.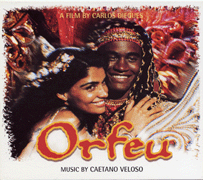 Caetano Veloso/Various Artists "Orfeu" (Natasha/Nonesuch, 1999)



The soundtrack to Carlos Diegues' newly-retold Brazilian version of the film Black Orpheus, which in 1959 helped introduce the sounds of bossa nova to the world. Veloso's contributions here are limited to three vocal tracks, and about half of the incidental music. Although the instrumentals are a let-down (the last half of this album is dreadfully repetitive...), it kicks off with some wonderfully dynamic, vital new music. Caetano's duet with Braz-rapper Gabriel O Pensador ("Reza") is way better than you might think, and on the softer ballads he lends his usual air of class. One of the albums's highlights is a bit of a novelty number: Maria Luiza Jobim (presumedly the granddaughter of the bossa nova legend) sings a simple, stripped down, little-girl-voice version of Jobim's early classic, "A Felicidade"... one of the calmest, most arresting moments on the album.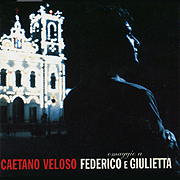 Caetano Veloso "Omaggio A Federico E Guilietta" (Mercury, 1999)



(Produced by Caetano Veloso & Jaques Morelenbaum)
Another gorgeous live album, dedicated to Federico Fellini and recorded at a performance near the filmmaker's hometown of Rimini. While the Prenda Minha concert aimed at capturing the cool thunder of Afro-Brasilian percussion, this is a stately, classy acoustic performance, with a band anchored by cellist Jaques Morelenbaum (who was also the bandleader for the Livro tour). For about half the album, Caetano goes Continental -- along with classic Brazilian songs such as "Coracao Vagabundo" and "Chega de Saudade," he delights his listeners with affectionate renditions of songs by Fellini's favorite composer, Nino Rota, and addresses the audience warmly in Italian. Ever the cosmopolitan, he also croons out an English-language version of Irving Berlin's "Let's Face The Music And Dance"... all in all, a real class act. Amazingly, Veloso only seems to be getting better and better -- and this is certainly one of his most magnificent albums. If you're looking for the right record to introduce someone to the wonders of Veloso, this'd be a good bet.
---
Discography: 1960s & '70s | 1980s | 1990's | 2000 - Present | Best-Ofs, Tributes & Other Media
---
---



---

Top photo by Maria Sampaiao, courtesy of Caetano Veloso.