<! MP3 09/12/08, 03/28/12 > <! pix 11/15/09, 03/28/12 > <! icons 02/01/11 > <! UPDATES: 09/12/08 03/28/12 >

---
One of the key members of Milton Nascimento's Clube Da Esquino collective, rock-oriented singer-guitarist Beto Guedes started his career competing in one of Brazil's many popular song competitions, and eventually gravitated towards a group of like-minded younger artists who came to be known as the Clube Da Esquina (or, "Corner Club," after the title of Nascimento's groundbreaking 1972 album...) Like Nascimento and many of their Mineiro comrades, Guedes explores somewhat undefinable musical terrain, blending pop, rock, and jazz with regional Brazilian styles. His own work tilts towards the prog-rock end to the spectrum, and it's very much a not-for-everyone, acquired taste. Here's a quick look at his work...
---
Discography
---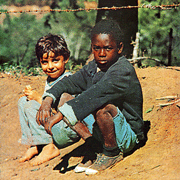 Milton Nascimento "Clube Da Esquina" (EMI Odeon, 1972)



Nascimento's masterpiece. An expansive, kaleidoscopic 2-LP set covering an amazingly wide range of styles, from folky space rock-tropicalia, to various regional Brazilian styles and rich traces of jazz fusion. Includes some of Nascimento's loveliest melodies and most memorable tunes, as well as trippy tracks which push the envelope a bit. This album was sort of a declaration of purpose for the budding music scene of the Minas Geraes region, much as the Tropicalia album that brought Caetano Veloso and Os Mutantes to the fore was a musical manifesto for Brazilian psychedelia... In addition to Nascimento's contributions, this album also introduced the work of artists such as Nelson Angelo, Lo Borges Fernando Brandt, and Beto Guedes, among others. Romantic samba singer Alaide Costa, whose career was plagued by health troubles, also made her commercial comeback here, singing a lovely version of "Me Deixa Em Paz." A landmark album... Highly recommended!




Beto Guedes/Various Artists "Beto Guedes/Danilo Caymmi/Novelli/Toninho Horta" (Odeon, 1973)
(Produced by Milton Miranda & Nelson Angelo)



<! primarily a Beto Guedes album... he wrote or co-wrote most of the songs, and is the vocalist of the band. Músico(s): Beto Guedes : Voz Beto Guedes : Violčo Beto Guedes : Bateria Flávio Venturini : Acordeon Frederiko : Guitarra Lô Borges : Baixo Elétrico Maurício Maestro (Carlos Maurício Mendonća Figueiredo) : Percussčo Novelli : Percussčo Toninho Horta : Percussčo Vermelho : Órgčo >

Milton Nascimento "Clube Da Esquina 2" (EMI Odeon, 1978)


Guedes plays again on another 2-LP set that (in theory) follows in the same footsteps as the first Clube Da Esquina album. However, it lacks the depth and variety of that brilliant outing. Pretty slushy and syrupy; doesn't do a lot for me, though many Milton fans swear by it.

Beto Guedes "A Pagina Do Relampago Eletrico" (EMI-Odeon, 1977)


Yikes. Freaky, mildly engaging prog with one of the thinnest, most irritating voices you'll ever hear on record... (Dude sounds like a lady...!) A native of Minas Gerais, guitarist Beto Guedes was a member of the much-vaunted Clube Da Esquina, along with other Mineiro musicians such as Milton Nascimento, Lo Borges and Fernando Brant. Here on his solo debut he proves himself a, um, er, singular performer, to be sure. Well, at least the musical end is more interesting than on some of his later, more mainstream and goopy albums - the group called 14 Bis is backing him up, when they were still a vital and innovative band. This certainly isn't for everyone, but it is a pretty interesting period piece, giving us a hefty historical slice of Brazil's homegrown prog scene...

Beto Guedes "Amor No Indio" (EMI-Odeon, 1978)


I guess this might rate as a guilty, um, interest, if not an actual guilty pleasure... His thin, paper-cut vocals still are pretty hard to get used to, but the baroque arrangements and dense, labyrithine melodies are kinda cool, an obvious -- and effective -- extension of the Clube Da Esquina album. This also compares well with Ivan Lins' complex, challenging jazz-pop-MPB fusions of the same era. I couldn't say I'd recommend this offhand to anyone new to Brazilian pop, but if you do like Ivan Lins or Milton Nascimento (particularly their earlier, better albums), then this is an album you'll want to check out as well...

Beto Guedes "Sol De Primaveira" (EMI-Odeon, 1979)


This record is kind of a mess. It's more "pop" and more proggy, and way more florid, in keeping with Milton Nascimento's more structured pop efforts. The melodies and chord progressions are belabored and leviathan; there's a clunky grandiosity to the whole affair that has all the grace of a chunk of concrete strapped to your ankle... Some may consider the guitar-work or the gooey sax and flute passages that dominate these tunes to be pretty-sounding, I find them onerous and overly obvious... Indeed, some passages are simply painful to listen to, in particular his atrocious cover of the Beatles' "Norwegian Wood," which is as horrific and Nascimento-licious a song as you'll ever hear. This one you can skip.

Beto Guedes "Contos Do Lua Vaga" (EMI, 1981)


Uh-oh. I think I'm starting to weaken. I mean, I know this is cheesy and over-the-top, but I'm starting to concede that it's supposed to be cheesy and over-the-top, and should be considered in that context. Guedes gives free rein to keyboardist/arranger Wagner Tiso, who goes completely nuts with the grandiose mega-arrangements... The opening songs are more challenging, while the album gets more conventional sounding the further it goes along, with discernable wisps of Lennon-McCartneyisms on several tracks. Joyce guests on one track, "Rio Doce," on the following track, "Veveco, Panelas E Canelas," a bit of Left Banke echoes through, with classical-lite keyboards, etc. The coolest song on here, though, is "Sete Flautas," where Guedes sets up a truly weird rhythm, matching it with a gentle, off-center melody. Mostly, this album is a little too weird and cloying... but it's also kind of cool. It's distinctive, though, and certainly worth checking out.
Beto Guedes "Viagem Da Maos" (EMI-Odeon, 1985)

Beto Guedes "Alma De Borracha" (EMI-Odeon, 1986)


Beto Guedes "Beto Guedes Ao Vivo" (EMI-Odeon, 1987)



Much better than I'd imagined it would be... I mean, yeah, this is over-the-top and cheesy, but it's also heartfelt and well-produced, as cohesive a showcase for Guedes' pop vision as you could find... An uneasy mix of cheesoid soft-pop and retrodelic prog... But it's also Guedes at his best, a good introduction to his work, with Lo Borges on keyboards and a guest appearance by the great Caetano Veloso, singing on two songs, "Luz E Misterio" and "Amor De Indio."
Beto Guedes "Andaluz" (EMI-Odeon, 1991)

Beto Guedes "Dias De Paz" (Sony-Epic, 1999)

Beto Guedes/Various Artists "50 Anos -- Ao Vivo" (Sony-Epic, 2001)

Beto Guedes "Maria Solidaria" (EMI-Odeon, 2002)


Beto Guedes "Em Algum Lugar" (Sony-Epic, 2004)

Beto Guedes "Outros Classicos Ao Vivo" (Biscoito Fino, 2010)


---
Best-Ofs
---
Beto Guedes "Preferencia Nacional" (EMI, 1998)

Beto Guedes "Meus Momentos" (EMI, 1999)
An incredibly whiny set of belabored, semi-jazzy Brazilian synth pop... This 2-CD collection should be more than enough to scare you off from this fellow's work... for life! It really is quite awful -- worse even than a similar best-of by Lo Borges. But... take what I say with a grain of salt... I'm kind of crabby about stuff sometimes.

Beto Guedes "Serie Bis" (EMI, 1999)



This largely replicates the 2-CD Meus Momentos collection reviewed above.
Beto Guedes "The Essential Beto Guedes" (EMI, 2003)


Beto Guedes "Retratos" (EMI, 2004)

Beto Guedes "O Sal Da Terra" (EMI, 2011) <! date? >

---
Links
---
---



---

<! cd=02/18/07>