<! cd = 04/29/12 > <! MP3 00/00/00 > <! pix 00/00/00 > <! ALLBM 00/00/00 > <! icons 00/00/00 > <! UPDATES: 06/09/12 - posted >

---
One of Brazil's most successful rock bands from the jovem guarda era, Os Incriveis recorded several albums and approximately a bazillion singles ("compactos") mostly in the 1960s and '70s. The group started out as frat-rockin' instrumental band, The Clevers, and had a long transition where they used both names (even on their album art) but finally settled on the freakier name, just in time for the psych-garage sound to take off in Brazil. The band were regulars on Roberto Carlos's fabled Jovem Guarda TV show, and they recorded and toured steadily until 1972, when drummer and bandleader Luiz Franco Thomaz (aka Netinho) left and formed the hard rock/prog band Casa Das Maquinas; years later he was influential in organizing a jovem guarda nostalgia concert and revival, which included reforming Os Incriveis.
---
Discography - Albums
---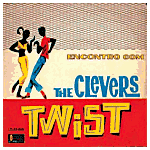 The Clevers "Encontro Com The Clevers - Twist!" (Continental, 1963)


A solid surf/instrumental rock set by the band that later changed its name to Os Incriveis... Later, in a move worthy of Don Kirshner or Phil Spector, the labels put together a new group called The New Clevers, and issued several albums under that name... But this was the real, original band, and they were pretty good. If you like the whole Cliff Richards/Shadows sound, you'll probably get a kick out of this as well.
Os Incriveis "Os Incriveis" (Continental, 1966)

Os Incriveis "Neste Mundo Louco" (Continental, 1967)


Os Incriveis "Para Os Jovens Que Amam Os Beatles, Rolling Stones E... Os Incriveis" (RCA-Brasil, 1967)



(Produced by Brancato, Jr.)
Plenty of fuzzed-out, surfy guitar on here, and a nice teenybopper feel. Includes not one, but two, songs referring to the Beatles and the Stones, the second being a medley of "Twist And Shout" and "Satisfaction." Os Incriveis came into the jovem guarda scene kinda late, but they seem to have made a real stab at being a credible psych/garage band, although admittedly with a heavy covers orientation. Some cool, kitschy instrumentals, as well as Brazilianified covers of popular US/UK rock songs.
Os Incriveis "Os Incriveis Internacionais" (RCA, 1967)


Os Incriveis "Os Incriveis" (RCA-Brasil, 1969)


Oddly uneven, semi-psychedelic effort by this late-blooming '60s "beat" outfit... Many of these songs start out with muscular performances -- a Meters-y soul riff here, a cool acid-rock riff there -- but the band doesn't seem to be able to sustain the hard edge, inevitably slipping into softer pop mannerisms. They obviously can play the hard stuff (and have heard a lot of it) but seem restrained somehow, most likely by some studio producers hired by the label. This is okay; it's certainly a notch or two above most of their jovem guarda contemporaries... Mostly, though, this album works only as kitsch, and probably won't feel that satisfying to fans of real garage pop.

Os Incriveis "Os Incriveis" (RCA-Brasil, 1970)


A bit stronger than their previous album, or at least a little more cohesive. The individual songs don't shift around so much between different stylistic tones -- the soft pop leanings are still there, but when they set out on a psychedelic or soul tangent, they keep it up for most of the song... Highlights include the opening song, "Adeus Amigo Vagabundo (Tributo A Jimi Hendrix)," which ends with a predictably "crazy" hard rock flourish. Low points include an only-adequate English-language cover of the Moody Blues hit, "Question" (which might have been more fun if they'd sung it in Portuguese...) An interesting album, worth checking out, although it probably won't drive most folks wild.
Os Incriveis "Os Incriveis" (RCA, 1971)


Os Incriveis "Isso E A Felicidade" (RCA-Brasil, 1975)


Really goddawful. Sounds like old Italian pop music -- perky, bland, and without an ounce of soul to it. Earlier albums by this group may have more character, but this is pretty icky and dull. (A CD reissue, perversely, couples this with an off-kilter soul album by Eduardo Araujo... go figure.)
Os Incriveis "Trabalho E Paz" (RCA, 1976)
This is an album of children's music... But who was in the band at this point? Anyone know?
Os Incriveis "Os Sucessos Da Parada" (RCA, 1979)

Os Incriveis "Os Incriveis" (RCA, 1981)

Os Incriveis "Os Incriveis Ao Vivo" (Warner, 2001)

---
Discography - Best-Ofs
---
Os Incriveis "...E Seus Maiores Sucessos" (RCA-Brasil, 1993)


A good representation of their early, surfy rock material... These guys were, arguably, edgier and and more "rockin' " than other bands in the jovem guarda scene, but most of the stuff on this collection doesn't do much for me. It's too derivative and the songs all sound the same... That being said, the song "Sem Vergonheira" is a nice, fat slice of funky psychedelic good vibrations. Worth checking out, but don't expect too much.
Os Incriveis "Serie Focus" (Warner, 2006)


Os Incriveis "Maxximum" (Warner, 2006)


---
Links
---
---



---