<! MP3 9/12/08 > <! update 9/12/08 > <! pix 12/01/09 > <! icons 01/22/11 >

---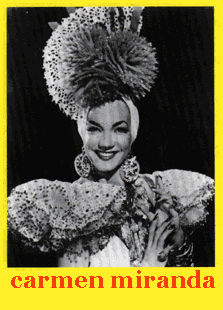 One of the earliest and greatest samba stars, Carmen Miranda (1909-1955) left Brazil for Hollywood in the 1930s, and became famous for her movie cameos as "the lady with the fruit bowl on her head." More than any other artist, Miranda introduced Brazilian music to North Americans. After achieving great fame in Brazil, in the 1930s, she came to Hollywood along with her band (which was led by the great arranger, Aloysio Oliveira, who later became head of A&R for the Odeon-Brasil record label)... Although her image became stereotyped and was often cariacatured (think of all those Looney Toons shorts from the '40s...) Carmen Miranda was in fact a kickass musician. Interstate Music has recently released two fabuloso CDs worth of her early samba music from the 1930s and 1940s -- both are highly recommended.
---
Select Discography
---
Carmen Miranda "Carmen Miranda: The Brazilian Recordings" (Harlequin Records, 1993)


Outstanding. A revelation for those who know Miranda only from her campy fruit-bowl-on-the-head Hollywood cameos, this disc highlights Miranda's early years in Brazil, where in the 1930s, she was a major samba star. The music is vibrant and infectious, especially featuring many of Ary Barroso's songs which went on to become standards.
Carmen Miranda "Carmen Miranda: 1930-1945" (Harlequin Records, 1997)


Harlequin's second great volume of this early samba star. Features more of her early Brazilian recordings, as well as some Hollywood stuff. Highly recommended!
Carmen Miranda "The Lady In The Tutti-Frutti Hat" (Harlequin, 1999)


Tilted more towards rarities such as radio performances and movie recordings, this is more great stuff...

Carmen Miranda "Carmen Miranda" (Revivendo, 1993)


More early recordings, from 1930-35. There's a little overlap between this and the two Harlequin CDs listed above, but not that much. More than half these tracks don't appear on either of those discs, so if you're really, really into Carmen, you could get all three. The pacing of this CD seems a little off, but it's still awesome old material.


<! 108 x 108 >

Carmen Miranda "A Pequena Notavel" (Revivendo)


As with the disc above, this has some overlap with the Harlequin discs, and some unique material. The pacing seems better than the first Revivendo collection, but with Carmen, it's really hard to go wrong. If you feel forced to choose between labels, it's really a coin toss. The Harlequin discs are nice for English speakers because of the liner notes; this series is useful to archivists because of its meticulous notes on recording sessions. Either way, this is some of the best music Brazil has to offer.
Carmen Miranda "Raridades" (Revivendo)







Carmen Miranda "Ao Vivo Na Broadway" (EMI Odeon, 1959)



<! Hoje, 9 de fevereiro, comemora-se o 104ľ ano do nascimento em Portugal da Carmen Miranda. A artista, que se considerava brasileira, pois chegou no País antes de completar um ano, foi a primeira a divulgar nossa música e cultura no exterior. Para lembrar a data, nada como homenageá-la com um álbum especial da artista, uma das primeiras a gravar marchinhas, como "Ta-hi", grande sucesso do carnaval de 1930 pela recém-instalada RCA Victor no Brasil. Este disco foi lanćado quatro anos após a sua morte em 5 de agosto de 1955. Uma curiosidade é o "envelope" original que acondiciona o LP (veja foto abaixo), onde podemos conferir o cardápio com os lanćamentos da Odeon e apreciar um interessante anúncio de uma novidade no mercado: o disco no formato de 45 RPM - "Simplicidade do 78 - Qualidade do LP". Este álbum só foi possível lanćá-lo graćas a gravaćčo feita pelo maestro Bill Beathcock e por Aloysio de Oliveira, integrante do Bando da Lua, grupo que acompanhou a cantora desde o seu embarque em 1939 aos EUA. Ele conta em texto impresso na contracapa que esse é um dos shows que a Pequena Notável fez centenas de vezes em solo americano. Ele nčo soube precisar o local e a data da gravaćčo, feita nos anos 1950. O gravador foi ligado diretamente no microfone que Carmen usava no palco. O resultado foi excelente: a cantora muito em primeiro plano e os rapazes do Bando da Lua e a orquestra num plano em que raramente podiam ser ouvidos. Assim nasceu a ideia e o desafio de se recriar o show no estúdio. Para isso, Aloysio obteve do amigo Bill Beathcock os arranjos originais das músicas gravadas no show. "Aqui, no estúdio da Odeon, passamos entčo a realizar o trabalho árduo de reproduzir a orquestra tal qual aconteceu naquela noite no show. O Bando da Lua também foi reproduzido aqui. Procuramos em tudo isso a maior autenticidade possível do ambiente geral do show. Horas e horas permanecemos no estúdio – eu, o maestro Borba, seus músicos, os técnicos, procurando dar em cada música, em cada compasso, o necessário sincronismo e a devida interpretaćčo de cada número exigia", conta Aluisio. O resultado final é muito bom, e o disco deve ser gravado sem intervalo entre as faixas por ser um registro ao vivo. Confira: 01 - South american way ….. (Jimmy McHugh) 02 – Diálogo 03 - When I love, I Love ….. (Mack Gordon – Harry Warren) 04 - Cuanto le gusta ….. (Gabriel Ruiz) 05 – Diálogo 06 - I make my money with bananas ….. (Ray Gilbert – Aloysio de Oliveira) 07 – Diálogo 08 - Cooking with glass ….. (Ray Gilbert – Aloysio de Oliveira) 09 – Diálogo 10 - Ay ay ay, I like you very much ….. (Gordon – Warren) 11 - Ay ay ay, I like you very much ….. (Gordon – Warren) 12 - Cooking with glass ….. (Ray Gilbert – Aloysio de Oliveira) 13 - Cuanto le gusta ….. (Gabriel Ruiz) 14 - I make my money with bananas ….. (Ray Gilbert – Aloysio de Oliveira) 15 - When I love I love ….. (Mack Gordon – Harry Warren) 16 - South American way ….. (Jimmy McHugh) >

Carmen Miranda "A Nossa Carmen Miranda" (EMI Odeon, 1965/2002)


A swell reissue of a swell reissue... This originally came out in 1965 in a welcome burst of nostalgia, delving into the Odeon label's vaults to pick out a dozen vintage tracks, recorded between 1935-41. As with many of the best-of sets, there's some overlap, some similarities, but the music's all delightful, and the sound quality is great (it being from the original label and all...) Includes a couple of nice duets, "Casaquinha De Tricot," with Barbosa Junior, and "Quando Eu Penso Na Bahia," with Sylvio Caldas. Recommended!

Carmen Miranda "Cocktail Hour" (Allegro, 2000)


This North American cheapie series packages Carmen pretty strictly in terms of her kitsch value, which may be vexing to Brazilian purists... Still, this 2-CD set has a couple of things going for it -- first, it's a bargain, with two full length CDs at a single disc price. Second, it's later material from deep into her Hollywood years, and contains a lot of material not included in the collections listed above. There's a lot of relentlessly kitschy stuff on here: Carmen backing the Andrews Sisters, Carmen doing absurd translations of popular hits such as "Chatanooga Choo Choo" and (more appropriately) "South American Way", as well as straight-out stereotypical ethnic material such as "O Yi Yi Yi Yi (I Like-A You Very Much)" Take offense if you will, but if so you might be missing out in some of the fun. Even when she was shucking and jiving for the studio moguls, Miranda still had her Brazilian band backing her up, and this is all pretty enjoyable material. Corny, but cute.
Various Artists "Serie Raizes Do Samba" (EMI, 2000)

Carmen Miranda "Brazilian Bombshell -- 25 Hits: 1939-1947" (ASV, 1998)

Carmen Miranda "Carmen Miranda" (Prestige Elite, 1997)

Carmen Miranda "Sambas: 1936-1937" (Musica Latina, 2001)

Carmen Miranda "Bombshell From Brazil" (Collector's Choice, 2004)


This budget-line collection is a welcome addition to the Carmen Miranda library... Although the sound quality on these dozen-plus live recordings is fairly poor, the historical value makes up for it. This features Miranda and her band in a variety of live settings, including 1944-45 radio shows on "Command Performance," "Jubilee" and "Mail Call," as well as a half-dozen songs taped at a nightclub performance in 1950. Finally, there's her duet with Jimmy Durante, on the August 4, 1955 "Jimmy Durante Show" appearance, which would prove to be her last performance... She actually had a heart attack during the song (and can be heard exclaiming, "I'm all out of breath!" towards the end... Later that night, he heart gave out completely and she died back at home. Anyway, this disc gives a good sense of her stage presence, and her slick mix of raw talent and pure kitsch. Worth checking out.
Carmen Miranda "The Brazilian Tornado" (Yoyo, 2005)


Carmen Miranda "O Que E Que A Baiana Tem" (Discmedi, 2007)


Carmen Miranda "The Explosive World Of Carmen Miranda" (2008)

---
Tributes
---

Ademilde Fonseca "A La Miranda" (Odeon, 1958)
The first full-length LP from this fabled chorinho singer... Fonseca got her start years earlier, performing with choro bandleader Benedito Lacerda and releasing several hit singles in the early 1940s, during the tail end of the samba-cancao era. Here she pays tribute to the great Carmen Miranda (who had died a few years before this record was made, in the far-away United States...) Here Fonseca sings classic samba-cancao songs with the same upbeat lilt as Miranda, including many Miranda-esque tounge-twisters and chatty asides. It's not as wild or as magical as the original recordings, but it's still classy and fun, even with the slightly fusty orchestrations... Worth checking out.
Various Artists "A LENDA VIVA DE CARMEN MIRANDA" (Lux/Some Livre/1995)
Gal Costa, Caetano Veloso, Marusa Monte, Rita Lee and others pay tribute to the great Carmen Miranda.
---
Filmography
---
"A Voz Do Carnaval" (1933, Brasil)

"Alo, Alo Brasil" (1935, Brasil)

"Estudiantes" (1935, Brasil)

"Alo, Alo Carnaval" (1936, Brasil)

"Banana Na Terra" (1939, Brasil)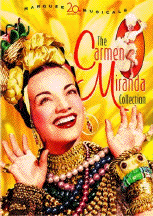 "The Carmen Miranda Collection" (20th Century Fox, 2008)


This is a fab set of five old films starring one of Brazil's greatest samba singers, Carmen Miranda. True, these are not her "best" movies, but Hollywood ruined Carmen quickly and once she came to the US, all we ever really got to see were glimpses of her dazzling performing power. Still, I would highly recommend this collection to anyone who is curious about the Carmen Miranda legend... The first film, The Gang's All Here, is a frothy collaboration between Carmen and the great choreographer Busby Berkeley, who indulges himself in some wonderful visual gags and inventive tracking shots. The movie has a playful, giddy tone, and Miranda thrives in it from the first frame until the end. She has great costumes and strong musical numbers, with backing from her ace Brazilian band, Banda Da Lua. This film alone is worth the price of admission. The other movies aren't on the same level, but they're still fun, particularly if you have a taste for World War Two-era B-movies. (In the burlesque-tinged Something For The Boys, erstwhile female lead Vivian Blaine actually turns to the male lead and says, hey, the boys have lots of talent, and we've got this big old house -- "Let's put on a show!") The Fox studios surrounded Carmen with a cast of regulars that included Vivian Blaine (yawn), Don Ameche, Phil Silvers and Perry Como. In Greenwich Village, an affable Ameche shines as an aspiring classical composer who gets caught up in the heady, bohemian art scene, while that lovable lug William Bendix hams it up as a gruff nightclub owner who nonetheless fixes things up so that Ameche can become a star...) The real draw, of course, is Carmen Miranda, an artist who sizzled like a live wire when she came to the United States in 1939 (if you can, check out the samba records she made before she came here, and you'll hear where her famous charisma started...) and she continued to dazzle whenever given half a chance (check out the shockingly vaginal pink-and-black dress she wore in Greenwich Village - still scandalous after all these years!) Sadly, Miranda worked herself into an early death, but she also created and kept tight control of her own cannily-crafted public image as a kooky, warm-hearted Latin bombshell, and these movies, even if they have their shortcomings, are still vital parts of her legacy. Not only are these top-quality prints of vintage movies that have mostly never been on DVD before, the folks at Fox also wisely decided to augment them with archival features such as old TV appearances and movie shorts (including a follow-the-bouncing-ball singalong trailer that was shown in theatres in the 1940s) and, even more wonderful, there is a feature-length documentary tacked onto Something For The Boys that profiles Carmen Miranda's career, from her early years in Brazil to the meteoric rise and slow fizzle of her Hollywood career. The doc includes thoughtful, insightful commentary by numerous Brazilian and American film scholars, journalists and Carmen Miranda mavens -- and LOTS of cool archival footage from throughout Miranda's career. Definitely worth checking out.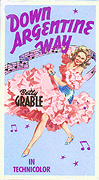 "Down Argentine Way" (20th Century Fox, 1940)


This absurd romantic comedy with Betty Grable and Don Ameche is the film that lured Miranda off Broadway and into the Hollywood orbit... Appropriately enough, the movie opens with a close-up of Carmen singing a binligual version of "Down South American Way," as silly and corny a song as you could imagine. She also gets a featured spot with not one, but two, numbers, portraying herself as the headliner at some glitzy nightclub in Buenos Aires, and it's fascinating to watch her veer between measured calculation and transcendent, effortless charm. The film is full of truly awful stereotypes -- latin lotharios, lazy cab drivers, pompous petty officials, etc. -- but Carmen gets treated with respect, shown as the glamourous Brazilian superstar she was, and it's really her own band backing her up, so the sambas are for real. Dumb plot, great performances.
"That Night In Rio" (20th Century Fox, 1941)

"Weekend In Havana" (20th Century Fox, 1941)


"Springtime In The Rockies" (20th Century Fox, 1942)


Carmen gets a big speaking part in this one, as Rosita Murphy, the half-Irish Brazilian bombshell. Sure, the role's got grammatical malapropisms galore, but her character doesn't entirely get short shrift -- in fact, she saves the day at the end! Another good-natured Betty Grable romantic musical; the dialogue's not as snappy as other wartime flicks, but it's a cute film nonetheless.
"The Gang's All Here" (20th Century Fox, 1943)

"Four Jills In A Jeep" (20th Century Fox, 1944)

"Greenwich Village" (20th Century Fox, 1944)

"Something For The Boys" (20th Century Fox, 1944)

"Phantom Lady" (Universal, 1944)


Carmen's sister, Aurora Miranda, has a big speaking role as Estela Monteiro, a Brazilian stage diva tied up in a mysterious murder. This was Aurora's biggest Hollywood role; she apparently only made films in the USA for about a year (and presumably returned to Brasil not long after than that...) A fine film noir, well worth checking out.
"If I'm Lucky" (1946)

"Copacabana" (1947)


With Groucho Marx...
"A Date With Judy" (MGM, 1948)


A bland teen comedy set in the bobbysoxer era, starring drippy Jane Powell as the heroine of the title, and a teenaged Liz Taylor as her catty, manipulative nemesis. Carmen Miranda plays a dance instructor who teaches Judy's fusty father (Wallace Beery) how to dance the rhumba. Although dressed in one of her dowdiest outfits, Carmen still manages to scandalize everyone with her (mild) hip-shaking and bumps and grinds. Bandleader Xavier Cugat also appears, playing himself. An adaptation of a long-running radio show; there was also a comicbook version for a while.
"Nancy Goes To Rio" (MGM, 1950)

---
Books
---
"Brazilian Bombshell: The Biography Of Carmen Miranda"
By Martha Gil-Romero
(Donald I. Fine, 1989)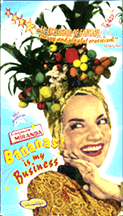 "Bananas Is My Business" (Fox Lorber Films, 1998)



Helena Solberg's documentary raises some tough questions about Miranda's kitschy image, and the international politics of popular culture. Unfortunately, the strong subject matter falls victim to the narcissistic imposition of the narrator's "own" experience of the Miranda mythology. Likewise, the fab archival footage is undermined by the use of staged, "dramatized" images of Carmen imitators enacting symbolic scenes... It's a fatuous, distracting style of filmmaking; documentary as personal therapy, at the expense of otherwise compelling material. Worth checking out, with plenty of great archival material, but irritating.
---
Links and Resources
---
The Maria-Brazil website has a nice Carmen Miranda page, including information on the biographical film that came out recently.
In addition to a couple of excellent compilations of Carmen Miranda recordings, Revivendo Musicas has several discs that include tracks by her sister, Aurora. This label is a must for anyone looking into the early roots of samba cancao.
Bright Lights movie e-zine has a nice article about "Bananas Is My Business," thoughtfully investigating the issues of camp vs. colonialist culture...

---



---