---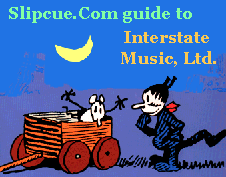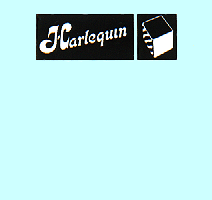 Harlequin Records: The bulk of the Interstate catalog is on this imprint. There are well over one hundred Harlequin discs, most of which are of latin american music, particularly from Cuba and Argentina. Great stuff, with very few exceptions, and certainly all quite rare. Rather inexplicably, this series also houses several amazing Hawaiian CDs, as well as Greek and Slavic music, amid all the tangos, cha-chas and danzones. Hard to go wrong here.
---
[Harlequin HQ-CD 06]
Don Barreto "1932-1935" (1991)


Sweet recordings from one of the great early Cuban jazz guitarists. Emilio ("Don") Barreto toured Europe extensively during the 1920s and '30s, playing both in straight jazz and Latin American ensembles. His own recordings were a perfect mix of both styles; fans of gypsy jazz legend Django Reinhardt may find a similar appeal to Barreto's warm yet aggressive picking style. This batch of his earliest recordings on British Decca isn't as varied as the second Harlequin collection (HQ-42), but it's still pretty spiffy.
[Harlequin HQ-CD 07]
Lecuona Cuban Boys "Lecuona Cuban Boys - Volume Two" (1991)


Mid-'Thirties latin dance music with a slight veneer of Euro-ballroom pop schmaltz. Mostly pretty solid playing and strong vocals. Pianist Armando Orefiche and his brother Adalberto were among the stars of this large combo, which toured Europe and Latin America during the Depression era. This disc has some of their punchier, more upbeat, dance material on it. (For some of Orefiche's later work, check out HQ 48).
[Harlequin HQ-CD 10]
Don Azpiazu "Don Azpiazu" (Harlequin, 1991)


Delightfully corny Cuban music from the early thirties... Apiazu's "El Manisero" ("The Peanut Vendor") was a colossal hit in 1931, and one of the earliest breakthroughs for Cuban music abroad. These songs were recorded in New York at the height of the Russ Columbo-and-Glen Gray-dominated crooner era, and bear all the goofy, loveably rinkydink musical hallmarks of the time (as well as a healthy dose of authentic Cuban rhythm). "El Manisero" features vocals by the muy fabuloso Antonio Machin, although other tracks on this CD have North Americanos who charmingly denude the music of its original bounce. Don't get me wrong: I love corny music and this collection is well worth searching out.
[Harlequin HQ-CD 11]
Lecuona Cuban Boys "Lecuona Cuban Boys - Volume One" (1991)

[Harlequin HQ-CD 14]
Xavier Cugat "Bim Bam Bum - 1935-1940" (1991)


Speaking of corny, there's always Cugat. These early recordings find Cugie midway between his ballroom schmaltz and choppsier, more "authentic" latin-american dance styles. There are a ton of Cugat discs in the Harlequin series; this is one of the punchier ones I've heard.
[Harlequin HQ-CD 12]
Valaida Snow "Valaida Vol. I: 1935-1937" (1992)


[Harlequin HQ-CD 18]
Valaida Snow "Valaida Vol. II: 1935-1940" (1992)


Cotton Club style jazz, recorded abroad by a spunky African-American female vocalist-trumper player with a heavy Louis Armstrong bent. Snow started her career in the black song reviews of the 1920s, during the Sissle and Blake era, and continued on in the nightclub circuit, briefly playing in Earl Hines' band. In the 1930s she set out to become a solo star by moving to Europe, where jazz was very much in vogue, but "authentic" jazz players were hard to find. These two discs document her recordings for the Parlophone label in Great Britain, as well as several later sessions in Sweden and Denmark. Muffled sound quality mars these discs, but they are still worth checking out. The bands themselves were not top-flight and occasionally muff their riffs or fall a bit flat -- Volume 1 opens with a set of songs on which the trumpet and sax players are wildly unable to play in tune -- but fans of Tin Pan Alley pop should still dig these rare recordings. At peak form, Snow was cute as a button, and sizzling hot as well.
[Harlequin HQ-CD 20]
Don Barreto "Volume Two" (1991)

[Harlequin HQ-CD 21]
Lecuona Cuban Boys "Lecuona Cuban Boys - Volume Three" (1992)


More early latin dance music, with a decidedly corny, even rinkydink sound to it. Pianist Armando Orefiche and his brother Adalberto were among the stars of this large combo, which toured Europe and Latin America during the Depression era. This particualr disc didn't do much for me, but the Cuban Boys have a devout following, so it's probably worth checking out regardless of what I think... (you could also try HQCDs 07 and 11).
[Harlequin HQ-CD 22]
Various Artists "MUSIC OF PUERTO RICO: 1929-1947" (1992)


One of my favorite Harlequin discs. This should be a favorite of anyone who has already heard the entrancing jibaro style of Puerto Rican musicians such as Ramito or Pedrito Romero. These historical recordings lack none of the fluidity and lyrical warmth of those more famous, well-known artists. This is a jaw-droppingly good record, and a model historical compilation. Includes complete, bilingual lyric sheets and recording dates, etc -- but more than that, the music is really, really great, as is the sound quality. Originally came out as an LP, with about half as many tracks. Highly recommended.
[Harlequin HQ-CD 23]
Various Artists "HOT MUSIC FROM CUBA: 1907-1937" (1993)


Remarkable for its historical scope, this disc presents some of the more primeval examples of Cuban "son" and tipica -- certainly there aren't too many 78s of Cuban music from the turn of the century floating around! These early tracks are compelling for both their eerie, aural old-timeyness, as well as for the immediacy and vigor which comes through from many of these long-gone, hazily-remembered musicians. Recommended.
[Harlequin HQ-CD 26]
Ernesto Lecuona and The Lecuona Cuban Boys "Volume Four: 1932-1936" (1993)


A spiffy package collecting several rare sets of recording dates from the band's early years abroad. The first sessions are from 1932, when the fledgling band had set down in Madrid and became the toast of the town... The later recordings are from 1936, after the Cuban Boys had become an internationally established act... Pianist Armando Orefiche took over the band after Lecuona returned to Cuba, and plays throughout on all these tracks... I'm still not as drawn to this material as I'd like to be, but this disc is a must for anyone serious about checking this band out.
[Harlequin HQ-CD 27]
Septeto Anacaona & Ciro Rimac "1936-1937" (1993)


Two separate acts on this disc -- the Septeto was an all-female band, captured here on a half dozen tunes from the late '30s which are pretty good. The real star of this show, though, is Latin-American gadabout, Ciro Rimac, who in the 1930s performed throughout Europe, South America, and the United States (with Cab Calloway, no less!) There are almost twenty Rimac tunes on here, including a few groovy Brazilian-styled songs.
[Harlequin HQ-CD 28]
Various Artists "TICKLING THE STRINGS" (1993)


Highly recommended! Hotshot Hawaiian steel guitar recordings from 1929-1952. Includes high-power players such as Sol K. Bright, Sol Hoopii and Tau Moe. For fans and newcomers alike, this disc is a real treat. (Also check out the companion CDs HQ-45, HQ-57 HQ-92, HQ-93 and HQ-130. For more information about island music, check out my Hawaiian music section.)
[Harlequin HQ-CD 29]
Xavier Cugat "With Dinah Shore"


Cugie's patented brand of kitschy lite latin dance music -- tangos and foxtrots galore -- along with Dinah Shore's perky girl-next-door vocals, and plenty of big strings and swelling melodies. These recordings are taken from a series of early-1940s radio transcriptions, mostly performances from Cugat's long residency as bandleader at New York's Waldorf-Astoria hotel. Probably too schmaltzy for the casual listener, but for a fan of this style, this would be a find.
[Harlequin HQ-CD 31]
Rico's Creole Band "Rico's Creole Band" (1993)


Genteel yet alluring dance music from one of the many Depression-era Parisian expatriate bands... The sound isn't riotous, but it is quite pleasant, with clacking maracas and muted trumpets galore. The magnificent Antonio Machin sings on several of the later tracks on this collection... It's old-time, archaic Latin dance music at its best, with a strong Continental, sweet dance influence.
[Harlequin HQ-CD 33]
Carmen Miranda "The Brazilian Recordings"


Outstanding. A revelation for those who know Carmen Miranda only from her campy fruit-bowl-on-the-head Hollywood cameos. This disc highlights Miranda's early years in Brazil, where in the 1930s, she was a major samba star. The music is vibrant and infectious, especially featuring many of Ary Barroso's songs which went on to become standards. Also check out the second fab volume, HQ-CD 94.
[Harlequin HQ-CD 41]
Rico's Creole Band "Volume 2: 1931-1934" (1994)


Latin dance expatriates, recording in Paris (?) with female vocals on many tracks. Nice sentimental dance ballads, with a "sweet" big band flavor. Maybe a little prissy overall, but lovely old stuff nonetheless. (See also HQ-CD 31.)
[Harlequin HQ-CD 42]
Don Barreto "Melody's Bar: 1932-1946" (1994)


Gorgeously sweet, melodic dance music from this Puerto Rican expatriate group. Recorded in Paris, these songs were obviously influenced by the ultra-popular Hot Club of Paris, particularly the Django Reinhardt-y guitar on several tracks. Other distinctive instrumentation includes the clarinet and flute of Filiberto Rico and Luis Fuentes. I love this CD! You might too.
[Harlequin HQ-CD 44]
Enric Madriguera "1920-1941" (1994)


A Spanish-born latin band leader and violinist who didn't make it quite as big as his countryman, Xavier Cugat, but who followed a similar path. Madriguera emigrated to America in the 1920s, and after working in hotel orchestras became first the "Latin" music director at Brunswick Records, then took a similar job at Columbia in '28. This disc collects rare 78s he made under a variety of pseudonyms, and with various bands. For the most part it's pretty prissy stuff, ballroom orchestras which showcase his European/classical leanings. A little too prim for my tastes, although on the last couple of tracks we are treated to some exceptionally early examples of Tito Rodriguez's vocals.
[Harlequin HQ-CD 46]
Various Artists "ON A COCONUT ISLAND - MUSIC OF HAWAII" (1994)
A groovy collection of old 78s recorded in Hawaii, the United States and Europe, between 1928 and the early 1950s. This disc is super fun -- wonderfully programmed for recreational listening, combining swank, jazzy tracks alongside hot swing-influenced guitar numbers and steel guitar numbers which should make western swing afficianados or John Fahey followers feel right at home. Then, of course, there are those great Polynesian tounge-twisters tunes-- scat singing for the South Seas crowd. One of several Hawaiian compilations in this series.
[Harlequin HQ-CD 48]
Havana Cuban Boys "Havana Cuban Boys" (1994)


Mid-to late '50s Cuban dance music, with a heavily poppish touch to most of the tracks. The band itself was led by pianist Armando Orefiche, who was earlier in the reknowned Lecuona Cuban Boys (see HQ 07). Here, he's lifting riffs straight out of the Perez Prado stylebook, with driving rhythms and punchy brass -- it's pretty fun, with nice vocals from Raul Del Castillo, Humberto Cobo and Coco Fernandez; Bola De Nieve plays piano on a couple of ttracks as well... Groovy stuff from the heyday of the Latin dance scene.
Harlequin Titles HQ-51 and above are reviewed here
---
Links
---
Interstate Music is finally online! At last! Hoo-rah! Now you can find out which of these gems is actually in print (as opposed to "out there somewhere...") and also get up-to-date ordering info.
---
OTHER INTERSTATE IMPRINTS:

Country Routes
Flyright
Heritage
Krazy Kat
---


---

---