---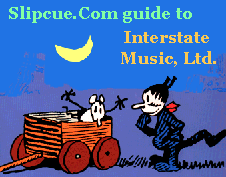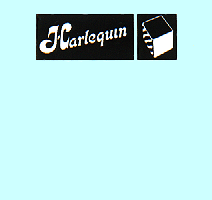 Harlequin Records: This is the second page of reviews of albums on the Harlequin Records label. The bulk of the Interstate catalog is on this imprint. There are well over one hundred Harlequin discs, most of which are of latin american music, particularly from Cuba and Argentina. Great stuff, with very few exceptions, and certainly all quite rare. Rather inexplicably, this series also houses several amazing Hawaiian CDs, as well as Greek and Slavic music, amid all the tangos, cha-chas and danzones. Hard to go wrong here.
---
[Harlequin HQ-CD 51]
Orquesta Casino De La Playa "Orquesta Casino De La Playa"

Sweet Cuban dance music from 1937-41. This ensemble featured several major Cuban stars, including Arsenio Rodriguez, Anslemo Sacasas and vocalist Miguelito Valdes. Nice stuff.
[Harlequin HQ-CD 57]
Various Artists "ON THE BEACH AT WAIKIKI: 1914-1952" (1995)


One of several Hawaiian compilations in this series, this is another impressive set of Hawaiian rarities... Especially striking are the trio of First World War-era recordings, which demonstrate that the flashy pyrotechnic style of Hawaiian steel guitar had been established very early on. This disc is a bit less varied stylistically, though, and may be less rewarding than its companion discs, in terms of enjoying it as an album.
[Harlequin HQ-CD 58]
Antonio Machin "Volume 3: 1933-1934" (1995)


A mix of styles, all of them sublime. Mainly Machin's Quarteto, though on a few tracks a full Orquesta kicks out the jams, playing high-test dance music with some jokey references to American jazz ("Eeet don't mean a thing if it ain't got that swing," someone shouts during one tune...) Along with the luscious sones and danzonettes are several stunning, ultra-sentimental weepers, such as A. Valdespi's "Te Quiero Triguena". Great stuff.
[Harlequin HQ-CD 59]
Armando Orifiche "...And His Havana Cuban Boys" (1995)


Pianist Armando Orifiche made his reputation in the Lecuona Cuban Boys, one of the most popular Latin dance bands of the 1930s. In the late '40s he broke off and founded this orchestra, which took on a punchier, more big band sound. This collection is first rate, a perfect mix of chops and pop kitsch, and is a lot livelier than other Havana Cuban Boy collections (HQ-CD 48, for example). Recommended!
[Harlequin HQ-CD 63]
Various Artists "CUBAN BIG BANDS: 1940-1942" (1995)


This is pretty swell. When they say "big bands", they're not just talking about the size of the payroll. All of these well-known acts (including Orqs. Casino de la Playa, Havana Riverside, and Hermanos Palau...) had their more "native" sides, but here the emphasis is subtly shifted to parallel the big band swing sounds from up in the States. Along with some lovely crooning vocals, there are also a few tracks which take on the sometimes-goofy, playfully ornate, semi-classical compositions of bandleaders such as Stan Kenton, Artie Shaw or even Robert Scott (the composer for many of Warner's best Looney Tunes cartoons). This disc is really easy on the ears, and well worth tracking down.
[Harlequin HQ-CD 69]
Trio Matamoros "Trio Matamoros"


An excellent cross-section of work by Miguel Matamoros, one of Cuba's most famous composers and performers. This disc covers four decades of recordings by the Trio Matamoros in various configurations, from trip to sextet to septet. Throughout it all there is a magnificent melodicism and musical richness -- Matamoros' guitar work is deeply soulful and sweet, and also very nuanced, as are the accompaniment by Rafael Cueto and Siro Rodriguez (the other two Trio members). Plus, there are some unusual arrangements, such as the "coroneta china" a wind instrument which sounds oddly like Scottish bagpipes. Several times I've had the experience of playing this disc while friends were over and had them stop to ask what was on -- which I guess is as good a recommendation as any!
[Harlequin HQ-CD 71]
Juan D'Arienzo "King Of Rhythm: 1937-1944" (1996)


Classic Argentinian tangos from the WWII-era golden age. A little bit goes a long way, but you may find yourself pulled into the orbit of this antique-sounding romantica... Violinist D'Arienzo's led one of the most popular dance orchestras of the 1930s and '40s, although he was seen as a conservative force in the tango scene. In contrast to harmonically rich innovators such as Astor Piazolla, D'Arienzo placed strict emphasis on the rhythmic side of the music, and was a bit brusqueand forceful in his delivery. Still, most fans of antique music will probably be captivated by his style and the other-worldliness of these old recordings. Good sound quality, too.
[Harlequin HQ-CD 72]
Pedro Flores "1935-1938" (1996)

[Harlequin HQ-CD 74]
Cuarteto Marcano "1939-45" (1996)


De-lovely stuff, made by some of New York's early Puerto Rican stars. Along the same lines as recordings by Cuba's Trio Matamoros, though livelier and jazzier; has the same gorgeous vocal harmonies, but with a trumpet added on for good measure. Highly recommended.
[Harlequin HQ-CD 77]
Anselmo Sacasas "1942-44" (1996)


Smooth, ebullient dance music from the former arranger of the Orquesta Casino de la Playa. These wartime recordings were made for RCA while Sacasas lived in New York -- they are poppy and "Americanized", but sweet nonetheless. Lots of vocal tracks, and EXCELLENT sound quality. (Note: Tumbao Records has also reissued some of Sacasas' work, along with that of the Orquesta Casino de la Playa.)
[Harlequin HQ-CD 81]
Connie Boswell "Deep In A Dream" (1996)
Taking a break from the latin dance archives, Harlequin dips into straight swing and sweet big band, with this nice look at the solo work of Connie Boswell, the driving force behind the fab 1920s/'30s vocal group, The Boswell Sisters. The Boswells were the prototype for the tight harmonies of the Andrew Sisters, and as for Connie herself, no less a jazz goddess than Ella Fitzgerald is quoted here as saying, "Connie Boswell was the only singer who influenced me..." This disc features old singles, V-Discs and radio transcriptions, with backing by the likes of Bunny Berrigan, Bob Crosby, Bob's big bro, Bing, The Dorsey Brothers, and others. It's nice.
[Harlequin HQ-CD 81]
Miguelito Valdes "Havana --1938-1940" (1996)


A perfectly programmed set of oldies by this sappy singer. The band on half these tracks is the Orquesta Havana Riverside; for the remainder it's the Orquesta Casino de la Playa. Includes several songs written by percussionist Chano Pozo, who later became famous for his collaborations with bebop jazz pioneer Dizzy Gillespie. Also a couple of nice, slower tunes written by guajira star, Nico Saquito.
[Harlequin HQ-CD 84]
Nilo Menendez "1934-1938" (1997)


Sweet danceband music featuring pianist Nilo Menendez, with several different lineups. Before starting his own band, Menedez worked in the Xavier Cugat orchestra, but his solo work is not nearly as corny and has quite a bit more vigor than most of Cugie's recordings from the same era. That being said, one of the highlights of this collection is an instrumental, rumbafied version of "Bei Mir Bist Du Schon". Kitschy and light, and fun.
[Harlequin HQ-CD 87]
Machito "Machito and His Afro-Cubans" (1996)


Fiery live performances from several late '40s transcription discs, and a 1950 concert at the Birdland nightclub. Tenor saxophonist Zoot Sims guests on one of the Birdland tracks, and Machito's usual hot backup musicians are all over this disc. Graciela, of course, kicks in with some fine vocals. The disc loses fidelity and seems to warble in spots, but it's still rather exciting to hear these guys at work in a live, unmediated environment. Also includes several slower, big band-influenced ballads (boleros) which show his softer range as a performer.
[Harlequin HQ-CD 92]
Various Artists "RHYTHM OF THE ISLANDS -- MUSIC OF HAWAII 1913-1952" (1996)


Another spiffy collection of rare Hawaiian 78s -- slow sugary instrumentals, ripsnorting fast ones are set side-by-side, along with sweet vocals and Polynesian jive. If you're into island music, this will definitely not disappoint. (For more information, check out my Hawaiian music section.)
[Harlequin HQ-CD 93]
Felix Mendelssohn "...And His Hawaiian Serenaders" (Harlequin, 1997)


A British "sweet band" entreprenuer who got Hawaiian steel guitar fever in the late '30s, Felix Mendelssohn helped popularize the style throughout the UK and Europe in the wartime era. Mendelssohn himself was not a musician, or even a singer, but he recruited the best talent available and these recordings are a great mix of genteel big band and authentic slack-key steel stylings. Recommended!
[Harlequin HQ-CD 94]
Carmen Miranda "1930-1945"


The second great volume of this early samba superstar. Features more of her early Brazilian recordings, as well as some Hollywood stuff. Highly recommended! (Also check out the first volume, HQ-33.)


aaaa q1

[Harlequin HQ-CD 97]
Rafael Munoz "Volume 1: 1938-1943"


"The Glenn Miller of Puerto Rico," according to the liner notes. It's a pretty apt parallel, although Miller sounded a little smoother, and was a little less versed in Latin American rhythms. Munoz definitely had the big brass section and tight, bouncy arrangements appropriate to the Big Band era, as well as one or two corny vocalists bucking for the Bob Eberly comparison. Fun, interesting WWII-era dance music. (Also see HQ-110 -- Rafael Munoz "Volume 2")
[Harlequin HQ-CD 102]
Davilita "1932-1939"


A wonderful collection of vocal performances by Pedro Ortiz Davila (aka "Davilita"), one of the early stars of New York City's Puerto Rican music scene. This disc presents a beautiful sampling of Davilita's work with other popular Puerto Rican musicicians, such as Grupo Victoria and Pedro Flores (who also appears on HQ-72 and HQ-116). It's also a great look at the changing styles of popular boriqueno music, from suave dance numbers to rougher-hewn acoustic bands. Apparently Davilita recorded over 3000 (!) songs -- the 26 tracks on this CD are certainly enough to whet your appetite for more!
[Harlequin HQ-CD105]
Edmundo Ros "V. 4/1946-1947: Chiquita Banana" (1998)


Deliriously schmaltzy latin dance music recorded in England after the war. This will be a very pleasant surprise for folks who are mostly familiar with Ros' endless series of tepid EZ listening albums of the '50s and '60sÉ What we hear on this disc are perky, sprightly novelty tunes galore, with plenty of overwrought, corny vocals by Ros and crooner Ronaldo Mazar. The sound quality is very bright, although some of the source tapes seem to have aged around the margins: slight phasing problems creep in on some tracks, mostly noticable on the flute and woodwinds. Otherwise, this is pretty fab.
[Harlequin HQ-CD 108]
Roberto Inglez "1945-47" (1998)


Scotland has offered many Pretenders to the throne, but few as absurd as this mega-schmaltzy Elgin-born pianist, who was advertised (in Portugal) as "the king of samba". Inglez worked his way up through Edmundo Ros' latin dance orchestra and, as the war came to an end, started his own band. This disc of UK light programme fodder features 24 tracks of instrumental treacle which would do Melanchrino or Montovani proud. Only for the uber-Easy Listening fanatic.
[Harlequin HQ-CD 110]
Rafael Munoz "Volume 2" (1998)


"The Glenn Miller of Puerto Rico," according to the liner notes. It's a pretty apt parallel, although Miller sounded a little smoother, and was a little less versed in Latin American rhythms. Munoz definitely had the big brass section and tight, bouncy arrangements appropriate to the Big Band era, as well as one or two corny vocalists bucking for the Bob Eberly comparison. Fun, interesting WWII-era dance music. (Also see HQ-97.)
[Harlequin HQ-CD 113]
Los Amigos Panamericanos "Los Amigos Panamericanos" (Harlequin, 1998)


Cuban-born flautist Alberto Socarras, a veteran of the early American jazz, swing and Latin dance scenes and Puerto Rican pianist Noro Morales first teamed together in the 1930s, and later collaborated on these radio transcription recordings, made for the Lang-Worth company in the 1940s. It's delightful light dance fare, brisk, corny, economical, and clearly influenced by the shmaltzy, highly successful recordings of Xavier Cugat, the then-king of Latin dance material. Not very vigorous, but easy on the ears, and easy to dance to as well. A few vocal numbers, but it's mainly instrumentals on this collection.
[Harlequin HQ-CD 119]
Pepito Torres y Orquesta Siboney "1940-1943" (1998)


Despite having all the marks of greatness -- Puerto Rican big band from the early '40s -- this disc, truthfully, isn't really that compelling. It's okay... but a little sluggish. The brass section, especially gets a little sloppy, and the sound quality is sometimes iffy. Still, it's cool historical material -- the Cuban swinger Cascarita sang with the band in the '40s (though it's not clear from the liner notes if he's really on any of these tracks or not...) Regardless, fans of the bolero may want to give this disc a try.
[Harlequin HQ-CD 123]
Antobal's Cubans "1932-1937" (Harlequin, 1998)


Don Antobal, the brother of famed bandleader Don Azpiazu (whose contemporary work can be heard on another, earlier Harlequin album) followed his brother into the music business, fronting his own highly successful dance orchestra during the Depression years. Working with him over the years was wife Marion Sunshine, a vaudeville performer who moved into Latin dance material and helped translate Azpiazu's smash hit, "El Manisero" ("The Peanut Vendor") in 1931, and who went on to compose or translate numerous other hits in years to come. Her work here ranges from cute novelty tunes such as "La Mulata Rumbera, here sung by the great Antonio Machin, and "The Moon Over Cuba Was High (And So Was I)" to more questionable ethnic humor such as "Hot Tamales" and "They All Look Alike To Pancho." There's other racist material on here as well, most of which is charming and some of which, like "Spic And Spanish," is a reprehensible relic of an era long gone. One odd, interesting side note to all this is that about half the tracks on here feature vocals by popular singer Chick Bullock, performing under the paper-thin pseudonym, Chiquito Bullo, in sort of the Latin American equivalent of blackface minstrel shows. Antobal certainly wasn't alone in trafficking in "manana" stereotypes, but this disc does seem to have a higher proportion of this kind of tune that most... One can find all the stereotypes and bad puns either as simply offensive, or as noteworthy traces of an older, earlier showbusiness era. The music itself, though, is top-notch, and is what redeems these old, historical recordings.
[Harlequin HQ-CD 129]
Edmundo Ros & His Rumba Band "Volume 5: 1948 - La Comparsa" (1999)


The postwar band of England's great Latin bandleader Edmundo Ros was a finely oiled machine, churning out endlessly pert, perky dance tunes. Many of these songs are novelty number, often showcasing Ros' cheerfully bland vocals, which sound quite strikingly like Burl Ives. Ros riffs on Brazilian themes and money worries; many fans of "authentic" Latin dance music despise this stuff, but I think it's pretty cute. And his band definitely did not suck; they just did the job that was given them, and they did it very well.
[Harlequin HQ-CD 130]
Various Artists "HAWAIIAN MEMORIES: RARE TRANSCRIPTION DISCS 1936-1947" (Harlequin, 1999)


More great Hawaiian oldies. This is one of the later entries in this series, focusing on radio perfomances from many of the greatest (but most Hollywood-oriented) of the Hawaiian bands. Many of these recordings are from the tail end of the Hawaiian craze, when the wild pyrotechnic picking style had given way to smoother, melodies, and the country pedal-seel influence had washed back onto the island shores. It's all great material, just a little mellower than some of the other Harlequin Hawaiian collections. (For more information on island music, check out my Hawaiian music section.)
[Harlequin HQ-CD 135]
Fausto Delgado "1929-1942" (1999)


A groovy collection of vocal oldies by this distinctive Puerto Rican singer. It's all there: the melody, the nasality, the romanticism, the swing. This disc draws on several different recording sessions, where Delgado sings in groups which variously include Davilita, Pedro Flores, and other early borriqueno music legends. The musicianship throughout is top-notch, easily matching that of contemporary Cuban acts such as the Trio Matamoros or Antonio Machin. Much of this tends towards florid, lovelorn ballads -- and I'm certainly not complaining! Along with Delgado's clear, crisp diction, the guitar work is a delight. If you like the delicate acoustic stuff, this one is well worth checking out.
[Harlequin HQ-CD 140]
Billo's Caracas Boys "1941-1944" (1999)


Wartime swing music from one of Venezuela's hottest bands. Of course, there's a definite latin dance flavor, but these guys -- along with Puerto Rico's Rafael Hernandez -- stand out as early Latin American bands who really "got" the soft-but-swinging vibe of North American big bandleaders such as Glenn Miller and Artie Shaw. If you've ever purchased some old Spanish-language LP of schmaltzy vocal music that seemed to be taking its cues from Guy Lombardo instead of Benny Goodman, this is a disc which may help reaffirm your faith that, yes, our friends down south could also blow that mellow jive, instead of just tearing the mambo house down. A really cool collection of rare old recordings.
[Harlequin HQ-CD 152]
Various Artists "ARGENTINE SWING: 1936-1948" (Harlequin, 1989/2000)


Dude, I had to check it out... Particularly since I am a fan of the Harlequin label, and am always curious about their dips into the obscuro artists of the past. Anyway, this is a pretty solid set of rare, vintage swing and trad-jazz and gypsy guitar recordings from Argentina, all from roughly around the World War Two era... The musicians are a mix of homegrown and expatriate performers. Of particular interest are several tracks by saxophonist Booker Pittman, who had recently moved from Paris to South America, and one featuring French guitarist Henri Salvador, who came to Buenos Aires in 1943, along with Ray Ventura, and hung out for a while to jam with the locals. There was also a group called the Santa Paula Serenaders that featured a female vocal group (Baby Lamar & The Blackbirds) who did a pretty spiffy Andrews Sisters imitation. All of these tracks are top-flight, but it is disappointing that they are so completely North American-sounding... nary a hint of the tango or any other Argentine styles, and when there are lyrics, they are invariably in English. But if you like old-school, pre-bop jazz, this is a great collection, and a fascinating historical excursion.


<! HQ-CD 152 >

---
Links
---
Interstate Music is finally online! At last! Hoo-rah! Now you can find out which of these gems is actually in print (as opposed to "out there somewhere...") and also get up-to-date ordering info.
---
OTHER INTERSTATE IMPRINTS:

Country Routes
Flyright
Heritage
Krazy Kat
---


Interstate Music Info
World Music
Hick Music Index



---

---