<! MP3 00/00/00 > <! update 00/00/00 > <! pix 00/00/00 > <! icons 02/18/11 >
---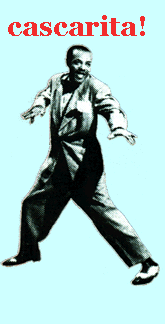 Orlando Guerra (known professionally as Cascarita) had one of the most dynamic and pliant voices in Cuban music. Clearly influenced by North American swing music, Cascarita sang with a bounce and a bluesy inflection. He starred in several top bands, including the Orquesta Casino de la Playa, where he took the lead vocal spot after Miguelito Valdes left Cuba in 1940, to work in the United States. It was Cascarita who then recommended the young Perez Prado be hired as an arranger for the band, and the two became star performers during the mid-40s.
---
Discography
---
Orquesta Casino De La Playa "Memories Of Cuba: 1937-1944" (Tumbao, 1991)


With Miguelito Valdes, Perez Prado and Cascarita.

Orquesta Hermanos Palau "La Ola Marina: 1939-1941" (Tumbao)



Cool early recordings, with Cascarita on vocals. Sometimes the arrangements are a bit staid, but the vocals are great -- Cascarita delivers these upbeat, comedic tunes with a decidedly Cab Calloway-ish brightness. Muy chistoso and worth checking out.

Julio Cueva "La Butuba Cubana: 1943-1944" (Tumbao)



Outstanding dance music featuring pleasantly muted brass arrangements and warm vocals. Cueva was sort of a Cuban Ziggy Elman, a sweet-sounding trumpet player who briefly set out on his own after stints in popular orchestras such as the Hermanos Palau band. All but four of the tracks on here feature vocals by Cascarita, and the last two tracks feature Cueva as part of an early Bebo Valdes band. Recommended!
Cascarita "El Guarachero: 1944-1946" (Tumbao)


Pure gold! Orlando Guerra's resonant, intimate voice recall the best of the Big band-era singers, at times coming awful close to a Louis Jordan-style jump blues delivery. The Orquesta Casino de la Playa back him on most of this disc, with lively arrangements by a young Perez Prado.

Julio Cueva "Desintegrando: 1944-1947" (Tumbao)



A stunning companion to the Tumbao's earlier Cueva collection, this picks up right where the last one left off. Most of the vocals are by Cascarita, whose range broadens from sweepingly corny ballads to super-swinging later tracks. The band follows the same arc, and by the postwar years they have a sharp sound with a strong big band/jazz feel to it. Highly recommended!
Cascarita "Exitos CMQ 1948" (Orfeon, 1995)


1960s re-recordings of Guerra's classic '40s hits. I haven't heard this collection, but it comes highly recommended.
Cascarita "Pruebe Y Compare" (Discmedi, 1995)


---
Links
---
---



Other Cuban Artists
Main Cuba Index
International Music Index



---