<! MP3 00/00/00 > <! update 00/00/00 > <! pix 00/00/00 > <! icons 02/18/11 >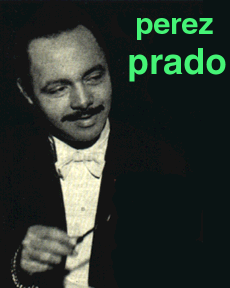 ---
The most commercially successful mambo artist of the 1940s, '50s and '60s, Damaso Perez Prado got his start in the late '30s as an arranger and pianist for one of Cuba's most influential dance bands, the Orquesta Casino de la Playa. In the late '40s Prado set off on his own and quickly became known as the architect of the "mambo" dance craze, and one of the most popular latin american artists in the world. His recordings on the RCA label included huge hits such as the kitschy "Cherry Pink and White Apple Blossom" and "3D Mambo." Listed below are some of the tastier recent CD releases of Prado in various phases of his career.
---
Discography
---

"Mondo Mambo! The Best Of Perez Prado" (Rhino, 1995)


A swell retrospective of Prado's work, although it sticks mainly to his most successful years as a hitmaker for RCA Records in the late '50s. The advantage to this is that these tunes are slicker and better produced than his earlier stuff, though perhaps less earthy. Prado fans are also strongly encouraged to also check out some of the discs on the Tumbao label, listed below...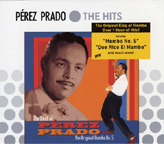 Perez Prado "The Best Of Perez Prado: The Original Mambo No. 5" (Sony-BMG Legacy, 2006)


Prado's career is pretty well-trod territory, and oldies-but-goodies such as "Cherry Pink And Apple Blossom White" and "Mambo No. 5," with their trademark shrill, register-piercing horn blasts will seem like familiar old friends. But several tunes on this generously programmed, top-flight, 20-song best-of set, such as the richly melodic, spy-jazzy, gogo-delic "Quien Sera," are genuinely surprising and help break this disc out of the known-quantity mold, adding a new twist to the Prado legacy. There's also a healthy, selection of his easy listening-type tunes, but these are judiciously chosen, so that htey represent his poppy outings in their best light. If you're looking for a good, well-balanced introduction to Prado's work, this'll do you just fine.
Orquesta Casino De La Playa "Memories Of Cuba: 1937-1944" (Tumbao, 1991)


With Miguelito Valdes, Perez Prado and Cascarita.
Orquesta Casino De La Playa "Fufunando: 1937-1940" (Tumbao, 1991)


Entrancing, dreamy dance music, highlighting the vocals of Miguelito Valdes, a sometimes corny, but powerful, singer. This is the third Tumbao disc of material featuring the original 1937-40 lineup of the Casino de la Playa band, which also featured pianist Anselmo Sacasas. Plenty of slow drippy boleros, though heavier on the syncopated guarachas and conga dances. The vocal choruses add a lot, and the band is all class. Recommended!
Perez Prado "Kuba-Mambo: 1947-1949" (Tumbao, 1991)


Early works by the best-known mambo bandleader of all time. After graduating from the Orquesta Casino de la Playa, pianist-arranger Prado started his own band. Rough-hewn, punchy, blaring brass dominates on these recordings, though it is often balanced with sexy percussion. Prado's piano work is often sloppy -- you can hear him faltering while he improvises. But the arrangements are intriguing-- Prado experimented with creative rhythmic and melodic ideas which were definitely ahead of the other Cuban dance music of the time. This disc is also interesting to Prado fans for its early versions of songs which would be re-worked into much smoother form, such as "Mambo #5". A nice look at Prado's early career.
Beny More "El Barbaro Del Ritmo: 1948-1950" (Tumbao, 1992)


Beny More is considered by many to have been the greatest Cuban vocalist ever. Listening to these recordings, made with Perez Prado and his orchestra in the late '40s, it's certainly hard to deny that they guy rocked pretty hard. Here, Prado's brassy mambos are smoother than his earlier work, and More's vocals make the mix that much sweeter. Super swinging, super suave, and highly recommended.
Perez Prado "Go Go Mambo! 1949-1951" (Tumbao, 1992)

Perez Prado "Al Compas Del Mambo: 1950-1952" (Tumbao)


Super-ultra prime material from Prado's peak as a hardcore latin dance king (before the kitschier, commercialized RCA years). A few tracks are a bit shrill, but for the most part, this disc kicks ass. Highly recommended!
Cascarita "El Guarachero 1944-1946" (Tumbao)


Pure gold! Orlando Guerra, or "Cascarita," was one of the greatest Cuban vocalists, whose resonant, intimate voice recalls the best of the Big band-era singers. Cascarita started off singing with the Orquesta Casino de la Playa, who back him on most of this disc, with lively arrangements by the young Perez Prado.
Perez Prado "Havana 3 a.m." (RCA, 1956)

Perez Prado "Cocktail Hour" (Allegro, 1999)


This budget line 2-CD set has a lot of bang for the buck -- practically no liner notes or album art, but two solid CDs worth of classic Prado kitsch. I'm not enough of a Prado-ologist to know when these recordings date from, but I can say that they all sound pretty nice. A good way to get your feet wet.
---
Links
---
The Vinyl Tourist website also includes reviews of Prado's albums on Tumbao, but more importantly a massive Perez Prado discography and biography full of pretty pictures and nice words, which puts my humble page to shame.
If, perhaps, you'd like a third opinion, Vinyl Safari also has a cool Prado page, complete with a biographical essay, discography and album evaluations, as part of it's groovalicious and well-thought out site.
---



Other Cuban Artists
Main Cuba Index
International Music Index



---