<! MP3 00/00/00 > <! update 00/00/00 > <! pix 00/00/00 > <! icons 02/18/11 >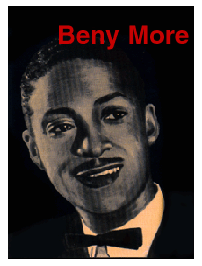 ---
One of Cuba's most beloved singers, Beny More started his career in the early 1940s, landing a job mid-decade with the famous Conjunto Matamoros, where he was featured as lead vocalist. Although the position brought him national recognition, More felt stifled by bandleader Miguel Matamoros' tightly-conceived arrangements, and began looking for other creative opportunities. In 1945, as the group toured Mexico, More stayed behind and set out on his own musical path. It was there, in 1948, that he met the great bandleader, Damaso Perez Prado, who was just starting to pioneer the mambo dance craze. Beny More worked with the Prado orchestra from 1948 until 1950, when he decided to permanently return to Cuba. After his return to Cuba, More worked with bandleaders Mariano Merceron and descarga pioneer, Bebo Valdes. During the 1950s, he became recognized as one of the country's greatest stars, a singer as comfortable belting away on upbeat dance numbers as he was singing slower, romantic boleros. More stayed in Cuba after the revolution, and performed up until his passing in 1963.
---
Select Discography
---
Conjunto Matamoros & Beny More "1945-1947" (Tumbao)


His stint singing with Miguel Matamoros' expanded ensemble made Beny More nationally famous. Originally Matamoros had simply intended to have More take over his vocal part in the trio harmonies, but instead quickly turned him into the featured singer. Although More supposedly chafed at the tightly-led arrangements, these are marvellously inventive songs -- Matamoros adapting their sound to the new style of the mambo, which Perez Prado, Beny More's future employer, was creating at the time. Lovely stuff, with the Conjunto Matamoros putting a little swing into their already-lovely sound.
Perez Prado & Beny More "El Barbaro Del Ritmo: 1948-1950" (Tumbao)


Beny More is considered by many to have been the greatest Cuban vocalist ever. Listening to these recordings, made with Perez Prado and his orchestra in the late '40s, it's certainly hard to deny that they guy rocked pretty hard. Here Prado's brassy mambos are smoother than his earlier work, and More's vocals make the mix that much sweeter. Super swinging, super suave, and highly recommended.
Beny More "Volume 1: Mata Siguaraya" (BMG, 1992)


An awesome collection of recordings More made with various ensembles in 1949-1951, while living in Mexico. A few tracks are with Perez Prado, but other bandleaders on here include Rafael de Paz, Chucho Rodriguez, and Lalo Montane... A heavier dose of pop kitschiness, perhaps, than on the Tumbao collections, but superior sound quality, and plenty of super-bouncy fun. Recommended!
Beny More "Volume 2: Y Hoy Como Ayer" (BMG, 1992)

Beny More "Volume 3: Maricaibo Oriental" (BMG, 1992)

Beny More "Magia Antillana" (BMG, 1991)

Beny More "The Very Best Of Beny More" (BMG, 1995)

Beny More "El Barbaro Del Melodia" (Caney)


Beny More "La Coleccion Cubana - Beny More" (Music Club, 1998)


A flawless set, with nice, full sound and great track selection, which ranges from kitschy bounce to deliciously rounded, throaty boleros. All that, plus Music Club's budget pricing and wide availability, make this a highly desirable disc to search out..


<! 107x108 >

---
Related Records
---
Generoso Jimenez "El Trombon Majadero" (Bembe, 1998)



A wonderful album of super-swank dance music from a former member of Beny More's band. These mid-'60s sessions were made recorded not long after More's death in 1963, and they show Jimenez in peak form. Sharp horn charts that anticipate the punchiness of New York salsa, but also show a strong jazz influence. This is a really fun record... well worth tracking down!


<! 109x108 >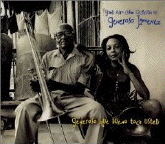 Generoso Jimenez "Generoso Que Bueno Toca Usted" (Pimienta/Universal Latino, 2002)



Jimenez is still holding his own and banging out some tasty Cuban dance music, even at this late date. Ths is a very good record, although if I had to complain about anything on here, it would be the repetitive "Cherry Pink"-styled brass sting, which crops up all over this album, and seems a bit overused. Otherwise, this is pretty solid stuff!
Generoso Jimenez "Tojo/Trombon Majadero" (Disconcorme/Malanga Music, 2007)



A delicious reissue of two early-1960s albums by Cuban trombonist Generoso Jimenez, a veteran of Bebo Valdes and Beny More's bands, and a longtime fixture in the Cuban jazz movement. Jimenez cut his teeth playing nightly gigs in Havana's booming Bautista-era nightclub scene, playing with and backing many of the top talents in Cuba, as well as visiting stars from the United States. It was as a key member of Beny More's band that he really made his mark, jamming with other descarga jazz legends, such as Chocolate Armenteros, Cachao Lopez, Papito Hernandez and others. These two solo albums, Ritmo (1960) and Trombon Majadero (1965), were recorded both before and after More's untimely death, and show Jimenez and his cohorts playing at peak strength. Some of the harder horn arrangements are a bit merciless and play against the fluidity of the percussion... But there's no questioning the soulfulness and power of these ensembles... Latin jazz fans will definitely want to snap this up.
---



Other Cuban Artists
Main Cuba Index
International Music Index

---