<! MP3 00/00/00 > <! update 00/00/00 > <! pix 00/00/00 > <! icons 02/18/11 >
---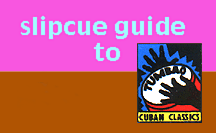 Tumbao Cuban Classics: This series of pleasantly affordable European imports collects material from priceless old 78 rpm recordings. Dozens of legendary Cuban musicians are restored to their full glory, including many who were previously ultra-obscure to the world at large. Each album has great bilingual liner notes, and reliable sound quality.
Stylistically, Tumbao's CDs range from acoustic-oriented trios and septets in the 1920s to the hottest post-war salsa bands. It's all great. A few years ago, I tried a couple of their discs out, and was so pleased with them that I decided to pick up anything that features the Tumbao logo... I haven't been disappointed yet!! If you have a hard time finding any of these releases, you can try contacting some of the distributors on my Cuban resources page, or see below for information about Tumbao's own website.
For more Tumbao titles, use the links below... This label profile is organized by catalog number; alphabetical listings of artists can be found in the main Cuban Music section.
---

[TCD-001]
Sexteto Habanero "Son Cubano: 1924-27" (Tumbao)



Beautiful small-ensemble acoustic music from one of Cuba's earliest popular groups. This shares a sense of genteel antiquity with old "sweet" big band recordings, and is often quite dreamy and haunting. Tumbao started off their series with these guys for a reason. Also, check out TCD-009, which features later recordings by the Sexteto.
[TCD-002]
Xavier Cugat "...And His Orchestra: 1940-1942" (Tumbao)


With Miguelito Valdes, Machito, Tito Rodriguez. Also see TCD-023
[TCD-003]
Orquesta Casino De La Playa "Memories Of Cuba: 1937-1944" (Tumbao)


With Miguelito Valdes, Perez Prado and Cascarita.
[TCD-004]
Machito "Tremendo Cumban" (Tumbao)

[TCD-005]
Cuarteto Caney "...With Machito: 1939-1940" (Tumbao)

[TCD-006]
Perez Prado "Kuba-Mambo: 1947-1949" (Tumbao)


Early works by the best-known mambo bandleader of all time. After graduating from the Orquesta Casino de la Playa, pianist-arranger Prado started his own band. Rough-hewn, punchy, blaring brass dominates on these recordings, though it is often balanced with sexy percussion. Prado's piano work is often sloppy -- you can hear him faltering while he improvises. But the arrangements are intriguing-- Prado experimented with creative rhythmic and melodic ideas which were definitely ahead of the other Cuban dance music of the time. This disc is also interesting to Prado fans for its early versions of songs which would be re-worked into much smoother form, such as "Mambo #5". A nice look at Prado's early career.

[TCD-007]
Pupi Campo "Rhumbas And Mambos: 1948-1951" (Tumbao)



Wonderful! Dance music with a heavy North American big band influence, but still with plenty of Cuban zip and zam. Great vocals, a killer band (including Tito Puente, Chano Pozo and a bunch of yanqui jazzmen...) playing with a strong emphasis on the melody. Highly recommended.
[TCD-008]
Miguelito Valdes "Cuban Rhythms: 1942" (Tumbao)


With Machito.

[TCD-009]
Sexteto Habanero "Las Raices Del Son: 1925-1931" (Tumbao)


This was the band which brought the dance style of the "son" from the rural Oriente province into the big capital city of Havana. In the process of popularizing the new afro-cuban music, the Sexteto also modernized and revolutionized it, and these 1925-1931 recordings are pivotal to the development of Cuban pop music. Although these old, haunting, lo-fi recordings may sound a bit like field recordings, they are also the basis of modern salsa, and the benchmark which all son bands were measured against for decades to come.
[TCD-010]
Beny More "El Barbaro Del Ritmo: 1948-1950" (Tumbao)


Beny More is considered by many to have been the greatest Cuban vocalist ever. Listening to these recordings, made with Perez Prado and his orchestra in the late '40s, it's certainly hard to deny that they guy rocked pretty hard. Here Prado's brassy mambos are smoother than his earlier work, and More's vocals make the mix that much sweeter. Super swinging, super suave, and highly recommended.
[TCD-011]
Tito Puente "El Rey Del Timbal: 1949-1951" (Tumbao)


The hippest and most happening latin dance music, from the peak of the mambo scene. A New York native, percussionist Tito Puente knew how to hit a groove better than almost anyone else, and this disc features him -- arguably -- at his peak. Vocalist Vincetico Valdes is featured on many tracks. Smooth, slinky, sexy stuff -- highly recommended.
[TCD-012]
Machito "Cubop City: 1949" (Tumbao)


A slightly hodge-podge-y set of bebop-era tracks featuring Machito and his sister, Graciella, during their peak as stars in the New York latin-jazz boom. But despite the historical cachet, these recordings may be a bit too shrill for even dedicated listeners to stick with. Worth checking out, though.
[TCD-013]
Perez Prado "Go Go Mambo: 1949-1951" (Tumbao)


[TCD-014]
Tito Rodriguez y Los Lobos Del Mambo "Mambo Mona: 1949-1950" (Tumbao)


Super-suave vocals, fronting a killer mambo band, full of blaring, melodic brass and slinky bongos and congas. Puerto Rican-born Rodriguez was a major figure in the New York latin dance scene of the 1940s. He performed with pianist Jose Curbelo (TCD-042), as well as Machito and his band, before forming his own ensemble in '48. This is some of the best music of that era -- also check him out on TCD-021.


<! 106 x 108 >

[TCD-015]
Cuarteto Machin "The Original Cuarteto Machin: 1929" (Tumbao)


It's easy to understand why Antonio Machin and his small ensemble -- vocals, claves, guitar, trumpet and tres -- were so popular in the 1920s and 1930s. The melodic interplay of the tres and trumpet is exquisite, and the delicate, clear vocal delivery vibrantly brings these humorous, sentimental songs to life. Guest musicians include Puerto Rican vocalist Davilita and future mambo king, Mario Bauza, on trumpet. Highly recommended -- a real wowzer.
[TCD-016]
Trio Matamoros "The Legendary Trio Matamoros: 1928-1937" (Tumbao)


[TCD-017]
Chano Pozo & Arsenio Rodriguez "Legendary Sessions: 1947-1953" (Tumbao)


With Machito, too! Percussionist Chano Pozo helped create latin jazz in the 1940s when he joined Dizzy Gillespie's postwar bebop outfit, adding authentic Cuban rhythms to the mix. The recordings come from the same period, when Pozo and Machito were based in New York City. Also check out his work with pianist Jose Curbelo (TCD-042).


<! different ASINs? >

[TCD-018]
Tito Puente "Mambo Macoco: 1949-1951" (Tumbao)


Hot, hot early tracks by this master percussionist. The jazz sound that would later take over is starting to inch in, and Puente has several non-latino jazz guys filling out his horn section. This disc is a little less incendiary than some, a little too dreamy, and focussed on Puente's big band-y leanings. Several other latin jazz heavyweights here as well, such as Mongo Santamaria, Manny Oquendo and Bobby Escoto -- well worth checking out.
[TCD-019]
Ignacio Pineiro "And His Septeto Nacional: 1928-1930" (Tumbao)

[TCD-020]
Conjunto Matamoros With Beny More "1945-1947" (Tumbao)


His stint singing with Miguel Matamoros' expanded ensemble made Beny More nationally famous. Originally Matamoros had simply intended to have More take over his vocal part in the trio harmonies, but instead quickly turned him into the featured singer. Although More supposedly chafed at the tightly-led arrangements, these are marvellously inventive songs -- Matamoros adapting their sound to the new style of the mambo, which Perez Prado, Beny More's future employer, was creating at the time. Lovely stuff, with the Conjunto Matamoros putting a little swing into their already-lovely sound.
[TCD-021]
Tito Rodriguez "Mambo Gee Gee: 1950-1951" (Tumbao)

[TCD-022]
Arsenio Rodriguez "Como Se Goza En El Barrio: 1953" (Tumbao)

[TCD-023]
Xavier Cugat "Rumba Rumbero: 1937-1940" (Tumbao)


Catchy, flashy latin dance music, featuring vocals by Miguelito Valdes on over half the tracks. Cugat's arrangments could often be a bit lightweight and "poppy," though on this disc they are consistently solid and more in "authentic" Cuban territory.
[TCD-024]
Machito "Carambola: 1951" (Tumbao)


[TCD-025]
Miguelito Valdes & Noro Morales "Mr. Babalu: 1949-1950" (Tumbao)


Super-corny ballads with a poppish bent. The highly esteemed vocalist Valdes is hamming it up mercilessly on the first half of this CD -- he plays it straighter on other CDs, including releases on Interstate Music's Harlequin series. But if you're looking for schmaltz, this might fill the bill.
[TCD-026]
Antonio Machin "El Manisero: 1929-1930" (Tumbao)


[TCD-027]
Noro Morales "Rhumbas And Mambo: 1948-1951" (Tumbao)


Killer dance music from the late 1940s and early '50s... As brassy as Perez Prado, but smoother and more swinging. Includes vocals by Tito Rodriguez and Vicentico Valdes, as well as some hot playing by a Yankee ensemble which included Doc Severinsen. Definitely recommended! (Also check out TCD 25 and TCD 36 for a peek at Morales' less vigorous sides.)
[TCD-028]
Perez Prado "Al Compas Del Mambo: 1950-1952" (Tumbao)


Super-ultra prime material from Prado's peak as a hardcore latin dance king (before the kitschier, commercialized RCA years). A few tracks are a bit shrill, but for the most part, this disc kicks ass. Highly recommended!
[TCD-029]
Antonio Arcano "Danzon Mambo: 1944-1951" (Tumbao)

[TCD-030]
Conjunto Casino "Rumba Quimbumba: 1941-1946" (Tumbao)

---
More Tumbao Titles: TCD#s 001-030 | 031-060 | 061-090 | 091 & Up
---
Links
---
Fresh Sounds is the offical Tumbao website, with information about other imprints such as Blue Moon, El Bandoneon, and Alma Latina that may also be of interest. The site includes mailorder into for these hard-to-find releases.
Milonga is a UK-based website that has extensive sections on Cuban son, Argentine tango, and other Latin American styles. They also have a large section devoted to all the Tumbao releases... worth checking out!
---



Cuban Music Index
Other World Music


---