<! MP3 00/00/00 > <! update 00/00/00 > <! pix 00/00/00 > <! icons 02/18/11 >
---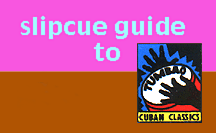 PART FOUR ...This is the fourth of four pages profiling the Tumbao Cuban Classics label. This site is not connected with the label itself, and is only intended to help those interested in Cuban music to find recordings they like... And here are some I like a lot...!
For more Tumbao titles, use the links below... This label profile is organized by catalog number; alphabetical listings of artists can be found in the main Cuban Music section.
---
More Tumbao Titles: TCD#s 001-030 | 031-060 | 061-090 | 091 & Up
---
[TCD-091]
Celia Cruz & Sonora Mantancera "La Guarachera De Cuba: 1950-1953" (Tumbao, 1998)



Celia Cruz, the legendary Queen of Cuban music, swinging her way through her first sessions with this outstanding, equally legendary band. On some of the early tracks, Cruz is still finding her feet, but when she hits her stride-- yow! Highly recommended. (By the way, when she started recording with the Sonora Mantancera, Cruz was filling in for vocalist Myrta Silva, who is can be heard on TCD-092).

[TCD-092]
Myrta Silva "La Bombonera De San Juan: New York 1939-1942" (Tumbao)


Classic guaracha vocals with catchy back-up by Rafeal Hernandez and his Cuarteto Victoria. Puerto Rican-born Silva, who would later go on to be featured vocalist for the Sonora Mantancera, had a pleasant, Doris Day-ish girl-next-door voice. Nice stuff -- recommended!

[TCD-093]
Compay Segundo "Balcon De Santiago: 1956-1957" (Tumbao)


After Compay Segundo and his cousin broke up their Duo Los Compadres (TCD-061), Segundo started his own band, performing as a bandleader after two decades of backing various ensembles. Here are fifteen outstanding tracks from the first lineup of that group, featuring Segundo's outstanding tres playing, accompanied by trumpet, bass and the vocals of Pio Leyva and Carlos Embale. Great stuff, with fab sound quality -- highly recommended!

[TCD-094]
Nico Saquito y Sus Guaracheros De Oriente "Alborada: 1946-1951" (Tumbao)


Post-war recordings by one of the legends of acoustic guajira music. The band includes Senen Suarez (TCD-048) on lead guitar, and several Suarez compositions are featured (as well as over a dozen by Saquito). These tracks lack the subtlety and economy of Saquito's more recent recordings, where his status as a master musician is gracefully asserted... nonetheless, this is a stunning disc. Recommended!

[TCD-095]
Duo Los Compadres "Sentimiento Guajiro" (Tumbao)



A companion to the first fab set of Duo Los Compadres recordings (TCD-061). If anything, this set of recordings, which stretches into the mid-'50s when the Duo split up, is even livelier and more accomplished. The sound quality is gorgeous, as are the songs themselves. Includes a great version of the humourous classic, "Saradonga", and guitar playing that shows Francisco Repilado (Compay Segundo) at his absolute peak. Great stuff!
[TCD-096]
La Sonora Mantancera "En CMQ, 1957: La Sonora Trae Un Tone" (Tumbao, 1999)


Great late-'50s live performances by one of Cuba's best dance bands, taken from radio shows made for the CMQ radio station. These 1957 performances were actually made for rebroadcast in Peru, and several of the announcements between songs have local (Peruvian) significance... The sound quality is a little rough, but not appalling. Mostly, these are priceless examples of first-rate live showmanship, including the added flavor of the announcers pumping up the audience, and promoting the station and musicians... a great glimpse into part of Cuba's old musical legacy.
[TCD-097]
Sexteto Nacional (Tumbao)

[TCD-098]
Orquesta Melodias Del 40 "Montano Favorito" (Tumbao)

[TCD-099]
Armando Orifiche "Nostalgia Cubana" (Tumbao)


[TCD-100]
Orquesta America "Silver Star" (Tumbao)


Easy listening fans seeking to broaden their pallates might do well to check this disc out... Ninon Mondejar's early-'50s traditional danzon band featured a breezy violin-and-flute combo with a decidely light touch, as well as the band credited with inventing the delicate dance known as the "cha-cha-cha." Corny and romantic, yes, but not entirely fluffy. This is a pretty cool collection of cha-cha-cha recordings from 1953-54 that is far less punchy and dynamic than its contemporary latin dance bands, but by no means as wussy as the countless watered-down imitation cha-cha-cha acts up North. Definitely worth checking out.
[TCD-101]
Orquesta Cosmopolita "Ritmundo Cha-Cha-Cha" (Tumbao)


[TCD-104]
Miguelito Valdes "Algo Nuevo: Mambo And Rumba Sessions" (Tumbao, 2001)


More great stuff -- these late-'40s sessions, mostly cut in New York, catch Valdes in an upbeat mood, riding the crest of the mambo craze with some swinging tunes of his own. On occasion, this lapses into mere formula, and he seems to be trying to recreate the afro-cuban jazz style of Machito, rather than stick to his strengths as an old-fashioned schmaltzy crooner... Mostly, though, what's there to complain about? When he's really into it, the guy's on fire, and most of these tracks pack real punch... Includes an instrumental version of Gershwin's "Summertime", as well as a few sly quotes of other yankee standards, such as "Someone To Watch Over Me..." Great material and nice sound quality; a different feel for Valdes, but worth checking out.

[TCD-107]
Cheo Marquetti "Region Matancera" (Tumbao, 2001)



Fine, soulful guajira-son and son montuno dance music from a fine singer and bandleader who nevertheless never quite hit it big, either in Cuba or during his frequent sojourns abroad. These recordings, from 1955-57, when Marquetti had returned from several years in Cuba, mark the highpoint of his work as a bandleader, and it is mighty fine stuff, cheerful, catchy, and full of life. He may not have had tremendous success way back then, but the guy can still set a room to dancing today, thanks to the miracle of digital technology!

[TCD-109]
Orchesta Riverside De Pedro Vila "De Bayamo A Pinar Del Rio: 1953-1959" (Tumbao, 2002)



Sweet, swingin' mambos, perky dance music with a heavy stylistic debt to the master of the form, Perez Prado. Vocalists Tito Gomez and Merceditas Valdes add some fizz to the proceedings, while bandleader Pedro Vila has the orchestra going full-tilt the whole time... Fun stuff! Recommended.
[TCD-110]
Orquesta Aragon "Mambo Inspiracion -- Primeros Grabaciones: 1953-1955" (Tumbao, 2002)



Orquesta Aragon, formed in 1939 by bassist Orestes Aragon, is one of Cuba's longest-lived dance bands. Although other groups, notably Orquesta America, actually invented the light-sounding dance style known as the cha-cha-cha, the Aragon ensemble was the one that had the widest early popular success bringing it to Havana's chic dance scene, and hence inherited a legendary status as the champions of the style. These are the group's first recordings, laid down for RCA-Victor more than a decade after the band had actually formed, and which made them an international success. These songs reveal a seasoned and professional group, with sleek arrangements and style to spare. Orquesta Aragon has continued performing throughout the decades, albeit with steady personnel changes, but anyone who has heard the band in recent years will also want to check out these fine early recordings. It is, truly, the birth of a legend.

[TCD-111]
Kiko Mendive "Un Cubano En Mexico: 1943-1952" (Tumbao, 2002)



Wow... this is a real find for folks who can't get enough of good-natured, robust guaracha singers like Cascarita and Beny More. Kiko Mendive was a comedic actor who found the Mexican film industry to be a fertile ground for career success, and later in life wound up working on Venezuelan TV. Along the way, he hooked up with several top orchestras, including those of Silvestre Mendez, Arturo Nunez, Ismael Diaz and Homero Jimenez, and worked with arranger Perez Prado, early in his career. This disc opens with a sensationally bold Prado arrangement on "El Caballo Y La Montura," which is a good indicator of the high caliber of all these recordings. Mendive apparently modeled himself quite closely on Cascarita's act, and it was when his idol also moved to Mexico that Mendive decided to relocate to South America -- the country just wasn't big enough for the both of them, it seems. Perhaps at the time his work may have been derided as derivative, but as the decades have passed, and their rivalry has receded into obscurity, all that's left is some really great music. This is another great Tumbao album, one of my favorites of recent vintage. Highly recommended!
[TCD-112]
Arturo Nunez "El Caballero Antilliano" (Tumbao, 2002)


Another great Cuban artist who found fame playing in Mexico City, pianist Arturo Nunez led a dazzling dance band that included, over the years, luminaries such as vocalist Beny More and arranger Perez Prado. The less well-known members of the band were pretty awesome as well, as heard on this fine of sleek, swaying dance tunes, recorded between 1949 and 1953. Some of the lavishness and dense, high-concept harmonies of North American big band can also be heard in here; Beny More sings a few duets as part of the "Duo Antilliano," but for the most part, the magic is with the band itself, which was pretty swinging. A fun album... definitely recommended!
[TCD-113]
Septeto Cauto "Congo Se Diverte" (Tumbao, 2002)


[TCD-114]
Sonora Matancera "La Ola Marina" (Tumbao, 2002)


A Cuban music collector's dream disc, this gathers many of the earliest recordings made by this esteemed ensemble in 1944 for the influential Panart label. Features some fine, fiery material from one of the island's best dance bands. Although La Sonora had actually formed in the late 1920s, they were slow getting recorded under the Matancera name, and the earlier tracks on this disc seem to reveal a little unsureness working in the studio. As they gathered steam, though, and studio acumen, the band starts to sound more like the unstoppable force we know from all their decades of recording since. Their tightly-arranged, well-conceived guaracha tunes helped lay the foundation for dance styles such as the mambo, which later swept the States and Europe. Fans will definitely want to snap this disc up!
---
Tumbao Records -- Serie 700
---
[TCD-701]
Los Compadres "Cosas De Mi Cuba" (Tumbao, 1999)


Compay Segundo's cousin, Lorenzo Hierrezuelo and his brother Reynaldo picking up where the old Duo Los Compadres left off... It's not quite the same name, but it's certainly still great stuff.
[TCD-702]
Los Compadres "Cuba En Primavera" (Tumbao, 1999)

[TCD-703]
Rene Alvarez "Guaguanco En El Solar" (Tumbao, 1999)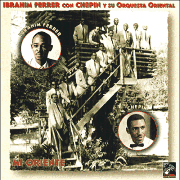 [TCD-704]
Ibrahim Ferrer & Chepin y Su Orquesta Oriental "Mi Oriente" (Tumbao, 1999)


Wow. What a coup for Tumbao! Cuban vocalist Ibrahim Ferrer's star has never shone brighter than now, with the universal popularity of the Buena Vista Social Club, yet here is an amazing chance to hear Ferrer in his youth, as a singer for the 1960-61 orchestra of composer Electo "Chepin" Rosell (co-leader of the reknown earlier Chepin-Choven band). Ferrer actually only sings on half the tracks here, but those eleven songs are all pretty swell, especially "Habana Camilo" and "El Platanal de Bartolo," two Chepin originals. If you want to hear what the best Batista-era bands sounded like, plus to hear what everybody's favorite bolero singer was like when he got the chance to rock out on a swinging son-montuno, check this puppy out!

[TCD-705]
Nico Saquito y Sus Guaracheros De Oriente "Adios Compay Gato" (Tumbao, 1999)


The Guaracheros ensemble in its full glory, recorded in 1954-55, with Nico Saquito playing maracas and leading the chorus (though he does not sing lead on these recordings). Most of the songs were written either by Saquito or by Miguel Matamoros; one bolero by Sindo Garay is also included. Every track on here is melodically bright and appealling -- the word "sprightly" comes to mind -- and this is certainly some of the most accessible old-style Cuban music you're likely to come across anytime soon. Very nice stuff -- highly recommended!
[TCD-706]
Los Compadres "Asi Es El Son" (Tumbao, 1999)


[TCD-707]
Los Munequitos De Matanzas "Guaguanco Matancero" (Tumbao, 2001)


Early archival recordings from one of Cuba's most beloved percussive bands. Low-key drumming and equally relaxed vocals form this band's appeal, and it's a formula which hasn't changed much over the years -- hence the group's status as guardians of the island's Afro-Cuban culture. Although the band formed in 1953, they didn't record anything until 1956, and that first old 78 is included on this CD, along with over a dozen others from '56-'63. Personally I've always found Los Munequitos style to be a little too static, but it's great to hear them sounding so damn young on these early recordings. If you're a fan already, then this disc is an absolute must!

[TCD-708]
Alberto Zayas "Grupo Afro-Cubano De Alberto Zayas: El Melodioso" (Tumbao, 2001)


Folkloric, percussion-based guaguanco-style rumba material, recorded in Havana, between1955-56. This group, under the direction of bandleader Alberto Zayas, featured vocals by popular singer Carlos Embale, and Roberto Maza. Fans of percussion-based groups such as Los Munequitos De Matanzas should love this album -- the fine vocal performances make it even more accessible to the casual listener.
---
Tumbao Records -- Serie 800
---
[TCD-801]
Various Artists "25 CLASSIC VERSIONS OF 'EL MANISERO' " (Tumbao, 1998)
"El Manisero" ("The Peanut Vendor") was one of the first Cuban songs to become an international hit, having been popularized by Antonio Machin during one of his early swings through Europe. I haven't heard this disc, but I imagine it's good fun... when in small doses. The song is sort of like a Cuban "Strangers In The Night": everyone took a crack at it at one time or another, so there are plenty of high-powered artists on this album. But I'm sure after four or five versions at once, you might be ready to take a break for a while.
[TCD-802]
Compay Segundo "...Y Su Grupo Balcon De Santiago: 1956-1957" (Tumbao, 1999)

[TCD-803]
Pio Leiva "El Montunero De Cuba" (Tumbao, 1999)


[TCD-804]
Guillermo Portabales "Promesas De Un Campesino" (Tumbao, 1999)


A gorgeous set of acoustic guajiras from one of the great stars of the genre. This CD collects two different sessions, one recorded with Noro Morales in 1956, and the other in 1961, following Portabales' return from Puerto Rico to Cuba following the Revolution. The stuff with Morales is peppier and more dance-oriented; the '61 radio appearances are with a smaller group and highlight more of the trademark guitar runs that make this music so fabulously wonderful. Highly recommended! (Also check out TCD-084, reviewed above.)
---
Links
---
Fresh Sounds is the offical Tumbao website, with information about other imprints such as Blue Moon, El Bandoneon, and Alma Latina that may also be of interest. The site includes mailorder into for these hard-to-find releases.
Milonga is a UK-based website that has extensive sections on Cuban son, Argentine tango, and other Latin American styles. They also have a large section devoted to all the Tumbao releases... worth checking out!
---
More Tumbao Titles: TCD#s 001-030 | 031-060 | 061-090 | 091 & Up
---



Cuban Music Index
Other World Music


---