<! MP3 02/14/11 > <! update 02/14/11 > <! pix 02/14/11 > <! icons 02/14/11 > <! Jibaro: Maso Rivera > <! Early bachata: Rodobaldo Duartes Rafael Encarnacion, Ramoncito Cabrera El Chivo Sin Ley, Corey Perro, Antonio G—mez Salcero, Luis Segura, Ram—n Cordero >
---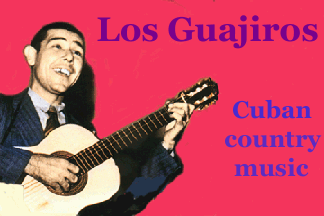 Hola! This page explores three styles of rootsy acoustic music from the Caribbean basin...
Guajira is one of Cuba's most popular styles of acoustic music, a richly melodic style that came out of the backwoods in the early 20th Century, around the same time that other "country" styles (such as the rumba) were starting to become popular in Havana and the other big cities. Guajira music is typically led by the tres, an acoustic 12-string guitar with an unusual tuning that lends itself to the lush, swaying melodies of the genre. Recently, several old-time guajiros have seen a resurgence in their careers, including Compay Segundo, Eliades Ochoa and Pio Leyva, of the Buena Vista Social Club.
Puerto Rican jibaro (mountain) music is similar to guajira -- it counterpoises elaborate and flashy runs up and down the scales of the cuatro with expressive, emotive vocals -- sometimes mournful, at other times ebullient. Lastly, old-school bachata from the Dominican Republic has the same rich, romantic allure -- just keep in mind that modern bachata sounds nothing like the good stuff, which was mainly popular several decades ago.
---
Recommended Artists
---
---
Guajira - Recommended Records
---

Bimbi y Su Conjunto Oriental "La Frutabomba: 1937-1941" (Tumbao)



The first recordings by this bouncy, saucy acoustic trio. Many of these catchy songs are about sex (as opposed to romance), so the general vibe is pretty upbeat and nudge-nudge, wink-wink. Similar to the better-known Trio Matamoros, but not as stately. Hella fun, though -- and highly recommended!
Trio Servando Diaz "Postales De Mi Tierra" (Tumbao)



Small-ensemble acoustic guarachas and trio vocals, along the same lines as Trio Matamoros, but a little perkier. Great sound quality on this CD.

Duo Los Compadres "Cantando En El Llano: 1949-1951" (Tumbao, 1995)



Classic, old-school guajira music with exquisite, sometimes fiery guitar work. This is the legendary Francisco Repilado (better known as Compay Segundo) and his cousin, Lorenzo Hierrezuelo (aka Compay Primo), in some of their earliest sessions as a duo... Stylistically, these songs skip around the map of early Cuban acoustic music -- a hint of guaracha here, a slower bit of bolero there, and all with a lively, humourous delivery which makes the songs irresistible. Many of the songs are topical, either about hard times in farming, or just about the country life in general. Great stuff from the early years, and highly recommended.

Duo Los Compadres "Sentimiento Guajiro" (Tumbao, 1999)


If anything, this set of recordings, which stretches into the mid-'50s when the Duo split up, is even more fabulous than the first Tumbao collection. The sound quality is gorgeous, as are the songs themselves. Livelier, more accomplished musicianship and dynamic performances throughout... This includes a great version of the humourous classic, "Saradonga", and guitar playing that shows Repilado at his absolute peak. Great stuff!

Eliades Ochoa "Sublime Ilusion" (Virgin/Higher Octave, 1999)



Fans of Ochoa's earlier releases on Rounder's Corazon label will not be disappointed with this lovely new record. Smooth production takes some of the rough edges off his rootsy acoustic guajiras, but this only helps the sweetness of the melodies come to the fore. Ochoa's masterful tres guitarwork is highlighted, with playful runs up the scales which will make true fans happy, and the happy into true fans. Ry Cooder drops in for a bit, as well as David Hildago of Los Lobos, whose guitar work fits right in with this folksy, gorgeous style. Highly recommended.

Eliades Ochoa & Cuarteto Patria "The Lion Is Loose" (Rounder/Corazon, 1995)


For contrast, you might like to try these earlier recordings, which are less aggressive, and in many ways more lovely. There is a pronounced emphasis on Ochoa's delicate tres playing, and altogether, this is a very captivating, cheerful album. Highly recommended.

Guillermo Portabales "Al Vaiven De Mi Carreta: 1937-1943" (Tumbao, 1996)



Sleek, graceful guajiras from the WWII era. Portables is pretty much considered the creator of the genre, along with other seminal balladeers such as Nico Saquito and Compay Segundo. This collection of early recordings is a delight, especially the small ensemble recordings towards the end of the disc. Highly recommended. If you like this, you might also want to check out more recent recordings by old-timers such as Nico Saquito and Eliades Ochoa.

Guillermo Portabales "Promesas De Un Campesino" (Tumbao, 1999)


More gorgeous guajiras from one of the great stars of the genre. This CD collects two different sessions, one recorded with Noro Morales in 1956, and the other in 1961, following Portables' return from Puerto Rico to Cuba following the Revolution. The stuff with Morales is peppier and more dance-oriented; the '61 radio appearances are with a smaller group and highlight more of the trademark guitar runs that make this music so fabulously wonderful. Highly recommended!
---
Jibaro - Recommended Records
---
Jose Miguel Class "El Gallito De Manati" (Ansonia)


Another fine Puerto Rican jibaro singer, in the style of the great Ramito, with great guitar playing backing his high, keening vocals, and several songs shared between their repertoires. I'm not terribly familiar with his repertoire, but it looks like he morphed into a romantic balladeer in his later career: this is Class at his most traditional.
Jose Miguel Class "El Ausente" (Ansonia)


Ramito "El Cantor De La Montana" (Ansonia, 1960)


This guy is the ultimate superstar of the great acoustic Puerto Rican jibaro style... For me, this disc is where is where a deep and abiding love of this style of music all began. I taped this album off the radio way back in the '70s, and it was the similarity between this and the guajira and trova I heard years later that drew me to Cuban acoustic music. Ramito is the main man of Puerto Rican jibaro music -- the music of the rural "mountain" people. This early album showcases him at his absolute best -- for magical, entrancing, enthralling world music, this just can't be beat. The interplay of rhythm and melody is so sleek and hypnotically crafted that this is just plain addictive. Plus, Ramito's vocals have a piercing quality that makes him one of the most distinctive singers in the world. There are a bunch of records from the same time period -- and they are all quite good. One of my all-time faves.

Ramito/Lusito/Moralito "Los Tres Hermanos" (Ansonia)


For a more casual dip into the world of Puerto Rican acoustica, this collection might be a nice place to start. I don't really know much about the other two guys, but their stuff holds up against the tunes by the ever-sublime Ramito. (This isn't, by the way, a collaborative effort -- the disc is made up of several tracks each of these three singers.) More nice stuff; the only liability is Ansonia's lamentable habit of including next to zilch in the liner notes department...


<! 109x108 >
Various Artists "MUSIC OF PUERTO RICO: 1929-1947" (Harlequin, 1992)


One of my favorite Harlequin discs. This should be a favorite of anyone who has already heard the entrancing "jibaro" style of Puerto Rican musicians such as Ramito or Pedrito Romero. These historical recordings lack none of the fluidity and lyrical warmth of those more famous, well-known artists. This is a jaw-droppingly good record, and a model historical compilation. Includes complete, bilingual lyric sheets and recording dates, etc -- but more than that, the music is really, really great, as is the sound quality. Originally came out as an LP, with about half as many tracks. Highly recommended.

Various Artists "LAMENTO BORINCANO -- EARLY PUERTO RICAN MUSIC: 1916-1936" (Arhoolie, 2001)



If you want to delve even deeper into the primorial history of Puerto Rican popular music, this collection would be pretty hard to beat. These recordings include some of the oldest examples of the various danzas, plenas and guarachas that immigrant performers brought with them in the interwar exodus to New York City... On the whole, this 2-CD set may be a bit too stark for all but the most dedicated fans, but it's certainly an amazing collection, drawing on dozens of rare 78s by bands such as Canario Y Su Grupo, Los Reyes De La Plena and the Sexteto Flores... Also of note are the rigorously political liner notes, which see the development of Puerto Rican pop in terms of cultural colonization and the like... Ah, Berkeley!
---
Bachata - Recommended Records
---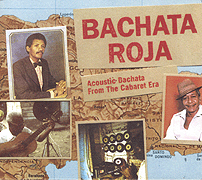 Various Artists "BACHATA ROJA: ACOUSTIC BACHATA FROM THE CABARET ERA" (Iaso, 2007)



A gorgeous, stunning album -- a perfect introduction to the style. This is an utterly enthralling collection of early acoustic bachata music, a guitar-based style that grew up alongside the merengue, in the Dominican Republic. In its electrified modern form, bachata has become a very popular style in the last couple of decades, but this collection focusses on the style's early roots, dating back to the early 1960s when it was looked down on by the Dominican mainstream, and features outstanding work by many artists whose work is quite hard to find. Like Cuban guajira and Puerto Rican jibaro music, this mixes the lush romanticism of the bolero with lively, dazzling acoustic guitar work, hypnotically dense rhythms and irresistible melodies: if anything, these recordings are even catchier than the jibaro and guajira music I've loved for decades. This is the kind of record that if you played it at a party, or heard it on the radio, people would stop in their tracks and ask what was on; if you listened to these songs on the way to work, the melodies would stay in your head all day long. This is particularly true of several standout tracks, such as Julio Angel's "El Salon," "Estoy Aqui Pero No Soy Yo" by Juan Bautista and Rafael Encarnacion's sublime "Muero Contigo," which starts the album off. This is music that echoes deeply with its own purity and warmth, made in an era before global fame came to regional musicians, and from a provincial subculture inside an already remote locale: this is art that was made directly for the people who loved it most, and it is electrically charged with that intimate joyfulness and passion. Each song leaps out at the listener, and I can't wait to hear more. Highly recommended!

Various Artists "PUTUMAYO PRESENTS: REPUBLICA DOMINICANA" (Putumayo, 2000)


Another solid collection, further signalling Putumayo's rise out of the "Wal-Mart of world music" pigeonhole that many have placed on the label. Although there are questionable chord changes here and there, for the most part this compilation focuses on straightforward Cuban-tinged dance music. Pleasantly melodic, these tracks veer sharply from the manic, hyper-charged merengues which typified Domincan pop in the 1980s. As far as I'm concerned, it's a welcome change of pace, and this collection was a real eye opener. It might be for you, too! Definitely worth checking out.
Ramon Cordero "Agradable Companera" (Jose Luis Records)


Ramon Cordero "Paso A Paso" (?)

Ramon Cordero "15 Exitos" (Mundo, 1999)

Blas Duran "Bachata Pueblo" (J & N, 1992)

Blas Duran "El Carnicero" (J & N, 1993)

Blas Duran "A Rojo Vivo" (Kubaney, 1991)

Blas Duran "La Mujer Que Baile" (Kubaney, 1995)

Blas Duran "15 Exitos" (Guitarra Records)

Rafael Encarnacion "Sus Unicas Grabaciones" (RYQZ, 2002)

Victor Estevez "Cada Quien Vive Su Vida"

Victor Estevez "15 Exitos" (Mundo, 1999)

Juan Luis Guerra "Bachata Rosa" (Karen, 1990)


(Produced by Juan Luis Guerra)
This is supposed to be one of the major touchstones of modern bachata music -- I found it rather sappy and florid, and quite unlike the ur-bachata from the 1960s that got me into the genre to begin with. Not my cup of tea: too slickly produced and pre-fabbishly pop.
Juan Luis Guerra "Areito" (Karen, 1992)


(Produced by Juan Luis Guerra)
A more dynamic, uptempo album than the earlier Bachata Rosa, but still didn't sound all that distinctive. Reminded me of mainstream salsa from folks like Ruben Blades, with an extra little goosing to the tempo that seems to draw on the cumbia genre. Towards the end of the album, Luis Guerra slows down again and indulges in some more of the slow, florid romantic stuff. Didn't wow me.
Juan Luis Guerra "El Original 4:40" (WEA Latino, 1990)

Leonardo Paniagua "Por Ti Mi Amor" (Luis Rivera Records)

Leonardo Paniagua "El Divorcio Para Que " (Luis Rivera Records)

Leonardo Paniagua "Pequena" (Luis Rivera Records)

Melida Rodgriguez "Mujer Bachata" (RCA, 1998)

Raulin Rodriguez "Una Mujer Como Tu" (Platano, 1993)

Raulin Rodriguez "Regresa Amor" (EMI/Platano, 1993)

Eladio Romero Santos "15 Exitos Romanticos" (Mundo, 1999)

Eladio Romero Santos "Exitos Romanticos, v.2" (Mundo)

Antony Santos "La Chupadera" (Platano, 1992)


Antony Santos "La Batalla" (Platano, 1993)



Antony Santos "Corazon Bonito" (Platano, 1994)



(Produced by Antony Santos)
This is the third album by this early star of the booming Dominican bachata scene. Although the contemporary bachata sound had already been pretty well defined by this point, dominated by electric guitars and modern production styles, Santos sticks closer to the original bachata sound of the 1960s and '70s, with fluid, trilling guitar lines that could just as easily have been played acoustic as electric, and in particular, his searching, mournful vocal style, with clear roots in old-school bachata and Puerto Rican jibaro music. It's a tad too modern, but still rootsy enough to hook me in. Definitely worth checking out!
Antony Santos "Cojelo Ahi" (Platano, 1994)






<! Discography * 1 La Chupadera [1992] * 2 La Batalla [1993] * 3 Corazon Bonito [1994] * 4 Cojelo Ahi [1994] * 5 El Mayimbe y Nada Mas [1995] * 6 Sabor Latino [1996] * 7 Como Te Voy A Dejar [1997] * 8 Me Muero de Amor [1998] * 9 Enamorado [1999] * 10 El Balazo [2001] * 11 Juego de Amor [2002] * 12 Sin Ti [2003] * 13 Lloro [2005] * 14 Ay Ven [2006] * 15 No Nos Vamos A Olvidar [2007] * 16 Cuanto Mas [2008] >

Luis Segura "Perdido" (Artillera)+

Luis Segura "El Anonaito: 15 Exitos" (Guitarra)+

Luis Segura "El Papa De La Bachata" (Platano, 1995)

Sonia Silvestre "Como Yo" (Platano)


Luis Segura "15 Exitos" (Kubaney, 1991)





<! 1. Pena Por Ti Listen 2. Dejame Ya Listen 3. Mi Muchachita Listen 4. Sientate en Mi Mesa Listen 5. No Me Celes Tanto Listen 6. Se Rompo la Cadena Listen 7. Yo Encontre Lo Que Buscaba Listen 8. Amor Por Ti Listen 9. Coraz—n de Acero Listen 10. Como el Alamo Al Camino Listen 11. Rayito de Sol Listen 12. Tu Nombre Listen 13. Recuerdame Listen >

Luis Segura "Exitos, Volume 2" (Platano, 1995)





<! 1. Vete Listen 2. Suplica Listen 3. Arrodillate Listen 4. Por Dos Caminos Listen 5. Pero Piensalo Listen 6. Escondida Listen 7. Me Siento Convencido Listen 8. Que Soledad Listen 9. Yo Me Creia Listen 10. Tanto Que Sufro Listen 11. Aunque Todos Me Desprecien Listen 12. El Dia Que Naci Yo Listen 13. No Te Vayas Listen 14. Carmencita Listen 15. Cuando Se Quiere Mucho Listen 16. Muchachita de Mi Vida Listen 17. Me Duele Decirte Listen >

Sonia Silvestre "La Dama Del Bolero" (Kubaney, 2000)

Sonia Silvestre "Amor Y Desamor" (Bongo, 1995)

Sonia Silvestre "Esta Es Sonia" (Karen, 1999)+

Sonia Silvestre "Quiero Andar" (Oi Records)

Luis Vargas "Sin Hueso" (Aramis)

Luis Vargas "En Serio" (Jose Luis Records)

Luis Vargas "La Maravilla" (Jose Luis Records, 1992)

Victor Victor "Inspiraciones" (Universal, 1993)

Victor Victor "Tu Corazon" (Sony, 1993)

---
Links
---
---


Main Cuba Index
World Music Index
Slipcue Main Page



---