<! MP3 00/00/00 > <! update 00/00/00 > <! pix 00/00/00 > <! icons 02/18/11 >
---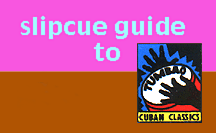 PART TWO ...This is the second of four pages profiling the Tumbao Cuban Classics label. This site is not connected with the label itself, and is only intended to help those interested in Cuban music to find recordings they like... And here are some I like a lot...!
For more Tumbao titles, use the links below... This label profile is organized by catalog number; alphabetical listings of artists can be found in the main Cuban Music section.
---
More Tumbao Titles: TCD#s 001-030 | 031-060 | 061-090 | 091 & Up
---
[TCD-031]
Arsenio Rodriguez "Montuneando Con Arsenio Rodriguez: 1946-1950" (Tumbao)


Smooth, swaying, mid-tempo dance-ballads with a heavy Afro-Cuban flavor. Rodriquez pioneered the "son montuno" style, which is a direct precursor to the "salsa" music of the late '60s and '70s. Also featured on these ultra-sweet tracks are trumpet legends, "Chocolate" Armenteros and Felix Chappotin. Highly recommended to those with a taste for romantic music. (Also check out the excellent companion disc, TCD-043.)

[TCD-032]
Julio Cueva "La Butuba Cubana: 1943-1944" (Tumbao)


Outstanding dance music featuring pleasantly muted brass arrangements and warm vocals. Cueva was sort of a Cuban Ziggy Elman, a sweet-sounding trumpet player who briefly set out on his own after stints in popular orchestras such as the Hermanos Palau band. All but four of the tracks on here feature vocals by Orlando Guerra (aka "Cascarita"), and the last two tracks feature Cueva as part of an early Bebo Valdes band. Recommended. (Also check out TCD-083.)

[TCD-033]
Cascarita "El Guarachero: 1944-1946" (Tumbao)


Pure gold! Orlando Guerra, or "Cascarita," was one of the greatest Cuban vocalists, whose resonant, intimate voice recalls the best of the Big band-era singers. Cascarita started off singing with the Orquesta Casino de la Playa, who back him on most of this disc. His earlier work with Julio Cueva is also featured on TCD-032.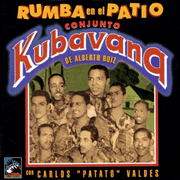 [TCD-034]
Conjunto Kubavana "Rumba En El Patio: 1944-1947" (Tumbao)


Smouldering, sinuous, uptempo dance music with a heavy Afro-Cuban flavor. The vocals are great, but more important is the music: along with muscular conga playing by "Patato" Valdes, the piano, bass and melodic trumpets bear all the marks of "modern" New York-style salsa. About thirty years ahead of its time, this band kicked ass.

[TCD-035]
Orquesta Hermanos Palau "La Ola Marina: 1939-1941" (Tumbao)



Cool early recordings, with the ever-ebullient Cascarita on vocals. Sometimes the arrangements are a bit staid, but the vocals are great -- Cascarita (TCD-033) delivers these humorous, upbeat tunes with a decidedly Cab Calloway-ish brightness. Muy chistoso and worth checking out.

[TCD-036]
Noro Morales "Rumba Rhapsody: 1945-1951" (Tumbao)



Despite Morales' huge popularity in the 1940s rumba scene, I can't say as I'd recommend this one. Mainly, these small-combo recordings highlight his piano playing, which more often than not is too noodly, and borders on easy listening. Plus, it all sounds the same, with the exceptions of a few more lively tracks towards the end of the disc.

[TCD-037]
Miguelito Valdes "Adios Africa: 1937-1940" (Tumbao)



Awesome early recordings from one of Cuba's greatest vocalists. According to the liner notes, Valdes was considered the Sinatra of Cuba -- and the comparison makes sense: Valdes could swing, but he could also ham it up. Here he's performing with the original lineup of the Orquesta Casino de la Playa (also check out TCD-040, 054), featuring the awesome pianist, Anselmo Sacasas (TCD-057 and 079). This is one of the strongest collections of their work -- highly recommended!
[TCD-038]
Cuarteto y Sexteto Caney "Perfidia: 1938-1941" (Tumbao)


With Machito, others.
[TCD-039]
Trio Matamoros "La China En La Rumba: 1928-1951" (Tumbao)

[TCD-040]
Conjunto Casino "Cancion Del Alma: 1941-1945" (Tumbao)


Delightfully maudlin slower dance tunes -- boleros and guajiras -- from one of the most popular bands of the 1940s and '50s. Features vocals by Roberto Espi, Nelo Sosa and Roberto Faz.

[TCD-041]
Cuarteto Machin "Echale Salsita: 1930-1935" (Tumbao)


Later recordings but pretty much the same ensemble as featured on TCD-015. Lovely stuff -- of the two Cuarteto albums on the Tumbao label, this one might be melodically and rhythmically richer. Highly recommended.

[TCD-042]
Jose Curbelo "Rumba Gallega: 1946-1951" (Tumbao)



A Cuban pianist who emigrated to New York in the late 1930s, Curbelo quickly hooked up with percussionist Tito Puente, who is featured on most of these tracks. The band also included vocals by the fabulous Tito Rodriguez (TCD-014, 021) and bongos by Chano Pozo, who brought the Cuban gospel to the jazz world while gigging with Dizzy Gillespie. Curbelo's approach is a little effete, with more than a touch of big band sensibility, but still pretty rocking. This is a goodie.
[TCD-043]
Arsenio Rodriguez "Dundunbanza: 1946-1951" (Tumbao)


Irresistable dance music from this pioneer of the Afro-Cuban son montuno. Features a beautiful version of "No Me Llores Mas" and Rodriquez' outstanding tres playing, as well as the band's trademark conga/horn section sound. Features trumpets by "Chocolate" Armenteros and Felix Chappotin. Highly recommended -- one of the best CDs in this series. (For more early Arsenio, check out TCD-031.)
[TCD-044]
Septeto y Conjunto Matamoros "Camaron y Manoncillo: 1928-1951" (Tumbao)


Awesome old material featuring two expanded editions of Miguel Matamoros' Trio Matamoros. Here we are treated to fuller, more upbeat and danceable styles such as son afros and son montunos -- all super-classy and super-cool.
[TCD-045]
Sonora Matancera "Se Formo Rumbantela: 1948-1950" (Tumbao)

[TCD-046]
Rita Montaner "Rita De Cuba: 1928-1941" (Tumbao)


A star of radio, stage and film, Rita Montaner's operatic, chirpy voice may not be for everybody. Generally speaking, the bands backing her on this disc do not really get too funky, and hearing Montaner herself is sort of like listening to a Cuban Fanny Brice, archaic and cute, but not necessarily that accessible to modern ears.

[TCD-047]
Conjunto Colonial De Nelo Sosa "Arrimate Carinito: 1950-1951" (Tumbao)


One of the best Tumbao discs! Super-sweet mambos with a heavy Afro-Cuban backbeat. Sosa's nasal, emphatic vocals as a striking prototype for the style adopted by '70s salsa singers. The last three tracks on this disc come from the mid-40s, right after Sosa had taken the band over from co-founder Senen Suarez (see: TCD-048), and are a little less powerful. For Nelo Sosa's slower, sappier side, check out TCD-055).

[TCD-048]
Senen Suarez "Guaguanco Callejero: 1952-1953" (Tumbao)


Although the sound is a little grey, the music is awesome. Suarez was a longtime veteran of the Cuban music scene by the time these recordings were made. He had previously worked with the acoustic guajira pioneer, Nico Saquito, in the '40s, then started his own band which later became Nelo Sosa's Conjunto Colonial (TCD-047, 055). Here he is a featured vocalist, along with "Laito" Sureda (who in 1997 put out an excellent new album on the Ahi Nama label). Highly recommended.
[TCD-049]
Joe Loco "Mambo Loco: 1951-1953" (Tumbao)


Early works by one of the best-known Cuban latin jazz-pop artists of the 1960s. A bit too breezy for my tastes, but probably quite nice for the EZ listening crowd.
[TCD-050]
Mariano Merceron "Negro Nanamburo: 1942-1943" (Tumbao)

[TCD-051]
Orquesta Chepin-Choven "El Merenguito: 1942-1945" (Tumbao)


Kickass dance music from the WWII era. This Santiago-based outfit spent much of the 1930s playing big band, later switching to a more consciously "Cuban" sound. Yet the big band influence is still very much in evidence on this disc -- the peppy horns get your blood pumping, while the melodic bounce smooths their aggressive edge. At the time, this sound was somewhat unusual, though you can clearly hear it echoed not long after in the arrangements of bands such as Sonora Mantancera, especially their '50s recordings with Celia Cruz. Pianist "Peruchin" later went on to record with the Orquesta Riverside (see TCD-052). Recommended!
[TCD-052]
Orquesta Riverside De Pedro Vila "Baracoa: 1953-1954" (Tumbao)


Swinging mambos and son montunos from the height of the mambo craze. About half the tracks are instrumentals, the rest feature great vocals by Tito Gomez. Pianist Pedro Justiz -- better known as "Peruchin" -- was the band's arranger, and he gave them a smooth, cool, kitschy & fun sound. Recommended!
[TCD-053]
Antonio Machin "Lamento Esclavo: 1932-1938" (Tumbao)


Performing with his own orchestra, including Armando Valdespi.
[TCD-054]
Orquesta Casino De La Playa "Fufunando: 1937-1940" (Tumbao)


Entrancing, dreamy dance music, highlighting the vocals of Miguelito Valdes, a sometimes corny, but powerful, singer. This is the third Tumbao disc of material featuring the original 1937-40 lineup of the Casino de la Playa band, which also featured pianist Anselmo Sacasas (TCD-057 and 079). Plenty of slow drippy boleros, though heavier on the syncopated guarachas and conga dances. The vocal choruses add a lot, and the band is all class. Recommended!

[TCD-055]
Conjunto Colonial De Nelo Sosa "A Burujon Punao: 1949-1953" (Tumbao)


Mellow material, cornier than the first Nelo Sosa disc (TCD-047). Features Miguelito Valdes as vocalist, primarily on romantic boleros and slower guajiras. Nice, but not as swinging as the other CD.

[TCD-056]
Bimbi y Su Conjunto Oriental "La Frutabomba: 1937-1941" (Tumbao)


The first recordings by this bouncy, saucy acoustic trio. Many of these catchy songs are about sex (as opposed to romance), so the general vibe is pretty upbeat and nudge-nudge, wink-wink. Similar to the better-known Trio Matamoros, but not as stately. Hella fun -- and highly recommended. (For similar material, check out my guajira page.)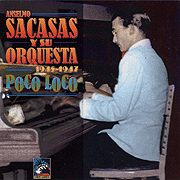 [TCD-057]
Anselmo Sacasas "Poco Loco: 1945-1949" (Tumbao)


Before forming his own group, pianist Sacasas crossed paths with many of the leading lights of Cuban popular music -- Tito Puente, Xavier Cugat, the Orquesta Casino de la Playa, Miguelito Valdes, etc. These post-war recordings dovetail with the Interstate Music disc of Sacasas' 1942-1944 band; both CDs feature bubbly dance music, which is alternately suave and tinny. With Ruben Gonzalez, vocals.


<! ASIN?? >
[TCD-058]
Orquesta Havana-Riverside "Rompan El Cuero: 1939-1940" (Tumbao, 1995)


Deliciously sweet, corny, romantic material from 1939-40. This large band originally featured pianist Jose Cubelo (who appears on three of these recordings, and most of the vocals are by the ever-stately Miguelito Valdes. The disc opens with a wonderful version of "Perfidia," and it just gets better from there. If you like the corny, showy romantic style, this album is a treasure ttrove.
[TCD-059]
Conjunto Modelo "Guaguanco En La Havana: 1953-1954" (Tumbao)


[TCD-060]
Sexteto Bolona "Echale Candela: 1926" (Tumbao)


Like the Sexteto Habanero CDs (TCD-001, 009), this collection of early sones from the dawn of the recording era may be a little stark and monochromatic in comparison to other Tumbao releases. The sound quality is also a little grey, though these '20s oldies represent a big slice of early Cuban pop history.
---
More Tumbao Titles: TCD#s 001-030 | 031-060 | 061-090 | 091 & Up
---
Links
---
Fresh Sounds is the offical Tumbao website, with information about other imprints such as Blue Moon, El Bandoneon, and Alma Latina that may also be of interest. The site includes mailorder into for these hard-to-find releases.
Milonga is a UK-based website that has extensive sections on Cuban son, Argentine tango, and other Latin American styles. They also have a large section devoted to all the Tumbao releases... worth checking out!
---



Cuban Music Index
Other World Music


---