<! MP3 00/00/00 > <! update 00/00/00 > <! pix 00/00/00 > <! icons 02/18/11 >
---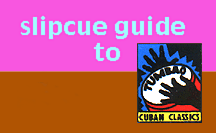 PART THREE ...This is the third of four pages profiling the Tumbao Cuban Classics label. This site is not connected with the label itself, and is only intended to help those interested in Cuban music to find recordings they like.
For more Tumbao titles, use the links below... This label profile is organized by catalog number; alphabetical listings of artists can be found in the main Cuban Music section.
---
More Tumbao Titles: TCD#s 001-030 | 031-060 | 061-090 | 091 & Up
---

[TCD-061]
Duo Los Compadres "Cantando En El Llano: 1949-1951" (Tumbao)



Buena Vista Social Club stalwart Compay Segundo in one of his earliest bands... Beautiful acoustic "country" (guajira) music with exquisite, sometimes fiery guitar work. Stylistically, these songs skip around the map of early Cuban acoustic music -- a hint of guaracha here, a slower bit of bolero there, and all with a lively, humourous delivery which makes the songs irresistible. Many of the songs are topical, either about hard times in farming, or just about the country life in general. Great stuff from the early years, and highly recommended.
[TCD-062]
Rene Alvarez y Su Conjunto Los Astros "Yumbale: 1948-1950" (Tumbao)



Standard Afro-Cuban dance music, featuring (among others) Ruben Gonzales on piano. Nice old stuff from the heyday of the dance scene, though I found it a little underwhelming.

[TCD-063]
Joseito Nunez "Con La Orquesta De Belisario Lopez: 1937-1940" (Tumbao)



[TCD-064]
Mariano Merceron "Yo Tengo Un Tumbao: 1940-1946" (Tumbao)



KILLER dance music, with a whole slew of great vocalists and an awesome band. These upbeat guarachas and "son afro" recordings really rock -- the band is swinging and soulful, and way ahead of its time. Highly recommended: this is one of my favorite Tumbao releases!

[TCD-065]
Orquesta Almendra De Aberlardito Valdes "Mi Escorpion: 1946-1954" (Tumbao)



A flute-led dance orchestra initially specializing in tango-like "danzones", then gradually moving into guarachas and son-montunos. Many of the vocals on this disc are by women; along with the breezy instrumentation, this disc might appeal to fans of the contemporary son-montuno band, Conjunto Cespedes.

[TCD-066]
Conjunto Gloria Matancera "Vengo Arrollando: 1937-1949" (Tumbao)



Not to be confused with the long-lived ensemble, Sonora Matancera, this Matanzas band sported a simpler, more old-timey, down-home sound. Nice, rolling percussion, trumpet and excellent tres playing as well as delightfully nasal vocals. Recommended!

[TCD-067]
Orquesta Antonio Maria Romeu "El Mago De Las Teclas: 1937-1940" (Tumbao)


Older style dance music -- danzones and boleros which are dominated by flute melodies and arpeggio riffs which recall "Looney Tunes" cartoon music. Romeu was a major composer in this once-dominant dance style; after his death -- vocalist Barbarito Diez took over the band, and led it for several decades, until his death in 1995. This is a nice glimpse of their band during its Depression-era prime.

[TCD-068]
Conjunto Niagara "Que No Se Acaba El Bongo: 1945-1947" (Tumbao)



Programmed more or less in chronological order. Despite vocals by Ruben Gonzales, the early tracks (from 1944-46) are a little flat at times, and start to sound alike. Midway through the disc, though, things pick up, and tracks begin sounding more distinctive. In 1948, vocalist Nelo Sosa joined the band, and when Niagra fell apart later that year, he and other band members set up shop as the vastly superior Conjunto Colonial.

[TCD-069]
Belisario Lopez "Prueba Mi Sazon: 1942-1948" (Tumbao)



Prime recordings made by one of the masters of the danzon, (or "French charanga," as it was also called). These breezy, flute-led instrumentals may be too prissy for some, and after you hear several in a row, may start to wear thin. Yet you can definitely hear a throughline from these old, swaying dance tunes to the more modern salsa tipica bands such as Orquesta Aragon and Orquesta Broadway... and this is where the style began.
[TCD-070]
Conjunto Matamoros "Bailare Tu Son: 1948-1952" (Tumbao)


Miguel Matamoros, Rigoberto Diaz and Siro Rodriguez (the Trio Matamoros) stretch out a little with a larger band in these awesome mambo-era recordings. A very different sound than their usual acoustic bent -- this is Matamoros with a full-on Afro-Cuban dance beat, killer horn section and lots and lots of soul. Also features several tracks with the distinctive "coroneta china", also heard on a Trio Matamoros album on a Harlequin Records collection. Highly recommended.
[TCD-071]
La Gloria Matancera "El Limoncito: 1948-1952" (Tumbao)

[TCD-072]
Antonio Romeu "Oriente y Occidente: 1941-1946" (Tumbao)


"Y Su Orquesta Gigante"!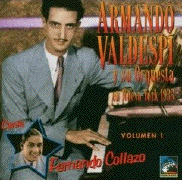 [TCD-073]
Armando Valdespi "En Nueva York 1935, Vol. I" (Tumbao)



Delicate, hokey, romantic music from this '30s dance band. Almost all the songs on here are Valdespi originals; vocals are by Fernando Collazo, who had previously worked with Antonio Romeu's band (see TCD 072) but who committed suicide in 1939. This material is delightfully corny, a treat for those who like American and European "sweet" bands from the same era. Also check out Volume Two (TCD 077).
[TCD-074]
Jose Curbelo "Live At The China Hall: 1946-1954" (Tumbao)



Includes a live show from 1946 featuring Tito Puente and Tito Rodriguez, as well as studio recordings from 1952-1954.
[TCD-075]
Luis Santi "Mambo Infierno" (Tumbao)


With Celio Gonzales, vocals.
[TCD-076]
Orquesta Romeu "Boca Linda" (Tumbao)


With Antonio Machin, Miguel Matamoros, vocals.

[TCD-077]
Armando Valdespi "En Nueva York: 1935, Vol. 2" (Tumbao)



Wonderfully florid, romantic dance music; tango-tinged boleros galore with vocalists Antonio Machin and Johnny Rodriguez starring on these Depression-era recordings. You gotta love this stuff!
[TCD-078]
Cheo Belen Puig "Me Han Dicho Que Tu Me Quieres: 1937-1940" (Tumbao)


With Alfredito Valdes, vocals.
[TCD-079]
Anselmo Sacasas "Sol Tropical: 1945-1949" (Tumbao, 1995)


[TCD-080]
Conjunto Casino "Mambo Con El Cha-Cha-Cha" (Tumbao)


Up-tempo, almost chirpy, dance music from the early 1950s. By this time the Perez Prado-inspired mambo craze was in full swing, and these catchy tracks share his slick, brassy style. Excellent vocals by Roberto Faz, Roberto Espi, and "Rolito" Rodriguez. Lots of fun!

[TCD-081]
Trio Servando Diaz "Postales De Mi Tierra" (Tumbao)


Small-ensemble acoustic guarachas and trio vocals, along the same lines as Trio Matamoros, but a little perkier. Great sound quality on this CD.
[TCD-082]
Alfonsin Quintana "Vamos Pa'La Rumba" (Tumbao)


With Daniel Santos.

[TCD-083]
Julio Cueva "Desintegrando: 1944-1947" (Tumbao, 1996)



A stunning companion to the Tumbao's earlier Cueva collection (TCD-032), picking up right where the last on left off. As with the first Cueva CD, most of the vocals are by Orlando "Cascarita" Guerra, whose range broadens from sweepingly corny ballads to super-swinging later tracks. The band follows the same arc, and by the postwar years they have a sharp sound with a strong big band/jazz feel to it. Highly recommended! (Also check out the Cascarita collection, TCD-033, and his work with the Orquesta Hermanos Palau on TCD-035.)

[TCD-084]
Guillermo Portabales "Al Vaiven De Mi Carreta: 1937-1943" (Tumbao, 1996)



Sleek, graceful guajiras (acoustic "country" music) from the WWII era. Portables is pretty much considered the creator of the genre, along with other seminal balladeers such as Nico Saquito and Compay Segundo. This collection of early recordings is a delight, especially the small ensemble recordings towards the end of the disc. Highly recommended. If you like this, you might also want to check out more recent recordings by old-timers such as Nico Saquito and Eliades Ochoa.
[TCD-085]
Machito And His Afro-Cubans "Freezelandia: 1947-1949" (Tumbao, 1998)

[TCD-086]
Jose Curbelo "Live At The China Hall, Volume 2: 1946-1951" (Tumbao)


[TCD-087]
Sexteto Occidente "Yo No Tumbo Cana: 1926" (Tumbao)

[TCD-088]
Eusebio Delfin "En El Tronco De Un Arbol: 1924-1928" (Tumbao)

[TCD-089]
Machito And His Afro-Cubans "Guampampiro" (Tumbao)


With Miguelito Valdes, Graciela, vocals.

[TCD-090]
Maria Teresa Vera & Rafael Zequeira "El Legendario Duo De La Trova Cubana" (Tumbao)



Ancient recordings by one of the earliest recording stars in Cuba, and a trailblazing female singer. Teresa Vera later worked with guitarist Lorenzo Hierrezuelo (Compay Segundo's cousin and musical partner), but these early works from 1916-1924 are the recordings that set the pace for her later work and for Cuban popular song in general. The vocal accompaniment by Rafael Zequeira is not always top-notch (or in tune) but Teresa Vera's vocals and guitar are... Not as dynamic as later Cuban music, but compelling nontheless, and packed full of some of Cuba's most cherished anthems. Songs such as "Extracto De Alfonsa" may be familiar to acoustic music fans.
---
More Tumbao Titles: TCD#s 001-030 | 031-060 | 061-090 | 091 & Up
---
Links
---
Fresh Sounds is the offical Tumbao website, with information about other imprints such as Blue Moon, El Bandoneon, and Alma Latina that may also be of interest. The site includes mailorder into for these hard-to-find releases.
Milonga is a UK-based website that has extensive sections on Cuban son, Argentine tango, and other Latin American styles. They also have a large section devoted to all the Tumbao releases... worth checking out!
---



Cuban Music Index
Other World Music


---