---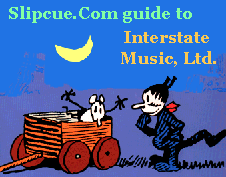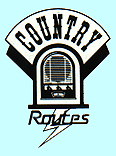 Country Routes: Similar territory to the Krazy Kat country CDs, although I think the Country Routes CDs are mainly taken from old radio transcripion discs, television broadcasts, or other "live" source material. Accordingly, the sound quality on these discs can sometimes be less satisfying than on other Interstate releases. However, the historical value and sheer musical pleasure involved can often compensate for these drawbacks.
---
[Country Routes RFD-CD 05]
Hugh & Karl Farr "Texas Stomp 1934-1944" (1993)


More hot acoustic duets by Hugh and Karl Farr (see RFD-11 below)... Tasty stuff from some of hick music's jazziest players!
[Country Routes RFD-CD 09]
Merle Travis "Unreleased Radio Transcriptions: 1944-1949"


Cool and calm, guitarist Merle Travis picks out a smooth blues riff, as he eases his way into the comedy song, "That's All"... This playful opening track is a good indicator for the high level of musicianship and breadth of styles that Travis tackled in his postwar heyday. The album also includes various hick hits of the day, mainly a bunch of hillbilly boogie tunes and the sweet instrumental guitar numbers that Travis was famous for. The tracks on this disc are drawn from radio appearances Travis did while working as one of LA's most popular Hollywood hillbillies, while helping to revamp the sound of postwar country music. The sound quality is very good, and the snippets of dialog and live asides are a great glimpse into what live entertainment was like before TV was king... especially the rare, charming flubs and the constant tripping over each other's lines. They don't let the human factor into show biz like that anymore! Highly recommended.

[Country Routes RFD-CD 10]
Various Artists "MAN THAT'S GROOVY - EARLY VOCAL GROUPS: 1935-1944"


Fun, rambunctious radio transcriptions of African-American vocal groups such as the Inkspots, Delta Rhythm Boys, Spirits of Rhythm, and the Golden Gate Quartet. Lots of hits and novelty tunes, as well as between-song stage patter. Makes your jaw drop once you realize this was all done live on the air. Unfortunately, this is one of the harder Interstate discs to find, and is probably out of print.
[Country Routes RFD-CD 11]
Hugh and Karl Farr "Hot 'N' Bluesy Fiddle/Guitar and Twin Guitar Duets: 1934-1940"


Wow. The Farr Brothers were the backup pickers who added the musical punch to many of the best old recordings of the Sons Of The Pioneers, and of Pioneers alumnus Gene Autry. Left to their own devices, they knocked out a slew of great instrumentals, like the ones on this disc. The surprising thing is how completely jazzy these tracks are. If you like old recordings from the likes of Django Rinehardt, or Eddie Lang and Joe Venuti's duets, then you owe it to yourself to check this disc out. It's hot and sweet, and very listenable.
[Country Routes RFD-CD 12]
Merle Travis "Unissued Radio Shows: 1944-1948"


More great live performances from a variety of '40s shows, including the Hollywood Barn Dance and the Grand Ole Opry. It's a gas to get a sense of Merle's rapport with the audience, and to hear one of the last vestiges of the vaudeville tradition as it played out, with all its corny, raunchy humor and bouncy good nature. Fuzzy sound, but fun music.
[Country Routes RFD-CD 16]
Various Artists "JOE MAPHIS AND FRIENDS -- LIVE AT TOWN HALL: 1958-1961"


A feisty, exuberant disc of live performances on Los Angeles' legendary country TV show, "Town Hall Party." There are a lot of country bigshots on here, but the star of the show --and its anchor -- is legendary guitarist, Joe Maphis. In the 1940s, Maphis helped create a revolutionary guitar style -- flatpicking -- which was copied by Merle Travis, Chet Atkins, Jimmy Bryant and a thousand other hotshot pickers. He stayed in the head of the pack, recording with dozens of country and pop artists, including Wanda Jackson, Ricky Nelson and -- of course-- "Town Hall Party" regulars, the Collins Kids. This CD suffers from poor sound quality, but compensates by the exhilarating historic and musical power of these live performances. Hearing Maphis back country legends such as George Jones, Rose Maddox. and Skeets McDonald is a treat not to be missed, whether it's dubbed from video or not.
[Country Routes RFD-CD 18]
Spade Cooley "...And His Western Dance Gang: Radio Broadcasts - 1945"


Peppy old radio transcriptions from Fall, 1945. Cooley was one of the key figures in West Coast western swing; here is his band in top form, with vocalists that include Tex Willams, Johnny Bond, Smokey Williams and the Andrews Sisters-y "Sunshine Trio". Pedal steel star Joaquin Murphey anchors the band along with three fiddles and the ever-present chugga-chugga-chugin' accordion that was the signature sound of California country. Good stuff which forcefully contradicts Cooley's reputation as a cheeseball Lawrence Welk of country. Other than a couple of awkward fade-ins, the sound quality on this one is pretty good.
[Country Routes RFD-CD 19]
Hank Thompson "Sounds Of The Brazos Valley: Unissued Radio Broadcasts - 1952"


Fabulous! Honkytonk swingster Hank Thompson has always been one of my favorites, but it often seemed puzzling that he was considered a "western swing" player, rather than a honkytonker. FINALLY we can hear why -- these early live recordings bring it all home, with sweet, sweet material, alternately boisterous and sentimental. Plus, Thompson is such a warm performer... these recordings are a real treat. (Note: if you like this, also check out similar Thompson transcription discs on Interstate's Flyright imprint, as well as on the German Binge Disc label.
[Country Routes RFD-CD 21]
Bob Wills and His Texas Playboys "Harmony Park Airshots - January, 1953" (1999)


Radio transcriptions from Bob Wills' long residency at his Pasadena, California dance hall. The sound quality is pretty low, but fans may find the performances fascinating. It is disconcerting, though, to hear some of Wills' more viscious stage patter -- at times he sounds mildly psychotic as he gets in his digs at musicians and singers. Vocalist Louise Rowe seemed to have been a particular target for his jibes -- was it all in jest, or actually as mean-spirited as it sometimes seems? Hard to tell. Still, it's always interesting to hear the showmanship on these old country music performances; even when the sound is as muddy as this... (Also check out my Bob Wills discography.)
[Country Routes RFD-CD 22]
Various Artists "SUNSHINE STATE SWING: 1944-1949" (1999)


Transcriptions from popular radio shows in the Los Angeles area. Although the music is great and the performers are legendary (Spade Cooley, T. Texas Tyler, Hank Penny and Harold Hensley, to name a few...), the sound quality on the disc is pretty muddy and muffled, making this hard to appreciate. Still, if you want to study the showmanship of the time, and catch some of the snappy patter between songs, here's another great chance to hear how they did things in the old days...
[Country Routes RFD-CD 27]
Harley Huggins "...And The Barn Dance Gang" (Country Routes, 2002)


Rollicking live broadcasts from a Fresno-based western swing band fronted by one of Bob Wills' frequent B-list pickup musicians, guitarist-singer Harley Huggins. A nice slice of what the average band would have sounded like back then... Not the best sound quality, but also not the worst -- Fresnan's will delight at the KMJ radio announcer's frequent mentions of local landmarks such as the corner of Chestnut and Butler Avenues (which was probably a fruit orchard back then...) Fun stuff!
---
Links
---
Interstate Music is finally online! At last! Hoo-rah! Now you can find out which of these gems is actually in print (as opposed to "out there somewhere...") and also get up-to-date ordering info.
---
OTHER INTERSTATE IMPRINTS:

Flyright
Harlequin
Heritage
Krazy Kat
---


Interstate Music Info
World Music
Hick Music Index



---

---