<! MP3 00/00/00 > <! update 00/00/00 > <! outside 00/00/00 > <! pix 01/03/13 - need WxH changes > <! icons 01/03/13 >
---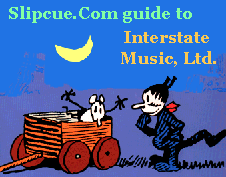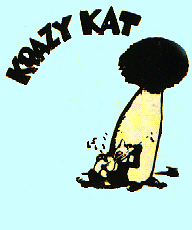 Krazy Kat Records: This is the label that really turned me on to the greatness of Interstate Music. In the '80s, the Krazy Kat imprint highlighted blues, jump-blues and jazz artists. As a CD series in the '90s, it's now dedicated mainly to obscure country and western swing artists... and is uniformly stunning. I have yet to find one of these discs which was not very, very good.


---

[KK CD 07]
Various Artists "CAT'N AROUND" (Krazy Kat, 1992)


One of my favorite country reissues ever. An incredible collection of obscure old country singles originally recorded for the tiny Houston independent, Macy's Records. You can imagine these long-forgotten musicians slogging away at day jobs -- fixing cars, or maybe out in the oil fields -- just waiting to bust loose playing at a Saturday night dance. Everybody tears away at their tunes, ranging from swinging instrumentals such as "Pickin," by Dolores Farriss to priceless novelty tunes like "Steppin On Feet For Fun" and weepy honkytonkers like the Vance Brothers' "Can't Get You Out Of My Dreams." Sometimes the musicians flub their licks, but this only adds to the charm -- these are real people really playing music, unlike the tediously re-re-reprocessed digital pop of today. This high calibre compilation succeeds on every level: great sound, great material, great chance to hear some excellent old-time country, and to stump your snooty No Depression-reading buddies.

[KK CD 11]
Various Artists "WANDERER'S SWING - TEXAS DANCE HALL MUSIC" (Krazy Kat, 1994)


Another awesome entry in this fab western swing/honkytonk series. If you're lucky, you've already heard of Jerry Irby and Eddie Miller... but Rip Ramsey, Dub Adams or Grouchy and the Texas Pioneers?? Forget it! Don't even try to tell me you've heard of these guys before! Sure, these old singles from the late '40s and early '50s, on labels like Groovy and Humming Bird, are an obscurophiles wet dream... but they also rock! Great old country music from also rans, would-bes and never-weres that still has as much wallop now as it did back then. Highly recommended!

[KK CD 12]
Various Artists "HEADING BACK TO HOUSTON - TEXAS C&W 1950-1951" (Krazy Kat, 1997)


Loping, slower Texas honkytonk made in the long, thin shadow of Hank Williams. These tracks were originally made for the Houston, Texas independent label, Freedom Records. Plenty of obscure singers, but all topnotch material. Only a few tracks are overt Hank imitations; other tracks include hip, jazzy Hank Penny-ish bounces, maudlin drink-a-beer weepers and Bob Wills-y blues tunes, and a brace of cheerful novelty songs. The most tantalizing glimpses include one track by Tex Owens daughter, Laura Lee, and a couple by the adenoidal Little Tommy Sands, who went on to become a teen singer on RCA and Capitol. This album includes great liner notes, with a slightly more readable layout than other Interstate releases. Highly recommended!
[KK-CD 14]
The Collins Kids "Rockin' On TV" (Krazy Kat)


Enthusiastic energy galore as this brother-sister teen-scene rockabilly act rips, snorts and jokes their way through live performances on the legendary late '50s Los Angeles' country TV show, Town Hall Party. Prepubescent electric guitar hero Larry Collins took lessons from show host Joe Maphis, and highlights of this disc include some of the stunning instrumental duets the two performed regularly on the program. Also, this disc reveals the Collins Kids' strong country music background, a side of them which is frequently neglected in recaps of their flashy recording career. Iffy sound quality, but great music.
[KK-CD 15]
Various Artists "SWINGING WEST - 1940's WESTERN SWING FROM SOUTHERN CALIFORNIA" (Krazy Kat, 1997)


A fun, collection of obscure California country artists, mostly recording for microscopic labels. The best known artists on here are Jimmy Wakely and Tex Williams; cheapo label veteran Doye O'Dell has one great track on here, standing at the head of the pack along with his unknown brethren. During the first third of this CD, the throughline seems to be "artists who couldn't quite keep in meter," but things pick up midway with several great little singles that oughtta make you smile. An interesting aspect of this scene was that *everyone* used accordions in their bands, which was somewhat common elsewhere, but not nearly so prevalent as in the Golden State. So then why no Spade Cooley? Oh, wait -- that's on another disc!
[KK-16]
Webb Pierce "The Unavailable Sides: Webb Pierce 1950-1951" (Krazy Kat, 1991)


A super-spiffy set of early recordings made by the great Webb Pierce, back before he signed to Decca Records. Slightly rawer, boisterously fun hillbilly music from his early days on the Louisiana Hayride radio show. Highly recommended.
[Krazy Kat KK CD 18]
Johnnie Lee Wills "The Band's A-Rockin" (Krazy Kat)


Wonderfully boozy, bluesy and bouncy western swing from one of Bob Wills' younger brothers. These good-natured, laidback 1941-1951 recordings have a heavy boogie-blues flavor to them, which oozes out rock'n'roll energy, despite rock not having been "officially" invented yet. Tasty old country music from the heyday of the honkytonk dance hall era.
[KK CD 19]
Various Artists "JITTERBUG JIVE - HOT TEXAS SWING 1940-1941" (Krazy Kat, 1997)


More great stuff-- obscuro western swing with a heavy dose of Cab Calloway-ish bounce. Taken from pre-war sessions on RCA's Bluebird subsidiary, this disc features a slew of famous Texas country players, such as Leon Payne, Moon Mullican and Cliff Bruner. On these sessions, though, they were recording in anonymous, now-forgotten bands, such as the Modern Mountaineers, the Village Boys, etc. Highly recommended -- another kickass Krazy Kat collection!
[KK CD 20]
Various Artists "NIGHT SPOT BLUES: HOT WESTERN SWING FROM SOUTHWEST, 1929-1941" (Krazy Kat, 1998)

[KK CD 21]
Various Artists "PLAYBOY BOOGIE" (Krazy Kat, 2001)


Another one of the Krazy Kat gems, this time drawn from the catalog of Star-Talent Records, a teeny-tiny Dallas, Texas label that floated around the peripheries of the vibrant Big D Jamboree radio show in the late '40s and early '50s. The sound quality on most of these ancient recordings is fairly rough, but the material is priceless, capturing the rough-hewn, jovial mood of the early 'Fifties honkytonk crowd. As implied by the title, there's a bluesy streak throughout this disc, as well as a strong (but effective) penchant for novelty tunes. Most of the artists are real nonentities (which makes discovering them even more enjoyable) but the Talent label also had a few hits, notably by Riley Crabtree and Hoyle Nix. What marks this disc, though, is the sheer goofy fun of the songs -- it's well-programmed and very listenable. Recommended!
[KK CD 24]
Various Artists "DIGGIN' -- HOT, SMALL LABEL TEXAS SWING 1946-1955" (Krazy Kat, 1998)


The title pretty much says it all... This is not music you're likely to find at the local WalMart anytime soon. Fab old stuff, recorded on microscopic labels with names like RichTone, Tex-Talent, Delta, and Swing... A few tracks are a bit fuzzy, but most have great sound quality! Again, highly recommended!
[KK CD 27]
Various Artists "SWINGING WEST v.2" (Krazy Kat, 2001)


More postwar western swing from over California way... To be honest, this disc is not as strong as others in this series. There's good stuff on here, but not a lot that really leaps out at you... Lotsa true unknowns, but not as many wild and wooly performances.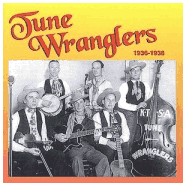 [KK CD 28]
Tune Wranglers "1936-1938" (Krazy Kat, 2000)


Wow! What a fun record! This is one of the hottest (and peppiest) western swing bands of the time, a San Antonio outfit that had a way with saucy novelty songs, and a real sweet-tooth for jazzy arrangements... With over two dozen tracks and nice sound quality, this disc is a darn fine way to spend your hard-earned sheckels. Also, check out Joe Barnes' trademark trick banjo playing -- where he plays so fast that the notes start to blur and distort chromatically -- a technique used on "Sarah Jane" and several other tunes. High-powered pickin' and hilarious storytelling. HIGHLY recommended!!
[KK CD 28]
Bob Skyles and his Skyrockets "1937-1940" (Krazy Kat, 2002)


Nutty, cornball western swing-ish novelty tunes from an odd Texas ensemble that follwed in the footsteps of the better-known Hoosier Hotshots. The parallel is unavoidable; in fact, one of the best songs on here is hilarious "We're Not The Hoosier Hotshots," obviously written to forestall what must have been a common criticism of Skyles and his band. Also notable is the quaintly homophobic "Lavender Cowboy," which describes a "sissy of the plains" who has to prove he's a real man, along with several dozen other goofy songs, of varying degrees of silliness and salaciousness. A real find for anyone on the prowl for rare western swing material.
---
Links
---
Interstate Music is finally online! At last! Hoo-rah! Now you can find out which of these gems is actually in print (as opposed to "out there somewhere...") and also get up-to-date ordering info.
Western Swing now has its own page on the Slipcue site... if the albums you just read about sound promising, then check out the rest of this stuff!
---
OTHER INTERSTATE IMPRINTS:

Country Routes
Flyright
Harlequin
Heritage
---


---