<! Creation date: 06/12/06> <! MP3 09/12/08, 12/05/09 no change > <! update 09/12/08 > <! pix 12/05/09 > <! icons 01/23/11 >

---
The late Raphael Rabello was one of the subtlest guitarists in the Brazilian music scene of the 1980s and '90s. He started out as a choro revivalist, and became a guitar innovator and valued accompanist. When I get a chance to learn more about his history, I'll be sure to fill a few details in... Meanwhile, here's a look at some of his work...
---
Discography
---

<! Os Carioquinhas No Choro "Os Carioquinhas No Choro" (Som Livre, 1977) 01.Gadu Namorando (Lalau-Alcyr Pires Vermelho) 02.Coralina (Carramona) 03.Fala Clari (Avena de Castro) 04.Santa Morena (Jacob do Bandolim) 05. Assim Mesmo (Luiz Americano) 06.Ansiedade (Rossini Ferreira) 07.Os Carioquinhas no Choro (Altamiro Carrilho) 08.N‹o Gostei dos Seus Modos (Aristides Borges) 09.Flausina (Pedro Manoel Galdino) 10.Intrigas no Boteco do Padilha (Luiz Americano) 11.Chora Bandolim (Luiz Otavio Braga) 12.Minha L‡grima (Luiz Americano) Luciana Rabello (cavaquinho) Rafael Rabello (viol‹o) Mauricio Carrilho (viol‹o) Celso Alves da Cruz (clarinete) Celso JosŽ da Silva (pandeiro) M‡rio Florncio Nunes (percuss‹o) Paulo Magalh‹es Alves (bandolim) TŽo de Oliveira (arranjador) Participa›es especiais: Altamiro Carrilho - flauta (faixas 01 e 07) Joel - bandolim (faixa 04) ZŽ da Velha - trombone (faixa 10) >

Rafael Rabello & Radames Gnattali "Tributo A Garoto" (Funarte, 1982/1998)


Guitarist Rafael Rabello (yeah, they seem to spell it both ways...) pairs up with legendary pianist/bandleader Radames Gnattali for a sprightly tribute to choro/samba cancao songwriter Anibal Augusto Sardinha, better known as Garoto. Garoto's heyday was in the 1930, and his association with Gnattali spans back over the decades. (Garoto died of a heart attack in 1955, while on tour in Europe.) As with many of these instrumental outings, the musicianship is dazzling, but the pace and style quickly get a bit static. Rabello, whizzing between Gnattali's brisk piano riffs, loses some of his trademark subtlety and soulfulness, although you would be hard pressed to find a choro devotee who wouldn't go totally ga-ga over this album. Definitely worth checking out.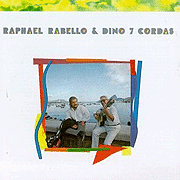 Raphael Rabello & Dino 7 Cordas "Raphael Rabello & Dino 7 Cordas" (Caju Music/Milestone, 1991)



(Produced by Raphael Rabello)
A dazzling set of duets, with lightning-fast run-throughs of compositions by choro and samba-cancao legends Pixinguinha, Noel Rosa, Ernesto Nazareth, Joao Pernambuco and Lamartine Babo. This teams Rabello up with Dino Sete Cordas (Seven String Dino), a legendary guitarist who was 73 years old at the time this disc was made, but who picks as well as any guitar god half his age. The pace of the album as a whole is a bit same-y and relentless, but the musicianship is top-flight and fans of acoustic guitar playing will find this disc richly rewarding.

Rafael Rabello & Elizeth Cardoso "Todo O Sentimento" (Columbia, 1990)


A stunning collaboration between guitarist Rabello and the aged Elizeth Cardoso, one of hte great doyennes of the early bossa nova scene. Recorded in 1989, this was Rabello's first major work after a debilitating auto accident, and his accompaniment is sensitive and compelling throughout, only occasionally slipping into more searching, jazzy terrain. Cardoso, who was nearly 70 years old when this album was recorded, shows remarkable vocal strength and great interpretive powers. Her style is still melodramatic, but less intrusively so. This apparently was Cardoso's final album, and it's very good, definitely worth tracking down. Lovely stripped-down sound.

Raphael Rabello & Paulo Moura "Dois Irmaos" (Caju/Milestone, 1992)



(Produced by Paulo Moura & Raphael Rabello)
Beautiful! Highly recommended. Although there is only one song by Pixinguinha on here ("1 X 0"), this can be seen as a warmup for Moura's lauded Pixinguinha tribute of 1998. This is choro music at its best -- and at its warmest... A little syrupy and cheesily produced, but rich and romantic. These duets are much less rigorously arranged than on the Pixinguinha album; Moura's clarinet work is sensitive and nuanced, with a wide dynamic range. He slides from mournful to majestic, constantly urged on by Rabello's guitar work, which is dead-on perfect throughout. It's a very nice record, maybe a little hard to find these days, but well worth looking for.

Raphael Rabello "Todos Os Tons" (BMG-RCA, 1992)


Honestly, I thought this solo album -- a Tom Jobim tribute -- was pretty disappointing, particularly when compared to all of Rabello's other albums (which I've enjoyed a lot...) Rabello's greatest strength seems to come in collaboration with or support of other people; left to his own devices he completely sheds the soft subtlety and grace of his other work, in favor of a flashy, aggressive jazz-fusion sound that seems clumsy and oafish in many ways, and does little to show what a stunningly subtle and skillful guitarist he actually is. It's just a wanky, loud album, which is a real shame considering how marvelously textured a performer he can be. Lots of guest stars on here, as well, including Nico Assumpcao, Paco DeLucia, Leo Gandelman, Jaques Morelenbaum, Paulo Moura and even the great Tom Jobim, on a version of Jobim's "Garoto."
Rafael Rabello & Deo Rian "Delicatesse" (BMG-Ariola, 1993)


Rafael Rabello "Relendo Dilermando Reis" (1994)


A tribute to chorinho guitarist Dilermando Reis...

Raphael Rabello & Nelson Goncalves "Ao Vivo: A Voz E O Violao" (BMG-RCA, 2002)


Posthumously released, this is a lovely concert album, taken from a series of shows in late 1989. As ever, the late Raphael Rabello proved himself an able and evocative accompanist, while romantic crooner Nelson Goncalves, then 70 years old, is still a singer of tremendous clarity and power. It's corny, it's slushily romantic, but it's also very classy, and Rabello's trilling guitar work nudges the music towards the sublime. Recommended!


<! Os Carioquinhas no Choro (1977) Tributo a Garoto - RadamŽs Gnattali e Raphael Rabello (1982) Raphael 7 Cordas (1982) Raphael Rabello Interpreta RadamŽs Gnattali (1987) Raphael Rabello (1988) Nelson Goncalves & Raphael Rabello - Ao Vivo(1989) Ė Flor Da Pele - Ney Matogrosso e Raphael Rabello (1990) Raphael Rabello e Dino 7 Cordas (1991) Todo o Sentimento - Raphael Rabello e Elizeth Cardoso (1991) Shades of Rio - Romero Lumambo e Raphael Rabello (1992) Todos os Tons - Raphael Rabello (1992) Dois Irm‹os - Raphael Rabello e Paulo Moura (1992) Delicatesse - Raphael Rabello e DŽo Rian (1993) Cry, My Guitar (Gravado em 1994, lanado postumamente) Relendo Dilermando Reis (1994) Brasil Musical - SŽrie Mœsica Viva - Armandinho E Raphael Rabello (1996) Raphael Rabello & Armandinho em Concerto (1997) AmŽlia Rabelo & Raphael Rabello (2001) (Lanamento p—stumo) Mestre Capiba (2002) (Lanamento p—stumo) >

---
Links
---
---



---