<! cd = 11/08/12 > <! MP3 00/00/00 > <! pix 00/00/00 > <! SOURCES 00/00/00 > <! icons 00/00/00 > <! UPDATES: 00/00/00 >

---
Ze Rodrix (nee Jose Rodrigues Trindade, 1947-2009) was a major innovator in Brazilian pop's "rural rock" style, which combined the eclectic/psychedelic sensibilities of the tropicalia movement with hints of Brazilian and American roots music. Rodrix worked in a number of influential bands before going solo in the '70s; in the 1980s he retired from recording, but worked extensively as a record and show producer, and reunited with his old collaborators Luiz Carlos Sa and Guttemberg Guarabyra to release a couple of albums in his final decade. Here's a quick look at his work...


<! Rodrix formerly in Momento Quatro, (1968) then Som Imaginario (1970) > <! played on Secos & Molhados debut > <! Joelho Porco? > <! Ze Rodrix is a multi instrumentalist with a solid music background, playing piano, sax, flute and accordion. His solo career started in 1973, lasting on 1979 with his last LP by RCA Victor. Since then, he is an active producer with other several different roles. >

---
Discography - Best-Ofs
---

Sa, Rodrix & Guarabira "Sa, Rodrix & Guarabira" (EMI, 2003)


After some initial success as a songwriter, Rodrix joined up with Luiz Carlos Sa and Guttemberg Guarabyra to form this groundbreaking "rural rock" trio. Taking their cues from psychedelic forerunners such as Os Mutantes and the other tropicalistas, this group is worth checking out for their melody-driven riffs and devotion to American-style rock'n'roll. This disc combines the trio's first two albums, Passado, Presente E Futuro (1971) and Terra (1973), music made with an abundance of '50s-style rock rhythms, with an experimental edge that sets them apart from the formulaic jovem guarda rockers of the previous decade. At times it sounds a little forced, but still can be captivating, especially if you give it more than one chance. Kind of a curio, but still pretty cool. After Ze Rodrix went solo, Guarabira and Sa went on to record more straightforward pop material in the '70s and '80s, but nothing as striking as this... Definitely worth checking out!


<! no producer listed >

Sa, Rodrix & Guarabyra "Rural Rock" (EMI, 2007)

Sa, Rodrix & Guarabyra "Portfolio" (2007)

Ze Rodrix "Serie Retraos" (2003)



A best-of set...
Ze Rodrix "Serie Brasil A-Z" (EMI, 2007)


A 3-CD "bricked" set, collecting three original albums. <! 1st Acto , Quem Sabe Sabe Nao Sabe Nao Precisa Saber and xxxxxxxxxxxxx??? >
---
Discography - Albums
---

Momento Quatro "Momento Quatro" (Philips, 1968)
(Arrangements by Rogerio Duprat)
Wow. Really. This is a cool sunshine-pop album with group vocals by a quartet featuring Ze Rodrix and Ricardo Sa, along with Mauricio Mendonca and David Tygel (who later co-founded the pop band Boca Livre...) It's a lively set with perky, pleasantly orchestrated arrangements courtesy of tropicalia maestro, Rogerio Duprat. Duprat doesn't spend a lot of time trying to be clever of trip us all out; he just provides a fun set of orchestrations that give a fun, sympathetic backing to the group's lovely songs. It's kind of like The Association meets Tom Jobim... Recommended!


<! This is a nice and rare 1968 LP from the vocal group Momento Quatro, a quartet formed by Ze Rodrix, Ricardo Sa, Mauricio Mendon¨a and David Tygel. This is the only LP ever recorded by this vocal group, all these four artists were later renowned by further activities, Ze Rodrix was later the main member of Som Imaginario and then of Sa, Rodrix and Guarabyra, Ricardo Sa is known today as Ricardo Villas, Mauricio Mendon¨a (now, Mauricio Maestro) and David Tygel formed later the successful Boca Livre. Orchestral arrangements are from Rogerio Duprat. Momento Quatro is also noted to backed up Edu Lobo and Marilia Medalia at Festival da Record in 1967. Tracks include: 01 - Passa Ontem 02 - Tres Pontas 03 - Festa 04 - Dos Caminhos Longoestranhos atˇ Chegar Junto Dela 05 - No Brilho da Faca 06 - Classe Dominante 07 - Elfa Falva Nisso Todo Dia 08 - De Luzia 09 - Ana e Maria 10 - Irmao de Fe 11 - Veleiro 12 - Proton, Eletron e Neutron 13 - Litoral >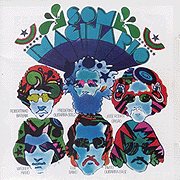 Som Imaginario "Som Imaginario" (Odeon, 1970)


A wildly diverse and expansive prog-psychedelic rock record which set the bar for Brazilian prog records in the decade to come. Ze Rodrix was in the initial lineup of the band (only for this first album) joining keyboardist Wagner Tiso and guitarist Frederyko, who had worked together as part of Milton Nascimento's "Clube Do Esquina" entourage. This was a real landmark for Brazilian rock...
Sa, Rodrix & Guarabira "Passado, Presente E Futuro" (Odeon, 1971) (LP)





<! B00018QEOW - twofer CD >
Sa, Rodrix & Guarabira "Terra" (Odeon, 1973)

Ze Rodrix "1st Acto" (Odeon, 1973)

Ze Rodrix "Quem Sabe Sabe Nao Sabe Nao Precisa Saber" (Odeon, 1974)

Ze Rodrix "Soy Latino Americano" (EMI-Odeon, 1976)

Ze Rodrix "O Esquadrao Da Morte" (Soundtrack) (RCA Victor, 1976) (LP)

Ze Rodrix "Quando Sera?" (EMI-Odeon, 1977) (LP)





<! Quando Sera? is perhaps is better-known album that you will need to hear several times until you get the whole of it. Do not let the first track 01 - Quando Sera cheats you, it was probably included to be a commercial success and take a special attention to track 04 - Devolve meus LPs, truly amazing. >

Ze Rodrix "Sempre Livre" (RCA Victor, 1979) (LP)

Ze Rodrix "Hora Extra" (EMI-Odeon, 1979) (LP)

Joelho De Porco "Saqueando A Cidade" (Continental, 1983)



Rodrix was in semi-retirement, working mainly as a producer on other people's records, when he joined up with this punkish hard-rock band. Joelho De Porco had recorded two albums in the '70s, but Rodrix added his own flavor to these latter-day '80s albums...
Joelho De Porco "18 Anos Sem Sucesso" (Eldorado, 1988)





<! http://cliquemusic.uol.com.br/artistas/joelho-de-porco.asp > <! JOELHO PORCO - in band, or just producing them? >
Sa, Rodrix & Guarabyra "Outra Vez Na Estrada: Ao Vivo" (Som Livre, 2001)


(Produced by Vinicius Sa & Arramis Barros)
This glitzy reunion concert matches a wildly enthusiastic audience with what sounds, from the outside, like an entirely docile, fossilized set of beloved oldies, nestled in a cocoon of cozy, glossy, rather gooey arrangements. It's not unlike what you'd expect from a contemporary show from Yankee bands like America, the Eagles or the Beach Boys -- goopy but still exciting to hardcore fans, though mostly a little hard to explain the appeal to an objective listener. Also, part of it's just a Brazilian thing: they adore a lot of stuff that only Brazilians could love. (But then again, we gave the world Kenny G and Barry Manilow, so who am I to get all snooty...??) Too slick for me, but you can hear that the audience was pretty jazzed.
Sa, Rodrix & Guarabyra "Amanha" (2006)

---
Tributes
---
Marya Bravo "De Pai Para Filha: Marya Bravo Canta Ze Rodrix" (Joia Moderna, 2002)


---
Links
---
---



---